Abstract
The ability of superhydrophobic surfaces to stay dry, self-clean and avoid biofouling is attractive for applications in biotechnology, medicine and heat transfer1,2,3,4,5,6,7,8,9,10. Water droplets that contact these surfaces must have large apparent contact angles (greater than 150 degrees) and small roll-off angles (less than 10 degrees). This can be realized for surfaces that have low-surface-energy chemistry and micro- or nanoscale surface roughness, minimizing contact between the liquid and the solid surface11,12,13,14,15,16,17. However, rough surfaces—for which only a small fraction of the overall area is in contact with the liquid—experience high local pressures under mechanical load, making them fragile and highly susceptible to abrasion18. Additionally, abrasion exposes underlying materials and may change the local nature of the surface from hydrophobic to hydrophilic19, resulting in the pinning of water droplets to the surface. It has therefore been assumed that mechanical robustness and water repellency are mutually exclusive surface properties. Here we show that robust superhydrophobicity can be realized by structuring surfaces at two different length scales, with a nanostructure design to provide water repellency and a microstructure design to provide durability. The microstructure is an interconnected surface frame containing 'pockets' that house highly water-repellent and mechanically fragile nanostructures. This surface frame acts as 'armour', preventing the removal of the nanostructures by abradants that are larger than the frame size. We apply this strategy to various substrates—including silicon, ceramic, metal and transparent glass—and show that the water repellency of the resulting superhydrophobic surfaces is preserved even after abrasion by sandpaper and by a sharp steel blade. We suggest that this transparent, mechanically robust, self-cleaning glass could help to negate the dust-contamination issue that leads to a loss of efficiency in solar cells. Our design strategy could also guide the development of other materials that need to retain effective self-cleaning, anti-fouling or heat-transfer abilities in harsh operating environments.
Relevant articles
Open Access articles citing this article.
Qingwen Dai

,

Lei Chen

…

Xiaolei Wang

Friction Open Access 29 November 2023

Wancheng Gu

,

Wanbo Li

…

Youfa Zhang

Nature Communications Open Access 23 September 2023

Muhammad Jahidul Hoque

,

Longnan Li

…

Nenad Miljkovic

Nature Communications Open Access 14 August 2023
Access options
Access Nature and 54 other Nature Portfolio journals
Get Nature+, our best-value online-access subscription
$29.99 / 30 days
cancel any time
Subscribe to this journal
Receive 51 print issues and online access
$199.00 per year
only $3.90 per issue
Rent or buy this article
Prices vary by article type
from$1.95
to$39.95
Prices may be subject to local taxes which are calculated during checkout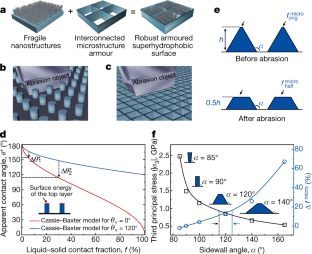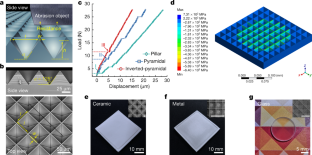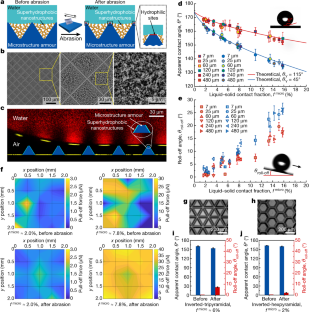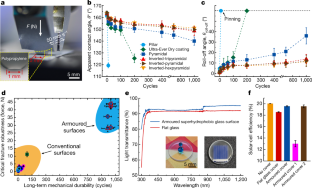 Data availability
The data that support the findings of this study are available from the corresponding author upon reasonable request.
References
Wong, T.-S., Sun, T., Feng, L. & Aizenberg, J. Interfacial materials with special wettability. MRS Bull. 38, 366–371 (2013).

Liu, M., Wang, S. & Jiang, L. Nature-inspired superwettability systems. Nat. Rev. Mater. 2, 17036 (2017).

Bhushan, B. & Jung, Y. C. Natural and biomimetic artificial surfaces for superhydrophobicity, self-cleaning, low adhesion, and drag reduction. Prog. Mater. Sci. 56, 1–108 (2011).

Schmidt, D. L., Brady, R. F., Jr, Lam, K., Schmidt, D. C. & Chaudhury, M. K. Contact angle hysteresis, adhesion, and marine biofouling. Langmuir 20, 2830–2836 (2004).

Jung, S., Tiwari, M. K., Doan, N. V. & Poulikakos, D. Mechanism of supercooled droplet freezing on surfaces. Nat. Commun. 3, 615 (2012).

Bahng, J. H. et al. Anomalous dispersions of 'hedgehog' particles. Nature 517, 596–599 (2015).

Rastogi, V. et al. Synthesis of light-diffracting assemblies from microspheres and nanoparticles in droplets on a superhydrophobic surface. Adv. Mater. 20, 4263–4268 (2008).

Lee, S. Y., Rahmawan, Y. & Yang, S. Transparent and superamphiphobic surfaces from mushroom-like micropillar arrays. ACS Appl. Mater. Interfaces 7, 24197–24203 (2015).

Miljkovic, N. & Wang, E. N. Condensation heat transfer on superhydrophobic surfaces. MRS Bull. 38, 397–406 (2013).

Pan, S. et al. Coatings super-repellent to ultralow surface tension liquids. Nat. Mater. 17, 1040–1047 (2018).

Gao, L. & McCarthy, T. J. The "lotus effect" explained: two reasons why two length scales of topography are important. Langmuir 22, 2966–2967 (2006).

Tuteja, A. et al. Designing superoleophobic surfaces. Science 318, 1618–1622 (2007).

Quéré, D. Wetting and roughness. Annu. Rev. Mater. Res. 38, 71–99 (2008).

Butt, H.-J. et al. Characterization of super liquid-repellent surfaces. Curr. Opin. Colloid Interface Sci. 19, 343–354 (2014).

Liu, T. L. & Kim, C. J. Turning a surface superrepellent even to completely wetting liquids. Science 346, 1096–1100 (2014).

Sbragaglia, M. et al. Spontaneous breakdown of superhydrophobicity. Phys. Rev. Lett. 99, 156001 (2007).

Herminghaus, S. Roughness-induced non-wetting. Europhys. Lett. 52, 165 (2000).

Tian, X., Verho, T. & Ras, R. H. A. Moving superhydrophobic surfaces toward real-world applications. Science 352, 142–143 (2016).

Milionis, A., Loth, E. & Bayer, I. S. Recent advances in the mechanical durability of superhydrophobic materials. Adv. Colloid Interface Sci. 229, 57–79 (2016).

Bhushan, B. & Nosonovsky, M. Scale effects in friction using strain gradient plasticity and dislocation-assisted sliding (microslip). Acta Mater. 51, 4331–4345 (2003).

Zhang, W. et al. Facile design and fabrication of superwetting surfaces with excellent wear-resistance. ACS Appl. Mater. Interfaces 9, 15776–15784 (2017).

Lu, Y. et al. Repellent materials. Robust self-cleaning surfaces that function when exposed to either air or oil. Science 347, 1132–1135 (2015).

Zimmermann, J., Reifler, F. A., Fortunato, G., Gerhardt, L.-C. & Seeger, S. A simple, one-step approach to durable and robust superhydrophobic textiles. Adv. Funct. Mater. 18, 3662–3669 (2008).

Azimi, G., Dhiman, R., Kwon, H. M., Paxson, A. T. & Varanasi, K. K. Hydrophobicity of rare-earth oxide ceramics. Nat. Mater. 12, 315–320 (2013).

Kondrashov, V. & Rühe, J. Microcones and nanograss: toward mechanically robust superhydrophobic surfaces. Langmuir 30, 4342–4350 (2014).

Zhang, Y., Ge, D. & Yang, S. Spray-coating of superhydrophobic aluminum alloys with enhanced mechanical robustness. J. Colloid Interface Sci. 423, 101–107 (2014).

Peng, C., Chen, Z. & Tiwari, M. K. All-organic superhydrophobic coatings with mechanochemical robustness and liquid impalement resistance. Nat. Mater. 17, 355–360 (2018).

Jin, H., Tian, X., Ikkala, O. & Ras, R. H. A. Preservation of superhydrophobic and superoleophobic properties upon wear damage. ACS Appl. Mater. Interfaces 5, 485–488 (2013).

Deng, X., Mammen, L., Butt, H.-J. & Vollmer, D. Candle soot as a template for a transparent robust superamphiphobic coating. Science 335, 67–70 (2012).

Bergin, M. H., Ghoroi, C., Dixit, D., Schauer, J. J. & Shindell, D. T. Large reductions in solar energy production due to dust and particulate air pollution. Environ. Sci. Technol. Lett. 4, 339–344 (2017).

Liimatainen, V. et al. Mapping microscale wetting variations on biological and synthetic water-repellent surfaces. Nat. Commun. 8, 1798 (2017).

Song, J., Xu, W. & Lu, Y. One-step electrochemical machining of superhydrophobic surfaces on aluminum substrates. J. Mater. Sci. 47, 162–168 (2011).

Gao, X., Tong, W., Ouyang, X. & Wang, X. Facile fabrication of a superhydrophobic titanium surface with mechanical durability by chemical etching. RSC Adv. 5, 84666–84672 (2015).

Song, J., Huang, W., Liu, J., Huang, L. & Lu, Y. Electrochemical machining of superhydrophobic surfaces on mold steel substrates. Surf. Coat. Technol. 344, 499–506 (2018).

Yao, X. et al. Bioinspired ribbed nanoneedles with robust superhydrophobicity. Adv. Funct. Mater. 20, 656–662 (2010).

Xu, W., Song, J., Sun, J., Lu, Y. & Yu, Z. Rapid fabrication of large-area, corrosion-resistant superhydrophobic Mg alloy surfaces. ACS Appl. Mater. Interfaces 3, 4404–4414 (2011).

Miljkovic, N., Preston, D. J., Enright, R. & Wang, E. N. Electrostatic charging of jumping droplets. Nat. Commun. 4, 2517 (2013).

Wang, N., Xiong, D., Deng, Y., Shi, Y. & Wang, K. Mechanically robust superhydrophobic steel surface with anti-icing, UV-durability, and corrosion resistance properties. ACS Appl. Mater. Interfaces 7, 6260–6272 (2015).

Sun, J. et al. Electrochemical fabrication of superhydrophobic Zn surfaces. Appl. Surf. Sci. 315, 346–352 (2014).

Hosono, E., Fujihara, S., Honma, I. & Zhou, H. Superhydrophobic perpendicular nanopin film by the bottom-up process. J. Am. Chem. Soc. 127, 13458–13459 (2005).

Luo, Y. et al. Design and fabrication of a tip-like ZnO nanotube array structure with condensate microdrop self-propelling function. ChemNanoMat 2, 1018–1022 (2016).

Su, F. & Yao, K. Facile fabrication of superhydrophobic surface with excellent mechanical abrasion and corrosion resistance on copper substrate by a novel method. ACS Appl. Mater. Interfaces 6, 8762–8770 (2014).
Acknowledgements
We thank B. J. Yu, J. L. Yang, Y. Li. and G.W. Zhou for discussions, and J. L. Song for providing the samples of the conventional superhydrophobic surfaces. This work was supported by the National Natural Science Foundation of China (21603026), the European Research Council ERC-2016-CoG (725513-SuperRepel), the Academy of Finland (Centres of Excellence Programme 2014–2019), Aalto University AScI/ELEC Thematic Research Programme, Business Finland Project TUTL-SDAM (6798/31/2017) and the University Research Council Grant (CityU9/CRF/13G).
Ethics declarations
Competing interests
X.D., D.W. and R.H.A.R. are inventors on a patent application relating to the surfaces described in this work.
Additional information
Publisher's note Springer Nature remains neutral with regard to jurisdictional claims in published maps and institutional affiliations.
Extended data figures and tables
Supplementary information
About this article
Cite this article
Wang, D., Sun, Q., Hokkanen, M.J. et al. Design of robust superhydrophobic surfaces. Nature 582, 55–59 (2020). https://doi.org/10.1038/s41586-020-2331-8
Received:

Accepted:

Published:

Issue Date:

DOI: https://doi.org/10.1038/s41586-020-2331-8
Comments
By submitting a comment you agree to abide by our Terms and Community Guidelines. If you find something abusive or that does not comply with our terms or guidelines please flag it as inappropriate.