Abstract
Mobile genetic elements threaten genome integrity in all organisms. RDE-3 (also known as MUT-2) is a ribonucleotidyltransferase that is required for transposon silencing and RNA interference in Caenorhabditis elegans1,2,3,4. When tethered to RNAs in heterologous expression systems, RDE-3 can add long stretches of alternating non-templated uridine (U) and guanosine (G) ribonucleotides to the 3′ termini of these RNAs (designated poly(UG) or pUG tails)5. Here we show that, in its natural context in C. elegans, RDE-3 adds pUG tails to targets of RNA interference, as well as to transposon RNAs. RNA fragments attached to pUG tails with more than 16 perfectly alternating 3′ U and G nucleotides become gene-silencing agents. pUG tails promote gene silencing by recruiting RNA-dependent RNA polymerases, which use pUG-tailed RNAs (pUG RNAs) as templates to synthesize small interfering RNAs (siRNAs). Our results show that cycles of pUG RNA-templated siRNA synthesis and siRNA-directed pUG RNA biogenesis underlie double-stranded-RNA-directed transgenerational epigenetic inheritance in the C. elegans germline. We speculate that this pUG RNA–siRNA silencing loop enables parents to inoculate progeny against the expression of unwanted or parasitic genetic elements.
Relevant articles
Open Access articles citing this article.
John Paul Tsu Ouyang

,

Wenyan Lucy Zhang

&

Geraldine Seydoux

Nature Cell Biology Open Access 23 June 2022

Jin-Lan Zhang

,

Yu-Huan Li

…

Jian-Dong Jiang

Signal Transduction and Targeted Therapy Open Access 06 December 2021

Sindhuja Devanapally

,

Pravrutha Raman

…

Antony M. Jose

Nature Communications Open Access 09 July 2021
Access options
Subscribe to Nature+
Get immediate online access to the entire Nature family of 50+ journals
Subscribe to Journal
Get full journal access for 1 year
$199.00
only $3.90 per issue
All prices are NET prices.
VAT will be added later in the checkout.
Tax calculation will be finalised during checkout.
Buy article
Get time limited or full article access on ReadCube.
$32.00
All prices are NET prices.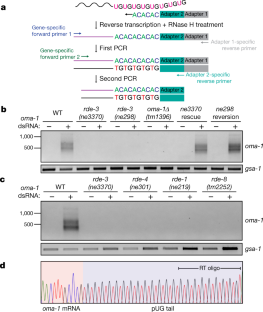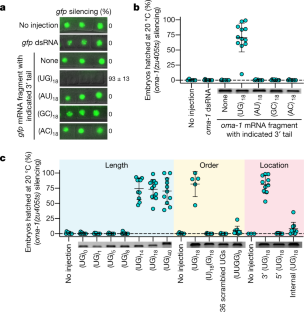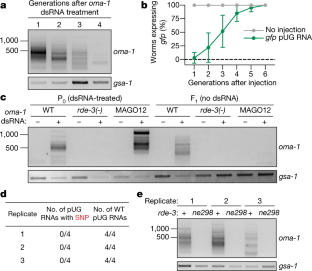 Code availability
Descriptions of custom scripts used to analyse MiSeq and RNA-seq data are provided in the Methods and the scripts are available upon request from the corresponding author. Custom Python scripts used to analyse small-RNA sequencing data have been deposited at https://github.com/Yuhan-Fei/pUG-analysis.
References
Collins, J., Saari, B. & Anderson, P. Activation of a transposable element in the germ line but not the soma of Caenorhabditis elegans. Nature 328, 726–728 (1987).

Ketting, R. F., Haverkamp, T. H. A., van Luenen, H. G. A. M. & Plasterk, R. H. A. mut-7 of C. elegans, required for transposon silencing and RNA interference, is a homolog of Werner syndrome helicase and RNaseD. Cell 99, 133–141 (1999).

Tabara, H. et al. The rde-1 gene, RNA interference, and transposon silencing in C. elegans. Cell 99, 123–132 (1999).

Chen, C.-C. G. et al. A member of the polymerase β nucleotidyltransferase superfamily is required for RNA interference in C. elegans. Curr. Biol. 15, 378–383 (2005).

Preston, M. A. et al. Unbiased screen of RNA tailing activities reveals a poly(UG) polymerase. Nat. Methods 16, 437–445 (2019).

Fire, A. et al. Potent and specific genetic interference by double-stranded RNA in Caenorhabditis elegans. Nature 391, 806–811 (1998).

Aravind, L. & Koonin, E. V. DNA polymerase β-like nucleotidyltransferase superfamily: identification of three new families, classification and evolutionary history. Nucleic Acids Res. 27, 1609–1618 (1999).

Martin, G. & Keller, W. RNA-specific ribonucleotidyl transferases. RNA 13, 1834–1849 (2007).

Detwiler, M. R., Reuben, M., Li, X., Rogers, E. & Lin, R. Two zinc finger proteins, OMA-1 and OMA-2, are redundantly required for oocyte maturation in C. elegans. Dev. Cell 1, 187–199 (2001).

Parrish, S. & Fire, A. Distinct roles for RDE-1 and RDE-4 during RNA interference in Caenorhabditis elegans. RNA 7, 1397–1402 (2001).

Tabara, H., Yigit, E., Siomi, H. & Mello, C. C. The dsRNA binding protein RDE-4 interacts with RDE-1, DCR-1, and a DExH-box helicase to direct RNAi in C. elegans. Cell 109, 861–871 (2002).

Tsai, H.-Y. et al. A ribonuclease coordinates siRNA amplification and mRNA cleavage during RNAi. Cell 160, 407–419 (2015).

Ko, F. C. F. & Chow, K. L. A novel thioredoxin-like protein encoded by the C. elegans dpy-11 gene is required for body and sensory organ morphogenesis. Development 129, 1185–1194 (2002).

Lin, R. A gain-of-function mutation in oma-1, a C. elegans gene required for oocyte maturation, results in delayed degradation of maternal proteins and embryonic lethality. Dev. Biol. 258, 226–239 (2003).

Fischer, S. E. J., Wienholds, E. & Plasterk, R. H. A. Continuous exchange of sequence information between dispersed Tc1 transposons in the Caenorhabditis elegans genome. Genetics 164, 127–134 (2003).

Voronina, E., Seydoux, G., Sassone-Corsi, P. & Nagamori, I. RNA granules in germ cells. Cold Spring Harb. Perspect. Biol. 3, a002774 (2011).

Phillips, C. M., Montgomery, T. A., Breen, P. C. & Ruvkun, G. MUT-16 promotes formation of perinuclear Mutator foci required for RNA silencing in the C. elegans germline. Genes Dev. 26, 1433–1444 (2012).

Austin, J. & Kimble, J. glp-1 is required in the germ line for regulation of the decision between mitosis and meiosis in C. elegans. Cell 51, 589–599 (1987).

Jose, A. M., Garcia, G. A. & Hunter, C. P. Two classes of silencing RNAs move between Caenorhabditis elegans tissues. Nat. Struct. Mol. Biol. 18, 1184–1188 (2011).

Buratti, E. & Baralle, F. E. Characterization and functional implications of the RNA binding properties of nuclear factor TDP-43, a novel splicing regulator of CFTR exon 9. J. Biol. Chem. 276, 36337–36343 (2001).

Kuo, P.-H., Doudeva, L. G., Wang, Y.-T., Shen, C.-K. J. & Yuan, H. S. Structural insights into TDP-43 in nucleic-acid binding and domain interactions. Nucleic Acids Res. 37, 1799–1808 (2009).

Sijen, T. et al. On the role of RNA amplification in dsRNA-triggered gene silencing. Cell 107, 465–476 (2001).

Ambros, V., Lee, R. C., Lavanway, A., Williams, P. T. & Jewell, D. MicroRNAs and other tiny endogenous RNAs in C. elegans. Curr. Biol. 13, 807–818 (2003).

Sijen, T., Steiner, F. A., Thijssen, K. L. & Plasterk, R. H. A. Secondary siRNAs result from unprimed RNA synthesis and form a distinct class. Science 315, 244–247 (2007).

Pak, J. & Fire, A. Distinct populations of primary and secondary effectors during RNAi in C. elegans. Science 315, 241–244 (2007).

Gu, W. et al. Distinct Argonaute-mediated 22G-RNA pathways direct genome surveillance in the C. elegans germline. Mol. Cell 36, 231–244 (2009).

Billi, A. C., Fischer, S. E. J. & Kim, J. K. Endogenous RNAi pathways in C. elegans. WormBook https://doi.org/10.1895/wormbook.1.170.1 (2014). 

Vastenhouw, N. L. et al. Gene expression: long-term gene silencing by RNAi. Nature 442, 882 (2006).

Buckley, B. A. et al. A nuclear Argonaute promotes multigenerational epigenetic inheritance and germline immortality. Nature 489, 447–451 (2012).

Ashe, A. et al. piRNAs can trigger a multigenerational epigenetic memory in the germline of C. elegans. Cell 150, 88–99 (2012).

Shirayama, M. et al. piRNAs initiate an epigenetic memory of nonself RNA in the C. elegans germline. Cell 150, 65–77 (2012).

Luteijn, M. J. et al. Extremely stable Piwi-induced gene silencing in Caenorhabditis elegans. EMBO J. 31, 3422–3430 (2012).

Sapetschnig, A., Sarkies, P., Lehrbach, N. J. & Miska, E. A. Tertiary siRNAs mediate paramutation in C. elegans. PLoS Genet. 11, e1005078 (2015).

Yigit, E. et al. Analysis of the C. elegans Argonaute family reveals that distinct Argonautes act sequentially during RNAi. Cell 127, 747–757 (2006).

Talsky, K. B. & Collins, K. Initiation by a eukaryotic RNA-dependent RNA polymerase requires looping of the template end and is influenced by the template-tailing activity of an associated uridyltransferase. J. Biol. Chem. 285, 27614–27623 (2010).

Czech, B. et al. piRNA-guided genome defense: from biogenesis to silencing. Annu. Rev. Genet. 52, 131–157 (2018).

Brenner, S. The genetics of Caenorhabditis elegans. Genetics 77, 71–94 (1974).

Smith, T., Heger, A. & Sudbery, I. UMI-tools: modeling sequencing errors in Unique Molecular Identifiers to improve quantification accuracy. Genome Res. 27, 491–499 (2017).

Martin, M. Cutadapt removes adapter sequences from high-throughput sequencing reads. EMBnet.journal 17, 10–12 (2011).

Dobin, A. et al. STAR: ultrafast universal RNA-seq aligner. Bioinformatics 29, 15–21 (2013).

Li, H. et al. The Sequence Alignment/Map format and SAMtools. Bioinformatics 25, 2078–2079 (2009).

Quinlan, A. R. & Hall, I. M. BEDTools: a flexible suite of utilities for comparing genomic features. Bioinformatics 26, 841–842 (2010).

Phanstiel, D. H., Boyle, A. P., Araya, C. L. & Snyder, M. P. Sushi.R: flexible, quantitative and integrative genomic visualizations for publication-quality multi-panel figures. Bioinformatics 30, 2808–2810 (2014).

Wagih, O. ggseqlogo: a versatile R package for drawing sequence logos. Bioinformatics 33, 3645–3647 (2017).

Alcazar, R. M., Lin, R. & Fire, A. Z. Transmission dynamics of heritable silencing induced by double-stranded RNA in Caenorhabditis elegans. Genetics 180, 1275–1288 (2008).

Schindelin, J. et al. Fiji: an open-source platform for biological-image analysis. Nat. Methods 9, 676–682 (2012).

Jin, Y., Tam, O. H., Paniagua, E. & Hammell, M. TEtranscripts: a package for including transposable elements in differential expression analysis of RNA-seq datasets. Bioinformatics 31, 3593–3599 (2015).

Cunningham, F. et al. Ensembl 2019. Nucleic Acids Res. 47, D745–D751 (2019).

Claycomb, J. M. et al. The Argonaute CSR-1 and its 22G-RNA cofactors are required for holocentric chromosome segregation. Cell 139, 123–134 (2009).

Wu, W.-S. et al. piRTarBase: a database of piRNA targeting sites and their roles in gene regulation. Nucleic Acids Res. 47, D181–D187 (2019).

Wan, G. et al. Spatiotemporal regulation of liquid-like condensates in epigenetic inheritance. Nature 557, 679–683 (2018).

Schwartz, M. L. & Jorgensen, E. M. SapTrap, a toolkit for high-throughput CRISPR/Cas9 gene modification in Caenorhabditis elegans. Genetics 202, 1277–1288 (2016).

Dickinson, D. J., Slabodnick, M. M., Chen, A. H. & Goldstein, B. SapTrap assembly of repair templates for Cas9-triggered homologous recombination with a self-excising cassette. MicroPublication Biol. https://doi.org/10.17912/W2KT0N (2018).

Dickinson, D. J., Pani, A. M., Heppert, J. K., Higgins, C. D. & Goldstein, B. Streamlined genome engineering with a self-excising drug selection cassette. Genetics 200, 1035–1049 (2015).

Frøkjaer-Jensen, C. et al. Single-copy insertion of transgenes in Caenorhabditis elegans. Nat. Genet. 40, 1375–1383 (2008).

Haeussler, M. et al. Evaluation of off-target and on-target scoring algorithms and integration into the guide RNA selection tool CRISPOR. Genome Biol. 17, 148 (2016).

Dodson, A. E. & Kennedy, S. Germ granules coordinate RNA-based epigenetic inheritance pathways. Dev. Cell 50, 704–715 (2019).

Trapnell, C., Pachter, L. & Salzberg, S. L. TopHat: discovering splice junctions with RNA-seq. Bioinformatics 25, 1105–1111 (2009).

Ramírez, F., Dündar, F., Diehl, S., Grüning, B. A. & Manke, T. deepTools: a flexible platform for exploring deep-sequencing data. Nucleic Acids Res. 42, W187–W191 (2014).

Liao, Y., Smyth, G. K. & Shi, W. featureCounts: an efficient general purpose program for assigning sequence reads to genomic features. Bioinformatics 30, 923–930 (2014).

Edgar, R., Domrachev, M. & Lash, A. E. Gene Expression Omnibus: NCBI gene expression and hybridization array data repository. Nucleic Acids Res. 30, 207–210 (2002).

Xiong, Y. & Steitz, T. A. Mechanism of transfer RNA maturation by CCA-adding enzyme without using an oligonucleotide template. Nature 430, 640–645 (2004).

Guang, S. et al. An Argonaute transports siRNAs from the cytoplasm to the nucleus. Science 321, 537–541 (2008).

Guang, S. et al. Small regulatory RNAs inhibit RNA polymerase II during the elongation phase of transcription. Nature 465, 1097–1101 (2010).

Zhang, C. et al. mut-16 and other mutator class genes modulate 22G and 26G siRNA pathways in Caenorhabditis elegans. Proc. Natl Acad. Sci. USA 108, 1201–1208 (2011).

Remy, J.-J. Stable inheritance of an acquired behavior in Caenorhabditis elegans. Curr. Biol. 20, R877–R878 (2010).

Rechavi, O. et al. Starvation-induced transgenerational inheritance of small RNAs in C. elegans. Cell 158, 277–287 (2014).

Schott, D., Yanai, I. & Hunter, C. P. Natural RNA interference directs a heritable response to the environment. Sci. Rep. 4, 7387 (2015).

Jobson, M. A. et al. Transgenerational effects of early life starvation on growth, reproduction, and stress resistance in Caenorhabditis elegans. Genetics 201, 201–212 (2015).

Moore, R. S., Kaletsky, R. & Murphy, C. T. Piwi/PRG-1 Argonaute and TGF-β mediate transgenerational learned pathogenic avoidance. Cell 177, 1827–1841 (2019).

Posner, R. et al. Neuronal small RNAs control behavior transgenerationally. Cell 177, 1814–1826 (2019).
Acknowledgements
We thank past and present members of the Kennedy, S. E. Butcher and Wickens laboratories for helpful discussions; the Biopolymers Facility at Harvard Medical School (HMS) for Illumina sequencing; the Dana-Farber/Harvard Cancer Center DNA Resource Core for Sanger sequencing; and the Taplin Mass Spectrometry Facility in the Cell Biology Department at HMS for performing LC–MS/MS. Some strains were provided by the Caenorhabditis Genetics Center (CGC), which is funded by the NIH Office of Research Infrastructure Programs (P40 OD010440). Some strains were provided by the S. Mitani laboratory through the National BioResource Project (Tokyo, Japan), which is part of the International C. elegans Gene Knockout Consortium. A.S. and J.Y. were supported by the Ruth L. Kirschstein T32 Predoctoral NRSA (T32GM096911) and NSF Graduate Research Fellowships (A.S., DGE1144152, DGE1745303; J.Y., DGE1745303). A.E.D. is a Damon Runyon Fellow supported by the Damon Runyon Cancer Research Foundation (DRG-2304-17). D.J.P. was supported by a Ruth L. Kirschstein National Research Service Award (1F32GM125345-01). S.K. was supported by NIH grants GM088289 and GM132286., and M.W. by NIH grant GM50942.
Ethics declarations
Competing interests
M.W. has a patent (US20160145666A1) through Wisconsin Alumni Research Foundation (Madison, WI) for methods, kits and compositions of matter relating to poly(UG) polymerases.
Additional information
Peer review information Nature thanks Rene Ketting, Taiowa Montgomery and the other, anonymous, reviewer(s) for their contribution to the peer review of this work.
Publisher's note Springer Nature remains neutral with regard to jurisdictional claims in published maps and institutional affiliations.
Extended data figures and tables
Supplementary information
About this article
Cite this article
Shukla, A., Yan, J., Pagano, D.J. et al. poly(UG)-tailed RNAs in genome protection and epigenetic inheritance. Nature 582, 283–288 (2020). https://doi.org/10.1038/s41586-020-2323-8
Received:

Accepted:

Published:

Issue Date:

DOI: https://doi.org/10.1038/s41586-020-2323-8
Comments
By submitting a comment you agree to abide by our Terms and Community Guidelines. If you find something abusive or that does not comply with our terms or guidelines please flag it as inappropriate.