Abstract
Macrophages are the first cells of the nascent immune system to emerge during embryonic development. In mice, embryonic macrophages infiltrate developing organs, where they differentiate symbiotically into tissue-resident macrophages (TRMs)1. However, our understanding of the origins and specialization of macrophages in human embryos is limited. Here we isolated CD45+ haematopoietic cells from human embryos at Carnegie stages 11 to 23 and subjected them to transcriptomic profiling by single-cell RNA sequencing, followed by functional characterization of a population of CD45+CD34+CD44+ yolk sac-derived myeloid-biased progenitors (YSMPs) by single-cell culture. We also mapped macrophage heterogeneity across multiple anatomical sites and identified diverse subsets, including various types of embryonic TRM (in the head, liver, lung and skin). We further traced the specification trajectories of TRMs from either yolk sac-derived primitive macrophages or YSMP-derived embryonic liver monocytes using both transcriptomic and developmental staging information, with a focus on microglia. Finally, we evaluated the molecular similarities between embryonic TRMs and their adult counterparts. Our data represent a comprehensive characterization of the spatiotemporal dynamics of early macrophage development during human embryogenesis, providing a reference for future studies of the development and function of human TRMs.
This is a preview of subscription content
Access options
Subscribe to Journal
Get full journal access for 1 year
$199.00
only $3.90 per issue
All prices are NET prices.
VAT will be added later in the checkout.
Tax calculation will be finalised during checkout.
Rent or Buy article
Get time limited or full article access on ReadCube.
from$8.99
All prices are NET prices.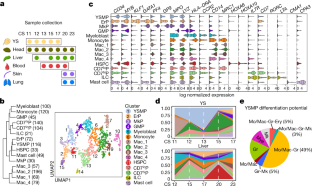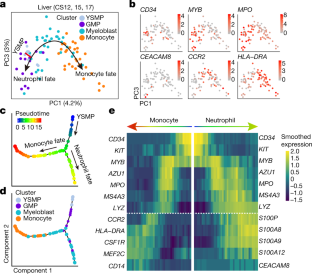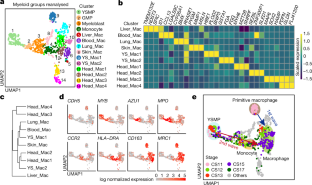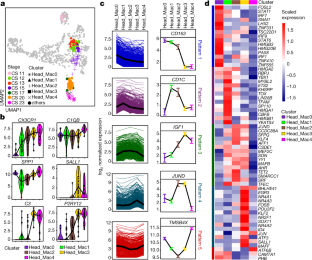 References
1.

Wynn, T. A., Chawla, A. & Pollard, J. W. Macrophage biology in development, homeostasis and disease. Nature 496, 445–455 (2013).

2.

Ginhoux, F. & Guilliams, M. Tissue-resident macrophage ontogeny and homeostasis. Immunity 44, 439–449 (2016).

3.

Palis, J. et al. Spatial and temporal emergence of high proliferative potential hematopoietic precursors during murine embryogenesis. Proc. Natl Acad. Sci. USA 98, 4528–4533 (2001).

4.

Dzierzak, E. & Bigas, A. Blood development: hematopoietic stem cell dependence and independence. Cell Stem Cell 22, 639–651 (2018).

5.

Zhou, F. et al. Tracing haematopoietic stem cell formation at single-cell resolution. Nature 533, 487–492 (2016).

6.

Samokhvalov, I. M., Samokhvalova, N. I. & Nishikawa, S. Cell tracing shows the contribution of the yolk sac to adult haematopoiesis. Nature 446, 1056–1061 (2007).

7.

Ginhoux, F. et al. Fate mapping analysis reveals that adult microglia derive from primitive macrophages. Science 330, 841–845 (2010).

8.

Yona, S. et al. Fate mapping reveals origins and dynamics of monocytes and tissue macrophages under homeostasis. Immunity 38, 79–91 (2013).

9.

Hoeffel, G. & Ginhoux, F. Ontogeny of tissue-resident macrophages. Front. Immunol. 6, 486 (2015).

10.

Frame, J. M., McGrath, K. E. & Palis, J. Erythro-myeloid progenitors: "definitive" hematopoiesis in the conceptus prior to the emergence of hematopoietic stem cells. Blood Cells Mol. Dis. 51, 220–225 (2013).

11.

Bertrand, J. Y. et al. Definitive hematopoiesis initiates through a committed erythromyeloid progenitor in the zebrafish embryo. Development 134, 4147–4156 (2007).

12.

Ivanovs, A. et al. Human haematopoietic stem cell development: from the embryo to the dish. Development 144, 2323–2337 (2017).

13.

McGrath, K. E. et al. Distinct sources of hematopoietic progenitors emerge before HSCs and provide functional blood cells in the mammalian embryo. Cell Rep. 11, 1892–1904 (2015).

14.

Hoeffel, G. et al. C-Myb+ erythro-myeloid progenitor-derived fetal monocytes give rise to adult tissue-resident macrophages. Immunity 42, 665–678 (2015).

15.

Ivanovs, A. et al. Highly potent human hematopoietic stem cells first emerge in the intraembryonic aorta-gonad-mesonephros region. J. Exp. Med. 208, 2417–2427 (2011).

16.

Ivanovs, A., Rybtsov, S., Anderson, R. A., Turner, M. L. & Medvinsky, A. Postmenstrual gestational age should be used with care in studies of early human hematopoietic development. Blood 121, 3051–3052 (2013).

17.

Zeng, Y. et al. Tracing the first hematopoietic stem cell generation in human embryo by single-cell RNA sequencing. Cell Res. 29, 881–894 (2019).

18.

Zeng, Y. et al. Single-cell RNA sequencing resolves spatiotemporal development of pre-thymic lymphoid progenitors and thymus organogenesis in human embryos. Immunity 51, 930–948.e936 (2019).

19.

Dong, J. et al. Single-cell RNA-seq analysis unveils a prevalent epithelial/mesenchymal hybrid state during mouse organogenesis. Genome Biol. 19, 31 (2018).

20.

Kiewitz, R. et al. S100A1, a new marker for acute myocardial ischemia. Biochem. Biophys. Res. Commun. 274, 865–871 (2000).

21.

Costa, G. et al. SOX7 regulates the expression of VE-cadherin in the haemogenic endothelium at the onset of haematopoietic development. Development 139, 1587–1598 (2012).

22.

Buttgereit, A. et al. Sall1 is a transcriptional regulator defining microglia identity and function. Nat. Immunol. 17, 1397–1406 (2016).

23.

Gosselin, D. et al. An environment-dependent transcriptional network specifies human microglia identity. Science 356, eaal3222 (2017).

24.

Mass, E. et al. Specification of tissue-resident macrophages during organogenesis. Science 353, aaf4238 (2016).

25.

Peschle, C. et al. Haemoglobin switching in human embryos: asynchrony of ζ→α and ε→γ-globin switches in primitive and definite erythropoietic lineage. Nature 313, 235–238 (1985).

26.

Wlodarczyk, A. et al. A novel microglial subset plays a key role in myelinogenesis in developing brain. EMBO J. 36, 3292–3308 (2017).

27.

Wirsching, H. G. et al. Thymosin β4 induces folding of the developing optic tectum in the chicken (Gallus domesticus). J. Comp. Neurol. 520, 1650–1662 (2012).

28.

Enzan, H. Electron microscopic studies of macrophages in early human yolk sacs. Acta Pathol. Jpn. 36, 49–64 (1986).

29.

Tavian, M., Robin, C., Coulombel, L. & Péault, B. The human embryo, but not its yolk sac, generates lympho-myeloid stem cells: mapping multipotent hematopoietic cell fate in intraembryonic mesoderm. Immunity 15, 487–495 (2001).

30.

Gordon, S. & Plüddemann, A. Tissue macrophages: heterogeneity and functions. BMC Biol. 15, 53 (2017).

31.

Lavin, Y. et al. Tissue-resident macrophage enhancer landscapes are shaped by the local microenvironment. Cell 159, 1312–1326 (2014).

32.

Lee, C. Z. W., Kozaki, T. & Ginhoux, F. Studying tissue macrophages in vitro: are iPSC-derived cells the answer? Nat. Rev. Immunol. 18, 716–725 (2018).

33.

Takata, K. et al. Induced-pluripotent-stem-cell-derived primitive macrophages provide a platform for modeling tissue-resident macrophage differentiation and function. Immunity 47, 183–198.e186 (2017).

34.

Moore, K. L., Persaud, T. V. N. & Torchia, M. G. The Developing Human E-Book: Clinically Oriented Embryology With STUDENT CONSULT Online Access (Elsevier Health Sciences, 2011).

35.

Li, L. et al. Single-cell RNA-seq analysis maps development of human germline cells and gonadal niche interactions. Cell Stem Cell 20, 858–873.e854 (2017).

36.

Picelli, S. et al. Smart-seq2 for sensitive full-length transcriptome profiling in single cells. Nat. Methods 10, 1096–1098 (2013).

37.

Picelli, S. et al. Full-length RNA-seq from single cells using Smart-seq2. Nat. Protocols 9, 171–181 (2014).

38.

Kim, D., Langmead, B. & Salzberg, S. L. HISAT: a fast spliced aligner with low memory requirements. Nat. Methods 12, 357–360 (2015).

39.

Anders, S., Pyl, P. T. & Huber, W. HTSeq—a Python framework to work with high-throughput sequencing data. Bioinformatics 31, 166–169 (2015).

40.

Aibar, S. et al. SCENIC: single-cell regulatory network inference and clustering. Nat. Methods 14, 1083–1086 (2017).

41.

Subramanian, A. et al. Gene set enrichment analysis: a knowledge-based approach for interpreting genome-wide expression profiles. Proc. Natl Acad. Sci. USA 102, 15545–15550 (2005).

42.

Chambers, S. M. et al. Hematopoietic fingerprints: an expression database of stem cells and their progeny. Cell Stem Cell 1, 578–591 (2007).

43.

Trapnell, C. et al. The dynamics and regulators of cell fate decisions are revealed by pseudotemporal ordering of single cells. Nat. Biotechnol. 32, 381–386 (2014).

44.

Qiu, X. et al. Reversed graph embedding resolves complex single-cell trajectories. Nat. Methods 14, 979–982 (2017).

45.

Haghverdi, L., Büttner, M., Wolf, F. A., Buettner, F. & Theis, F. J. Diffusion pseudotime robustly reconstructs lineage branching. Nat. Methods 13, 845–848 (2016).

46.

Darmanis, S. et al. A survey of human brain transcriptome diversity at the single cell level. Proc. Natl Acad. Sci. USA 112, 7285–7290 (2015).

47.

Cohen, M. et al. Lung single-cell signaling interaction map reveals basophil role in macrophage imprinting. Cell 175, 1031–1044.e1018 (2018).

48.

MacParland, S. A. et al. Single cell RNA sequencing of human liver reveals distinct intrahepatic macrophage populations. Nat. Commun. 9, 4383 (2018).
Acknowledgements
We thank F. Tang, Q. Li and Y. Hu from Peking University for technical assistance during single cell library construction, and L. Robinson for language editing of the manuscript. This study was supported by grants from the National Key Research and Development Program of China, Stem Cell and Translational Research (2017YFA0103401, 2016YFA0100601 and 2019YFA0110201), the National Natural Science Foundation of China (31425012, 31930054, 81890991, 31871173, 81800102, 81600077, 81900115 and 31800978), the Program for Guangdong Introducing Innovative and Entrepreneurial Teams (2017ZT07S347), the Key Research and Development Program of Guangdong Province (2019B020234002), the Beijing Municipal Science & Technology Commission (Z171100000417009 and Z171100001117159), the National Key Research and Development Plan Young Scientists Program (2017YFA0106000), the State Key Laboratory of Proteomics (SKLP-K201502) and the China Postdoctoral Science Foundation (2018M643373). F.G. is supported by Singapore Immunology Network (SIgN) core funding. F.G. is a European Molecular Biology Organization (EMBO) YIP awardee and is supported by the Singapore National Research Foundation Senior Investigatorship (NRFI) NRF2016NRF-NRFI001-02. C.Z.W.L. is supported by an A*STAR Graduate Scholarship.
Ethics declarations
Competing interests
The authors declare no competing interests.
Additional information
Peer review information Nature thanks Hans-Reimer Rodewald and the other, anonymous, reviewer(s) for their contribution to the peer review of this work.
Publisher's note Springer Nature remains neutral with regard to jurisdictional claims in published maps and institutional affiliations.
Extended data figures and tables
Supplementary information
About this article
Cite this article
Bian, Z., Gong, Y., Huang, T. et al. Deciphering human macrophage development at single-cell resolution. Nature 582, 571–576 (2020). https://doi.org/10.1038/s41586-020-2316-7
Received:

Accepted:

Published:

Issue Date:
Comments
By submitting a comment you agree to abide by our Terms and Community Guidelines. If you find something abusive or that does not comply with our terms or guidelines please flag it as inappropriate.