Abstract
Genetic variations underlying susceptibility to complex autoimmune and allergic diseases are concentrated within noncoding regulatory elements termed enhancers1. The functions of a large majority of disease-associated enhancers are unknown, in part owing to their distance from the genes they regulate, a lack of understanding of the cell types in which they operate, and our inability to recapitulate the biology of immune diseases in vitro. Here, using shared synteny to guide loss-of-function analysis of homologues of human enhancers in mice, we show that the prominent autoimmune and allergic disease risk locus at chromosome 11q13.52,3,4,5,6,7 contains a distal enhancer that is functional in CD4+ regulatory T (Treg) cells and required for Treg-mediated suppression of colitis. The enhancer recruits the transcription factors STAT5 and NF-κB to mediate signal-driven expression of Lrrc32, which encodes the protein glycoprotein A repetitions predominant (GARP). Whereas disruption of the Lrrc32 gene results in early lethality, mice lacking the enhancer are viable but lack GARP expression in Foxp3+ Treg cells, which are unable to control colitis in a cell-transfer model of the disease. In human Treg cells, the enhancer forms conformational interactions with the promoter of LRRC32 and enhancer risk variants are associated with reduced histone acetylation and GARP expression. Finally, functional fine-mapping of 11q13.5 using CRISPR-activation (CRISPRa) identifies a CRISPRa-responsive element in the vicinity of risk variant rs11236797 capable of driving GARP expression. These findings provide a mechanistic basis for association of the 11q13.5 risk locus with immune-mediated diseases and identify GARP as a potential target in their therapy.
Relevant articles
Open Access articles citing this article.
Ning Liu

,

Timothy Sadlon

…

Simon C. Barry

Epigenetics & Chromatin Open Access 30 June 2022

Ammar J. Alsheikh

,

Sabrina Wollenhaupt

…

Howard J. Jacob

BMC Medical Genomics Open Access 01 April 2022

Pushpanathan Muthuirulan

,

Dewei Zhao

…

Terence D. Capellini

Nature Communications Open Access 06 July 2021
Access options
Access Nature and 54 other Nature Portfolio journals
Get Nature+, our best-value online-access subscription
$29.99 per month
cancel any time
Subscribe to this journal
Receive 51 print issues and online access
$199.00 per year
only $3.90 per issue
Rent or buy this article
Get just this article for as long as you need it
$39.95
Prices may be subject to local taxes which are calculated during checkout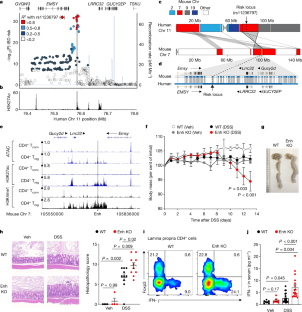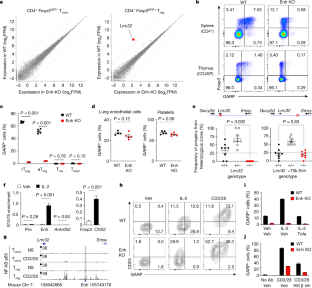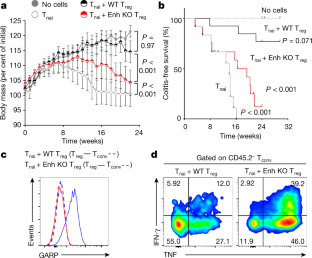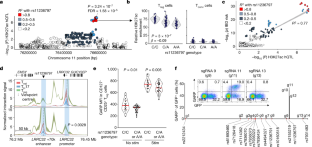 Data availability
RNA-seq data have been deposited in the Gene Expression Omnibus (GEO) database under the accession number GSE128198. Sequencing data for H3K27ac hQTL and mRNA eQTL analyses are deposited under the European Genome-phenome Archive (EGA; study accession EGAS00001003516, datasets EGAD00001004828 and EGAD00001004830).
References
Maurano, M. T. et al. Systematic localization of common disease-associated variation in regulatory DNA. Science 337, 1190–1195 (2012).

de Lange, K. M. et al. Genome-wide association study implicates immune activation of multiple integrin genes in inflammatory bowel disease. Nat. Genet. 49, 256–261 (2017).

Anderson, C. A. et al. Meta-analysis identifies 29 additional ulcerative colitis risk loci, increasing the number of confirmed associations to 47. Nat. Genet. 43, 246–252 (2011).

Onengut-Gumuscu, S. et al. Fine mapping of type 1 diabetes susceptibility loci and evidence for colocalization of causal variants with lymphoid gene enhancers. Nat. Genet. 47, 381–386 (2015).

Ferreira, M. A. et al. Identification of IL6R and chromosome 11q13.5 as risk loci for asthma. Lancet 378, 1006–1014 (2011).

Ferreira, M. A. et al. Shared genetic origin of asthma, hay fever and eczema elucidates allergic disease biology. Nat. Genet. 49, 1752–1757 (2017).

Paternoster, L. et al. Meta-analysis of genome-wide association studies identifies three new risk loci for atopic dermatitis. Nat. Genet. 44, 187–192 (2012).

Kundaje, A. et al. Integrative analysis of 111 reference human epigenomes. Nature 518, 317–330 (2015).

Sakaguchi, S., Yamaguchi, T., Nomura, T. & Ono, M. Regulatory T cells and immune tolerance. Cell 133, 775–787 (2008).

Josefowicz, S. Z., Lu, L. F. & Rudensky, A. Y. Regulatory T cells: mechanisms of differentiation and function. Annu. Rev. Immunol. 30, 531–564 (2012).

Kitagawa, Y. et al. Guidance of regulatory T cell development by Satb1-dependent super-enhancer establishment. Nat. Immunol. 18, 173–183 (2017).

Boschetti, G. et al. Gut inflammation in mice triggers proliferation and function of mucosal Foxp3+ regulatory t cells but impairs their conversion from CD4+ T cells. J. Crohn's Colitis 11, 105–117 (2017).

Worthington, J. J. et al. Integrin αvβ8-mediated TGF-β activation by effector regulatory T cells is essential for suppression of T-cell-mediated inflammation. Immunity 42, 903–915 (2015).

Tran, D. Q. et al. GARP (LRRC32) is essential for the surface expression of latent TGF-β on platelets and activated FOXP3+ regulatory T cells. Proc. Natl Acad. Sci. USA 106, 13445–13450 (2009).

Wang, R., Wan, Q., Kozhaya, L., Fujii, H. & Unutmaz, D. Identification of a regulatory T cell specific cell surface molecule that mediates suppressive signals and induces Foxp3 expression. PLoS ONE 3, e2705 (2008).

Dedobbeleer, O., Stockis, J., van der Woning, B., Coulie, P. G. & Lucas, S. Active TGF-β1 released from GARP/TGF-β1 complexes on the surface of stimulated human B lymphocytes increases class-switch recombination and production of IgA. J. Immunol. 199, 391–396 (2017).

Wallace, C. H. et al. B lymphocytes confer immune tolerance via cell surface GARP–TGF-β complex. JCI Insight 3, e99863 (2018).

Vermeersch, E. et al. The role of platelet and endothelial GARP in thrombosis and hemostasis. PLoS One 12, e0173329 (2017).

O'Connor, M. N. et al. Functional genomics in zebrafish permits rapid characterization of novel platelet membrane proteins. Blood 113, 4754–4762 (2009).

Arvey, A. et al. Genetic and epigenetic variation in the lineage specification of regulatory T cells. eLife 4, e07571 (2015).

Schmidl, C. et al. The enhancer and promoter landscape of human regulatory and conventional T-cell subpopulations. Blood 123, e68–e78 (2014).

Oh, H. et al. An NF-κB transcription-factor-dependent lineage-specific transcriptional program promotes regulatory T cell identity and function. Immunity 47, 450–465 (2017).

Changelian, P. S. et al. Prevention of organ allograft rejection by a specific Janus kinase 3 inhibitor. Science 302, 875–878 (2003).

Edwards, J. P. et al. Regulation of the expression of GARP/latent TGF-β1 complexes on mouse T cells and their role in regulatory T cell and TH17 differentiation. J. Immunol. 190, 5506–5515 (2013).

Eschborn, M. et al. Activated glycoprotein A repetitions predominant (GARP)-expressing regulatory T cells inhibit allergen-induced intestinal inflammation in humanized mice. J. Allergy Clin. Immunol. 136, 159–168 (2015).

Salem, M. et al. GARP dampens cancer immunity by sustaining function and accumulation of regulatory T cells in the colon. Cancer Res. 79, 1178–1190 (2019).

Chen, L. et al. Genetic drivers of epigenetic and transcriptional variation in human immune cells. Cell 167, 1398–1414 (2016).

Mumbach, M. R. et al. Enhancer connectome in primary human cells identifies target genes of disease-associated DNA elements. Nat. Genet. 49, 1602–1612 (2017).

Rao, S. S. et al. A 3D map of the human genome at kilobase resolution reveals principles of chromatin looping. Cell 159, 1665–1680 (2014).

Simeonov, D. R. et al. Discovery of stimulation-responsive immune enhancers with CRISPR activation. Nature 549, 111–115 (2017).

De Cuyper, I. M. et al. A novel flow cytometry-based platelet aggregation assay. Blood 121, e70–e80 (2013).

Asseman, C., Mauze, S., Leach, M. W., Coffman, R. L. & Powrie, F. An essential role for interleukin 10 in the function of regulatory T cells that inhibit intestinal inflammation. J. Exp. Med. 190, 995–1004 (1999).

Picelli, S. et al. Full-length RNA-seq from single cells using Smart-seq2. Nat. Protoc. 9, 171–181 (2014).

Buenrostro, J. D., Giresi, P. G., Zaba, L. C., Chang, H. Y. & Greenleaf, W. J. Transposition of native chromatin for fast and sensitive epigenomic profiling of open chromatin, DNA-binding proteins and nucleosome position. Nat. Methods 10, 1213–1218 (2013).

Pollard, K. S., Hubisz, M. J., Rosenbloom, K. R. & Siepel, A. Detection of nonneutral substitution rates on mammalian phylogenies. Genome Res. 20, 110–121 (2010).

Browning, B. L., Zhou, Y. & Browning, S. R. A one-penny imputed genome from next-generation reference panels. Am. J. Hum. Genet. 103, 338–348 (2018).

Schmidl, C., Rendeiro, A. F., Sheffield, N. C. & Bock, C. ChIPmentation: fast, robust, low-input ChIP-seq for histones and transcription factors. Nat. Methods 12, 963–965 (2015).

Zhang, Y. et al. Model-based analysis of ChIP-Seq (MACS). Genome Biol. 9, R137 (2008).

Liao, Y., Smyth, G. K. & Shi, W. featureCounts: an efficient general purpose program for assigning sequence reads to genomic features. Bioinformatics 30, 923–930 (2014).

Delaneau, O. et al. A complete tool set for molecular QTL discovery and analysis. Nat. Commun. 8, 15452 (2017).

Giambartolomei, C. et al. Bayesian test for colocalisation between pairs of genetic association studies using summary statistics. PLoS Genet. 10, e1004383 (2014).

Bossini-Castillo, L. et al. Immune disease variants modulate gene expression in regulatory CD4+ T cells and inform drug targets. Preprint at bioRxiv https://doi.org/10.1101/654632 (2019).

Perez-Pinera, P. et al. RNA-guided gene activation by CRISPR–Cas9-based transcription factors. Nat. Methods 10, 973–976 (2013).

Chen, X. et al. Functional interrogation of primary human T cells via CRISPR genetic editing. J. Immunol. 201, 1586–1598 (2018).

Demenais, F. et al. Multiancestry association study identifies new asthma risk loci that colocalize with immune-cell enhancer marks. Nat. Genet. 50, 42–53 (2018).
Acknowledgements
The research was supported by Wellcome Trust–Royal Society Fellowship 105663/Z/14/Z, Wellcome Trust grant WT206194, Biotechnology and Biological Sciences Research Council grants BB/N007794/1, BBS/E/B/000C0427 and BBS/E/B/000C0428, Cancer Research UK grant C52623/A22597, Medical Research Council grants MR/N014995/1, MR/S024468/1 and MC_UU_00014/5, Wellcome Trust Major Award 208363/Z/17/Z, Associazione Italiana per la Ricerca sul Cancro (AIRC) grant IG 20607, and US National Institutes of Health (NIH) grants RM1-HG007735, U19-AI142733 and R01-AI121920. We thank members of the Babraham Institute Biological Services Unit, flow cytometry facility and sequencing facility, and Wellcome Sanger Institute flow cytometry, sequencing, IT and data access facilities for data generation and processing. We thank all participating blood donors, and Cambridge and Oxford NHS Blood and Transplant, New York Blood Center and Policlinico San Matteo Pavia Fondazione for the recruitment of study participants. We thank F. De Paoli (Humanitas) for processing human PBMC samples and M. Turner, K. Okkenhaug, E. Shevach, M. Linterman and G. Butcher for support and discussion.
Ethics declarations
Competing interests
The authors declare no competing interests.
Additional information
Peer review information Nature thanks Arthur Kaser, Shimon Sakaguchi and the other, anonymous, reviewer(s) for their contribution to the peer review of this work.
Publisher's note Springer Nature remains neutral with regard to jurisdictional claims in published maps and institutional affiliations.
Extended data figures and tables
Supplementary information
About this article
Cite this article
Nasrallah, R., Imianowski, C.J., Bossini-Castillo, L. et al. A distal enhancer at risk locus 11q13.5 promotes suppression of colitis by Treg cells. Nature 583, 447–452 (2020). https://doi.org/10.1038/s41586-020-2296-7
Received:

Accepted:

Published:

Issue Date:

DOI: https://doi.org/10.1038/s41586-020-2296-7
Comments
By submitting a comment you agree to abide by our Terms and Community Guidelines. If you find something abusive or that does not comply with our terms or guidelines please flag it as inappropriate.