Abstract
Most proteins associate into multimeric complexes with specific architectures1,2, which often have functional properties such as cooperative ligand binding or allosteric regulation3. No detailed knowledge is available about how any multimer and its functions arose during evolution. Here we use ancestral protein reconstruction and biophysical assays to elucidate the origins of vertebrate haemoglobin, a heterotetramer of paralogous α- and β-subunits that mediates respiratory oxygen transport and exchange by cooperatively binding oxygen with moderate affinity. We show that modern haemoglobin evolved from an ancient monomer and characterize the historical 'missing link' through which the modern tetramer evolved—a noncooperative homodimer with high oxygen affinity that existed before the gene duplication that generated distinct α- and β-subunits. Reintroducing just two post-duplication historical substitutions into the ancestral protein is sufficient to cause strong tetramerization by creating favourable contacts with more ancient residues on the opposing subunit. These surface substitutions markedly reduce oxygen affinity and even confer cooperativity, because an ancient linkage between the oxygen binding site and the multimerization interface was already an intrinsic feature of the protein's structure. Our findings establish that evolution can produce new complex molecular structures and functions via simple genetic mechanisms that recruit existing biophysical features into higher-level architectures.
Relevant articles
Open Access articles citing this article.
Cheyenne Ziegler

,

Jonathan Martin

…

Faruck Morcos

Nature Communications Open Access 19 April 2023

Niklas Steube

,

Marcus Moldenhauer

…

Georg K. A. Hochberg

Nature Ecology & Evolution Open Access 03 April 2023

Jianzhong Ge

,

Xiaolu Wang

…

Jie Zhang

Microbial Cell Factories Open Access 28 March 2023
Access options
Access Nature and 54 other Nature Portfolio journals
Get Nature+, our best-value online-access subscription
$29.99 / 30 days
cancel any time
Subscribe to this journal
Receive 51 print issues and online access
$199.00 per year
only $3.90 per issue
Rent or buy this article
Prices vary by article type
from$1.95
to$39.95
Prices may be subject to local taxes which are calculated during checkout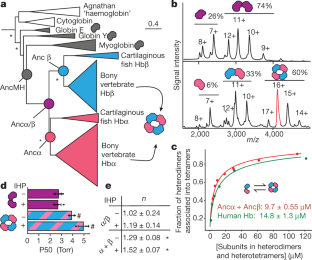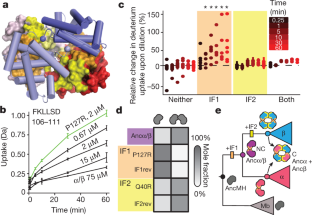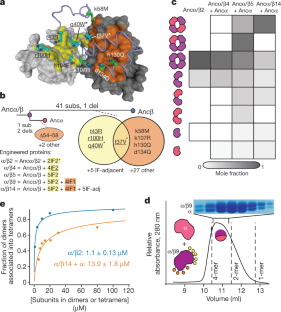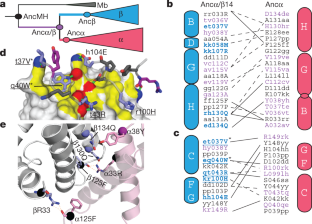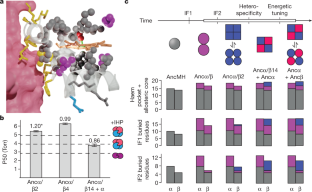 References
Ahnert, S. E., Marsh, J. A., Hernández, H., Robinson, C. V. & Teichmann, S. A. Principles of assembly reveal a periodic table of protein complexes. Science 350, aaa2245 (2015).

Marsh, J. A. & Teichmann, S. A. Structure, dynamics, assembly, and evolution of protein complexes. Annu. Rev. Biochem. 84, 551–575 (2015).

Monod, J., Wyman, J. & Changeux, J. P. On the nature of allosteric transitions: a plausible model. J. Mol. Biol. 12, 88–118 (1965).

Goodsell, D. S. & Olson, A. J. Structural symmetry and protein function. Annu. Rev. Biophys. Biomol. Struct. 29, 105–153 (2000).

Rivalta, I. et al. Allosteric pathways in imidazole glycerol phosphate synthase. Proc. Natl Acad. Sci. USA 109, E1428–E1436 (2012).

Dawkins, R. Climbing Mount Improbable (WW Norton & Company, 1997).

Perutz, M. F. et al. Structure of haemoglobin: a three-dimensional Fourier synthesis at 5.5-A. resolution, obtained by X-ray analysis. Nature 185, 416–422 (1960).

Storz, J. F. Hemoglobin: Insights into Protein Structure, Function, and Evolution (Oxford Univ. Press, 2018).

Goodman, M. & Moore, G. W. Phylogeny of hemoglobin. Syst. Zool. 22, 508–532 (1973).

Coates, M. L. Hemoglobin function in the vertebrates: an evolutionary model. J. Mol. Evol. 6, 285–307 (1975).

Zuckerkandl, E. The evolution of hemoglobin. Sci. Am. 212, 110–118 (1965).

Kendrew, J. C. et al. Structure of myoglobin: a three-dimensional Fourier synthesis at 2 A. resolution. Nature 185, 422–427 (1960).

Blank, M. et al. Oxygen supply from the bird's eye perspective: globin E is a respiratory protein in the chicken retina. J. Biol. Chem. 286, 26507–26515 (2011).

Fago, A., Rohlfing, K., Petersen, E. E., Jendroszek, A. & Burmester, T. Functional diversification of sea lamprey globins in evolution and development. Biochim. Biophys. Acta. Proteins Proteomics 1866, 283–291 (2018).

Lechauve, C. et al. Cytoglobin conformations and disulfide bond formation. FEBS J. 277, 2696–2704 (2010).

Heaslet, H. A. & Royer, W. E., Jr. The 2.7 A crystal structure of deoxygenated hemoglobin from the sea lamprey (Petromyzon marinus): structural basis for a lowered oxygen affinity and Bohr effect. Structure 7, 517–526 (1999).

Makino, M. et al. High-resolution structure of human cytoglobin: identification of extra N- and C-termini and a new dimerization mode. Acta Crystallogr. D 62, 671–677 (2006).

Kidd, R. D., Baker, H. M., Mathews, A. J., Brittain, T. & Baker, E. N. Oligomerization and ligand binding in a homotetrameric hemoglobin: two high-resolution crystal structures of hemoglobin Bart's (γ(4)), a marker for α-thalassemia. Protein Sci. 10, 1739–1749 (2001).

Kumar, K. K., Jacques, D. A., Guss, J. M. & Gell, D. A. The structure of α-haemoglobin in complex with a haemoglobin-binding domain from Staphylococcus aureus reveals the elusive α-haemoglobin dimerization interface. Acta Crystallogr. F 70, 1032–1037 (2014).

Hoffman, S. J. et al. Expression of fully functional tetrameric human hemoglobin in Escherichia coli. Proc. Natl Acad. Sci. USA 87, 8521–8525 (1990).

Tyuma, I., Benesch, R. E. & Benesch, R. The preparation and properties of the isolated α and β subunits of hemoglobin A. Biochemistry 5, 2957–2962 (1966).

Manning, L. R., Dumoulin, A., Jenkins, W. T., Winslow, R. M. & Manning, J. M. Determining subunit dissociation constants in natural and recombinant proteins. Methods Enzymol. 306, 113–129 (1999).

Ackers, G. K. Energetics of subunit assembly and ligand binding in human hemoglobin. Biophys. J. 32, 331–346 (1980).

Fersht, A. R. et al. Hydrogen bonding and biological specificity analysed by protein engineering. Nature 314, 235–238 (1985).

Eisenberg, D. & McLachlan, A. D. Solvation energy in protein folding and binding. Nature 319, 199–203 (1986).

Mihailescu, M.-R. & Russu, I. M. A signature of the T → R transition in human hemoglobin. Proc. Natl Acad. Sci. USA 98, 3773–3777 (2001).

Gelin, B. R., Lee, A. W. M. & Karplus, M. Hemoglobin tertiary structural change on ligand binding. Its role in the co-operative mechanism. J. Mol. Biol. 171, 489–559 (1983).

Sato, A., Gao, Y., Kitagawa, T. & Mizutani, Y. Primary protein response after ligand photodissociation in carbonmonoxy myoglobin. Proc. Natl Acad. Sci. USA 104, 9627–9632 (2007).

Barends, T. R. M. et al. Direct observation of ultrafast collective motions in CO myoglobin upon ligand dissociation. Science 350, 445–450 (2015).

Siddiq, M. A., Hochberg, G. K. & Thornton, J. W. Evolution of protein specificity: insights from ancestral protein reconstruction. Curr. Opin. Struct. Biol. 47, 113–122 (2017).

Garcia-Seisdedos, H., Empereur-Mot, C., Elad, N. & Levy, E. D. Proteins evolve on the edge of supramolecular self-assembly. Nature 548, 244–247 (2017).

Grueninger, D. et al. Designed protein-protein association. Science 319, 206–210 (2008).

Pauling, L. et al. Sickle cell anemia, a molecular disease. Science 110, 543–548 (1949).

Coyle, S. M., Flores, J. & Lim, W. A. Exploitation of latent allostery enables the evolution of new modes of MAP kinase regulation. Cell 154, 875–887 (2013).

Reynolds, K. A., McLaughlin, R. N. & Ranganathan, R. Hot spots for allosteric regulation on protein surfaces. Cell 147, 1564–1575 (2011).

Darwin, C. On the Origin of Species by Means of Natural Selection, or the Preservation of Favoured Races in the Struggle for Life 204–208 (John Murray, 1859).

Lynch, M. Evolutionary diversification of the multimeric states of proteins. Proc. Natl Acad. Sci. USA 110, E2821–E2828 (2013).

Finnigan, G. C., Hanson-Smith, V., Stevens, T. H. & Thornton, J. W. Evolution of increased complexity in a molecular machine. Nature 481, 360–364 (2012).

Gray, M. W., Lukeš, J., Archibald, J. M., Keeling, P. J. & Doolittle, W. F. Irremediable complexity? Science 330, 920–921 (2010).

Katoh, K., Rozewicki, J. & Yamada, K. D. MAFFT online service: multiple sequence alignment, interactive sequence choice and visualization. Brief. Bioinform. 20, 1160–1166 (2019).

Guindon, S. et al. New algorithms and methods to estimate maximum-likelihood phylogenies: assessing the performance of PhyML 3.0. Syst. Biol. 59, 307–321 (2010).

Le, S. Q. & Gascuel, O. An improved general amino acid replacement matrix. Mol. Biol. Evol. 25, 1307–1320 (2008).

Anisimova, M. & Gascuel, O. Approximate likelihood-ratio test for branches: A fast, accurate, and powerful alternative. Syst. Biol. 55, 539–552 (2006).

Anisimova, M., Gil, M., Dufayard, J. F., Dessimoz, C. & Gascuel, O. Survey of branch support methods demonstrates accuracy, power, and robustness of fast likelihood-based approximation schemes. Syst. Biol. 60, 685–699 (2011).

Hoffmann, F. G. et al. Evolution of the globin gene family in deuterostomes: lineage-specific patterns of diversification and attrition. Mol. Biol. Evol. 29, 1735–1745 (2012).

Hoffman, F. G. & Storz, J. F. The αD-globin gene originated via duplication of an embryonic α-like globin gene in the ancestor of tetrapod vertebrates. Mol. Biol. Evol. 24, 1982–1990 (2007).

Yang, Z. PAML 4: phylogenetic analysis by maximum likelihood. Mol. Biol. Evol. 24, 1586–1591 (2007).

Schwarze, K., Singh, A. & Burmester, T. The full globin repertoire of turtles provides insights into vertebrate globin evolution and functions. Genome Biol. Evol. 7, 1896–1913 (2015).

Natarajan, C. et al. Expression and purification of recombinant hemoglobin in Escherichia coli. PLoS ONE 6, e20176 (2011).

Imai, K. Allosteric Effects in Haemoglobin (Cambridge Univ. Press, 1982).

Bonaventura, C. & Bonaventura, J. Anionic control of function in vertebrate hemoglobins. Integr. Comp. Biol. 20, 131–138 (1980).

Weber, R. E. & Jensen, F. B. Functional adaptations in hemoglobins from ectothermic vertebrates. Annu. Rev. Physiol. 50, 161–179 (1988).

Isaacks, R. E. & Harkness, D. R. Erythrocyte organic phosphates and hemoglobin function in birds, reptiles, and fishes. Integr. Comp. Biol. 20, 115–129 (1980).

Benesch, R., Benesch, R. E. & Enoki, Y. The interaction of hemoglobin and its subunits with 2,3-diphosphoglycerate. Proc. Natl Acad. Sci. USA 61, 1102–1106 (1968).

Imaizumi, K., Imai, K. & Tyuma, I. The linkage between the four-step binding of oxygen and the binding of heterotropic anionic ligands in hemoglobin. J. Biochem. 86, 1829–1840 (1979).

Grispo, M. T. et al. Gene duplication and the evolution of hemoglobin isoform differentiation in birds. J. Biol. Chem. 287, 37647–37658 (2012).

Richard, V., Dodson, G. G. & Mauguen, Y. Human deoxyhaemoglobin-2,3-diphosphoglycerate complex low-salt structure at 2.5 A resolution. J. Mol. Biol. 233, 270–274 (1993).

Arnone, A. X-ray diffraction study of binding of 2,3-diphosphoglycerate to human deoxyhaemoglobin. Nature 237, 146–149 (1972).

Arnone, A. P. M. Structure of inositol hexaphosphate–human deoxyhaemoglobin complex. Nature 249, 195–197 (1974).

Cong, X. et al. Determining membrane protein-lipid binding thermodynamics using native mass spectrometry. J. Am. Chem. Soc. 138, 4346–4349 (2016).

Marty, M. T. et al. Bayesian deconvolution of mass and ion mobility spectra: from binary interactions to polydisperse ensembles. Anal. Chem. 87, 4370–4376 (2015).

Krissinel, E. & Henrick, K. Inference of macromolecular assemblies from crystalline state. J. Mol. Biol. 372, 774–797 (2007).
Acknowledgements
We thank C. Natarajan for technical advice and the Hb co-expression plasmid and members of the Thornton laboratory for technical advice and comments on the manuscript. Supported by NIH R01-GM131128 and R01-GM121931 (J.W.T.), NIH R01-HL087216 and NSF OIA-1736249 (J.F.S.), NIH T32-GM007197 (C.R.C.-R.), a Chicago Fellowship (G.K.A.H.), BBSRC BB/L017067/1 and Waters Corp. (J.L.P.B.).
Ethics declarations
Competing interests
The authors declare no competing interests.
Additional information
Peer review information Nature thanks Nobuhiko Tokuriki and the other, anonymous, reviewer(s) for their contribution to the peer review of this work.
Publisher's note Springer Nature remains neutral with regard to jurisdictional claims in published maps and institutional affiliations.
Extended data figures and tables
Supplementary information
This file contains Supplementary Discussion and additional reference.
Raw photograph of coomassie stained (20% SDS PAGE) gel fractions of Ancα/β9 + Ancα shown in Fig 3d, and image of same gel obtained by FluorchemQ imager.
About this article
Cite this article
Pillai, A.S., Chandler, S.A., Liu, Y. et al. Origin of complexity in haemoglobin evolution. Nature 581, 480–485 (2020). https://doi.org/10.1038/s41586-020-2292-y
Received:

Accepted:

Published:

Issue Date:

DOI: https://doi.org/10.1038/s41586-020-2292-y
Comments
By submitting a comment you agree to abide by our Terms and Community Guidelines. If you find something abusive or that does not comply with our terms or guidelines please flag it as inappropriate.