Abstract
Eukaryotic cells migrate by coupling the intracellular force of the actin cytoskeleton to the environment. While force coupling is usually mediated by transmembrane adhesion receptors, especially those of the integrin family, amoeboid cells such as leukocytes can migrate extremely fast despite very low adhesive forces1. Here we show that leukocytes cannot only migrate under low adhesion but can also transmit forces in the complete absence of transmembrane force coupling. When confined within three-dimensional environments, they use the topographical features of the substrate to propel themselves. Here the retrograde flow of the actin cytoskeleton follows the texture of the substrate, creating retrograde shear forces that are sufficient to drive the cell body forwards. Notably, adhesion-dependent and adhesion-independent migration are not mutually exclusive, but rather are variants of the same principle of coupling retrograde actin flow to the environment and thus can potentially operate interchangeably and simultaneously. As adhesion-free migration is independent of the chemical composition of the environment, it renders cells completely autonomous in their locomotive behaviour.
This is a preview of subscription content
Access options
Subscribe to Nature+
Get immediate online access to the entire Nature family of 50+ journals
Subscribe to Journal
Get full journal access for 1 year
$199.00
only $3.90 per issue
All prices are NET prices.
VAT will be added later in the checkout.
Tax calculation will be finalised during checkout.
Buy article
Get time limited or full article access on ReadCube.
$32.00
All prices are NET prices.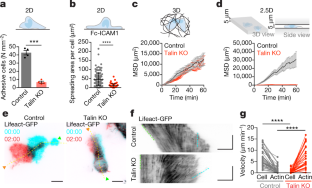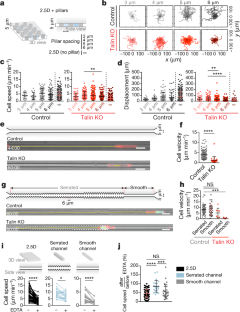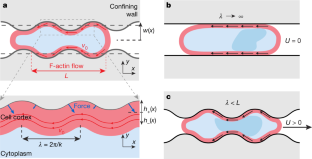 References
Lämmermann, T. & Sixt, M. Mechanical modes of 'amoeboid' cell migration. Curr. Opin. Cell Biol. 21, 636–644 (2009).

Abercrombie, M., Heaysman, J. E. & Pegrum, S. M. The locomotion of fibroblasts in culture. 3. Movements of particles on the dorsal surface of the leading lamella. Exp. Cell Res. 62, 389–398 (1970).

Liu, Y.-J. J. et al. Confinement and low adhesion induce fast amoeboid migration of slow mesenchymal cells. Cell 160, 659–672 (2015).

Friedl, P. & Wolf, K. Plasticity of cell migration: a multiscale tuning model. J. Cell Biol. 188, 11–19 (2010).

Lämmermann, T. et al. Rapid leukocyte migration by integrin-independent flowing and squeezing. Nature 453, 51–55 (2008).

Bergert, M. et al. Force transmission during adhesion-independent migration. Nat. Cell Biol. 17, 524–529 (2015).

Schmidt, S. & Friedl, P. Interstitial cell migration: integrin-dependent and alternative adhesion mechanisms. Cell Tissue Res. 339, 83–92 (2010).

Hons, M. et al. Chemokines and integrins independently tune actin flow and substrate friction during intranodal migration of T cells. Nat. Immunol. 19, 606–616 (2018).

Woolf, E. et al. Lymph node chemokines promote sustained T lymphocyte motility without triggering stable integrin adhesiveness in the absence of shear forces. Nat. Immunol. 8, 1076–1085 (2007).

Calderwood, D. A., Campbell, I. D. & Critchley, D. R. Talins and kindlins: partners in integrin-mediated adhesion. Nat. Rev. Mol. Cell Biol. 14, 503–517 (2013).

Le Berre, M., Aubertin, J. & Piel, M. Fine control of nuclear confinement identifies a threshold deformation leading to lamina rupture and induction of specific genes. Integr. Biol. (Camb.) 4, 1406–1414 (2012).

Renkawitz, J. et al. Adaptive force transmission in amoeboid cell migration. Nat. Cell Biol. 11, 1438–1443 (2009).

Renkawitz, J., Reversat, A., Leithner, A., Merrin, J. & Sixt, M. Micro-engineered "pillar forests" to study cell migration in complex but controlled 3D environments. Methods Cell Biol. 147, 79–91 (2018).

Vargas, P., Barbier, L., Sáez, P. J. & Piel, M. Mechanisms for fast cell migration in complex environments. Curr. Opin. Cell Biol. 48, 72–78 (2017).

Medeiros, N. A., Burnette, D. T. & Forscher, P. Myosin II functions in actin-bundle turnover in neuronal growth cones. Nat. Cell Biol. 8, 215–226 (2006).

Henson, J. H. et al. Two components of actin-based retrograde flow in sea urchin coelomocytes. Mol. Biol. Cell 10, 4075–4090 (1999).

Cramer, L. P. Molecular mechanism of actin-dependent retrograde flow in lamellipodia of motile cells. Front. Biosci. 2, d260–d270 (1997).

Driscoll, M. K. et al. Cell shape dynamics: from waves to migration. PLoS Comput. Biol. 8, e1002392 (2012).

Howe, J. D., Barry, N. P. & Bretscher, M. S. How do amoebae swim and crawl? PLoS One 8, e74382 (2013).

Bae, A. J. & Bodenschatz, E. On the swimming of Dictyostelium amoebae. Proc. Natl Acad. Sci. USA 107, E165–E166 (2010).

Mandeville, J. T. H., Lawson, M. A. & Maxfield, F. R. Dynamic imaging of neutrophil migration in three dimensions: mechanical interactions between cells and matrix. J. Leukoc. Biol. 61, 188–200 (1997).

Tozluoğlu, M. et al. Matrix geometry determines optimal cancer cell migration strategy and modulates response to interventions. Nat. Cell Biol. 15, 751–762 (2013).

Jankowiak, G., Peurichard, D., Reversat, A., Schmeiser, C. & Sixt, M. Modelling adhesion-independent cell migration. Math. Model. Methods Appl. Sci. 30, 513–537 (2020).

Riedl, J. et al. Lifeact: a versatile marker to visualize F-actin. Nat. Methods 5, 605–607 (2008).

Leithner, A. et al. Diversified actin protrusions promote environmental exploration but are dispensable for locomotion of leukocytes. Nat. Cell Biol. 18, 1253–1259 (2016).

Shalem, O. et al. Genome-scale CRISPR–Cas9 knockout screening in human cells. Science 343, 84–87 (2014).

Leithner, A., Merrin, J., Reversat, A. & Sixt, M. Geometrically complex microfluidic devices for the study of cell migration. Protoc. Exch. https://doi.org/10.1038/protex.2016.063 (2016).

Schwarz, J. et al. A microfluidic device for measuring cell migration towards substrate-bound and soluble chemokine gradients. Sci. Rep. 6, 36440 (2016).

Sixt, M. & Lämmermann, T. in Cell Migration: Developmental Methods and Protocols (eds. Wells, C. M. & Parsons, M.) 149–165 (Humana, 2011).

Képiró, M. et al. para-Nitroblebbistatin, the non-cytotoxic and photostable myosin II inhibitor. Angew. Chem. Int. Ed. Engl. 53, 8211–8215 (2014).

Tinevez, J. Y. et al. TrackMate: an open and extensible platform for single-particle tracking. Methods 115, 80–90 (2017).

Sommer, C., Straehle, C., Koethe, U. & Hamprecht, F. A. Ilastik: interactive learning and segmentation toolkit. In 2011 IEEE International Symposium on Biomedical Imaging: From Nano to Macro 230–233 (IEEE, 2011).
Acknowledgements
We thank A. Leithner and J. Renkawitz for discussion and critical reading of the manuscript; J. Schwarz and M. Mehling for establishing the microfluidic setups; the Bioimaging Facility of IST Austria for excellent support, as well as the Life Science Facility and the Miba Machine Shop of IST Austria; and F. N. Arslan, L. E. Burnett and L. Li for their work during their rotation in the IST PhD programme. This work was supported by the European Research Council (ERC StG 281556 and CoG 724373) to M.S. and grants from the Austrian Science Fund (FWF P29911) and the WWTF to M.S. M.H. was supported by the European Regional Development Fund Project (CZ.02.1.01/0.0/0.0/15_003/0000476). F.G. received funding from the European Union's Horizon 2020 research and innovation programme under the Marie Skłodowska-Curie grant agreement no. 747687.
Ethics declarations
Competing interests
The authors declare no competing interests.
Additional information
Peer review information Nature thanks Kenneth Yamada and the other, anonymous, reviewer(s) for their contribution to the peer review of this work.
Publisher's note Springer Nature remains neutral with regard to jurisdictional claims in published maps and institutional affiliations.
Extended data figures and tables
Supplementary information
About this article
Cite this article
Reversat, A., Gaertner, F., Merrin, J. et al. Cellular locomotion using environmental topography. Nature 582, 582–585 (2020). https://doi.org/10.1038/s41586-020-2283-z
Received:

Accepted:

Published:

Issue Date:

DOI: https://doi.org/10.1038/s41586-020-2283-z
Comments
By submitting a comment you agree to abide by our Terms and Community Guidelines. If you find something abusive or that does not comply with our terms or guidelines please flag it as inappropriate.