Abstract
Human immunodeficiency virus 1 (HIV-1) is a retrovirus with a ten-kilobase single-stranded RNA genome. HIV-1 must express all of its gene products from a single primary transcript, which undergoes alternative splicing to produce diverse protein products that include structural proteins and regulatory factors1,2. Despite the critical role of alternative splicing, the mechanisms that drive the choice of splice site are poorly understood. Synonymous RNA mutations that lead to severe defects in splicing and viral replication indicate the presence of unknown cis-regulatory elements3. Here we use dimethyl sulfate mutational profiling with sequencing (DMS-MaPseq) to investigate the structure of HIV-1 RNA in cells, and develop an algorithm that we name 'detection of RNA folding ensembles using expectation–maximization' (DREEM), which reveals the alternative conformations that are assumed by the same RNA sequence. Contrary to previous models that have analysed population averages4, our results reveal heterogeneous regions of RNA structure across the entire HIV-1 genome. In addition to confirming that in vitro characterized5 alternative structures for the HIV-1 Rev responsive element also exist in cells, we discover alternative conformations at critical splice sites that influence the ratio of transcript isoforms. Our simultaneous measurement of splicing and intracellular RNA structure provides evidence for the long-standing hypothesis6,7,8 that heterogeneity in RNA conformation regulates splice-site use and viral gene expression.
This is a preview of subscription content
Access options
Subscribe to Journal
Get full journal access for 1 year
$199.00
only $3.90 per issue
All prices are NET prices.
VAT will be added later in the checkout.
Tax calculation will be finalised during checkout.
Rent or Buy article
Get time limited or full article access on ReadCube.
from$8.99
All prices are NET prices.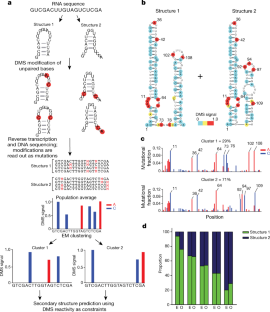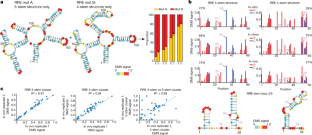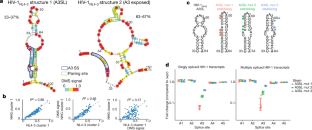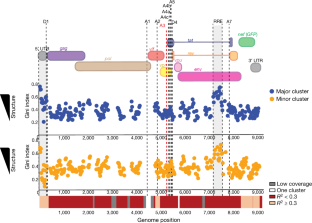 Data availability
Sequencing data can be obtained from the Gene Expression Omnibus (GEO) database using accession number GSE131506. All other data are available from the corresponding author upon reasonable request.
Code availability
The following programs were used. For sequence alignment, Bowtie2 2.3.4.1. For code development, Python v. 3.6.7. For read trimming, TrimGalore 0.4.1. For read quality assessment, FastQC v.0.11.8. For RNA secondary structure analysis, RNAstructure v.6.0.1. For calculating post-mapping statistics, Picard 2.18.7. For visualization of RNA secondary structure, VARNA v.3.93. For HIV-1 splicing analysis, https://github.com/SwanstromLab/SPLICING. For generating splice plots, R version 3.5.1. For figure construction, Adobe Illustrator CC 2019. For data analysis, Microsoft Excel 2018. For plot generation, Plotly v.3.2.1. The DREEM clustering algorithm is available at https://codeocean.com/capsule/6175523/tree/v1.
References
1.

Purcell, D. F. & Martin, M. A. Alternative splicing of human immunodeficiency virus type 1 mRNA modulates viral protein expression, replication, and infectivity. J. Virol. 67, 6365–6378 (1993).

2.

Ocwieja, K. E. et al. Dynamic regulation of HIV-1 mRNA populations analyzed by single-molecule enrichment and long-read sequencing. Nucleic Acids Res. 40, 10345–10355 (2012).

3.

Takata, M. A. et al. Global synonymous mutagenesis identifies cis-acting RNA elements that regulate HIV-1 splicing and replication. PLoS Pathog. 14, e1006824 (2018).

4.

Watts, J. M. et al. Architecture and secondary structure of an entire HIV-1 RNA genome. Nature 460, 711–716 (2009).

5.

Sherpa, C., Rausch, J. W., Le Grice, S. F., Hammarskjold, M. L. & Rekosh, D. The HIV-1 Rev response element (RRE) adopts alternative conformations that promote different rates of virus replication. Nucleic Acids Res. 43, 4676–4686 (2015).

6.

Warf, M. B. & Berglund, J. A. Role of RNA structure in regulating pre-mRNA splicing. Trends Biochem. Sci. 35, 169–178 (2010).

7.

Shepard, P. J. & Hertel, K. J. Conserved RNA secondary structures promote alternative splicing. RNA 14, 1463–1469 (2008).

8.

Singh, N. N., Lee, B. M. & Singh, R. N. Splicing regulation in spinal muscular atrophy by an RNA structure formed by long-distance interactions. Ann. NY Acad. Sci. 1341, 176–187 (2015).

9.

Huthoff, H. & Berkhout, B. Two alternating structures of the HIV-1 leader RNA. RNA 7, 143–157 (2001).

10.

Abbink, T. E., Ooms, M., Haasnoot, P. C. & Berkhout, B. The HIV-1 leader RNA conformational switch regulates RNA dimerization but does not regulate mRNA translation. Biochemistry 44, 9058–9066 (2005).

11.

Zubradt, M. et al. DMS-MaPseq for genome-wide or targeted RNA structure probing in vivo. Nat. Methods 14, 75–82 (2017).

12.

Bishop, C. M. Pattern Recognition and Machine Learning (Springer, 2006).

13.

Reuter, J. S. & Mathews, D. H. RNAstructure: software for RNA secondary structure prediction and analysis. BMC Bioinformatics 11, 129 (2010).

14.

Spasic, A., Assmann, S. M., Bevilacqua, P. C. & Mathews, D. H. Modeling RNA secondary structure folding ensembles using SHAPE mapping data. Nucleic Acids Res. 46, 314–323 (2018).

15.

Homan, P. J. et al. Single-molecule correlated chemical probing of RNA. Proc. Natl Acad. Sci. USA 111, 13858–13863 (2014).

16.

Sengupta, A., Rice, G. M. & Weeks, K. M. Single-molecule correlated chemical probing reveals large-scale structural communication in the ribosome and the mechanism of the antibiotic spectinomycin in living cells. PLoS Biol. 17, e3000393 (2019).

17.

Ding, Y. & Lawrence, C. E. A statistical sampling algorithm for RNA secondary structure prediction. Nucleic Acids Res. 31, 7280–7301 (2003).

18.

Halvorsen, M., Martin, J. S., Broadaway, S. & Laederach, A. Disease-associated mutations that alter the RNA structural ensemble. PLoS Genet. 6, e1001074 (2010).

19.

Wan, Y. et al. Landscape and variation of RNA secondary structure across the human transcriptome. Nature 505, 706–709 (2014).

20.

Tian, S., Kladwang, W. & Das, R. Allosteric mechanism of the V. vulnificus adenine riboswitch resolved by four-dimensional chemical mapping. eLife 7, e29602 (2018).

21.

Lemay, J. F. et al. Comparative study between transcriptionally- and translationally-acting adenine riboswitches reveals key differences in riboswitch regulatory mechanisms. PLoS Genet. 7, e1001278 (2011).

22.

Zaug, A. J. & Cech, T. R. Analysis of the structure of Tetrahymena nuclear RNAs in vivo: telomerase RNA, the self-splicing rRNA intron, and U2 snRNA. RNA 1, 363–374 (1995).

23.

Emery, A., Zhou, S., Pollom, E. & Swanstrom, R. Characterizing HIV-1 splicing by using next-generation sequencing. J. Virol. 91, e02515-16 (2017).

24.

Schwarz, G. Estimating the dimension of a model. Ann. Stat. 6, 461–464 (1978).

25.

Rouskin, S., Zubradt, M., Washietl, S., Kellis, M. & Weissman, J. S. Genome-wide probing of RNA structure reveals active unfolding of mRNA structures in vivo. Nature 505, 701–705 (2014).

26.

Liu, Y. et al. The roles of five conserved lentiviral RNA structures in HIV-1 replication. Virology 514, 1–8 (2018).

27.

Kondo, Y., Oubridge, C., van Roon, A. M. & Nagai, K. Crystal structure of human U1 snRNP, a small nuclear ribonucleoprotein particle, reveals the mechanism of 5′ splice site recognition. eLife 4, e04986 (2015).

28.

Cornilescu, G. et al. Structural analysis of multi-helical RNAs by NMR-SAXS/WAXS: application to the U4/U6 di-snRNA. J. Mol. Biol. 428 (5 Pt A), 777–789 (2016).

29.

Xiong, H. Y. et al. The human splicing code reveals new insights into the genetic determinants of disease. Science 347, 1254806 (2015).

30.

Faustino, N. A. & Cooper, T. A. Pre-mRNA splicing and human disease. Genes Dev. 17, 419–437 (2003).

31.

Langmead, B. & Salzberg, S. L. Fast gapped-read alignment with Bowtie 2. Nat. Methods 9, 357–359 (2012).

32.

Darty, K., Denise, A. & Ponty, Y. VARNA: interactive drawing and editing of the RNA secondary structure. Bioinformatics 25, 1974–1975 (2009).

33.

Adachi, A. et al. Production of acquired immunodeficiency syndrome-associated retrovirus in human and nonhuman cells transfected with an infectious molecular clone. J. Virol. 59, 284–291 (1986).

34.

Lahm, H. W. & Stein, S. Characterization of recombinant human interleukin-2 with micromethods. J. Chromatogr. A 326, 357–361 (1985).
Acknowledgements
The following reagents were obtained through the NIH AIDS Reagent Program, Division of AIDS, NIAID, NIH: human recombinant IL-2 from M. Gately and HIV-1NL4-3 infectious molecular clone (pNL4-3) from M. Martin (cat. no. 114). This work was supported in part by the NIH (R21AI134365), the Center of HIV-1 RNA Studies (CRNA) NIH U54AI50470, the Smith Family Foundation and the Burroughs Wellcome fund.
Ethics declarations
Competing interests
The authors declare no competing interests.
Additional information
Peer review information Nature thanks Alan Frankel, Daniel Herschlag, Alain Laederach and the other, anonymous, reviewer(s) for their contribution to the peer review of this work.
Publisher's note Springer Nature remains neutral with regard to jurisdictional claims in published maps and institutional affiliations.
Extended data figures and tables
Supplementary information
About this article
Cite this article
Tomezsko, P.J., Corbin, V.D.A., Gupta, P. et al. Determination of RNA structural diversity and its role in HIV-1 RNA splicing. Nature 582, 438–442 (2020). https://doi.org/10.1038/s41586-020-2253-5
Received:

Accepted:

Published:

Issue Date:
Comments
By submitting a comment you agree to abide by our Terms and Community Guidelines. If you find something abusive or that does not comply with our terms or guidelines please flag it as inappropriate.