Abstract
Regulatory T (Treg) cells are required to control immune responses and maintain homeostasis, but are a significant barrier to antitumour immunity1. Conversely, Treg instability, characterized by loss of the master transcription factor Foxp3 and acquisition of proinflammatory properties2, can promote autoimmunity and/or facilitate more effective tumour immunity3,4. A comprehensive understanding of the pathways that regulate Foxp3 could lead to more effective Treg therapies for autoimmune disease and cancer. The availability of new functional genetic tools has enabled the possibility of systematic dissection of the gene regulatory programs that modulate Foxp3 expression. Here we developed a CRISPR-based pooled screening platform for phenotypes in primary mouse Treg cells and applied this technology to perform a targeted loss-of-function screen of around 500 nuclear factors to identify gene regulatory programs that promote or disrupt Foxp3 expression. We identified several modulators of Foxp3 expression, including ubiquitin-specific peptidase 22 (Usp22) and ring finger protein 20 (Rnf20). Usp22, a member of the deubiquitination module of the SAGA chromatin-modifying complex, was revealed to be a positive regulator that stabilized Foxp3 expression; whereas the screen suggested that Rnf20, an E3 ubiquitin ligase, can serve as a negative regulator of Foxp3. Treg-specific ablation of Usp22 in mice reduced Foxp3 protein levels and caused defects in their suppressive function that led to spontaneous autoimmunity but protected against tumour growth in multiple cancer models. Foxp3 destabilization in Usp22-deficient Treg cells could be rescued by ablation of Rnf20, revealing a reciprocal ubiquitin switch in Treg cells. These results reveal previously unknown modulators of Foxp3 and demonstrate a screening method that can be broadly applied to discover new targets for Treg immunotherapies for cancer and autoimmune disease.
Relevant articles
Open Access articles citing this article.
Julia Carnevale

,

Eric Shifrut

…

Alexander Marson

Nature Open Access 24 August 2022

Ke Liu

,

Jia-Jia Cui

…

Ji-Ye Yin

Molecular Cancer Open Access 11 April 2022

Kun Lin

,

Shang-Hang Shen

…

De Wei

Journal of Translational Medicine Open Access 19 February 2022
Access options
Subscribe to Nature+
Get immediate online access to Nature and 55 other Nature journal
Subscribe to Journal
Get full journal access for 1 year
$199.00
only $3.90 per issue
All prices are NET prices.
VAT will be added later in the checkout.
Tax calculation will be finalised during checkout.
Buy article
Get time limited or full article access on ReadCube.
$32.00
All prices are NET prices.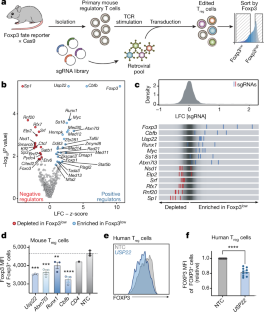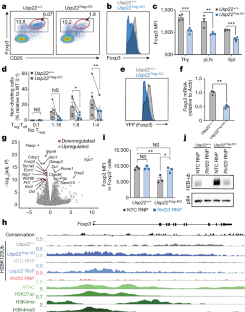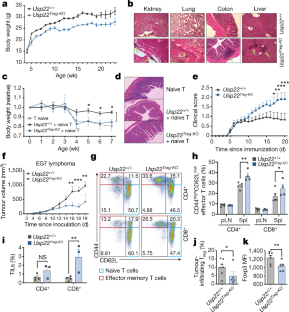 Data availability
Data from the screen (Fig. 1) and RNA sequencing (Fig. 2, Extended Data Fig. 5) are provided here in Supplementary Tables 1 and 5. ChIP–seq data that support the findings of this study have been deposited in the Gene Expression Omnibus under the accession code GSE140102. Foxp3 ChIP–seq results are in the Gene Expression Omnibus under accession code GSE40684; ATAC–seq and ChIP–seq for H3K4me, H3K27ac, H3K4me3 are in the Sequence Read Archive under accession number DRP003376. Source data for Figs. 1–3 and Extended Data Figs. 2–8 are provided with the paper. All other data are available from the corresponding author upon reasonable request.
Code availability
All code used for data visualization in this manuscript will be made available on request.
References
Sakaguchi, S., Yamaguchi, T., Nomura, T., Ono, M. & Regulatory, T. Regulatory T cells and immune tolerance. Cell 133, 775–787 (2008).

Zhou, X. et al. Instability of the transcription factor Foxp3 leads to the generation of pathogenic memory T cells in vivo. Nat. Immunol. 10, 1000–1007 (2009).

Bailey-Bucktrout, S. L. & Bluestone, J. A. Regulatory T cells: stability revisited. Trends Immunol. 32, 301–306 (2011).

Overacre-Delgoffe, A. E. & Vignali, D. A. A. Treg fragility: a prerequisite for effective antitumor immunity? Cancer Immunol. Res. 6, 882–887 (2018).

Bluestone, J. A. & Tang, Q. Treg cells-the next frontier of cell therapy. Science 362, 154–155 (2018).

Doench, J. G. et al. Optimized sgRNA design to maximize activity and minimize off-target effects of CRISPR–Cas9. Nat. Biotechnol. 34, 184–191 (2016).

Li, W. et al. MAGeCK enables robust identification of essential genes from genome-scale CRISPR/Cas9 knockout screens. Genome Biol. 15, 554 (2014).

Beyer, M. & Schultze, J. L. Plasticity of Treg cells: is reprogramming of Treg cells possible in the presence of FOXP3? Int. Immunopharmacol. 11, 555–560 (2011).

Maruyama, T., Konkel, J. E., Zamarron, B. F. & Chen, W. The molecular mechanisms of Foxp3 gene regulation. Semin. Immunol. 23, 418–423 (2011).

Kitoh, A. et al. Indispensable role of the Runx1–Cbfβ transcription complex for in vivo-suppressive function of FoxP3+ regulatory T cells. Immunity 31, 609–620 (2009).

Rudra, D. et al. Runx-CBFβ complexes control expression of the transcription factor Foxp3 in regulatory T cells. Nat. Immunol. 10, 1170–1177 (2009).

Ono, M. et al. Foxp3 controls regulatory T-cell function by interacting with AML1/Runx1. Nature 446, 685–689 (2007).

Yao, Z. et al. Nonredundant roles for Stat5a/b in directly regulating Foxp3. Blood 109, 4368–4375 (2007).

Williams, L. M. & Rudensky, A. Y. Maintenance of the Foxp3-dependent developmental program in mature regulatory T cells requires continued expression of Foxp3. Nat. Immunol. 8, 277–284 (2007).

Beyer, M. et al. Repression of the genome organizer SATB1 in regulatory T cells is required for suppressive function and inhibition of effector differentiation. Nat. Immunol. 12, 898–907 (2011).

Koutelou, E., Hirsch, C. L. & Dent, S. Y. R. Multiple faces of the SAGA complex. Curr. Opin. Cell Biol. 22, 374–382 (2010).

Schumann, K. et al. Generation of knock-in primary human T cells using Cas9 ribonucleoproteins. Proc. Natl Acad. Sci. USA 112, 10437–10442 (2015).

Rubtsov, Y. P. et al. Regulatory T cell-derived interleukin-10 limits inflammation at environmental interfaces. Immunity 28, 546–558 (2008).

da Silva Martins, M. & Piccirillo, C. A. Functional stability of Foxp3+ regulatory T cells. Trends Mol. Med. 18, 454–462 (2012).

Feng, Y. et al. Control of the inheritance of regulatory T cell identity by a cis element in the Foxp3 locus. Cell 158, 749–763 (2014).

Li, X., Liang, Y., LeBlanc, M., Benner, C. & Zheng, Y. Function of a Foxp3 cis-element in protecting regulatory T cell identity. Cell 158, 734–748 (2014).

Zheng, Y. et al. Role of conserved non-coding DNA elements in the Foxp3 gene in regulatory T-cell fate. Nature 463, 808–812 (2010).

DuPage, M. et al. The chromatin-modifying enzyme Ezh2 is critical for the maintenance of regulatory T cell identity after activation. Immunity 42, 227–238 (2015).

Wei, G. et al. Global mapping of H3K4me3 and H3K27me3 reveals specificity and plasticity in lineage fate determination of differentiating CD4+ T cells. Immunity 30, 155–167 (2009).

Josefowicz, S. Z. et al. Extrathymically generated regulatory T cells control mucosal TH2 inflammation. Nature 482, 395–399 (2012).

Yu, X. et al. SENP3 maintains the stability and function of regulatory T cells via BACH2 deSUMOylation. Nat. Commun. 9, 3157 (2018).

Chen, Z. et al. The ubiquitin ligase Stub1 negatively modulates regulatory T cell suppressive activity by promoting degradation of the transcription factor Foxp3. Immunity 39, 272–285 (2013).

van Loosdregt, J. et al. Stabilization of the transcription factor Foxp3 by the deubiquitinase USP7 increases Treg-cell-suppressive capacity. Immunity 39, 259–271 (2013).

Dang, E. V. et al. Control of TH17/Treg balance by hypoxia-inducible factor 1. Cell 146, 772–784 (2011).

Li, Y. et al. USP21 prevents the generation of T-helper-1-like Treg cells. Nat. Commun. 7, 13559 (2016).

Henry, K. W. et al. Transcriptional activation via sequential histone H2B ubiquitylation and deubiquitylation, mediated by SAGA-associated Ubp8. Genes Dev. 17, 2648–2663 (2003).

Melo-Cardenas, J., Zhang, Y., Zhang, D. D. & Fang, D. Ubiquitin-specific peptidase 22 functions and its involvement in disease. Oncotarget 7, 44848–44856 (2016).

Lin, Z. et al. USP22 antagonizes p53 transcriptional activation by deubiquitinating Sirt1 to suppress cell apoptosis and is required for mouse embryonic development. Mol. Cell 46, 484–494 (2012).

Zhou, X. et al. Selective miRNA disruption in T reg cells leads to uncontrolled autoimmunity. J. Exp. Med. 205, 1983–1991 (2008).

Luche, H., Weber, O., Nageswara Rao, T., Blum, C. & Fehling, H. J. Faithful activation of an extra-bright red fluorescent protein in "knock-in" Cre-reporter mice ideally suited for lineage tracing studies. Eur. J. Immunol. 37, 43–53 (2007).

Bailey-Bucktrout, S. L. et al. Self-antigen-driven activation induces instability of regulatory T cells during an inflammatory autoimmune response. Immunity 39, 949–962 (2013).

Platt, R. J. et al. CRISPR-Cas9 knockin mice for genome editing and cancer modeling. Cell 159, 440–455 (2014).

Haribhai, D. et al. Regulatory T cells dynamically control the primary immune response to foreign antigen. J. Immunol. 178, 2961–2972 (2007).

Joung, J. et al. Genome-scale CRISPR–Cas9 knockout and transcriptional activation screening. Nat. Protoc. 12, 828–863 (2017).

Stubbington, M. J. et al. An atlas of mouse CD4+ T cell transcriptomes. Biol. Direct 10, 14 (2015).

Gilbert, L. A. et al. Genome-scale CRISPR-mediated control of gene repression and activation. Cell 159, 647–661 (2014).

Shifrut, E. et al. Genome-wide CRISPR screens in primary human T cells reveal key regulators of immune function. Cell 175, 1958–1971 (2018).

Hultquist, J. F. et al. A Cas9 ribonucleoprotein platform for functional genetic studies of HIV–host interactions in primary human T cells. Cell Rep. 17, 1438–1452 (2016).

Brinkman, E. K., Chen, T., Amendola, M. & van Steensel, B. Easy quantitative assessment of genome editing by sequence trace decomposition. Nucleic Acids Res. 42, e168 (2014).

Melo-Cardenas, J. et al. USP22 deficiency leads to myeloid leukemia upon oncogenic Kras activation through a PU.1 dependent mechanism. Blood 132, 423–434 (2018).

Chen, S. et al. Host miR155 promotes tumor growth through a myeloid-derived suppressor cell-dependent mechanism. Cancer Res. 75, 519–531 (2015).

Qiu, J. et al. The aryl hydrocarbon receptor regulates gut immunity through modulation of innate lymphoid cells. Immunity 36, 92–104 (2012).

Lee, S.-M., Gao, B. & Fang, D. FoxP3 maintains Treg unresponsiveness by selectively inhibiting the promoter DNA-binding activity of AP-1. Blood 111, 3599–3606 (2008).

Gao, B., Kong, Q., Kemp, K., Zhao, Y.-S. & Fang, D. Analysis of sirtuin 1 expression reveals a molecular explanation of IL-2-mediated reversal of T-cell tolerance. Proc. Natl Acad. Sci. USA 109, 899–904 (2012).

Dobin, A. et al. STAR: ultrafast universal RNA-seq aligner. Bioinformatics 29, 15–21 (2013).

Samstein, R. M. et al. Foxp3 exploits a pre-existent enhancer landscape for regulatory T cell lineage specification. Cell 151, 153–166 (2012).

Kitagawa, Y. et al. Guidance of regulatory T cell development by Satb1-dependent super-enhancer establishment. Nat. Immunol. 18, 173–183 (2017).

Whyte, W. A. et al. Master transcription factors and mediator establish super-enhancers at key cell identity genes. Cell 153, 307–319 (2013).

Creyghton, M. P. et al. Histone H3K27ac separates active from poised enhancers and predicts developmental state. Proc. Natl Acad. Sci. USA 107, 21931–21936 (2010).

Simeonov, D. R. et al. Discovery of stimulation-responsive immune enhancers with CRISPR activation. Nature 549, 111–115 (2017).

Bray, N. L., Pimentel, H., Melsted, P. & Pachter, L. Near-optimal probabilistic RNA-seq quantification. Nat. Biotechnol. 34, 525–527 (2016).

Lovén, J. et al. Revisiting global gene expression analysis. Cell 151, 476–482 (2012).

Love, M. I., Huber, W. & Anders, S. Moderated estimation of fold change and dispersion for RNA-seq data with DESeq2. Genome Biol. 15, 550 (2014).

Szklarczyk, D. et al. STRING v11: protein–protein association networks with increased coverage, supporting functional discovery in genome-wide experimental datasets. Nucleic Acids Res. 47 (D1), D607–D613 (2019).
Acknowledgements
We thank all members of the Marson lab as well as M. S. Anderson, K. M. Ansel, C. J. Ye, K. Schumann and L. Gilbert for helpful suggestions and technical advice; J. Freimer, S. Raju and E. Guo for helpful advice and assistance with the RNA-seq analysis pipeline; V. Nguyen, V. Tobin, R. Apathy, M. Nguyen, the UCSF Flow Cytometry Core, and N. Hah and G. Chou in the Salk NGS Core Facility for technical assistance; S. Pyle for assistance with graphics; and D. Nguyen for critical reading of the manuscript. D.F. is supported by NIH R01 grants (AI079056, AI108634 and CA232347). E.M. is supported by NIH F31 CA220801-03. J.T.C. is supported by the National Science Foundation Graduate Research Fellowship Program grant 1650113. J.G. was supported by the Salk Institute T32 Cancer Training Grant T32CA009370 and the NIGMS NRSA F32 GM128377-01. D.C.H. is supported by the National Institutes of Health (NIH) (GM128943-01, CA184043-03), the V Foundation for Cancer Research V2016-006, the Pew-Stewart Foundation for Cancer Research and the Leona M. and Harry B. Helmsley Charitable Trust. The Marson lab has received gifts from J. Aronov, G. Hoskin, K. Jordan, B. Bakar, the Caufield family and funds from the Innovative Genomics Institute (IGI), the Northern California JDRF Center of Excellence and the Parker Institute for Cancer Immunotherapy (PICI). A.M. holds a Career Award for Medical Scientists from the Burroughs Wellcome Fund, is an investigator at the Chan–Zuckerberg Biohub and is a recipient of a The Cancer Research Institute (CRI) Lloyd J. Old STAR grant. This work used the Vincent J. Coates Genomics Sequencing Laboratory at UC Berkeley, supported by NIH S10 OD018174 Instrumentation Grant, the UCSF Flow Cytometry Core, supported by the Diabetes Research Center grants NIH P30 DK063720 and NIH S10 1S10OD021822-01, and the Salk NGS Core Facility, supported by the NIH-NCI CCSG: P30 014195, the Chapman Foundation and the Helmsley Charitable Trust.
Ethics declarations
Competing interests
T.L.R. is a cofounder of Arsenal Biosciences. A.M. is a cofounder, member of the Boards of Directors and a member of the Scientific Advisory Boards of Spotlight Therapeutics and Arsenal Biosciences. A.M. has served as an advisor to Juno Therapeutics, is a member of the scientific advisory board at PACT Pharma, and is an advisor to Trizell. A.M. owns stock in Arsenal Biosciences, Spotlight Therapeutics and PACT Pharma. The Marson lab has received sponsored research support from Juno Therapeutics, Epinomics and Sanofi, and gifts from Gilead and Anthem. J.A.B. is a cofounder of Sonoma BioTherapeutics; a stock holder and member of the Board of Directors on Rheos Medicines; and a stock holder and member of the Scientific Advisory Boards of Vir Therapeutics, Arcus Biotherapeutics, Solid Biosciences, and Celsius Therapeutics. J.A.B. owns stock in MacroGenics and Kadmon Holdings. A patent application has been filed based on the screen data described here.
Additional information
Peer review information Nature thanks John Doench, William P. Tansey and the other, anonymous, reviewer(s) for their contribution to the peer review of this work.
Publisher's note Springer Nature remains neutral with regard to jurisdictional claims in published maps and institutional affiliations.
Extended data figures and tables
Supplementary information
About this article
Cite this article
Cortez, J.T., Montauti, E., Shifrut, E. et al. CRISPR screen in regulatory T cells reveals modulators of Foxp3. Nature 582, 416–420 (2020). https://doi.org/10.1038/s41586-020-2246-4
Received:

Accepted:

Published:

Issue Date:

DOI: https://doi.org/10.1038/s41586-020-2246-4
Comments
By submitting a comment you agree to abide by our Terms and Community Guidelines. If you find something abusive or that does not comply with our terms or guidelines please flag it as inappropriate.