Abstract
Small interfering RNAs (siRNAs) are essential for proper development and immunity in eukaryotes1. Plants produce siRNAs with lengths of 21, 22 or 24 nucleotides. The 21- and 24-nucleotide species mediate cleavage of messenger RNAs and DNA methylation2,3, respectively, but the biological functions of the 22-nucleotide siRNAs remain unknown. Here we report the identification and characterization of a group of endogenous 22-nucleotide siRNAs that are generated by the DICER-LIKE 2 (DCL2) protein in plants. When cytoplasmic RNA decay and DCL4 are deficient, the resulting massive accumulation of 22-nucleotide siRNAs causes pleiotropic growth disorders, including severe dwarfism, meristem defects and pigmentation. Notably, two genes that encode nitrate reductases—NIA1 and NIA2—produce nearly half of the 22-nucleotide siRNAs. Production of 22-nucleotide siRNAs triggers the amplification of gene silencing and induces translational repression both gene specifically and globally. Moreover, these 22-nucleotide siRNAs preferentially accumulate upon environmental stress, especially those siRNAs derived from NIA1/2, which act to restrain translation, inhibit plant growth and enhance stress responses. Thus, our research uncovers the unique properties of 22-nucleotide siRNAs, and reveals their importance in plant adaptation to environmental stresses.
Relevant articles
Open Access articles citing this article.
Xingang Jia

,

Qiuhong Han

&

Zuhong Lu

BMC Bioinformatics Open Access 13 August 2022

Shichen Su

,

Jia Wang

…

Jinbiao Ma

Nature Open Access 29 June 2022

Si Liu

,

Meijuan Chen

…

Shou-Wei Ding

Nature Communications Open Access 30 May 2022
Access options
Subscribe to Nature+
Get immediate online access to the entire Nature family of 50+ journals
Subscribe to Journal
Get full journal access for 1 year
$199.00
only $3.90 per issue
All prices are NET prices.
VAT will be added later in the checkout.
Tax calculation will be finalised during checkout.
Buy article
Get time limited or full article access on ReadCube.
$32.00
All prices are NET prices.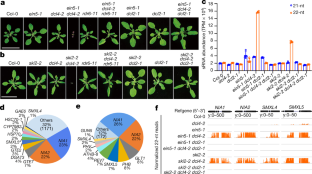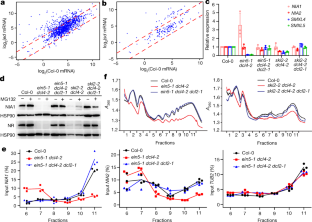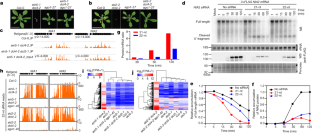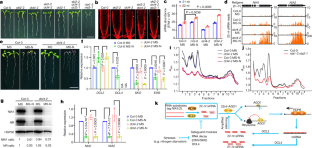 Data availability
Sequencing data are available at the NCBI Gene Expression Omnibus (GEO; https://www.ncbi.nlm.nih.gov/geo/) under accession number GSE136164. Source gel data for immunoblots and radiograms (Figs. 2–4 and Extended Data Figs. 2, 4, 6, 10) are provided in Supplementary Fig. 1; source data for all graphs (Figs. 1–4 and Extended Data Figs. 1–3, 5, 7–10) are also provided and are available with the online version of the paper.
References
Guo, Z., Li, Y. & Ding, S. W. Small RNA-based antimicrobial immunity. Nat. Rev. Immunol. 19, 31–44 (2019).

Borges, F. & Martienssen, R. A. The expanding world of small RNAs in plants. Nat. Rev. Mol. Cell Biol. 16, 727–741 (2015).

Bologna, N. G. & Voinnet, O. The diversity, biogenesis, and activities of endogenous silencing small RNAs in Arabidopsis. Annu. Rev. Plant Biol. 65, 473–503 (2014).

Song, X., Li, Y., Cao, X. & Qi, Y. MicroRNAs and their regulatory roles in plant-environment interactions. Annu. Rev. Plant Biol. 70, 489–525 (2019).

Henderson, I. R. et al. Dissecting Arabidopsis thaliana DICER function in small RNA processing, gene silencing and DNA methylation patterning. Nat. Genet. 38, 721–725 (2006).

Xie, Z., Allen, E., Wilken, A. & Carrington, J. C. DICER-LIKE 4 functions in trans-acting small interfering RNA biogenesis and vegetative phase change in Arabidopsis thaliana. Proc. Natl Acad. Sci. USA 102, 12984–12989 (2005).

Deleris, A. et al. Hierarchical action and inhibition of plant Dicer-like proteins in antiviral defense. Science 313, 68–71 (2006).

Zhang, X. et al. Suppression of endogenous gene silencing by bidirectional cytoplasmic RNA decay in Arabidopsis. Science 348, 120–123 (2015).

Bouché, N., Lauressergues, D., Gasciolli, V. & Vaucheret, H. An antagonistic function for Arabidopsis DCL2 in development and a new function for DCL4 in generating viral siRNAs. EMBO J. 25, 3347–3356 (2006).

Wilkinson, J. Q. & Crawford, N. M. Identification and characterization of a chlorate-resistant mutant of Arabidopsis thaliana with mutations in both nitrate reductase structural genes NIA1 and NIA2. Mol. Gen. Genet. 239, 289–297 (1993).

Wallner, E. S. et al. Strigolactone- and karrikin-independent SMXL proteins are central regulators of phloem formation. Curr. Biol. 27, 1241–1247 (2017).

Brodersen, P. et al. Widespread translational inhibition by plant miRNAs and siRNAs. Science 320, 1185–1190 (2008)

Li, S. et al. Biogenesis of phased siRNAs on membrane-bound polysomes in Arabidopsis. eLife 5, e22750 (2016).

Yu, B. et al. Methylation as a crucial step in plant microRNA biogenesis. Science 307, 932–935 (2005).

Li, S. et al. MicroRNAs inhibit the translation of target mRNAs on the endoplasmic reticulum in Arabidopsis. Cell 153, 562–574 (2013).

Mi, S. et al. Sorting of small RNAs into Arabidopsis argonaute complexes is directed by the 5′ terminal nucleotide. Cell 133, 116–127 (2008).

Tomari, Y. & Iwakawa, H. O. In vitro analysis of ARGONAUTE-mediated target cleavage and translational repression in plants. Methods Mol. Biol. 1640, 55–71 (2017).

Cuperus, J. T. et al. Unique functionality of 22-nt miRNAs in triggering RDR6-dependent siRNA biogenesis from target transcripts in Arabidopsis. Nat. Struct. Mol. Biol. 17, 997–1003 (2010).

Chen, H. M. et al. 22-Nucleotide RNAs trigger secondary siRNA biogenesis in plants. Proc. Natl Acad. Sci. USA 107, 15269–15274 (2010).

Smith, M. R. et al. Cyclophilin 40 is required for microRNA activity in Arabidopsis. Proc. Natl Acad. Sci. USA 106, 5424–5429 (2009).

Wang, R. et al. Genomic analysis of the nitrate response using a nitrate reductase-null mutant of Arabidopsis. Plant Physiol. 136, 2512–2522 (2004).

Wu, Y. Y. et al. DCL2- and RDR6-dependent transitive silencing of SMXL4 and SMXL5 in Arabidopsis dcl4 mutants causes defective phloem transport and carbohydrate over-accumulation. Plant J. 90, 1064–1078 (2017).

Rubin, G., Tohge, T., Matsuda, F., Saito, K. & Scheible, W. R. Members of the LBD family of transcription factors repress anthocyanin synthesis and affect additional nitrogen responses in Arabidopsis. Plant Cell 21, 3567–3584 (2009).

Seta, A. et al. Post-translational regulation of the dicing activities of Arabidopsis DICER-LIKE 3 and 4 by inorganic phosphate and the redox state. Plant Cell Physiol. 58, 485–495 (2017).

Wang, R. et al. Multiple regulatory elements in the Arabidopsis NIA1 promoter act synergistically to form a nitrate enhancer. Plant Physiol. 154, 423–432 (2010).

Campbell, W. H. & Kinghorn, K. R. Functional domains of assimilatory nitrate reductases and nitrite reductases. Trends Biochem. Sci. 15, 315–319 (1990).

Parenteau, J. et al. Introns are mediators of cell response to starvation. Nature 565, 612–617 (2019).

Morgan, J. T., Fink, G. R. & Bartel, D. P. Excised linear introns regulate growth in yeast. Nature 565, 606–611 (2019).

Hou, C. Y. et al. Global analysis of truncated RNA ends reveals new insights into ribosome stalling in plants. Plant Cell 28, 2398–2416 (2016).

Olmedo, G. et al. ETHYLENE-INSENSITIVE5 encodes a 5′—>3′ exoribonuclease required for regulation of the EIN3-targeting F-box proteins EBF1/2. Proc. Natl Acad. Sci. USA 103, 13286–13293 (2006).

Xie, Z. et al. Genetic and functional diversification of small RNA pathways in plants. PLoS Biol. 2, E104 (2004).

Peragine, A., Yoshikawa, M., Wu, G., Albrecht, H. L. & Poethig, R. S. SGS3 and SGS2/SDE1/RDR6 are required for juvenile development and the production of trans-acting siRNAs in Arabidopsis. Genes Dev. 18, 2368–2379 (2004).

Morel, J. B. et al. Fertile hypomorphic ARGONAUTE (ago1) mutants impaired in post-transcriptional gene silencing and virus resistance. Plant Cell 14, 629–639 (2002).

Yu, B. et al. siRNAs compete with miRNAs for methylation by HEN1 in Arabidopsis. Nucleic Acids Res. 38, 5844–5850 (2010).

Bolger, A. M., Lohse, M. & Usadel, B. Trimmomatic: a flexible trimmer for Illumina sequence data. Bioinformatics 30, 2114–2120 (2014).

Kim, D. et al. TopHat2: accurate alignment of transcriptomes in the presence of insertions, deletions and gene fusions. Genome Biol. 14, R36 (2013).

Trapnell, C. et al. Differential gene and transcript expression analysis of RNA-seq experiments with TopHat and Cufflinks. Nat. Protocols 7, 562–578 (2012).

Langmead, B., Trapnell, C., Pop, M. & Salzberg, S. L. Ultrafast and memory-efficient alignment of short DNA sequences to the human genome. Genome Biol. 10, R25 (2009).

Huang, D., Sherman, B. T. & Lempicki, R. A. Bioinformatics enrichment tools: paths toward the comprehensive functional analysis of large gene lists. Nucleic Acids Res. 37, 1–13 (2009).

Shannon, P. et al. Cytoscape: a software environment for integrated models of biomolecular interaction networks. Genome Res. 13, 2498–2504 (2003).

Robinson, J. T. et al. Integrative genomics viewer. Nat. Biotechnol. 29, 24–26 (2011).

Zhai, J. et al. MicroRNAs as master regulators of the plant NB-LRR defense gene family via the production of phased, trans-acting siRNAs. Genes Dev. 25, 2540–2553 (2011).

Axtell, M. J. ShortStack: comprehensive annotation and quantification of small RNA genes. RNA 19, 740–751 (2013).

Xu, G. et al. Global translational reprogramming is a fundamental layer of immune regulation in plants. Nature 545, 487–490 (2017).

Wang, W. et al. An importin β protein negatively regulates microRNA activity in Arabidopsis. Plant Cell 23, 3565–3576 (2011).

Xu, F. & Copeland, C. Nuclear extraction from Arabidopsis thaliana. Bio Protoc. 2, e306 (2012).

Mine, A. et al. Identification and characterization of the 480-kilodalton template-specific RNA-dependent RNA polymerase complex of red clover necrotic mosaic virus. J. Virol. 84, 6070–6081 (2010).

Endo, Y., Iwakawa, H. O. & Tomari, Y. Arabidopsis ARGONAUTE7 selects miR390 through multiple checkpoints during RISC assembly. EMBO Rep. 14, 652–658 (2013).

Deikman, J. & Hammer, P. E. Induction of anthocyanin accumulation by cytokinins in Arabidopsis thaliana. Plant Physiol. 108, 47–57 (1995).

Schenk, S. T. & Schikora, A. Staining of callose depositions in root and leaf tissues. Bio Protoc. 5, e1429 (2015).
Acknowledgements
We thank X. Chen for assistance with AGO1-immunoprecipitation experiments; J. Jia for help with sRNA phase analysis; K. Kiyokawa for assistance with plasmid constructions and mRNA preparation; and Y. Tomari, A. Hutchins and P. Pimpl for critical comments on the manuscript and language editing. This work was supported by the National Natural Science Foundation of China (grant 91740203 to H.G.), the National Key Research and Development Program of China (grant 2018YFA0507101 to H.G.), the Program for Guangdong Introducing Innovative and Entrepreneurial Teams (grants 2016ZT06S172 to J.Z. and B.L.), the Shenzhen Sci-Tech Fund (grant KYTDPT 20181011 104005 to J.Z. and B.L.), Grants-in-Aid for Scientific Research on Innovative Areas ('Nascent-chain Biology'; grant 26116003 to H.-o.I.) and JST, PRESTO (grant JPMJPR 18K2 to H.-o.I.).
Ethics declarations
Competing interests
Authors declare no competing interests.
Additional information
Peer review information Nature thanks Peter Waterhouse and the other, anonymous, reviewer(s) for their contribution to the peer review of this work.
Publisher's note Springer Nature remains neutral with regard to jurisdictional claims in published maps and institutional affiliations.
Extended data figures and tables
Supplementary information
This file contains Supplementary Figure1 (gel source data) and Supplementary Figure 2 (construct sequences used in the study).
This file contains Supplementary Tables 1-5.
About this article
Cite this article
Wu, H., Li, B., Iwakawa, Ho. et al. Plant 22-nt siRNAs mediate translational repression and stress adaptation. Nature 581, 89–93 (2020). https://doi.org/10.1038/s41586-020-2231-y
Received:

Accepted:

Published:

Issue Date:

DOI: https://doi.org/10.1038/s41586-020-2231-y
Comments
By submitting a comment you agree to abide by our Terms and Community Guidelines. If you find something abusive or that does not comply with our terms or guidelines please flag it as inappropriate.