Abstract
Advances in genetics and sequencing have identified a plethora of disease-associated and disease-causing genetic alterations. To determine causality between genetics and disease, accurate models for molecular dissection are required; however, the rapid expansion of transcriptional populations identified through single-cell analyses presents a major challenge for accurate comparisons between mutant and wild-type cells. Here we generate mouse models of human severe congenital neutropenia (SCN) using patient-derived mutations in the GFI1 transcription factor. To determine the effects of SCN mutations, we generated single-cell references for granulopoietic genomic states with linked epitopes1, aligned mutant cells to their wild-type equivalents and identified differentially expressed genes and epigenetic loci. We find that GFI1-target genes are altered sequentially, as cells go through successive states of differentiation. These insights facilitated the genetic rescue of granulocytic specification but not post-commitment defects in innate immune effector function, and underscore the importance of evaluating the effects of mutations and therapy within each relevant cell state.
Access options
Subscribe to Journal
Get full journal access for 1 year
$199.00
only $3.90 per issue
All prices are NET prices.
VAT will be added later in the checkout.
Tax calculation will be finalised during checkout.
Rent or Buy article
Get time limited or full article access on ReadCube.
from$8.99
All prices are NET prices.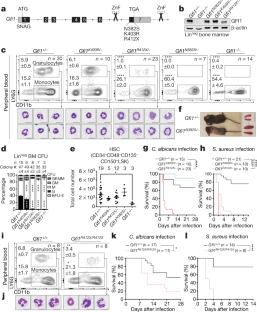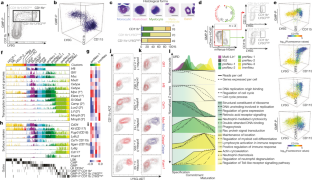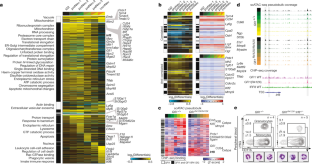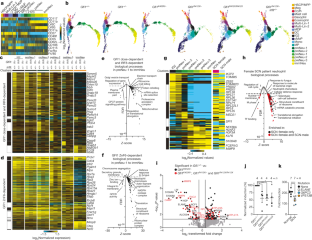 Data availability
scRNA-seq, CITE-seq, scATAC-seq and ChIP–seq data are deposited as Gene Expression Omnibus (GEO) SuperSeries GSE120409 and in Synapse (https://www.synapse.org/#!Synapse:syn16806696). Proteomic data are available via ProteomeXchange (www.ebi.ac.uk/pride/archive/) with identifier PXD010943. Extensive processed and primary data are provided and organized in Synapse, including 10x Genomics count matrices, Fluidigm expression, single-cell populations, quality control metrics, 10x Genomics Cell Ranger outputs (summary report and loupe browser files), genomic coordinate peak files and differential expression results (cellHarmony).
References
1.

Stoeckius, M. et al. Simultaneous epitope and transcriptome measurement in single cells. Nat. Methods 14, 865–868 (2017).

2.

Gilbert, S. F. Developmental Biology, 6th edition (Sinauer Associates, 2000).

3.

DePasquale, E. A. K. et al. cellHarmony: cell-level matching and holistic comparison of single-cell transcriptomes. Nucleic Acids Res. 47, e138 (2019).

4.

Stuart, T. et al. Comprehensive integration of single-cell data. Cell 177, 1888–1902.e1821 (2019).

5.

Xia, J. et al. Prevalence of mutations in ELANE, GFI1, HAX1, SBDS, WAS and G6PC3 in patients with severe congenital neutropenia. Br. J. Haematol. 147, 535–542 (2009).

6.

Person, R. E. et al. Mutations in proto-oncogene GFI1 cause human neutropenia and target ELA2. Nat. Genet. 34, 308–312 (2003).

7.

Wang, H. et al. A reporter mouse reveals lineage-specific and heterogeneous expression of IRF8 during lymphoid and myeloid cell differentiation. J. Immunol. 193, 1766–1777 (2014).

8.

Deshmukh, H. S. et al. The microbiota regulates neutrophil homeostasis and host resistance to Escherichia coli K1 sepsis in neonatal mice. Nat. Med. 20, 524–530 (2014).

9.

Luedi, P. P. et al. Computational and experimental identification of novel human imprinted genes. Genome Res. 17, 1723–1730 (2007).

10.

Bonthuis, P. J. et al. Noncanonical genomic imprinting effects in offspring. Cell Rep. 12, 979–991 (2015).

11.

Hock, H. et al. Intrinsic requirement for zinc finger transcription factor Gfi-1 in neutrophil differentiation. Immunity 18, 109–120 (2003).

12.

Belyaev, N. N. et al. Induction of an IL7-R+c-Kithi myelolymphoid progenitor critically dependent on IFN-gamma signaling during acute malaria. Nat. Immunol. 11, 477–485 (2010).

13.

MacNamara, K. C. et al. Infection-induced myelopoiesis during intracellular bacterial infection is critically dependent upon IFN-γ signaling. J. Immunol. 186, 1032–1043 (2011).

14.

Mempel, K., Pietsch, T., Menzel, T., Zeidler, C. & Welte, K. Increased serum levels of granulocyte colony-stimulating factor in patients with severe congenital neutropenia. Blood 77, 1919–1922 (1991).

15.

Hock, H. et al. Gfi-1 restricts proliferation and preserves functional integrity of haematopoietic stem cells. Nature 431, 1002–1007 (2004).

16.

Karsunky, H. et al. Inflammatory reactions and severe neutropenia in mice lacking the transcriptional repressor Gfi1. Nat. Genet. 30, 295–300 (2002).

17.

Zeng, H., Yücel, R., Kosan, C., Klein-Hitpass, L. & Möröy, T. Transcription factor Gfi1 regulates self-renewal and engraftment of hematopoietic stem cells. EMBO J. 23, 4116–4125 (2004).

18.

Abe, T. et al. Visualization of cell cycle in mouse embryos with Fucci2 reporter directed by Rosa26 promoter. Development 140, 237–246 (2013).

19.

Olsson, A. et al. Single-cell analysis of mixed-lineage states leading to a binary cell fate choice. Nature 537, 698–702 (2016).

20.

Yáñez, A. et al. Granulocyte-monocyte progenitors and monocyte-dendritic cell progenitors independently produce functionally distinct monocytes. Immunity 47, 890–902.e4 (2017).

21.

Ng, L. G., Ostuni, R. & Hidalgo, A. Heterogeneity of neutrophils. Nat. Rev. Immunol. 19, 255–265 (2019).

22.

Farrell, J. A. et al. Single-cell reconstruction of developmental trajectories during zebrafish embryogenesis. Science 360, eaar3131 (2018).

23.

Zhu, Y. P. et al. Identification of an early unipotent neutrophil progenitor with pro-tumoral activity in mouse and human bone marrow. Cell Rep. 24, 2329–2341.e8 (2018).

24.

Drissen, R. et al. Distinct myeloid progenitor-differentiation pathways identified through single-cell RNA sequencing. Nat. Immunol. 17, 666–676 (2016).

25.

Kim, M. H. et al. A late-lineage murine neutrophil precursor population exhibits dynamic changes during demand-adapted granulopoiesis. Sci. Rep. 7, 39804 (2017).

26.

Evrard, M. et al. Developmental analysis of bone marrow neutrophils reveals populations specialized in expansion, trafficking, and effector functions. Immunity 48, 364–379.e8 (2018).

27.

Venkatasubramanian, M., Chetal, K., Schnell D., Atluri, G. & Salomonis, N. Resolving single-cell heterogeneity from hundreds of thousands of cells through sequential hybrid clustering and NMF. Bioinformatics btaa201 (2020).

28.

Fang, R. et al. Fast and accurate clustering of single cell epigenomes reveals cis-regulatory elements in rare cell Types. Preprint at https://www.bioRxiv.org/content/10.1101/615179v2 (2019).

29.

Zweidler-Mckay, P. A., Grimes, H. L., Flubacher, M. M. & Tsichlis, P. N. Gfi-1 encodes a nuclear zinc finger protein that binds DNA and functions as a transcriptional repressor. Mol. Cell. Biol. 16, 4024–4034 (1996).

30.

Gillet, L. C. et al. Targeted data extraction of the MS/MS spectra generated by data-independent acquisition: a new concept for consistent and accurate proteome analysis. Mol. Cell Proteomics 11, O111.016717 (2012).

31.

Elsner, J., Roesler, J., Emmendörffer, A., Lohmann-Matthes, M. L. & Welte, K. Abnormal regulation in the signal transduction in neutrophils from patients with severe congenital neutropenia: relation of impaired mobilization of cytosolic free calcium to altered chemotaxis, superoxide anion generation and F-actin content. Exp. Hematol. 21, 38–46 (1993).

32.

Holtschke, T. et al. Immunodeficiency and chronic myelogenous leukemia-like syndrome in mice with a targeted mutation of the ICSBP gene. Cell 87, 307–317 (1996).

33.

Meyer, S. E. et al. DNMT3A haploinsufficiency transforms FLT3ITD myeloproliferative disease into a rapid, spontaneous, and fully penetrant acute myeloid leukemia. Cancer Discov. 6, 501–515 (2016).

34.

Nayak, R. C. et al. Pathogenesis of ELANE-mutant severe neutropenia revealed by induced pluripotent stem cells. J. Clin. Invest. 125, 3103–3116 (2015).
Acknowledgements
We thank H. Singh for GFI1 antisera, H. C. Morse for supplying Irf8-GFP mice, members of the Cincinnati Children's Hospital Medical Center (CCHMC) DNA sequencing and Genotyping Core and the Research Flow Cytometry Core (supported in part by National Institutes of Health (NIH) grants AR-47363, NIH DK78392 and NIH DK90971), and A. Sproles for assistance with cytokine analyses; S. Smith, H. Chi Liang and K. Rangel in the CCHMC Gene Expression Core for generating scRNA-seq libraries; T. Newkold for technical assistance; and H. Singh, J. Cancelas, S. Kogan, R. Kopan, J. Wells and T. Gruber for questions and discussions. This work was partly funded by support from NIH DP1AI131080 (S.S.W.) T32 ES007250 (to D.E.M.), S10RR027015 (to K.D.G.), and R01HL122661 (H.L.G.).
Ethics declarations
Competing interests
D.E.M. is currently employed by Eli Lilly and Company and K.L.N. is employed by BioLegend Inc. The remaining authors declare no competing interests.
Additional information
Peer review information Nature thanks Klaus Ley, Cornelis Murre and Leonard Zon for their contribution to the peer review of this work.
Publisher's note Springer Nature remains neutral with regard to jurisdictional claims in published maps and institutional affiliations.
Extended data figures and tables
Supplementary information
About this article
Cite this article
Muench, D.E., Olsson, A., Ferchen, K. et al. Mouse models of neutropenia reveal progenitor-stage-specific defects. Nature 582, 109–114 (2020). https://doi.org/10.1038/s41586-020-2227-7
Received:

Accepted:

Published:

Issue Date:
Further reading
Jizhou Zhang

,

Qingqing Wu

,

Courtney B. Johnson

,

Giang Pham

,

Jeremy M. Kinder

,

Andre Olsson

,

Anastasiya Slaughter

,

Margot May

,

Benjamin Weinhaus

,

Angelo D'Alessandro

,

James Douglas Engel

,

Jean X. Jiang

,

J. Matthew Kofron

,

L. Frank Huang

,

V. B. Surya Prasath

,

Sing Sing Way

,

Nathan Salomonis

,

H. Leighton Grimes

&

Daniel Lucas

Nature (2021)

Maximilian Ackermann

,

Hans-Joachim Anders

,

Rostyslav Bilyy

,

Gary L. Bowlin

,

Christoph Daniel

,

Rebecca De Lorenzo

,

Mikala Egeblad

,

Timo Henneck

,

Andrés Hidalgo

,

Markus Hoffmann

,

Bettina Hohberger

,

Yogendra Kanthi

,

Mariana J. Kaplan

,

Jason S. Knight

,

Jasmin Knopf

,

Elzbieta Kolaczkowska

,

Paul Kubes

,

Moritz Leppkes

,

Aparna Mahajan

,

Angelo A. Manfredi

,

Christian Maueröder

,

Norma Maugeri

,

Ioannis Mitroulis

,

Luis E. Muñoz

,

Teluguakula Narasaraju

,

Elisabeth Naschberger

,

Indira Neeli

,

Lai Guan Ng

,

Marko Z. Radic

,

Konstantinos Ritis

,

Patrizia Rovere-Querini

,

Mirco Schapher

,

Christine Schauer

,

Hans-Uwe Simon

,

Jeeshan Singh

,

Panagiotis Skendros

,

Konstantin Stark

,

Michael Stürzl

,

Johan van der Vlag

,

Peter Vandenabeele

,

Ljubomir Vitkov

,

Maren von Köckritz-Blickwede

,

Cansu Yanginlar

,

Shida Yousefi

,

Alexander Zarbock

,

Georg Schett

&

Martin Herrmann

Cell Death & Differentiation (2021)

Xuemei Xie

,

Qiang Shi

,

Peng Wu

,

Xiaoyu Zhang

,

Hiroto Kambara

,

Jiayu Su

,

Hongbo Yu

,

Shin-Young Park

,

Rongxia Guo

,

Qian Ren

,

Sudong Zhang

,

Yuanfu Xu

,

Leslie E. Silberstein

,

Tao Cheng

,

Fengxia Ma

,

Cheng Li

&

Hongbo R. Luo

Nature Immunology (2020)
Comments
By submitting a comment you agree to abide by our Terms and Community Guidelines. If you find something abusive or that does not comply with our terms or guidelines please flag it as inappropriate.