Abstract
The synovium is a mesenchymal tissue composed mainly of fibroblasts, with a lining and sublining that surround the joints. In rheumatoid arthritis the synovial tissue undergoes marked hyperplasia, becomes inflamed and invasive, and destroys the joint1,2. It has recently been shown that a subset of fibroblasts in the sublining undergoes a major expansion in rheumatoid arthritis that is linked to disease activity3,4,5; however, the molecular mechanism by which these fibroblasts differentiate and expand is unknown. Here we identify a critical role for NOTCH3 signalling in the differentiation of perivascular and sublining fibroblasts that express CD90 (encoded by THY1). Using single-cell RNA sequencing and synovial tissue organoids, we found that NOTCH3 signalling drives both transcriptional and spatial gradients—emanating from vascular endothelial cells outwards—in fibroblasts. In active rheumatoid arthritis, NOTCH3 and Notch target genes are markedly upregulated in synovial fibroblasts. In mice, the genetic deletion of Notch3 or the blockade of NOTCH3 signalling attenuates inflammation and prevents joint damage in inflammatory arthritis. Our results indicate that synovial fibroblasts exhibit a positional identity that is regulated by endothelium-derived Notch signalling, and that this stromal crosstalk pathway underlies inflammation and pathology in inflammatory arthritis.
Access options
Subscribe to Journal
Get full journal access for 1 year
$199.00
only $3.90 per issue
All prices are NET prices.
VAT will be added later in the checkout.
Rent or Buy article
Get time limited or full article access on ReadCube.
from$8.99
All prices are NET prices.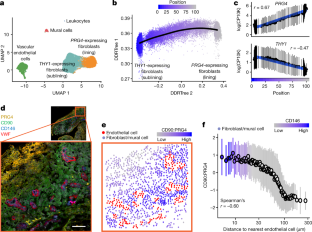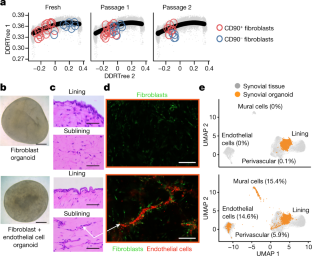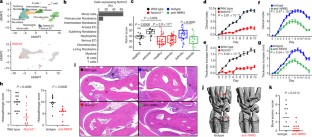 References
1.

McInnes, I. B. & Schett, G. The pathogenesis of rheumatoid arthritis. N. Engl. J. Med. 365, 2205–2219 (2011).

2.

Dakin, S. G. et al. Pathogenic stromal cells as therapeutic targets in joint inflammation. Nat. Rev. Rheumatol. 14, 714–726 (2018).

3.

Zhang, F. et al. Defining inflammatory cell states in rheumatoid arthritis joint synovial tissues by integrating single-cell transcriptomics and mass cytometry. Nat. Immunol. 20, 928–942 (2019).

4.

Mizoguchi, F. et al. Functionally distinct disease-associated fibroblast subsets in rheumatoid arthritis. Nat. Commun. 9, 789 (2018).

5.

Croft, A. P. et al. Distinct fibroblast subsets drive inflammation and damage in arthritis. Nature 570, 246–251 (2019).

6.

Korsunsky, I. et al. Fast, sensitive and accurate integration of single-cell data with Harmony. Nat. Methods 16, 1289–1296 (2019).

7.

Traag, V. A., Waltman, L. & van Eck, N. J. From Louvain to Leiden: guaranteeing well-connected communities. Sci. Rep. 9, 5233 (2019).

8.

Stephenson, W. et al. Single-cell RNA-seq of rheumatoid arthritis synovial tissue using low-cost microfluidic instrumentation. Nat. Commun. 9, 791 (2018).

9.

Palmer, D. G., Selvendran, Y., Allen, C., Revell, P. A. & Hogg, N. Features of synovial membrane identified with monoclonal antibodies. Clin. Exp. Immunol. 59, 529–538 (1985).

10.

Rhee, D. K. et al. The secreted glycoprotein lubricin protects cartilage surfaces and inhibits synovial cell overgrowth. J. Clin. Invest. 115, 622–631 (2005).

11.

Qiu, X. et al. Reversed graph embedding resolves complex single-cell trajectories. Nat. Methods 14, 979–982 (2017).

12.

Driskell, R. R. et al. Distinct fibroblast lineages determine dermal architecture in skin development and repair. Nature 504, 277–281 (2013).

13.

Rinn, J. L., Bondre, C., Gladstone, H. B., Brown, P. O. & Chang, H. Y. Anatomic demarcation by positional variation in fibroblast gene expression programs. PLoS Genet. 2, e119 (2006).

14.

Kiselev, V. Y., Yiu, A. & Hemberg, M. scmap: projection of single-cell RNA-seq data across data sets. Nat. Methods 15, 359–362 (2018).

15.

Choy, L. et al. Constitutive NOTCH3 signaling promotes the growth of basal breast cancers. Cancer Res. 77, 1439–1452 (2017).

16.

Liu, H., Kennard, S. & Lilly, B. NOTCH3 expression is induced in mural cells through an autoregulatory loop that requires endothelial-expressed JAGGED1. Circ. Res. 104, 466–475 (2009).

17.

van Groningen, T. et al. A NOTCH feed-forward loop drives reprogramming from adrenergic to mesenchymal state in neuroblastoma. Nat. Commun. 10, 1530 (2019).

18.

Monach, P. A., Mathis, D. & Benoist, C. The K/BxN arthritis model. Curr. Protoc. Immunol. 81, 15.22.1–15.22.12 (2008).

19.

Krebs, L. T. et al. Characterization of Notch3-deficient mice: normal embryonic development and absence of genetic interactions with a Notch1 mutation. Genesis 37, 139–143 (2003).

20.

Nigrovic, P. A. et al. Mast cells contribute to initiation of autoantibody-mediated arthritis via IL-1. Proc. Natl Acad. Sci. USA 104, 2325–2330 (2007).

21.

Yu, J., Siebel, C. W., Schilling, L. & Canalis, E. An antibody to Notch3 reverses the skeletal phenotype of lateral meningocele syndrome in male mice. J. Cell. Physiol. 235, 210–220 (2019).

22.

Wu, Y. et al. Therapeutic antibody targeting of individual Notch receptors. Nature 464, 1052–1057 (2010).

23.

Nakazawa, M. et al. Role of Notch-1 intracellular domain in activation of rheumatoid synoviocytes. Arthritis Rheum. 44, 1545–1554 (2001).

24.

Park, J.-S. et al. Inhibition of notch signalling ameliorates experimental inflammatory arthritis. Ann. Rheum. Dis. 74, 267–274 (2015).

25.

Gao, W. et al. Hypoxia and STAT3 signalling interactions regulate pro-inflammatory pathways in rheumatoid arthritis. Ann. Rheum. Dis. 74, 1275–1283 (2015).

26.

Vanlandewijck, M. et al. A molecular atlas of cell types and zonation in the brain vasculature. Nature 554, 475–480 (2018).

27.

Moor, A. E. et al. Spatial reconstruction of single enterocytes uncovers broad zonation along the intestinal villus axis. Cell 175, 1156–1167.e15 (2018).

28.

Turley, S. J., Fletcher, A. L. & Elpek, K. G. The stromal and haematopoietic antigen-presenting cells that reside in secondary lymphoid organs. Nat. Rev. Immunol. 10, 813–825 (2010).

29.

Ando, K. et al. Peri-arterial specification of vascular mural cells from naïve mesenchyme requires Notch signaling. Development 146, dev165589 (2019).

30.

Ando, K. et al. Induction of Notch signaling by tumor necrosis factor in rheumatoid synovial fibroblasts. Oncogene 22, 7796–7803 (2003).

31.

Donlin, L. T. et al. Methods for high-dimensional analysis of cells dissociated from cryopreserved synovial tissue. Arthritis Res. Ther. 20, 139 (2018).

32.

Stoeckius, M. et al. Cell Hashing with barcoded antibodies enables multiplexing and doublet detection for single cell genomics. Genome Biol. 19, 224 (2018).

33.

Picelli, S. et al. Full-length RNA-seq from single cells using Smart-seq2. Nat. Protoc. 9, 171–181 (2014).

34.

McInnes, L. & Healy, J. UMAP: Uniform Manifold Approximation and Projection for Dimension Reduction. Preprint at https://arxiv.org/abs/1802.03426 (2018).

35.

Young, M. D. & Behjati, S. SoupX removes ambient RNA contamination from droplet based single cell RNA sequencing data. Preprint at https://www.biorxiv.org/content/10.1101/303727v1.abstract (2018).

36.

Kiener, H. P. et al. Cadherin 11 promotes invasive behavior of fibroblast-like synoviocytes. Arthritis Rheum. 60, 1305–1310 (2009).

37.

Kiener, H. P., Lee, D. M., Agarwal, S. K. & Brenner, M. B. Cadherin-11 induces rheumatoid arthritis fibroblast-like synoviocytes to form lining layers in vitro. Am. J. Pathol. 168, 1486–1499 (2006).

38.

Nguyen, H. N. et al. Autocrine loop involving IL-6 family member LIF, LIF receptor, and STAT4 drives sustained fibroblast production of inflammatory mediators. Immunity 46, 220–232 (2017).

39.

Lee, D. M. et al. Cadherin-11 in synovial lining formation and pathology in arthritis. Science 315, 1006–1010 (2007).

40.

Delgado, M., Abad, C., Martinez, C., Leceta, J. & Gomariz, R. P. Vasoactive intestinal peptide prevents experimental arthritis by downregulating both autoimmune and inflammatory components of the disease. Nat. Med. 7, 563–568 (2001).

41.

Kiener, H. P. et al. Synovial fibroblasts self-direct multicellular lining architecture and synthetic function in three-dimensional organ culture. Arthritis Rheum. 62, 742–752 (2010).

42.

O'Brien, W. et al. RANK-independent osteoclast formation and bone erosion in inflammatory arthritis. Arthritis Rheumatol. 68, 2889–2900 (2016).

43.

Graeber, T. G. & Eisenberg, D. Bioinformatic identification of potential autocrine signaling loops in cancers from gene expression profiles. Nat. Genet. 29, 295–300 (2001).
Acknowledgements
This work was supported by R01 AR063709, R01 AR073833 and T32 AR007530-31 (to M.B.B.); R01 AR063759, U01 HG009379 and UH2 AR067677 (to S.R.); Rheumatology Research Foundation's Scientist Development Award (to K.W.); KL2 award (an appointed KL2 award) from Harvard Catalyst | The Harvard Clinical and Translational Science Center (National Center for Advancing Translational Sciences, National Institutes of Health Award KL2 TR002542) (to K.W.); and a Joint Biology Consortium Microgrant (to K.W.). M.B.B., S.R., I.K., J.L.M. and K.W. were funded as part of a collaborative research agreement with F. Hoffmann-La Roche Ltd (Basel, Switzerland). This report includes independent research supported by the National Institute for Health Research through the Birmingham Biomedical Research Center and Wellcome Trust Clinical Research Facility at University Hospitals Birmingham NHS Foundation Trust. The views expressed are those of the author(s) and not necessarily those of the NHS, the NIHR, our funding bodies or the Department of Health. Funding was also provided by the Versus Arthritis RACE Rheumatoid Arthritis Pathogenesis Centre of Excellence (grant 20298) and Versus Arthritis Programme grant to C.D.B. and A.F. (grant 19791). A.P.C. was supported by a Wellcome Trust Clinical Career Development Fellowship no. WT104551MA. C.D.B. and T.M. are supported by funding from the Kennedy Trust for Rheumatology Research as part of the Arthritis Therapy Acceleration Programme. We thank the BWH Single Cell Genomics Core for assistance in scRNA-seq experiments. We thank members of the Brenner and Raychaudhuri laboratory for discussions. We acknowledge the University of Birmingham Medical School Imaging Suite and the assistance of R. Shaw.
Ethics declarations
Competing interests
The authors declare no competing interests.
Additional information
Peer review information Nature thanks Sakae Tanaka, Shannon Turley and the other, anonymous, reviewer(s) for their contribution to the peer review of this work.
Publisher's note Springer Nature remains neutral with regard to jurisdictional claims in published maps and institutional affiliations.
Extended data figures and tables
Supplementary information
About this article
Cite this article
Wei, K., Korsunsky, I., Marshall, J.L. et al. Notch signalling drives synovial fibroblast identity and arthritis pathology. Nature (2020). https://doi.org/10.1038/s41586-020-2222-z
Received:

Accepted:

Published:
Comments
By submitting a comment you agree to abide by our Terms and Community Guidelines. If you find something abusive or that does not comply with our terms or guidelines please flag it as inappropriate.