Abstract
All normal somatic cells are thought to acquire mutations, but understanding of the rates, patterns, causes and consequences of somatic mutations in normal cells is limited. The uterine endometrium adopts multiple physiological states over a lifetime and is lined by a gland-forming epithelium1,2. Here, using whole-genome sequencing, we show that normal human endometrial glands are clonal cell populations with total mutation burdens that increase at about 29 base substitutions per year and that are many-fold lower than those of endometrial cancers. Normal endometrial glands frequently carry 'driver' mutations in cancer genes, the burden of which increases with age and decreases with parity. Cell clones with drivers often originate during the first decades of life and subsequently progressively colonize the epithelial lining of the endometrium. Our results show that mutational landscapes differ markedly between normal tissues—perhaps shaped by differences in their structure and physiology—and indicate that the procession of neoplastic change that leads to endometrial cancer is initiated early in life.
Your institute does not have access to this article
Relevant articles
Open Access articles citing this article.
Foad J. Rouhani

,

Xueqing Zou

…

Serena Nik-Zainal

Nature Genetics Open Access 11 August 2022

Minghua Wang

,

Yongqi Wu

…

Ping Li

Scientific Reports Open Access 19 July 2022

Margarete A. Fabre

,

José Guilherme de Almeida

…

George S. Vassiliou

Nature Open Access 01 June 2022
Access options
Subscribe to Nature+
Get immediate online access to the entire Nature family of 50+ journals
Subscribe to Journal
Get full journal access for 1 year
$199.00
only $3.90 per issue
All prices are NET prices.
VAT will be added later in the checkout.
Tax calculation will be finalised during checkout.
Buy article
Get time limited or full article access on ReadCube.
$32.00
All prices are NET prices.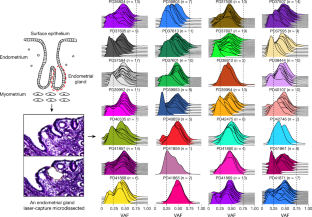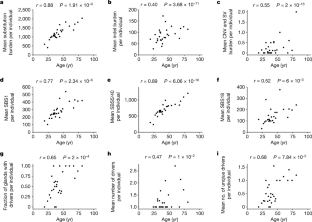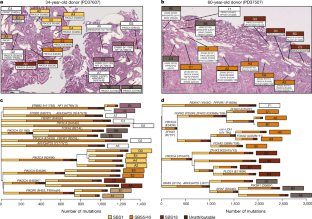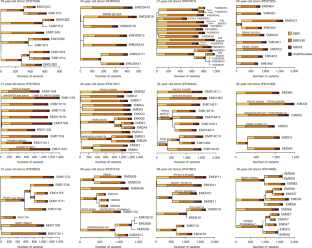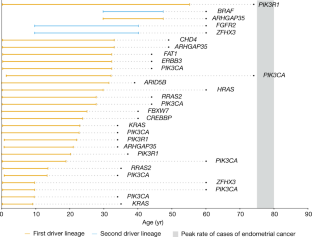 Data availability
Whole-genome sequencing data are deposited in the European Genome–Phenome Archive (EGA) with accession number EGAS00001002471.
References
Gargett, C. E., Schwab, K. E. & Deane, J. A. Endometrial stem/progenitor cells: the first 10 years. Hum. Reprod. Update 22, 137–163 (2016).

Kaitu'u-Lino, T. J., Ye, L. & Gargett, C. E. Reepithelialization of the uterine surface arises from endometrial glands: evidence from a functional mouse model of breakdown and repair. Endocrinology 151, 3386–3395 (2010).

Alexandrov, L. B. et al. Signatures of mutational processes in human cancer. Nature 500, 415–421 (2013).

Alexandrov, L. B. et al. The repertoire of mutational signatures in human cancer. Nature 578, 94–101 (2020).

Stratton, M. R., Campbell, P. J. & Futreal, P. A. The cancer genome. Nature 458, 719–724 (2009).

Blokzijl, F. et al. Tissue-specific mutation accumulation in human adult stem cells during life. Nature 538, 260–264 (2016).

Lee-Six, H. et al. Population dynamics of normal human blood inferred from somatic mutations. Nature 561, 473–478 (2018).

Franco, I. et al. Somatic mutagenesis in satellite cells associates with human skeletal muscle aging. Nat. Commun. 9, 800 (2018).

Martincorena, I. et al. High burden and pervasive positive selection of somatic mutations in normal human skin. Science 348, 880–886 (2015).

Martincorena, I. et al. Somatic mutant clones colonize the human esophagus with age. Science 362, 911–917 (2018).

Yokoyama, A. et al. Age-related remodelling of oesophageal epithelia by mutated cancer drivers. Nature 565, 312–317 (2019).

Zhu, M. et al. Somatic mutations increase hepatic clonal fitness and regeneration in chronic liver disease. Cell 177, 608–621 (2019).

Suda, K. et al. Clonal expansion and diversification of cancer-associated mutations in endometriosis and normal endometrium. Cell Rep. 24, 1777–1789 (2018).

Lee-Six, H. et al. The landscape of somatic mutation in normal colorectal epithelial cells. Nature 574, 532–537 (2019).

Brunner, S. F. et al. Somatic mutations and clonal dynamics in healthy and cirrhotic human liver. Nature 574, 538–542 (2019).

Schmitt, M. W. et al. Detection of ultra-rare mutations by next-generation sequencing. Proc. Natl Acad. Sci. USA 109, 14508–14513 (2012).

Hoang, M. L. et al. Genome-wide quantification of rare somatic mutations in normal human tissues using massively parallel sequencing. Proc. Natl Acad. Sci. USA 113, 9846–9851 (2016).

Lodato, M. A. et al. Aging and neurodegeneration are associated with increased mutations in single human neurons. Science 359, 555–559 (2018).

Jaiswal, S. et al. Age-related clonal hematopoiesis associated with adverse outcomes. N. Engl. J. Med. 371, 2488–2498 (2014).

Genovese, G. et al. Clonal hematopoiesis and blood-cancer risk inferred from blood DNA sequence. N. Engl. J. Med. 371, 2477–2487 (2014).

Xie, M. et al. Age-related mutations associated with clonal hematopoietic expansion and malignancies. Nat. Med. 20, 1472–1478 (2014).

Tempest, N., Maclean, A. & Hapangama, D. K. Endometrial stem cell markers: current concepts and unresolved questions. Int. J. Mol. Sci. 19, E3240 (2018).

CRUK. Uterine cancer risk. https://www.cancerresearchuk.org/health-professional/cancer-statistics/statistics-by-cancer-type/uterine-cancer/risk-factors#heading-Zero (accessed 28 March 2020).

Morice, P., Leary, A., Creutzberg, C., Abu-Rustum, N. & Darai, E. Endometrial cancer. Lancet 387, 1094–1108 (2016).

Le Gallo, M. & Bell, D. W. The emerging genomic landscape of endometrial cancer. Clin. Chem. 60, 98–110 (2014).

Onstad, M. A., Schmandt, R. E. & Lu, K. H. Addressing the role of obesity in endometrial cancer risk, prevention, and treatment. J. Clin. Oncol. 34, 4225–4230 (2016).

Setiawan, V. W. et al. Type I and II endometrial cancers: have they different risk factors? J. Clin. Oncol. 31, 2607–2618 (2013).

Martincorena, I. et al. Universal patterns of selection in cancer and somatic tissues. Cell 171, 1029–1041 (2017).

The Cancer Genome Atlas Research Network. Integrated genomic characterization of endometrial carcinoma. Nature 497, 67–73 (2013).

Anglesio, M. S. et al. Cancer-associated mutations in endometriosis without cancer. N. Engl. J. Med. 376, 1835–1848 (2017).

Lac, V. et al. Iatrogenic endometriosis harbors somatic cancer-driver mutations. Hum. Reprod. 34, 69–78 (2019).

Lac, V. et al. Oncogenic mutations in histologically normal endometrium: the new normal? J. Pathol. 249, 173–181 (2019).

Lopez-Garcia, C., Klein, A. M., Simons, B. D. & Winton, D. J. Intestinal stem cell replacement follows a pattern of neutral drift. Science 330, 822–825 (2010).

Barker, N. et al. Lgr5+ve stem cells drive self-renewal in the stomach and build long-lived gastric units in vitro. Cell Stem Cell 6, 25–36 (2010).

Rouhani, F. J. et al. Mutational history of a human cell lineage from somatic to induced pluripotent stem cells. PLoS Genet. 12, e1005932 (2016).

Nicholson, A. M. et al. Fixation and spread of somatic mutations in adult human colonic epithelium. Cell Stem Cell 22, 909–918 (2018).

Zhang, Y. et al. A pan-cancer compendium of genes deregulated by somatic genomic rearrangement across more than 1,400 cases. Cell Rep. 24, 515–527 (2018).

Roerink, S. F. et al. Intra-tumour diversification in colorectal cancer at the single-cell level. Nature 556, 457–462 (2018).

Wu, Q. J. et al. Parity and endometrial cancer risk: a meta-analysis of epidemiological studies. Sci. Rep. 5, 14243 (2015).

Greaves, M. In utero origins of childhood leukaemia. Early Hum. Dev. 81, 123–129 (2005).

Greaves, M. Pre-natal origins of childhood leukemia. Rev. Clin. Exp. Hematol. 7, 233–245 (2003).

Mitchell, T. J. et al. Timing the landmark events in the evolution of clear cell renal cell cancer: TRACERx renal. Cell 173, 611–623 (2018).

Anderson, N. D. et al. Rearrangement bursts generate canonical gene fusions in bone and soft tissue tumors. Science 361, eaam8419 (2018).

Maura, F. et al. Genomic landscape and chronological reconstruction of driver events in multiple myeloma. Nat. Commun. 10, 3835 (2019).

Gerstung, M. et al. The evolutionary history of 2,658 cancers. Nature 578, 122–128 (2020).

Li, H. & Durbin, R. Fast and accurate long-read alignment with Burrows–Wheeler transform. Bioinformatics 26, 589–595 (2010).

Nik-Zainal, S. et al. Mutational processes molding the genomes of 21 breast cancers. Cell 149, 979–993 (2012).

Raine, K. M. et al. cgpPindel: identifying somatically acquired insertion and deletion events from paired end sequencing. Curr. Protoc. Bioinformatics 52, 15.7.1–15.7.2 (2015).

Ye, K., Schulz, M. H., Long, Q., Apweiler, R. & Ning, Z. Pindel: a pattern growth approach to detect break points of large deletions and medium sized insertions from paired-end short reads. Bioinformatics 25, 2865–2871 (2009).

Van Loo, P. et al. Allele-specific copy number analysis of tumors. Proc. Natl Acad. Sci. USA 107, 16910–16915 (2010).

Raine, K. M. et al. ascatNgs: identifying somatically acquired copy-number alterations from whole-genome sequencing data. Curr. Protoc. Bioinformatics 56, 15.19.11–15.19.17 (2016).

Buels, R. et al. JBrowse: a dynamic web platform for genome visualization and analysis. Genome Biol. 17, 66 (2016).

Yates, L. R. et al. Subclonal diversification of primary breast cancer revealed by multiregion sequencing. Nat. Med. 21, 751–759 (2015).

Hoang, D. T. et al. MPBoot: fast phylogenetic maximum parsimony tree inference and bootstrap approximation. BMC Evol. Biol. 18, 11 (2018).
Acknowledgements
We thank the staff of WTSI Sample Logistics, Genotyping, Pulldown, Sequencing and Informatics facilities for their contribution; L. O'Neil, C. Latimer and P. Scott for technical support; F. Nadeu, N. Roberts and J. Wang for their advice on mutational signature extraction; A. R. J. Lawson, F. Abascal and S. Grossmann for their assistance with data analysis; and the Cambridge Biorepository for Translational Medicine for the provision of samples from deceased transplant organ donors. This work was supported by the Wellcome Trust. L.M. is a recipient of a CRUK Clinical PhD fellowship (C20/A20917) and Pathological Society of Great Britain and Ireland Trainee Small Grant (grant reference no. 1175). S.F.B. was supported by the Swiss National Science Foundation (P2SKP3-171753 and P400PB-180790). M.A.S. is supported by a Rubicon fellowship from NWO (019.153LW.038).
Ethics declarations
Competing interests
M.R.S. is on the Scientific Advisory Board for GRAIL.
Additional information
Peer review information Nature thanks Michael Lawrence and the other, anonymous, reviewer(s) for their contribution to the peer review of this work.
Publisher's note Springer Nature remains neutral with regard to jurisdictional claims in published maps and institutional affiliations.
Extended data figures and tables
Supplementary information
This file contains a guide to Supplementary Results 1-15.
This file contains Supplementary Results 1-15 – see Supplementary Information document for full details.
About this article
Cite this article
Moore, L., Leongamornlert, D., Coorens, T.H.H. et al. The mutational landscape of normal human endometrial epithelium. Nature 580, 640–646 (2020). https://doi.org/10.1038/s41586-020-2214-z
Received:

Accepted:

Published:

Issue Date:

DOI: https://doi.org/10.1038/s41586-020-2214-z
Comments
By submitting a comment you agree to abide by our Terms and Community Guidelines. If you find something abusive or that does not comply with our terms or guidelines please flag it as inappropriate.