Abstract
Photoreceptor loss is the final common endpoint in most retinopathies that lead to irreversible blindness, and there are no effective treatments to restore vision1,2. Chemical reprogramming of fibroblasts offers an opportunity to reverse vision loss; however, the generation of sensory neuronal subtypes such as photoreceptors remains a challenge. Here we report that the administration of a set of five small molecules can chemically induce the transformation of fibroblasts into rod photoreceptor-like cells. The transplantation of these chemically induced photoreceptor-like cells (CiPCs) into the subretinal space of rod degeneration mice (homozygous for rd1, also known as Pde6b) leads to partial restoration of the pupil reflex and visual function. We show that mitonuclear communication is a key determining factor for the reprogramming of fibroblasts into CiPCs. Specifically, treatment with these five compounds leads to the translocation of AXIN2 to the mitochondria, which results in the production of reactive oxygen species, the activation of NF-κB and the upregulation of Ascl1. We anticipate that CiPCs could have therapeutic potential for restoring vision.
Relevant articles
Open Access articles citing this article.
Nobia Aziz

,

Mukhtar Ullah

…

Atta Ur Rehman

BMC Ophthalmology Open Access 23 March 2023

Tian Zhou

,

Ziqi Yang

…

Xialin Liu

Cell Death & Disease Open Access 20 December 2022

Michael Carlson

,

Sanghoon Kim

…

Samarendra Mohanty

Scientific Reports Open Access 07 March 2022
Access options
Access Nature and 54 other Nature Portfolio journals
Get Nature+, our best-value online-access subscription
$29.99 / 30 days
cancel any time
Subscribe to this journal
Receive 51 print issues and online access
$199.00 per year
only $3.90 per issue
Rent or buy this article
Get just this article for as long as you need it
$39.95
Prices may be subject to local taxes which are calculated during checkout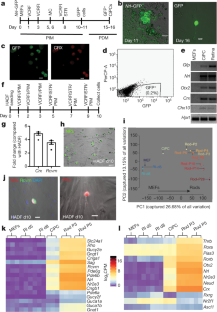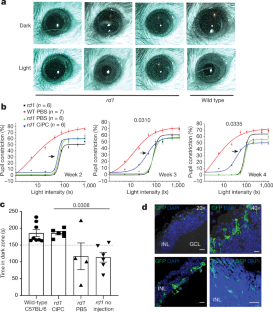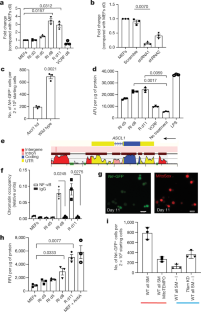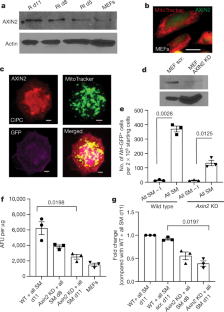 References
Wright, A. F., Chakarova, C. F., Abd El-Aziz, M. M. & Bhattacharya, S. S. Photoreceptor degeneration: genetic and mechanistic dissection of a complex trait. Nat. Rev. Genet. 11, 273–284 (2010).

Bramall, A. N., Wright, A. F., Jacobson, S. G. & McInnes, R. R. The genomic, biochemical, and cellular responses of the retina in inherited photoreceptor degenerations and prospects for the treatment of these disorders. Annu. Rev. Neurosci. 33, 441–472 (2010).

Schwartz, S. D. et al. Human embryonic-stem cell derived retinal pigment eputhellium in patients with age-related macular degeneration and Stagardt's macular dystrophy: follow up of two open-label phase 1/2 studies. Lancet 385, 509–516 (2015).

Dyer, M. A. An eye on retinal recovery. Nature 540, 350–351 (2016).

Mellough, C. B., Sernagor, E., Moreno-Gimeno, I., Steel, D. H. & Lako, M. Efficient stage-specific differentiation of human pluripotent stem cells toward retinal photoreceptor cells. Stem Cells 30, 673–686 (2012).

Zhong, X. et al. Generation of three-dimensional retinal tissue with functional photoreceptors from human iPSCs. Nat. Commun. 5, 4047 (2014).

Gamm, D. M. & Wright, L. S. From embryonic stem cells to mature photoreceptors. Nat. Biotechnol. 31, 712–713 (2013).

Völkner, M. et al. Retinal organoids from pluripotent stem cells efficiently recapitulate retinogenesis. Stem Cell Reports 6, 525–538 (2016).

Fu, Y. et al. Direct reprogramming of mouse fibroblasts into cardiomyocytes with chemical cocktails. Cell Res. 25, 1013–1024 (2015).

Tian, E. et al. Small-molecule-based lineage reprogramming creates functional astrocytes. Cell Rep. 16, 781–792 (2016).

Vierbuchen, T. et al. Direct conversion of fibroblasts to functional neurons by defined factors. Nature 463, 1035–1041 (2010).

Babos, K. & Ichida, J. K. Small molecules take a big step by converting fibroblasts into neurons. Cell Stem Cell 17, 127–129 (2015).

Zhang, L. et al. Small molecules efficiently reprogram human astroglial cells into functional neurons. Cell Stem Cell 17, 735–747 (2015).

Ueki, Y. et al. Transgenic expression of the proneural transcription factor Ascl1 in Müller glia stimulates retinal regeneration in young mice. Proc. Natl Acad. Sci. USA 112, 13717–13722 (2015).

Jorstad, N. L. et al. Stimulation of functional neuronal regeneration from Müller glia in adult mice. Nature 548, 103–107 (2017).

Pollak, J. et al. ASCL1 reprograms mouse Müller glia into neurogenic retinal progenitors. Development 140, 2619–2631 (2013).

Akimoto, M. et al. Targeting of GFP to newborn rods by Nrl promoter and temporal expression profiling of flow-sorted photoreceptors. Proc. Natl Acad. Sci. USA 103, 3890–3895 (2006).

Kim, J. W. et al. NRL-regulated transcriptome dynamics of developing rod photoreceptors. Cell Rep. 17, 2460–2473 (2016).

Osakada, F. et al. Toward the generation of rod and cone photoreceptors from mouse, monkey and human embryonic stem cells. Nat. Biotechnol. 26, 215–224 (2008).

Khanna, H. et al. Retinoic acid regulates the expression of photoreceptor transcription factor NRL. J. Biol. Chem. 281, 27327–27334 (2006).

Onishi, A. et al. Pias3-dependent SUMOylation directs rod photoreceptor development. Neuron 61, 234–246 (2009).

Fu, Y. et al. Feedback induction of a photoreceptor-specific isoform of retinoid-related orphan nuclear receptor β by the rod transcription factor NRL. J. Biol. Chem. 289, 32469–32480 (2014).

Kim, J. W. et al. Recruitment of rod photoreceptors from short-wavelength-sensitive cones during the evolution of nocturnal vision in mammals. Dev. Cell 37, 520–532 (2016).

Jia, L. et al. Retinoid-related orphan nuclear receptor ROR is an early-acting factor in rod photoreceptor development. Proc. Natl Acad. Sci. USA 106, 17534–17539 (2009).

Brzezinski, J. A., IV, Kim, E. J., Johnson, J. E. & Reh, T. A. Ascl1 expression defines a subpopulation of lineage-restricted progenitors in the mammalian retina. Development 138, 3519–3531 (2011).

Zhu, J., Cifuentes, H., Reynolds, J. & Lamba, D. A. Immunosuppression via loss of IL2rγ enhances long-term functional integration of hESC-derived photoreceptors in the mouse retina. Cell Stem Cell 20, 374–384.e5 (2017).

Lin, B., Koizumi, A., Tanaka, N., Panda, S. & Masland, R. H. Restoration of visual function in retinal degeneration mice by ectopic expression of melanopsin. Proc. Natl Acad. Sci. USA 105, 16009–16014 (2008).

Nishiguchi, K. M. et al. Gene therapy restores vision in rd1 mice after removal of a confounding mutation in Gpr179. Nat. Commun. 6, 6006 (2015).

Pang, Z. P. et al. Induction of human neuronal cells by defined transcription factors. Nature 476, 220–223 (2011).

Swaroop, A., Kim, D. & Forrest, D. Transcriptional regulation of photoreceptor development and homeostasis in the mammalian retina. Nat. Rev. Neurosci. 11, 563–576 (2010).

Zhang, Y. et al. Nuclear factor kappa B signaling initiates early differentiation of neural stem cells. Stem Cells 30, 510–524 (2012).

Formentini, L., Sánchez-Aragó, M., Sánchez-Cenizo, L. & Cuezva, J. M. The mitochondrial ATPase inhibitory factor 1 triggers a ROS-mediated retrograde prosurvival and proliferative response. Mol. Cell 45, 731–742 (2012).

Andreakos, E. et al. Distinct pathways of LPS-induced NF-kappa B activation and cytokine production in human myeloid and nonmyeloid cells defined by selective utilization of MyD88 and Mal/TIRAP. Blood 103, 2229–2237 (2004).

Vernochet, C. et al. Adipose-specific deletion of TFAM increases mitochondrial oxidation and protects mice against obesity and insulin resistance. Cell Metab. 16, 765–776 (2012).

Kim, H. et al. Modulation of β-catenin function maintains mouse epiblast stem cell and human embryonic stem cell self-renewal. Nat. Commun. 4, 2403 (2013).

Shin, J. H., Kim, H. W., Rhyu, I. J. & Kee, S. H. Axin is expressed in mitochondria and suppresses mitochondrial ATP synthesis in HeLa cells. Exp. Cell Res. 340, 12–21 (2016).

Rehemtulla, A. et al. The basic motif-leucine zipper transcription factor Nrl can positively regulate rhodopsin gene expression. Proc. Natl Acad. Sci. USA 93, 191–195 (1996).

Morrow, E. M., Furukawa, T., Lee, J. E. & Cepko, C. L. NeuroD regulates multiple functions in the developing neural retina in rodent. Development 126, 23–36 (1999).

Ortin-Martinez, A. et al. A reinterpretation of cell transplantation: GFP transfer from donor to host photoreceptors. Stem Cells 35, 932–939 (2017).

Singh, M. S. et al. Reversal of end-stage retinal degeneration and restoration of visual function by photoreceptor transplantation. Proc. Natl Acad. Sci. USA 110, 1101–1106 (2013).

Zhou, G., Meng, S., Li, Y., Ghebre, Y. T. & Cooke, J. P. Optimal ROS signaling is critical for nuclear reprogramming. Cell Rep. 15, 919–925 (2016).

Shadel, G. S. & Horvath, T. L. Mitochondrial ROS signaling in organismal homeostasis. Cell 163, 560–569 (2015).

Cagin. U., Duncan, O. F., Gatt, A. P., Dionne, M. S., Sweeney, S. T. & Bateman, J. M. Mitochondrial retrograde signaling regulates neuronal function. Proc. Natl Acad. Sci. USA 112, E6000–E6009 (2015).

Jozefczuk, J., Drews, K. & Adjaye, J. Preparation of mouse embryonic fibroblast cells suitable for culturing human embryonic and induced pluripotent stem cells. J. Vis. Exp. 3854 (2012).

Chen, H. Y. et al. Three-dimensional retinal organoids from mouse pluripotent stem cells mimic in vivo development with enhanced stratification and rod photoreceptor differentiation. Mol. Vis. 22, 1077–1094 (2016).

Kaya, K. D. et al. Transcriptome-based molecular staging of human stem cell-derived retinal organoids uncovers accelerated photoreceptor differentiation by 9-cis retinal. Mol. Vis. 25, 663–678 (2019).

Wojtala, A. et al. Methods to monitor ROS production by fluorescence microscopy and fluorometry. Methods Enzymol. 542, 243–262 (2014).

Tormos, K. V. et al. Mitochondrial complex III ROS regulate adipocyte differentiation. Cell Metab. 14, 537–544 (2011).
Acknowledgements
S.H.C. is supported by the Nancy Lee and Perry R. Bass Endowment, Foundation Fighting Blindness, and NEI awards EY021171 and EY025667. A.S. is supported by NEI Intramural Research Program (ZIAEY000450, ZIAEY000474 and ZIAEY000546). S.M. and S.B. are supported by NEI awards EY025905 and EY025717. T.M. is supported by 2T32AG020494-16A1. We thank A. Quiambao for performing the in vivo rodent injection studies, A. Ganguly for pupillometry assistance, the Histology Research Core at the University of North Carolina at Chapel Hill, and L. Gieser of NNRL, NEI for performing RNA-seq.
Ethics declarations
Competing interests
B.M. and S.H.C. are listed as inventors on a pending patent application (PCT/US2018/037784), filed by the University of North Texas, that covers the chemical reprogramming method reported in this paper. S.H.C. owns equity in and is a founder of CIRC Therapeutics, Inc., a start-up company that plans to commercialize novel treatments for ocular disease related to this technology. All other authors declare no competing interests.
Additional information
Peer review information Nature thanks Jayakrishna Ambati, Pete Coffey and the other, anonymous, reviewer(s) for their contribution to the peer review of this work.
Publisher's note Springer Nature remains neutral with regard to jurisdictional claims in published maps and institutional affiliations.
Extended data figures and tables
Supplementary information
About this article
Cite this article
Mahato, B., Kaya, K.D., Fan, Y. et al. Pharmacologic fibroblast reprogramming into photoreceptors restores vision. Nature 581, 83–88 (2020). https://doi.org/10.1038/s41586-020-2201-4
Received:

Accepted:

Published:

Issue Date:

DOI: https://doi.org/10.1038/s41586-020-2201-4
Comments
By submitting a comment you agree to abide by our Terms and Community Guidelines. If you find something abusive or that does not comply with our terms or guidelines please flag it as inappropriate.