Abstract
As anthropogenic climate change continues the risks to biodiversity will increase over time, with future projections indicating that a potentially catastrophic loss of global biodiversity is on the horizon1,2,3. However, our understanding of when and how abruptly this climate-driven disruption of biodiversity will occur is limited because biodiversity forecasts typically focus on individual snapshots of the future. Here we use annual projections (from 1850 to 2100) of temperature and precipitation across the ranges of more than 30,000 marine and terrestrial species to estimate the timing of their exposure to potentially dangerous climate conditions. We project that future disruption of ecological assemblages as a result of climate change will be abrupt, because within any given ecological assemblage the exposure of most species to climate conditions beyond their realized niche limits occurs almost simultaneously. Under a high-emissions scenario (representative concentration pathway (RCP) 8.5), such abrupt exposure events begin before 2030 in tropical oceans and spread to tropical forests and higher latitudes by 2050. If global warming is kept below 2 °C, less than 2% of assemblages globally are projected to undergo abrupt exposure events of more than 20% of their constituent species; however, the risk accelerates with the magnitude of warming, threatening 15% of assemblages at 4 °C, with similar levels of risk in protected and unprotected areas. These results highlight the impending risk of sudden and severe biodiversity losses from climate change and provide a framework for predicting both when and where these events may occur.
Relevant articles
Open Access articles citing this article.
Ewa Merz

,

Erik Saberski

…

Francesco Pomati

Nature Climate Change Open Access 23 March 2023

Thomas F. Johnson

,

Nick J. B. Isaac

…

Manuela González-Suárez

Nature Communications Open Access 24 January 2023
Access options
Access Nature and 54 other Nature Portfolio journals
Get Nature+, our best-value online-access subscription
$29.99 / 30 days
cancel any time
Subscribe to this journal
Receive 51 print issues and online access
$199.00 per year
only $3.90 per issue
Rent or buy this article
Prices vary by article type
from$1.95
to$39.95
Prices may be subject to local taxes which are calculated during checkout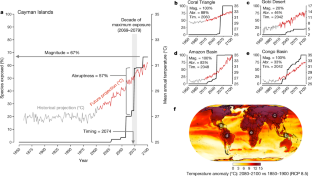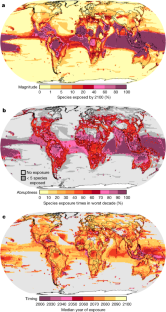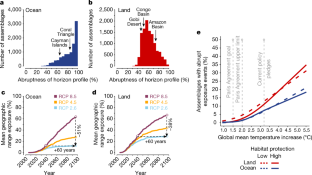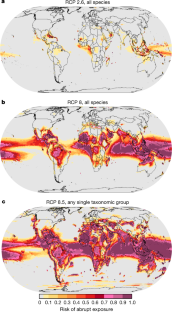 References
Urban, M. C. Accelerating extinction risk from climate change. Science 348, 571–573 (2015).

Warren, R., Price, J., Graham, E., Forstenhaeusler, N. & VanDerWal, J. The projected effect on insects, vertebrates, and plants of limiting global warming to 1.5 °C rather than 2 °C. Science 360, 791–795 (2018).

Newbold, T. Future effects of climate and land-use change on terrestrial vertebrate community diversity under different scenarios. Proc. R. Soc. B 285, 20180792 (2018).

Weber, C. et al. Mitigation scenarios must cater to new users. Nat. Clim. Change 8, 845–848 (2018).

Wernberg, T. et al. Climate-driven regime shift of a temperate marine ecosystem. Science 353, 169–172 (2016).

Hughes, T. P. et al. Global warming transforms coral reef assemblages. Nature 556, 492–496 (2018).

Barnosky, A. D. et al. Approaching a state shift in Earth's biosphere. Nature 486, 52–58 (2012).

Scheffer, M. et al. Early-warning signals for critical transitions. Nature 461, 53–59 (2009).

Harris, R. M. B. et al. Biological responses to the press and pulse of climate trends and extreme events. Nat. Clim. Change 8, 579–587 (2018).

Bay, R. A., Rose, N. H., Logan, C. A. & Palumbi, S. R. Genomic models predict successful coral adaptation if future ocean warming rates are reduced. Sci. Adv. 3, e1701413 (2017).

Chevin, L.-M., Lande, R. & Mace, G. M. Adaptation, plasticity, and extinction in a changing environment: towards a predictive theory. PLoS Biol. 8, e1000357 (2010).

Colwell, R. K. & Rangel, T. F. Hutchinson's duality: the once and future niche. Proc. Natl Acad. Sci. USA 106, 19651–19658 (2009).

Feeley, K. J. & Silman, M. R. Biotic attrition from tropical forests correcting for truncated temperature niches. Glob. Change Biol. 16, 1830–1836 (2010).

The IUCN Red List of Threatened Species https://www.iucnredlist.org/ (IUCN, 2017).

van Vuuren, D. P. et al. The representative concentration pathways: an overview. Clim. Change 109, 5–31 (2011).

Stuart-Smith, R. D., Edgar, G. J. & Bates, A. E. Thermal limits to the geographic distributions of shallow-water marine species. Nat. Ecol. Evol. 1, 1846–1852 (2017).

Sunday, J. M. et al. Thermal-safety margins and the necessity of thermoregulatory behavior across latitude and elevation. Proc. Natl Acad. Sci. USA 111, 5610–5615 (2014).

Dillon, M. E., Wang, G. & Huey, R. B. Global metabolic impacts of recent climate warming. Nature 467, 704–706 (2010).

Hawkins, E. & Sutton, R. Time of emergence of climate signals. Geophys. Res. Lett. 39, L01702 (2012).

Mora, C. et al. The projected timing of climate departure from recent variability. Nature 502, 183–187 (2013).

Colwell, R. K., Brehm, G., Cardelús, C. L., Gilman, A. C. & Longino, J. T. Global warming, elevational range shifts, and lowland biotic attrition in the wet tropics. Science 322, 258–261 (2008).

IPCC. Climate Change 2013: The Physical Science Basis (eds Stocker, T. F. et al.) (Cambridge Univ. Press, 2013).

Williams, J. W., Jackson, S. T. & Kutzbach, J. E. Projected distributions of novel and disappearing climates by 2100 AD. Proc. Natl Acad. Sci. USA 104, 5738–5742 (2007).

Liautaud, K., van Nes, E. H., Barbier, M., Scheffer, M. & Loreau, M. Superorganisms or loose collections of species? A unifying theory of community patterns along environmental gradients. Ecol. Lett. 22, 1243–1252 (2019).

Araújo, M. B. et al. Heat freezes niche evolution. Ecol. Lett. 16, 1206–1219 (2013).

Crisp, M. D. et al. Phylogenetic biome conservatism on a global scale. Nature 458, 754–756 (2009).

White, A. E., Dey, K. K., Mohan, D., Stephens, M. & Price, T. D. Regional influences on community structure across the tropical–temperate divide. Nat. Commun. 10, 2646 (2019).

Newbold, T. et al. Has land use pushed terrestrial biodiversity beyond the planetary boundary? A global assessment. Science 353, 288–291 (2016).

Hooper, D. U. et al. A global synthesis reveals biodiversity loss as a major driver of ecosystem change. Nature 486, 105–108 (2012).

Sunday, J. M., Bates, A. E. & Dulvy, N. K. Thermal tolerance and the global redistribution of animals. Nat. Clim. Change 2, 686–690 (2012).

Pinsky, M. L., Eikeset, A. M., McCauley, D. J., Payne, J. L. & Sunday, J. M. Greater vulnerability to warming of marine versus terrestrial ectotherms. Nature 569, 108–111 (2019).

Mahony, C. R. & Cannon, A. J. Wetter summers can intensify departures from natural variability in a warming climate. Nat. Commun. 9, 783 (2018).

Valladares, F. et al. The effects of phenotypic plasticity and local adaptation on forecasts of species range shifts under climate change. Ecol. Lett. 17, 1351–1364 (2014).

Deutsch, C. A. et al. Impacts of climate warming on terrestrial ectotherms across latitude. Proc. Natl Acad. Sci. USA 105, 6668–6672 (2008).

Sinervo, B. et al. Erosion of lizard diversity by climate change and altered thermal niches. Science 328, 894–899 (2010).

Soroye, P., Newbold, T. & Kerr, J. Climate change contributes to widespread declines among bumble bees across continents. Science 367, 685–688 (2020).

Lister, B. C. & Garcia, A. Climate-driven declines in arthropod abundance restructure a rainforest food web. Proc. Natl Acad. Sci. USA 115, E10397–E10406 (2018).

Spooner, F. E. B., Pearson, R. G. & Freeman, R. Rapid warming is associated with population decline among terrestrial birds and mammals globally. Glob. Change Biol. 24, 4521–4531 (2018).

Burke, K. D. et al. Pliocene and Eocene provide best analogs for near-future climates. Proc. Natl Acad. Sci. USA 115, 13288–13293 (2018).

Bird Species Distribution Maps of the World v.2.0 (Birdlife International, 2012).

Brinton, E., Ohman, M. D., Townsend, A. W., Knight, M. D. & Bridgeman, A. L. Euphausiids of the World Ocean (Springer, 2000).

Jereb, P. & Roper, C. F. E. (eds) Cephalopods of the World: An Annotated and Illustrated Catalogue of Cephalopod Species Known to Date Vol. 1 (FAO, 2005).

Tittensor, D. P. et al. Global patterns and predictors of marine biodiversity across taxa. Nature 466, 1098–1101 (2010).

Hurlbert, A. H. & Jetz, W. Species richness, hotspots, and the scale dependence of range maps in ecology and conservation. Proc. Natl Acad. Sci. USA 104, 13384–13389 (2007).

Jetz, W., Sekercioglu, C. H. & Watson, J. E. M. Ecological correlates and conservation implications of overestimating species geographic ranges. Conserv. Biol. 22, 110–119 (2008).

Meyer, C., Kreft, H., Guralnick, R. & Jetz, W. Global priorities for an effective information basis of biodiversity distributions. Nat. Commun. 6, 8221 (2015).

Faurby, S. & Araújo, M. B. Anthropogenic range contractions bias species climate change forecasts. Nat. Clim. Change 8, 252–256 (2018).

Schulzweida, U. CDO User Guide v.1.9.6 https://doi.org/10.5281/zenodo.2558193 (2019).

R Core Team. R: a language and environment for statistical computing. http://www.R-project.org/ (R Foundation for Statistical Computing, 2019).

Kay, J. E. et al. The Community Earth System Model (CESM) Large Ensemble Project: a community resource for studying climate change in the presence of internal climate variability. Bull. Am. Meteorol. Soc. 96, 1333–1349 (2015).

Hijmans, R. J., Cameron, S. E., Parra, J. L., Jones, P. G. & Jarvis, A. Very high resolution interpolated climate surfaces for global land areas. Int. J. Climatol. 25, 1965–1978 (2005).

Taylor, K. E., Stouffer, R. J. & Meehl, G. A. An overview of CMIP5 and the experiment design. Bull. Am. Meteorol. Soc. 93, 485–498 (2012).

Shannon, C. E. A mathematical theory of communication. Bell Syst. Tech. J. 27, 623–656 (1948).
Acknowledgements
We thank G. Mace and O. Petchey for comments on pre-submission drafts of the manuscript. This study has been supported by the following institutions and grants: the Royal Society, UK, to A.L.P.; the National Socio-Environmental Synthesis Center under funding received from the National Science Foundation DBI-1639145 and the FLAIR Fellowship Programme: a partnership between the African Academy of Sciences and the Royal Society funded by the UK Government's Global Challenges Research Fund, to C.H.T.; and NSF grants 1565046 and 1661510, to C.M.
Ethics declarations
Competing interests
The authors declare no competing interests.
Additional information
Peer review information Nature thanks Joanne Bennett, Anthony Richardson, Jennifer Sunday and the other, anonymous, reviewer(s) for their contribution to the peer review of this work.
Publisher's note Springer Nature remains neutral with regard to jurisdictional claims in published maps and institutional affiliations.
Extended data figures and tables
Supplementary information
This file contains Supplementary Methods, Supplementary Tables 1-2, Supplementary Figures 1-3 and Supplementary References.
About this article
Cite this article
Trisos, C.H., Merow, C. & Pigot, A.L. The projected timing of abrupt ecological disruption from climate change. Nature 580, 496–501 (2020). https://doi.org/10.1038/s41586-020-2189-9
Received:

Accepted:

Published:

Issue Date:

DOI: https://doi.org/10.1038/s41586-020-2189-9
Comments
By submitting a comment you agree to abide by our Terms and Community Guidelines. If you find something abusive or that does not comply with our terms or guidelines please flag it as inappropriate.