Abstract
Prolonged mitosis often results in apoptosis1. Shortened mitosis causes tumorigenic aneuploidy, but it is unclear whether it also activates the apoptotic machinery2. Separase, a cysteine protease and trigger of all eukaryotic anaphases, has a caspase-like catalytic domain but has not previously been associated with cell death3,4. Here we show that human cells that enter mitosis with already active separase rapidly undergo death in mitosis owing to direct cleavage of anti-apoptotic MCL1 and BCL-XL by separase. Cleavage not only prevents MCL1 and BCL-XL from sequestering pro-apoptotic BAK, but also converts them into active promoters of death in mitosis. Our data strongly suggest that the deadliest cleavage fragment, the C-terminal half of MCL1, forms BAK/BAX-like pores in the mitochondrial outer membrane. MCL1 and BCL-XL are turned into separase substrates only upon phosphorylation by NEK2A. Early mitotic degradation of this kinase is therefore crucial for preventing apoptosis upon scheduled activation of separase in metaphase. Speeding up mitosis by abrogation of the spindle assembly checkpoint results in a temporal overlap of the enzymatic activities of NEK2A and separase and consequently in cell death. We propose that NEK2A and separase jointly check on spindle assembly checkpoint integrity and eliminate cells that are prone to chromosome missegregation owing to accelerated progression through early mitosis.
Relevant articles
Open Access articles citing this article.
Sébastien Levesque

,

Diana Mayorga

…

Yannick Doyon

Nature Communications Open Access 07 October 2022

Cheng-Jung Ho

,

Huey-Jiun Ko

…

Chihuei Wang

Cell Death Discovery Open Access 04 October 2021
Access options
Access Nature and 54 other Nature Portfolio journals
Get Nature+, our best-value online-access subscription
$29.99 / 30 days
cancel any time
Subscribe to this journal
Receive 51 print issues and online access
$199.00 per year
only $3.90 per issue
Rent or buy this article
Get just this article for as long as you need it
$39.95
Prices may be subject to local taxes which are calculated during checkout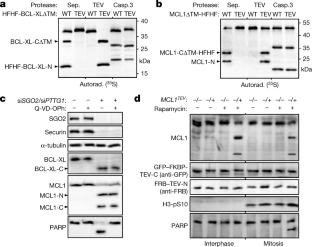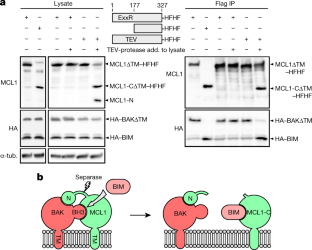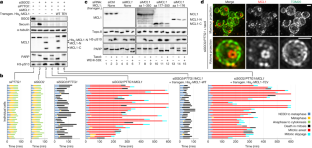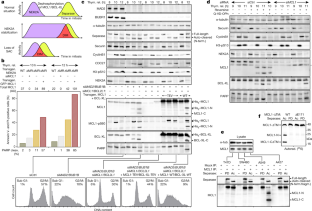 References
Gascoigne, K. E. & Taylor, S. S. Cancer cells display profound intra- and interline variation following prolonged exposure to antimitotic drugs. Cancer Cell 14, 111–122 (2008).

Michel, L. S. et al. MAD2 haplo-insufficiency causes premature anaphase and chromosome instability in mammalian cells. Nature 409, 355–359 (2001).

Lin, Z., Luo, X. & Yu, H. Structural basis of cohesin cleavage by separase. Nature 532, 131–134 (2016).

Wirth, K. G. et al. Separase: a universal trigger for sister chromatid disjunction but not chromosome cycle progression. J. Cell Biol. 172, 847–860 (2006).

Galluzzi, L. et al. Molecular mechanisms of cell death: recommendations of the Nomenclature Committee on Cell Death 2018. Cell Death Differ. 25, 486–541 (2018).

Letai, A. et al. Distinct BH3 domains either sensitize or activate mitochondrial apoptosis, serving as prototype cancer therapeutics. Cancer Cell 2, 183–192 (2002).

Villunger, A. et al. p53- and drug-induced apoptotic responses mediated by BH3-only proteins puma and noxa. Science 302, 1036–1038 (2003).

Kamenz, J. & Hauf, S. Time to split up: dynamics of chromosome separation. Trends Cell Biol. 27, 42–54 (2017).

Hellmuth, S. et al. Securin-independent regulation of separase by checkpoint-induced shugoshin–MAD2. Nature https://www.doi.org/10.1038/s41586-020-2182-3 (2020).

Taylor, S. S. & McKeon, F. Kinetochore localization of murine Bub1 is required for normal mitotic timing and checkpoint response to spindle damage. Cell 89, 727–735 (1997).

Li, Y. & Benezra, R. Identification of a human mitotic checkpoint gene: hsMAD2. Science 274, 246–248 (1996).

Rankin, S., Ayad, N. G. & Kirschner, M. W. Sororin, a substrate of the anaphase-promoting complex, is required for sister chromatid cohesion in vertebrates. Mol. Cell 18, 185–200 (2005).

Tang, Z., Sun, Y., Harley, S. E., Zou, H. & Yu, H. Human Bub1 protects centromeric sister-chromatid cohesion through Shugoshin during mitosis. Proc. Natl Acad. Sci. USA 101, 18012–18017 (2004).

Bennett, A. et al. Inhibition of Bcl-xL sensitizes cells to mitotic blockers, but not mitotic drivers. Open Biol. 6, 160134 (2016).

Haschka, M. D. et al. The NOXA-MCL1-BIM axis defines lifespan on extended mitotic arrest. Nat. Commun. 6, 6891 (2015).

Sloss, O., Topham, C., Diez, M. & Taylor, S. Mcl-1 dynamics influence mitotic slippage and death in mitosis. Oncotarget 7, 5176–5192 (2016).

Topham, C. et al. MYC is a major determinant of mitotic cell fate. Cancer Cell 28, 129–140 (2015).

Clem, R. J. et al. Modulation of cell death by Bcl-XL through caspase interaction. Proc. Natl Acad. Sci. USA 95, 554–559 (1998).

Michels, J. et al. Mcl-1 is required for Akata6 B-lymphoma cell survival and is converted to a cell death molecule by efficient caspase-mediated cleavage. Oncogene 23, 4818–4827 (2004).

Barclay, L. A. et al. Inhibition of pro-apoptotic BAX by a noncanonical interaction mechanism. Mol. Cell 57, 873–886 (2015).

Brouwer, J. M. et al. Conversion of Bim-BH3 from activator to inhibitor of Bak through structure-based design. Mol. Cell 68, 659–672.e659 (2017).

Czabotar, P. E. et al. Bax crystal structures reveal how BH3 domains activate Bax and nucleate its oligomerization to induce apoptosis. Cell 152, 519–531 (2013).

Dai, H. et al. Transient binding of an activator BH3 domain to the Bak BH3-binding groove initiates Bak oligomerization. J. Cell Biol. 194, 39–48 (2011).

Wang, C. & Youle, R. J. Predominant requirement of Bax for apoptosis in HCT116 cells is determined by Mcl-1's inhibitory effect on Bak. Oncogene 31, 3177–3189 (2012).

Große, L. et al. Bax assembles into large ring-like structures remodeling the mitochondrial outer membrane in apoptosis. EMBO J. 35, 402–413 (2016).

Salvador-Gallego, R. et al. Bax assembly into rings and arcs in apoptotic mitochondria is linked to membrane pores. EMBO J. 35, 389–401 (2016).

McArthur, K. et al. BAK/BAX macropores facilitate mitochondrial herniation and mtDNA efflux during apoptosis. Science 359, eaao6047 (2018).

Day, C. L. et al. Solution structure of prosurvival Mcl-1 and characterization of its binding by proapoptotic BH3-only ligands. J. Biol. Chem. 280, 4738–4744 (2005).

Dewson, G. et al. Bak activation for apoptosis involves oligomerization of dimers via their α6 helices. Mol. Cell 36, 696–703 (2009).

Kudo, N. R. et al. Role of cleavage by separase of the Rec8 kleisin subunit of cohesin during mammalian meiosis I. J. Cell Sci. 122, 2686–2698 (2009).

Hayes, M. J. et al. Early mitotic degradation of Nek2A depends on Cdc20-independent interaction with the APC/C. Nat. Cell Biol. 8, 607–614 (2006).

Wolthuis, R. et al. Cdc20 and Cks direct the spindle checkpoint-independent destruction of cyclin A. Mol. Cell 30, 290–302 (2008).

Beroukhim, R. et al. The landscape of somatic copy-number alteration across human cancers. Nature 463, 899–905 (2010).

Wild, T. et al. The spindle assembly checkpoint is not essential for viability of human cells with genetically lowered APC/C activity. Cell Rep. 14, 1829–1840 (2016).

Tighe, A., Johnson, V. L., Albertella, M. & Taylor, S. S. Aneuploid colon cancer cells have a robust spindle checkpoint. EMBO Rep. 2, 609–614 (2001).

Weitzel, D. H. & Vandré, D. D. Differential spindle assembly checkpoint response in human lung adenocarcinoma cells. Cell Tissue Res. 300, 57–65 (2000).

Bamford, S. et al. The COSMIC (Catalogue of Somatic Mutations in Cancer) database and website. Br. J. Cancer 91, 355–358 (2004).

Hernando, E. et al. Molecular analyses of the mitotic checkpoint components hsMAD2, hBUB1 and hBUB3 in human cancer. Int. J. Cancer 95, 223–227 (2001).

Stemmann, O., Zou, H., Gerber, S. A., Gygi, S. P. & Kirschner, M. W. Dual inhibition of sister chromatid separation at metaphase. Cell 107, 715–726 (2001).

Wolf, P. G., Cuba Ramos, A., Kenzel, J., Neumann, B. & Stemmann, O. Studying meiotic cohesin in somatic cells reveals that Rec8-containing cohesin requires Stag3 to function and is regulated by Wapl and sororin. J. Cell Sci. 131, jcs212100 (2018).

Hellmuth, S. et al. Human chromosome segregation involves multi-layered regulation of separase by the peptidyl-prolyl-isomerase Pin1. Mol. Cell 58, 495–506 (2015).

Hellmuth, S., Böttger, F., Pan, C., Mann, M. & Stemmann, O. PP2A delays APC/C-dependent degradation of separase-associated but not free securin. EMBO J. 33, 1134–1147 (2014).

Hellmuth, S., Gutiérrez-Caballero, C., Llano, E., Pendás, A. M. & Stemmann, O. Local activation of mammalian separase in interphase promotes double-strand break repair and prevents oncogenic transformation. EMBO J. 37, e99184 (2018).

To, T. L. et al. Rational design of a GFP-based fluorogenic caspase reporter for imaging apoptosis in vivo. Cell Chem. Biol. 23, 875–882 (2016).

Agudelo, D. et al. Marker-free coselection for CRISPR-driven genome editing in human cells. Nat. Methods 14, 615–620 (2017).

Wehr, M. C. et al. Monitoring regulated protein–protein interactions using split TEV. Nat. Methods 3, 985–993 (2006).

Murray, A. W. Cell cycle extracts. Methods Cell Biol. 36, 581–605 (1991).

McGuinness, B. E., Hirota, T., Kudo, N. R., Peters, J. M. & Nasmyth, K. Shugoshin prevents dissociation of cohesin from centromeres during mitosis in vertebrate cells. PLoS Biol 3, e86 (2005).

Lukinavičius, G. et al. SiR-Hoechst is a far-red DNA stain for live-cell nanoscopy. Nat. Commun. 6, 8497 (2015).

Hanson, K. M. & Finkelstein, J. N. An accessible and high-throughput strategy of continuously monitoring apoptosis by fluorescent detection of caspase activation. Anal. Biochem. 564–565, 96–101 (2019).

Gorr, I. H., Boos, D. & Stemmann, O. Mutual inhibition of separase and Cdk1 by two-step complex formation. Mol. Cell 19, 135–141 (2005).

Liu, L., Spurrier, J., Butt, T. R. & Strickler, J. E. Enhanced protein expression in the baculovirus/insect cell system using engineered SUMO fusions. Protein Expr. Purif. 62, 21–28 (2008).

Butt, T. R., Edavettal, S. C., Hall, J. P. & Mattern, M. R. SUMO fusion technology for difficult-to-express proteins. Protein Expr. Purif. 43, 1–9 (2005).

Hames, R. S. & Fry, A. M. Alternative splice variants of the human centrosome kinase Nek2 exhibit distinct patterns of expression in mitosis. Biochem. J. 361, 77–85 (2002).

Inoshita, S. et al. Phosphorylation and inactivation of myeloid cell leukemia 1 by JNK in response to oxidative stress. J. Biol. Chem. 277, 43730–43734 (2002).

Maurer, U., Charvet, C., Wagman, A. S., Dejardin, E. & Green, D. R. Glycogen synthase kinase-3 regulates mitochondrial outer membrane permeabilization and apoptosis by destabilization of MCL-1. Mol. Cell 21, 749–760 (2006).
Acknowledgements
We thank T. U. Mayer for suggesting the concept of the DMC, R. Youle and M. Orth for cell lines, D. Pfeiffer for help with the 2D SIM, S. Heidmann, T. Klecker, and P. Wolf for critical reading of the manuscript, and J. Hübner and M. Hermann for technical assistance. This work was supported by a grant (STE997/4-2) from the Deutsche Forschungsgemeinschaft (DFG) to O.S.
Ethics declarations
Competing interests
The authors declare no competing interests.
Additional information
Peer review information Nature thanks Andreas Villunger, Hongtao Yu and the other, anonymous, reviewer(s) for their contribution to the peer review of this work.
Publisher's note Springer Nature remains neutral with regard to jurisdictional claims in published maps and institutional affiliations.
Extended data figures and tables
Supplementary information
This file contains gel source data.
About this article
Cite this article
Hellmuth, S., Stemmann, O. Separase-triggered apoptosis enforces minimal length of mitosis. Nature 580, 542–547 (2020). https://doi.org/10.1038/s41586-020-2187-y
Received:

Accepted:

Published:

Issue Date:

DOI: https://doi.org/10.1038/s41586-020-2187-y
This article is cited by
Sébastien Levesque
Diana Mayorga
Yannick Doyon

Nature Communications (2022)

Cheng-Jung Ho
Huey-Jiun Ko
Chihuei Wang

Cell Death Discovery (2021)
Comments
By submitting a comment you agree to abide by our Terms and Community Guidelines. If you find something abusive or that does not comply with our terms or guidelines please flag it as inappropriate.