Abstract
The aboveground parts of terrestrial plants, collectively called the phyllosphere, have a key role in the global balance of atmospheric carbon dioxide and oxygen. The phyllosphere represents one of the most abundant habitats for microbiota colonization. Whether and how plants control phyllosphere microbiota to ensure plant health is not well understood. Here we show that the Arabidopsis quadruple mutant (min7 fls2 efr cerk1; hereafter, mfec)1, simultaneously defective in pattern-triggered immunity and the MIN7 vesicle-trafficking pathway, or a constitutively activated cell death1 (cad1) mutant, carrying a S205F mutation in a membrane-attack-complex/perforin (MACPF)-domain protein, harbour altered endophytic phyllosphere microbiota and display leaf-tissue damage associated with dysbiosis. The Shannon diversity index and the relative abundance of Firmicutes were markedly reduced, whereas Proteobacteria were enriched in the mfec and cad1S205F mutants, bearing cross-kingdom resemblance to some aspects of the dysbiosis that occurs in human inflammatory bowel disease. Bacterial community transplantation experiments demonstrated a causal role of a properly assembled leaf bacterial community in phyllosphere health. Pattern-triggered immune signalling, MIN7 and CAD1 are found in major land plant lineages and are probably key components of a genetic network through which terrestrial plants control the level and nurture the diversity of endophytic phyllosphere microbiota for survival and health in a microorganism-rich environment.
This is a preview of subscription content
Access options
Subscribe to Nature+
Get immediate online access to the entire Nature family of 50+ journals
Subscribe to Journal
Get full journal access for 1 year
$199.00
only $3.90 per issue
All prices are NET prices.
VAT will be added later in the checkout.
Tax calculation will be finalised during checkout.
Buy article
Get time limited or full article access on ReadCube.
$32.00
All prices are NET prices.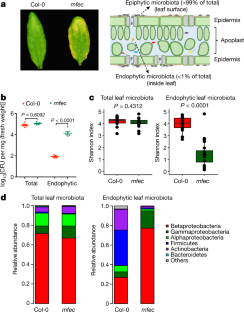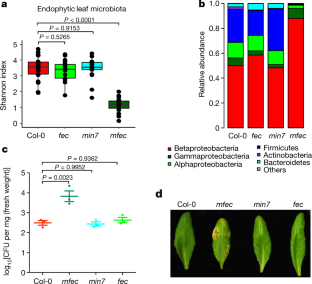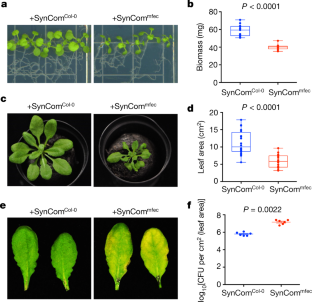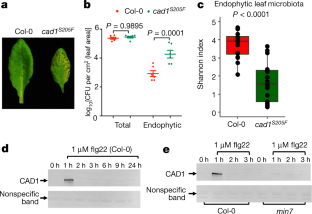 Data availability
Raw source 16S rRNA gene sequences from this project are available in the Sequence Read Archive database under BioProject PRJNA554246, accession numbers SAMN12259846 to SAMN12260169. Bacterial genome source data are available in the Sequence Read Archive database under the BioProject PRJNA555902. Source Data for Figs. 1–4 and Extended Data Figs. 3, 4, 6–8 are provided with the paper.
References
Xin, X. F. et al. Bacteria establish an aqueous living space in plants crucial for virulence. Nature 539, 524–529 (2016).

Beattie, G. A. & Lindow, S. E. Bacterial colonization of leaves: a spectrum of strategies. Phytopathology 89, 353–359 (1999).

Lindow, S. E. & Brandl, M. T. Microbiology of the phyllosphere. Appl. Environ. Microbiol. 69, 1875–1883 (2003).

Berendsen, R. L., Pieterse, C. M. & Bakker, P. A. The rhizosphere microbiome and plant health. Trends Plant Sci. 17, 478–486 (2012).

Xu, L. et al. Drought delays development of the sorghum root microbiome and enriches for monoderm bacteria. Proc. Natl Acad. Sci. USA 115, E4284–E4293 (2018).

Edwards, J. A. et al. Compositional shifts in root-associated bacterial and archaeal microbiota track the plant life cycle in field-grown rice. PLoS Biol. 16, e2003862 (2018).

Finkel, O. M., Castrillo, G., Herrera Paredes, S., Salas González, I. & Dangl, J. L. Understanding and exploiting plant beneficial microbes. Curr. Opin. Plant Biol. 38, 155–163 (2017).

Pieterse, C. M. J., de Jonge, R. & Berendsen, R. L. The soil-borne supremacy. Trends Plant Sci. 21, 171–173 (2016).

Duran, P. et al. Microbial interkingdom interactions in roots promote Arabidopsis survival. Cell 175, 973–983 (2018).

Müller, D. B., Vogel, C., Bai, Y. & Vorholt, J. A. The plant microbiota: systems-level insights and perspectives. Annu. Rev. Genet. 50, 211–234 (2016).

Zhang, J. et al. NRT1.1B is associated with root microbiota composition and nitrogen use in field-grown rice. Nat. Biotechnol. 37, 676–684 (2019).

Horton, M. W. et al. Genome-wide association study of Arabidopsis thaliana leaf microbial community. Nat. Commun. 5, 5320 (2014).

Bodenhausen, N., Bortfeld-Miller, M., Ackermann, M. & Vorholt, J. A. A synthetic community approach reveals plant genotypes affecting the phyllosphere microbiota. PLoS Genet. 10, e1004283 (2014).

Wagner, M. R. et al. Host genotype and age shape the leaf and root microbiomes of a wild perennial plant. Nat. Commun. 7, 12151 (2016).

Laforest-Lapointe, I., Paquette, A., Messier, C. & Kembel, S. W. Leaf bacterial diversity mediates plant diversity and ecosystem function relationships. Nature 546, 145–147 (2017).

Tang, D., Wang, G. & Zhou, J. M. Receptor kinases in plant–pathogen interactions: more than pattern recognition. Plant Cell 29, 618–637 (2017).

Boutrot, F. & Zipfel, C. Function, discovery, and exploitation of plant pattern recognition receptors for broad-spectrum disease resistance. Annu. Rev. Phytopathol. 55, 257–286 (2017).

Turpin, W., Goethel, A., Bedrani, L. & Croitoru, K. Determinants of IBD heritability: genes, bugs, and more. Inflamm. Bowel Dis. 24, 1133–1148 (2018).

Sokol, H. & Seksik, P. The intestinal microbiota in inflammatory bowel diseases: time to connect with the host. Curr. Opin. Gastroenterol. 26, 327–331 (2010).

Tanaka, H., Kitakura, S., De Rycke, R., De Groodt, R. & Friml, J. Fluorescence imaging-based screen identifies ARF GEF component of early endosomal trafficking. Curr. Biol. 19, 391–397 (2009).

Kitakura, S. et al. BEN3/BIG2 ARF GEF is involved in brefeldin A-sensitive trafficking at the trans-Golgi network/early endosome in Arabidopsis thaliana. Plant Cell Physiol. 58, 1801–1811 (2017).

Morita-Yamamuro, C. et al. The Arabidopsis gene CAD1 controls programmed cell death in the plant immune system and encodes a protein containing a MACPF domain. Plant Cell Physiol. 46, 902–912 (2005).

de Michele, R. et al. Free-flow electrophoresis of plasma membrane vesicles enriched by two-phase partitioning enhances the quality of the proteome from Arabidopsis seedlings. J. Proteome Res. 15, 900–913 (2016).

Alexandersson, E., Saalbach, G., Larsson, C. & Kjellbom, P. Arabidopsis plasma membrane proteomics identifies components of transport, signal transduction and membrane trafficking. Plant Cell Physiol. 45, 1543–1556 (2004).

Felix, G., Duran, J. D., Volko, S. & Boller, T. Plants have a sensitive perception system for the most conserved domain of bacterial flagellin. Plant J. Cell Mol. Biol. 18, 265–276 (1999).

Zipfel, C. et al. Bacterial disease resistance in Arabidopsis through flagellin perception. Nature 428, 764–767 (2004).

Levy, M., Kolodziejczyk, A. A., Thaiss, C. A. & Elinav, E. Dysbiosis and the immune system. Nat. Rev. Immunol. 17, 219–232 (2017).

Hall, A. B., Tolonen, A. C. & Xavier, R. J. Human genetic variation and the gut microbiome in disease. Nat. Rev. Genet. 18, 690–699 (2017).

Sun, L., Nava, G. M. & Stappenbeck, T. S. Host genetic susceptibility, dysbiosis, and viral triggers in inflammatory bowel disease. Curr. Opin. Gastroenterol. 27, 321–327 (2011).

McCormack, R., de Armas, L., Shiratsuchi, M. & Podack, E. R. Killing machines: three pore-forming proteins of the immune system. Immunol. Res. 57, 268–278 (2013).

Spicer, B. A., Conroy, P. J., Law, R. H. P., Voskoboinik, I. & Whisstock, J. C. Perforin—a key (shaped) weapon in the immunological arsenal. Semin. Cell Dev. Biol. 72, 117–123 (2017).

Tsuda, K., Sato, M., Stoddard, T., Glazebrook, J. & Katagiri, F. Network properties of robust immunity in plants. PLoS Genet. 5, e1000772 (2009).

Kremer, J. M. P. et al. FlowPot axenic plant growth system for microbiota research. Preprint at bioRxiv https://doi.org/10.1101/254953 (2018).

Easlon, H. M. & Bloom, A. J. Easy Leaf Area: automated digital image analysis for rapid and accurate measurement of leaf area. Appl. Plant Sci. 2, 1400033 (2014).

Bai, Y. et al. Functional overlap of the Arabidopsis leaf and root microbiota. Nature 528, 364–369 (2015).

Bolyen, E. et al. Reproducible, interactive, scalable and extensible microbiome data science using QIIME 2. Nat. Biotechnol. 37, 852–857 (2019).

Martin, M. Cutadapt removes adapter sequences from high-throughput sequencing reads. EMBnet J. 17, ej.17.1.200 (2011).

Callahan, B. J. et al. DADA2: high-resolution sample inference from Illumina amplicon data. Nat. Methods 13, 581–583 (2016).

Werner, J. J. et al. Impact of training sets on classification of high-throughput bacterial 16S rRNA gene surveys. ISME J. 6, 94–103 (2012).

Koren, S. et al. Canu: scalable and accurate long-read assembly via adaptive k-mer weighting and repeat separation. Genome Res. 27, 722–736 (2017).

Walker, B. J. et al. Pilon: an integrated tool for comprehensive microbial variant detection and genome assembly improvement. PLoS ONE 9, e112963 (2014).

Parks, D. H. et al. A standardized bacterial taxonomy based on genome phylogeny substantially revises the tree of life. Nat. Biotechnol. 36, 996–1004 (2018).

Schloss, P. D. et al. Introducing mothur: open-source, platform-independent, community-supported software for describing and comparing microbial communities. Appl. Environ. Microbiol. 75, 7537–7541 (2009).

Kumar, S., Stecher, G. & Tamura, K. MEGA7: Molecular Evolutionary Genetics Analysis version 7.0 for bigger datasets. Mol. Biol. Evol. 33, 1870–1874 (2016).

Austin, R. S., Chatfield, S. P., Desveaux, D. & Guttman, D. S. Next-generation mapping of genetic mutations using bulk population sequencing. Methods Mol. Biol. 1062, 301–315 (2014).

Sun, H. & Schneeberger, K. SHOREmap v3.0: fast and accurate identification of causal mutations from forward genetic screens. Methods Mol. Biol. 1284, 381–395 (2015).

Lee, C. M., Adamchek, C., Feke, A., Nusinow, D. A. & Gendron, J. M. Mapping protein–protein interactions using affinity purification and mass spectrometry. Methods Mol. Biol. 1610, 231–249 (2017).

Clough, S. J. & Bent, A. F. Floral dip: a simplified method for Agrobacterium-mediated transformation of Arabidopsis thaliana. Plant J. Mol. Cell Biol. 16, 735–743 (1998).

Benjamini, Y. & Hochberg, Y. Controlling the false discovery rate: a practical and powerful approach to multiple testing. J. R. Stat. Soc. B 57, 289–300 (1995).

Robinson, M. D., McCarthy, D. J. & Smyth, G. K. edgeR: a Bioconductor package for differential expression analysis of digital gene expression data. Bioinformatics 26, 139–140 (2010).

Nomura, K. et al. A bacterial virulence protein suppresses host innate immunity to cause plant disease. Science 313, 220–223 (2006).

Nomura, K. et al. Effector-triggered immunity blocks pathogen degradation of an immunity-associated vesicle traffic regulator in Arabidopsis. Proc. Natl Acad. Sci. USA 108, 10774–10779 (2011).
Acknowledgements
We thank members, including B. Hsueh, of the He laboratory for technical help and insightful discussions; T. Gong for help with testing leaf necrosis phenotypes of plants grown on MS agar plates; and H. Tanaka and J. Friml for ben3/cad1S205Fseeds. This project was supported by funding from National Institutes of Health (GM109928), the Department of Energy (the Chemical Sciences, Geosciences, and Biosciences Division, Office of Basic Energy Sciences, Office of Science; DE–FG02–91ER20021 for ben3/cad1S205F mutant characterization) and Plant Resilience Institute at Michigan State University for support of optimization of the GnotoPot system (to S.Y.H.) and by funding from the CAS Center for Excellence in Molecular Plant Sciences and the Institute of Plant Physiology and Ecology, Chinese Academy of Sciences (to X.-F.X.).
Ethics declarations
Competing interests
The authors declare no competing interests.
Additional information
Peer review information Nature thanks Steven Lindow and the other, anonymous, reviewer(s) for their contribution to the peer review of this work.
Publisher's note Springer Nature remains neutral with regard to jurisdictional claims in published maps and institutional affiliations.
Extended data figures and tables
Supplementary information
About this article
Cite this article
Chen, T., Nomura, K., Wang, X. et al. A plant genetic network for preventing dysbiosis in the phyllosphere. Nature 580, 653–657 (2020). https://doi.org/10.1038/s41586-020-2185-0
Received:

Accepted:

Published:

Issue Date:

DOI: https://doi.org/10.1038/s41586-020-2185-0
Comments
By submitting a comment you agree to abide by our Terms and Community Guidelines. If you find something abusive or that does not comply with our terms or guidelines please flag it as inappropriate.