Abstract
Cancer cells increase lipogenesis for their proliferation and the activation of sterol regulatory element-binding proteins (SREBPs) has a central role in this process. SREBPs are inhibited by a complex composed of INSIG proteins, SREBP cleavage-activating protein (SCAP) and sterols in the endoplasmic reticulum. Regulation of the interaction between INSIG proteins and SCAP by sterol levels is critical for the dissociation of the SCAP–SREBP complex from the endoplasmic reticulum and the activation of SREBPs1,2. However, whether this protein interaction is regulated by a mechanism other than the abundance of sterol—and in particular, whether oncogenic signalling has a role—is unclear. Here we show that activated AKT in human hepatocellular carcinoma (HCC) cells phosphorylates cytosolic phosphoenolpyruvate carboxykinase 1 (PCK1), the rate-limiting enzyme in gluconeogenesis, at Ser90. Phosphorylated PCK1 translocates to the endoplasmic reticulum, where it uses GTP as a phosphate donor to phosphorylate INSIG1 at Ser207 and INSIG2 at Ser151. This phosphorylation reduces the binding of sterols to INSIG1 and INSIG2 and disrupts the interaction between INSIG proteins and SCAP, leading to the translocation of the SCAP–SREBP complex to the Golgi apparatus, the activation of SREBP proteins (SREBP1 or SREBP2) and the transcription of downstream lipogenesis-related genes, proliferation of tumour cells, and tumorigenesis in mice. In addition, phosphorylation of PCK1 at Ser90, INSIG1 at Ser207 and INSIG2 at Ser151 is not only positively correlated with the nuclear accumulation of SREBP1 in samples from patients with HCC, but also associated with poor HCC prognosis. Our findings highlight the importance of the protein kinase activity of PCK1 in the activation of SREBPs, lipogenesis and the development of HCC.
This is a preview of subscription content
Access options
Subscribe to Journal
Get full journal access for 1 year
$199.00
only $3.90 per issue
All prices are NET prices.
VAT will be added later in the checkout.
Tax calculation will be finalised during checkout.
Rent or Buy article
Get time limited or full article access on ReadCube.
from$8.99
All prices are NET prices.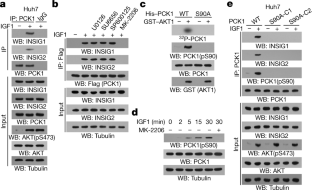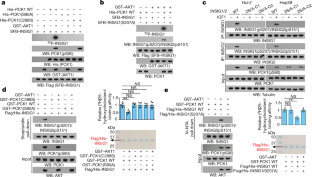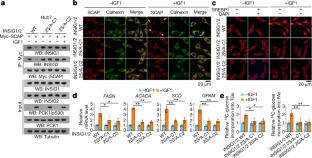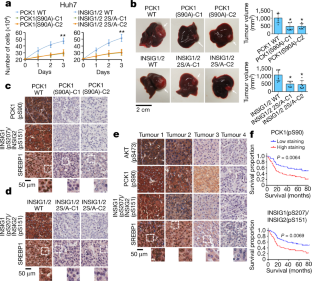 Data availability
All source data for immunoblotting are shown in Supplementary Fig. 1. All the other source data for Figs. 2–4 and Extended Data Figs. 1–10, containing the raw data for all experiments, are provided with the paper. All images and data were created and analysed by the authors and will be available from the lead corresponding author (Z.L.) on reasonable request.
References
1.

Goldstein, J. L., DeBose-Boyd, R. A. & Brown, M. S. Protein sensors for membrane sterols. Cell 124, 35–46 (2006).

2.

Röhrig, F. & Schulze, A. The multifaceted roles of fatty acid synthesis in cancer. Nat. Rev. Cancer 16, 732–749 (2016).

3.

Feramisco, J. D., Goldstein, J. L. & Brown, M. S. Membrane topology of human Insig-1, a protein regulator of lipid synthesis. J. Biol. Chem. 279, 8487–8496 (2004).

4.

Yabe, D., Brown, M. S. & Goldstein, J. L. Insig-2, a second endoplasmic reticulum protein that binds SCAP and blocks export of sterol regulatory element-binding proteins. Proc. Natl Acad. Sci. USA 99, 12753–12758 (2002).

5.

Radhakrishnan, A., Ikeda, Y., Kwon, H. J., Brown, M. S. & Goldstein, J. L. Sterol-regulated transport of SREBPs from endoplasmic reticulum to Golgi: oxysterols block transport by binding to Insig. Proc. Natl Acad. Sci. USA 104, 6511–6518 (2007).

6.

Shimano, H. & Sato, R. SREBP-regulated lipid metabolism: convergent physiology - divergent pathophysiology. Nat. Rev. Endocrinol. 13, 710–730 (2017).

7.

Breuhahn, K., Longerich, T. & Schirmacher, P. Dysregulation of growth factor signaling in human hepatocellular carcinoma. Oncogene 25, 3787–3800 (2006).

8.

Burgess, S. C. et al. Cytosolic phosphoenolpyruvate carboxykinase does not solely control the rate of hepatic gluconeogenesis in the intact mouse liver. Cell Metab. 5, 313–320 (2007).

9.

Méndez-Lucas, A., Hyroššová, P., Novellasdemunt, L., Viñals, F. & Perales, J. C. Mitochondrial phosphoenolpyruvate carboxykinase (PEPCK-M) is a pro-survival, endoplasmic reticulum (ER) stress response gene involved in tumor cell adaptation to nutrient availability. J. Biol. Chem. 289, 22090–22102 (2014).

10.

Vinayagam, A. et al. An integrative analysis of the InR/PI3K/Akt network identifies the dynamic response to insulin signaling. Cell Rep. 16, 3062–3074 (2016).

11.

Espenshade, P. J. SREBPs: sterol-regulated transcription factors. J. Cell Sci. 119, 973–976 (2006).

12.

Dif, N. et al. Insulin activates human sterol-regulatory-element-binding protein-1c (SREBP-1c) promoter through SRE motifs. Biochem. J. 400, 179–188 (2006).

13.

Horton, J. D., Goldstein, J. L. & Brown, M. S. SREBPs: activators of the complete program of cholesterol and fatty acid synthesis in the liver. J. Clin. Invest. 109, 1125–1131 (2002).

14.

Bakos, J. T., Johnson, B. H. & Thompson, E. B. Oxysterol-induced cell death in human leukemic T-cells correlates with oxysterol binding protein occupancy and is independent of glucocorticoid-induced apoptosis. J. Steroid Biochem. Mol. Biol. 46, 415–426 (1993).

15.

Guo, D. et al. EGFR signaling through an Akt-SREBP-1-dependent, rapamycin-resistant pathway sensitizes glioblastomas to antilipogenic therapy. Sci. Signal. 2, ra82 (2009).

16.

Düvel, K. et al. Activation of a metabolic gene regulatory network downstream of mTOR complex 1. Mol. Cell 39, 171–183 (2010).

17.

Yecies, J. L. et al. Akt stimulates hepatic SREBP1c and lipogenesis through parallel mTORC1-dependent and independent pathways. Cell Metab. 14, 21–32 (2011).

18.

Lee, J. N., Song, B., DeBose-Boyd, R. A. & Ye, J. Sterol-regulated degradation of Insig-1 mediated by the membrane-bound ubiquitin ligase gp78. J. Biol. Chem. 281, 39308–39315 (2006).

19.

Shao, W. & Espenshade, P. J. Expanding roles for SREBP in metabolism. Cell Metab. 16, 414–419 (2012).

20.

Menendez, J. A. & Lupu, R. Fatty acid synthase and the lipogenic phenotype in cancer pathogenesis. Nat. Rev. Cancer 7, 763–777 (2007).

21.

Huang, X., Liu, G., Guo, J. & Su, Z. The PI3K/AKT pathway in obesity and type 2 diabetes. Int. J. Biol. Sci. 14, 1483–1496 (2018).

22.

Hu, J. et al. Co-activation of AKT and c-Met triggers rapid hepatocellular carcinoma development via the mTORC1/FASN pathway in mice. Sci. Rep. 6, 20484 (2016).

23.

Li, X., Egervari, G., Wang, Y., Berger, S. L. & Lu, Z. Regulation of chromatin and gene expression by metabolic enzymes and metabolites. Nat. Rev. Mol. Cell Biol. 19, 563–578 (2018).

24.

Radhakrishnan, A., Sun, L. P., Kwon, H. J., Brown, M. S. & Goldstein, J. L. Direct binding of cholesterol to the purified membrane region of SCAP: mechanism for a sterol-sensing domain. Mol. Cell 15, 259–268 (2004).

25.

Xu, D. Q. et al. PAQR3 controls autophagy by integrating AMPK signaling to enhance ATG14L-associated PI3K activity. EMBO J. 35, 496–514 (2016).

26.

Xia, Y. et al. c-Jun downregulation by HDAC3-dependent transcriptional repression promotes osmotic stress-induced cell apoptosis. Mol. Cell 25, 219–232 (2007).

27.

Hammond, C. & Helenius, A. Quality control in the secretory pathway: retention of a misfolded viral membrane glycoprotein involves cycling between the ER, intermediate compartment, and Golgi apparatus. J. Cell Biol. 126, 41–52 (1994).

28.

Danai, L. V. et al. Map4k4 suppresses Srebp-1 and adipocyte lipogenesis independent of JNK signaling. J. Lipid Res. 54, 2697–2707 (2013).

29.

Lee, J. H. et al. EGFR-phosphorylated platelet isoform of phosphofructokinase 1 promotes PI3K activation. Mol. Cell 70, 197–210 (2018).

30.

Li, X. et al. Mitochondria-translocated PGK1 functions as a protein kinase to coordinate glycolysis and the TCA cycle in tumorigenesis. Mol. Cell 61, 705–719 (2016).

31.

Sander, J. D. & Joung, J. K. CRISPR–Cas systems for editing, regulating and targeting genomes. Nat. Biotechnol. 32, 347–355 (2014).

32.

Xu, D. et al. PAQR3 modulates cholesterol homeostasis by anchoring Scap/SREBP complex to the Golgi apparatus. Nat. Commun. 6, 8100 (2015).

33.

Jin, T. et al. Identification of the topology and functional domains of PAQR10. Biochem. J. 443, 643–653 (2012).

34.

Xu, D. et al. The protein kinase activity of fructokinase A specifies the antioxidant responses of tumor cells by phosphorylating p62. Sci. Adv. 5, eaav4570 (2019).

35.

Li, X. et al. A splicing switch from ketohexokinase-C to ketohexokinase-A drives hepatocellular carcinoma formation. Nat. Cell Biol. 18, 561–571 (2016).

36.

Calvisi, D. F. et al. Increased lipogenesis, induced by AKT-mTORC1-RPS6 signaling, promotes development of human hepatocellular carcinoma. Gastroenterology 140, 1071–1083 (2011).
Acknowledgements
We thank L. Li for technical assistance. The mass spectrometry was supported in part by the Clinical and Translational Proteomics Service Center at the University of Texas Health Science Center. This work was supported by Zhejiang University Research Fund (188020*194221901/029) (Z.L.); the Leading Innovative and Entrepreneur Team Introduction Program of Zhejiang (2019R01001) (Z.L.); MOHW109-TDU-B-212-010001 (M.-C.H.); the Drug Development Center, China Medical University from the Ministry of Education in Taiwan (M.-C.H.); and The Odyssey Fellowship from The University of Texas MD Anderson Cancer Center (D.X.). Z.L. is Kuancheng Wang Distinguished Chair.
Ethics declarations
Competing interests
Z.L. owns shares in Signalway Biotechnology (Pearland, TX), which supplied rabbit antibodies that recognize PCK1(pS90), INSIG1(pS207) and INSIG2(pS151). The interest of Z.L. in this company had no bearing on its being chosen to supply these reagents.
Additional information
Publisher's note Springer Nature remains neutral with regard to jurisdictional claims in published maps and institutional affiliations.
Extended data figures and tables
Supplementary information
About this article
Cite this article
Xu, D., Wang, Z., Xia, Y. et al. The gluconeogenic enzyme PCK1 phosphorylates INSIG1/2 for lipogenesis. Nature 580, 530–535 (2020). https://doi.org/10.1038/s41586-020-2183-2
Received:

Accepted:

Published:

Issue Date:
Comments
By submitting a comment you agree to abide by our Terms and Community Guidelines. If you find something abusive or that does not comply with our terms or guidelines please flag it as inappropriate.