Abstract
Time-calibrated phylogenies of extant species (referred to here as 'extant timetrees') are widely used for estimating diversification dynamics1. However, there has been considerable debate surrounding the reliability of these inferences2,3,4,5 and, to date, this critical question remains unresolved. Here we clarify the precise information that can be extracted from extant timetrees under the generalized birth–death model, which underlies most existing methods of estimation. We prove that, for any diversification scenario, there exists an infinite number of alternative diversification scenarios that are equally likely to have generated any given extant timetree. These 'congruent' scenarios cannot possibly be distinguished using extant timetrees alone, even in the presence of infinite data. Importantly, congruent diversification scenarios can exhibit markedly different and yet similarly plausible dynamics, which suggests that many previous studies may have over-interpreted phylogenetic evidence. We introduce identifiable and easily interpretable variables that contain all available information about past diversification dynamics, and demonstrate that these can be estimated from extant timetrees. We suggest that measuring and modelling these identifiable variables offers a more robust way to study historical diversification dynamics. Our findings also make it clear that palaeontological data will continue to be crucial for answering some macroevolutionary questions.
Relevant articles
Open Access articles citing this article.
Maya A. Lewinsohn

,

Trevor Bedford

…

Alison F. Feder

Nature Ecology & Evolution Open Access 09 March 2023

Bonnie B. Blaimer

,

Bernardo F. Santos

…

Matthew L. Buffington

Nature Communications Open Access 03 March 2023

Sarah T. Friedman

&

Martha M. Muñoz

Nature Communications Open Access 11 February 2023
Access options
Access Nature and 54 other Nature Portfolio journals
Get Nature+, our best-value online-access subscription
$29.99 per month
cancel any time
Subscribe to this journal
Receive 51 print issues and online access
$199.00 per year
only $3.90 per issue
Rent or buy this article
Get just this article for as long as you need it
$39.95
Prices may be subject to local taxes which are calculated during checkout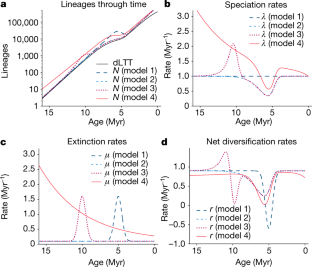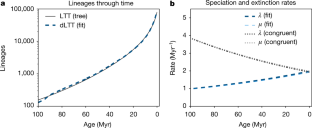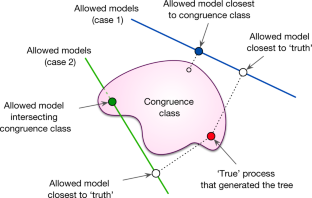 Data availability
No new data were generated for this manuscript. All phylogenetic datasets used as examples have previously been published previously, and are cited where appropriate.
Code availability
Computational methods used for this article—including functions for simulating birth–death models, for constructing models within a given congruence class, for calculating the likelihood of a congruence class and for directly fitting congruence classes (either in terms of λp or in terms of rp and ρλo) to extant timetrees—are implemented in the R package castor v.1.5.5, which is available from The Comprehensive R Archive Network at https://cran.r-project.org/package=castor.
References
Morlon, H. Phylogenetic approaches for studying diversification. Ecol. Lett. 17, 508–525 (2014).

Quental, T. B. & Marshall, C. R. Extinction during evolutionary radiations: reconciling the fossil record with molecular phylogenies. Evolution 63, 3158–3167 (2009).

Quental, T. B. & Marshall, C. R. Diversity dynamics: molecular phylogenies need the fossil record. Trends Ecol. Evol. 25, 434–441 (2010).

Liow, L. H., Quental, T. B. & Marshall, C. R. When can decreasing diversification rates be detected with molecular phylogenies and the fossil record? Syst. Biol. 59, 646–659 (2010).

Marshall, C. R. Five palaeobiological laws needed to understand the evolution of the living biota. Nat. Ecol. Evol. 1, 0165 (2017).

Morlon, H., Parsons, T. L. & Plotkin, J. B. Reconciling molecular phylogenies with the fossil record. Proc. Natl Acad. Sci. USA 108, 16327–16332 (2011).

Rabosky, D. L. et al. An inverse latitudinal gradient in speciation rate for marine fishes. Nature 559, 392–395 (2018).

Condamine, F. L., Rolland, J. & Morlon, H. Assessing the causes of diversification slowdowns: temperature-dependent and diversity-dependent models receive equivalent support. Ecol. Lett. 22, 1900–1912 (2019).

Henao Diaz, L. F., Harmon, L. J., Sugawara, M. T. C., Miller, E. T. & Pennell, M. W. Macroevolutionary diversification rates show time dependency. Proc. Natl Acad. Sci. USA 116, 7403–7408 (2019).

Steeman, M. E. et al. Radiation of extant cetaceans driven by restructuring of the oceans. Syst. Biol. 58, 573–585 (2009).

Kubo, T. & Iwasa, Y. Inferring the rates of branching and extinction from molecular phylogenies. Evolution 49, 694–704 (1995).

Lambert, A. & Stadler, T. Birth–death models and coalescent point processes: the shape and probability of reconstructed phylogenies. Theor. Popul. Biol. 90, 113–128 (2013).

Louca, S. et al. Bacterial diversification through geological time. Nat. Ecol. Evol. 2, 1458–1467 (2018).

Smith, S. A. & Brown, J. W. Constructing a broadly inclusive seed plant phylogeny. Am. J. Bot. 105, 302–314 (2018).

Alroy, J. Colloquium paper: dynamics of origination and extinction in the marine fossil record. Proc. Natl Acad. Sci. USA 105 (Suppl 1), 11536–11542 (2008).

Stadler, T. Simulating trees with a fixed number of extant species. Syst. Biol. 60, 676–684 (2011).

Stadler, T. On incomplete sampling under birth–death models and connections to the sampling-based coalescent. J. Theor. Biol. 261, 58–66 (2009).

Stadler, T. & Steel, M. Swapping birth and death: symmetries and transformations in phylodynamic models. Syst. Biol. 68, 852–858 (2019).

Rabosky, D. L. Automatic detection of key innovations, rate shifts, and diversity-dependence on phylogenetic trees. PLoS ONE 9, e89543 (2014).

Stadler, T. Mammalian phylogeny reveals recent diversification rate shifts. Proc. Natl Acad. Sci. USA 108, 6187–6192 (2011).

Akaike, H. Likelihood of a model and information criteria. J. Econom. 16, 3–14 (1981).

Möhle, M. Robustness results for the coalescent. J. Appl. Probab. 35, 438–447 (1998).

Sjödin, P., Kaj, I., Krone, S., Lascoux, M. & Nordborg, M. On the meaning and existence of an effective population size. Genetics 169, 1061–1070 (2005).

Heath, T. A., Huelsenbeck, J. P. & Stadler, T. The fossilized birth–death process for coherent calibration of divergence-time estimates. Proc. Natl Acad. Sci. USA 111, E2957–E2966 (2014).

Stadler, T., Gavryushkina, A., Warnock, R. C. M., Drummond, A. J. & Heath, T. A. The fossilized birth-death model for the analysis of stratigraphic range data under different speciation modes. J. Theor. Biol. 447, 41–55 (2018).

Louca, S. & Doebeli, M. Efficient comparative phylogenetics on large trees. Bioinformatics 34, 1053–1055 (2018).

Louca, S. Simulating trees with millions of species. Bioinformatics https://doi.org/10.1093/bioinformatics/btaa031 (2020).

Rabosky, D. L. Heritability of extinction rates links diversification patterns in molecular phylogenies and fossils. Syst. Biol. 58, 629–640 (2009).

Silvestro, D., Warnock, R. C. M., Gavryushkina, A. & Stadler, T. Closing the gap between palaeontological and neontological speciation and extinction rate estimates. Nat. Commun. 9, 5237 (2018).
Acknowledgements
S.L. was supported by a start-up grant by the University of Oregon. M.W.P. was supported by an NSERC Discovery Grant. We thank L. Harmon, S. Otto, A. MacPherson, D. Schluter, T. J. Davies, M. Whitlock, L. F. Henao Diaz, K. Kaur, J. Uyeda, D. Caetano, J. Rolland, L. Parfrey and A. Mooers for insightful comments on this work.
Ethics declarations
Competing interests
The authors declare no competing interests.
Additional information
Peer review information Nature thanks Lee Hsiang Liow, Antonis Rokas, Mike Steel and the other, anonymous, reviewer(s) for their contribution to the peer review of this work.
Publisher's note Springer Nature remains neutral with regard to jurisdictional claims in published maps and institutional affiliations.
Extended data figures and tables
Supplementary information
This file contains Supplementary Text S.1-S.11.
About this article
Cite this article
Louca, S., Pennell, M.W. Extant timetrees are consistent with a myriad of diversification histories. Nature 580, 502–505 (2020). https://doi.org/10.1038/s41586-020-2176-1
Received:

Accepted:

Published:

Issue Date:

DOI: https://doi.org/10.1038/s41586-020-2176-1
Comments
By submitting a comment you agree to abide by our Terms and Community Guidelines. If you find something abusive or that does not comply with our terms or guidelines please flag it as inappropriate.