Abstract
Sporadic reports have described cancer cases in which multiple driver mutations (MMs) occur in the same oncogene1,2. However, the overall landscape and relevance of MMs remain elusive. Here we carried out a pan-cancer analysis of 60,954 cancer samples, and identified 14 pan-cancer and 6 cancer-type-specific oncogenes in which MMs occur more frequently than expected: 9% of samples with at least one mutation in these genes harboured MMs. In various oncogenes, MMs are preferentially present in cis and show markedly different mutational patterns compared with single mutations in terms of type (missense mutations versus in-frame indels), position and amino-acid substitution, suggesting a cis-acting effect on mutational selection. MMs show an overrepresentation of functionally weak, infrequent mutations, which confer enhanced oncogenicity in combination. Cells with MMs in the PIK3CA and NOTCH1 genes exhibit stronger dependencies on the mutated genes themselves, enhanced downstream signalling activation and/or greater sensitivity to inhibitory drugs than those with single mutations. Together oncogenic MMs are a relatively common driver event, providing the underlying mechanism for clonal selection of suboptimal mutations that are individually rare but collectively account for a substantial proportion of oncogenic mutations.
Relevant articles
Open Access articles citing this article.
Taisuke Imamura

,

Yukiyasu Okamura

…

Ken Yamaguchi

BMC Cancer Open Access 05 October 2022

Danyang Liu

,

Tingting Chen

…

Yiqin Wang

Virchows Archiv Open Access 07 July 2022

Xiaodan Chong

,

Jingde Chen

…

Yong Gao

Molecular Cancer Open Access 26 May 2022
Access options
Subscribe to Nature+
Get immediate online access to Nature and 55 other Nature journal
Subscribe to Journal
Get full journal access for 1 year
$199.00
only $3.90 per issue
All prices are NET prices.
VAT will be added later in the checkout.
Tax calculation will be finalised during checkout.
Buy article
Get time limited or full article access on ReadCube.
$32.00
All prices are NET prices.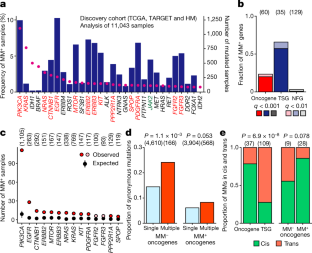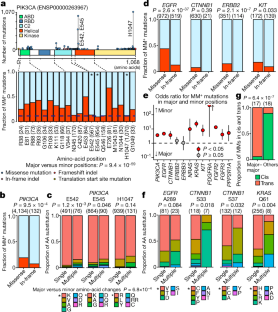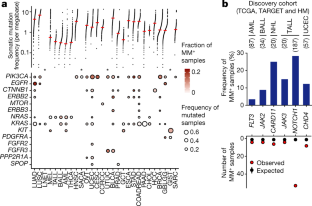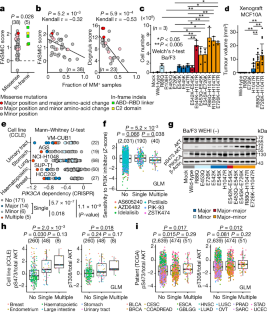 Data availability
Our findings are supported by data that are available from public online repositories, or data that are publicly available upon request from the data provider. See the 'Data set preparation' section above for details. Long-read WGS data for cell lines have been deposited in the European Genome-phenome Archive (EGA; https://www.ebi.ac.uk/ega/) under accession number EGAS00001003763. Data generated here are available as Source Data files accompanying Fig. 4 and Extended Data Figs. 10, 11.
References
Kohsaka, S. et al. A method of high-throughput functional evaluation of EGFR gene variants of unknown significance in cancer. Sci. Transl. Med. 9, eaan6566 (2017).

Madsen, R. R. et al. Oncogenic PIK3CA promotes cellular stemness in an allele dose-dependent manner. Proc. Natl Acad. Sci. USA 116, 8380–8389 (2019).

Garraway, L. A. & Lander, E. S. Lessons from the cancer genome. Cell 153, 17–37 (2013).

Vogelstein, B. et al. Cancer genome landscapes. Science 339, 1546–1558 (2013).

Heinrich, M. C. et al. Molecular correlates of imatinib resistance in gastrointestinal stromal tumors. J. Clin. Oncol. 24, 4764–4774 (2006).

Kobayashi, S. et al. EGFR mutation and resistance of non-small-cell lung cancer to gefitinib. N. Engl. J. Med. 352, 786–792 (2005).

Pao, W. et al. Acquired resistance of lung adenocarcinomas to gefitinib or erlotinib is associated with a second mutation in the EGFR kinase domain. PLoS Med. 2, e73 (2005).

Soh, J. et al. Oncogene mutations, copy number gains and mutant allele specific imbalance (MASI) frequently occur together in tumor cells. PLoS One 4, e7464 (2009).

Lawrence, M. S. et al. Mutational heterogeneity in cancer and the search for new cancer-associated genes. Nature 499, 214–218 (2013).

Martincorena, I. et al. Universal patterns of selection in cancer and somatic tissues. Cell 171, 1029–1041 (2017).

Weng, A. P. et al. Activating mutations of NOTCH1 in human T cell acute lymphoblastic leukemia. Science 306, 269–271 (2004).

Dogruluk, T. et al. Identification of variant-specific functions of PIK3CA by rapid phenotyping of rare mutations. Cancer Res. 75, 5341–5354 (2015).

Ng, P. K. et al. Systematic functional annotation of somatic mutations in cancer. Cancer Cell 33, 450–462 (2018).

Ghandi, M. et al. Next-generation characterization of the Cancer Cell Line Encyclopedia. Nature 569, 503–508 (2019).

Gkeka, P. et al. Investigating the structure and dynamics of the PIK3CA wild-type and H1047R oncogenic mutant. PLOS Comput. Biol. 10, e1003895 (2014).

Zhang, M., Jang, H. & Nussinov, R. The mechanism of PI3Kα activation at the atomic level. Chem. Sci. 10, 3671–3680 (2019).

Ding, L. et al. Perspective on oncogenic processes at the end of the beginning of cancer genomics. Cell 173, 305–320 (2018).

Sanchez-Vega, F. et al. Oncogenic signaling pathways in The Cancer Genome Atlas. Cell 173, 321–337 (2018).

Bailey, M. H. et al. Comprehensive characterization of cancer driver genes and mutations. Cell 173, 371–385 (2018).

Ma, X. et al. Pan-cancer genome and transcriptome analyses of 1,699 paediatric leukaemias and solid tumours. Nature 555, 371–376 (2018).

Mullighan, C. G. et al. Deletion of IKZF1 and prognosis in acute lymphoblastic leukemia. N. Engl. J. Med. 360, 470–480 (2009).

Pugh, T. J. et al. The genetic landscape of high-risk neuroblastoma. Nat. Genet. 45, 279–284 (2013).

Tyner, J. W. et al. Functional genomic landscape of acute myeloid leukaemia. Nature 562, 526–531 (2018).

Chapuy, B. et al. Molecular subtypes of diffuse large B cell lymphoma are associated with distinct pathogenic mechanisms and outcomes. Nat. Med. 24, 679–690 (2018).

AACR Project GENIE Consortium. AACR Project GENIE: powering precision medicine through an international consortium. Cancer Discov. 7, 818–831 (2017).

Hartmaier, R. J. et al. High-throughput genomic profiling of adult solid tumors reveals novel insights into cancer pathogenesis. Cancer Res. 77, 2464–2475 (2017).

Kataoka, K. et al. Integrated molecular analysis of adult T cell leukemia/lymphoma. Nat. Genet. 47, 1304–1315 (2015).

Campbell, B. B. et al. Comprehensive analysis of hypermutation in human cancer. Cell 171, 1042–1056 (2017).

Papaemmanuil, E. et al. Genomic classification and prognosis in acute myeloid leukemia. N. Engl. J. Med. 374, 2209–2221 (2016).

Gu, Z. et al. PAX5-driven subtypes of B-progenitor acute lymphoblastic leukemia. Nat. Genet. 51, 296–307 (2019).

Li, J. F. et al. Transcriptional landscape of B cell precursor acute lymphoblastic leukemia based on an international study of 1,223 cases. Proc. Natl Acad. Sci. USA 115, E11711–E11720 (2018).

Steeghs, E. M. P. et al. JAK2 aberrations in childhood B-cell precursor acute lymphoblastic leukemia. Oncotarget 8, 89923–89938 (2017).

Forero-Castro, M. et al. Mutations in TP53 and JAK2 are independent prognostic biomarkers in B-cell precursor acute lymphoblastic leukaemia. Br. J. Cancer 117, 256–265 (2017).

Puente, X. S. et al. Non-coding recurrent mutations in chronic lymphocytic leukaemia. Nature 526, 519–524 (2015).

Bielski, C. M. et al. Widespread selection for oncogenic mutant allele imbalance in cancer. Cancer Cell 34, 852–862 (2018).

Buisson, R. et al. Passenger hotspot mutations in cancer driven by APOBEC3A and mesoscale genomic features. Science 364, eaaw2872 (2019).

Chakravarty, D. et al. OncoKB: a precision oncology knowledge base. JCO Precis. Oncol. 1, 1–16 (2017).

Huang, L. et al. The cancer precision medicine knowledge base for structured clinical-grade mutations and interpretations. J. Am. Med. Inform. Assoc. 24, 513–519 (2017).

Tamborero, D. et al. Cancer Genome Interpreter annotates the biological and clinical relevance of tumor alterations. Genome Med. 10, 25 (2018).

Griffith, M. et al. CIViC is a community knowledgebase for expert crowdsourcing the clinical interpretation of variants in cancer. Nat. Genet. 49, 170–174 (2017).

Gao, J. et al. 3D clusters of somatic mutations in cancer reveal numerous rare mutations as functional targets. Genome Med. 9, 4 (2017).

Chang, M. T. et al. Identifying recurrent mutations in cancer reveals widespread lineage diversity and mutational specificity. Nat. Biotechnol. 34, 155–163 (2016).

Chang, M. T. et al. Accelerating discovery of functional mutant alleles in cancer. Cancer Discov. 8, 174–183 (2018).

Tokheim, C. et al. Exome-scale discovery of hotspot mutation regions in human cancer using 3D protein structure. Cancer Res. 76, 3719–3731 (2016).

Tokheim, C. & Karchin, R. CHASMplus reveals the scope of somatic missense mutations driving human cancers. Cell Syst. 9, 9–23 (2019).
Acknowledgements
We acknowledge support from the Japan Society for the Promotion of Science (JSPS) KAKENHI (grant numbers 17K19592,18K06594 and 15H05912) and National Cancer Center Research and Development Funds (30-A-1), together with many other funding bodies, organizations and individuals (see Supplementary Note).
Ethics declarations
Competing interests
The authors declare no competing interests.
Additional information
Peer review information Nature thanks Mark Lackner, Inigo Martincorena and the other, anonymous, reviewer(s) for their contribution to the peer review of this work.
Publisher's note Springer Nature remains neutral with regard to jurisdictional claims in published maps and institutional affiliations.
Extended data figures and tables
Supplementary information
This file contains Supplementary Methods, Supplementary Discussion, Supplementary Table Guide, Supplementary Figure 1, Supplementary Note (acknowledgements) and Supplementary References.
This file contains Supplementary Tables 1-17. See Supplementary Information document for a full guide.
About this article
Cite this article
Saito, Y., Koya, J., Araki, M. et al. Landscape and function of multiple mutations within individual oncogenes. Nature 582, 95–99 (2020). https://doi.org/10.1038/s41586-020-2175-2
Received:

Accepted:

Published:

Issue Date:

DOI: https://doi.org/10.1038/s41586-020-2175-2
Comments
By submitting a comment you agree to abide by our Terms and Community Guidelines. If you find something abusive or that does not comply with our terms or guidelines please flag it as inappropriate.