Abstract
The initiation of an intestinal tumour is a probabilistic process that depends on the competition between mutant and normal epithelial stem cells in crypts1. Intestinal stem cells are closely associated with a diverse but poorly characterized network of mesenchymal cell types2,3. However, whether the physiological mesenchymal microenvironment of mutant stem cells affects tumour initiation remains unknown. Here we provide in vivo evidence that the mesenchymal niche controls tumour initiation in trans. By characterizing the heterogeneity of the intestinal mesenchyme using single-cell RNA-sequencing analysis, we identified a population of rare pericryptal Ptgs2-expressing fibroblasts that constitutively process arachidonic acid into highly labile prostaglandin E2 (PGE2). Specific ablation of Ptgs2 in fibroblasts was sufficient to prevent tumour initiation in two different models of sporadic, autochthonous tumorigenesis. Mechanistically, single-cell RNA-sequencing analyses of a mesenchymal niche model showed that fibroblast-derived PGE2 drives the expansion οf a population of Sca-1+ reserve-like stem cells. These express a strong regenerative/tumorigenic program, driven by the Hippo pathway effector Yap. In vivo, Yap is indispensable for Sca-1+ cell expansion and early tumour initiation and displays a nuclear localization in both mouse and human adenomas. Using organoid experiments, we identified a molecular mechanism whereby PGE2 promotes Yap dephosphorylation, nuclear translocation and transcriptional activity by signalling through the receptor Ptger4. Epithelial-specific ablation of Ptger4 misdirected the regenerative reprogramming of stem cells and prevented Sca-1+ cell expansion and sporadic tumour initiation in mutant mice, thereby demonstrating the robust paracrine control of tumour-initiating stem cells by PGE2–Ptger4. Analyses of patient-derived organoids established that PGE2–PTGER4 also regulates stem-cell function in humans. Our study demonstrates that initiation of colorectal cancer is orchestrated by the mesenchymal niche and reveals a mechanism by which rare pericryptal Ptgs2-expressing fibroblasts exert paracrine control over tumour-initiating stem cells via the druggable PGE2–Ptger4–Yap signalling axis.
Relevant articles
Open Access articles citing this article.
Ryan J. Smith

,

Minggao Liang

…

Tae-Hee Kim

Nature Communications Open Access 30 January 2023

Binghua Yang

,

Yuxia Fan

…

Aiping Gu

BMC Ophthalmology Open Access 03 January 2023

Yukihide Ota

,

Shinya Sato

…

Yohei Miyagi

Scientific Reports Open Access 24 November 2022
Access options
Subscribe to Nature+
Get immediate online access to Nature and 55 other Nature journal
Subscribe to Journal
Get full journal access for 1 year
$199.00
only $3.90 per issue
All prices are NET prices.
VAT will be added later in the checkout.
Tax calculation will be finalised during checkout.
Buy article
Get time limited or full article access on ReadCube.
$32.00
All prices are NET prices.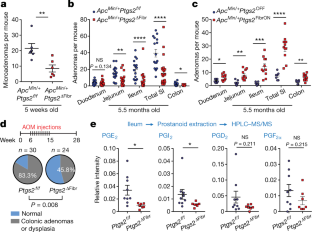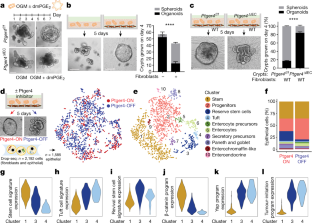 Data availability
All data that support the findings of this study are available within the paper and its Supplementary Information files. All Drop-seq data that support the findings of this study have been deposited in the Gene Expression Omnibus (GEO) repository with the accession code GSE142431.
References
Vermeulen, L. & Snippert, H. J. Stem cell dynamics in homeostasis and cancer of the intestine. Nat. Rev. Cancer 14, 468–480 (2014).

Powell, D. W., Pinchuk, I. V., Saada, J. I., Chen, X. & Mifflin, R. C. Mesenchymal cells of the intestinal lamina propria. Annu. Rev. Physiol. 73, 213–237 (2011).

Kinchen, J. et al. Structural remodeling of the human colonic mesenchyme in inflammatory bowel disease. Cell 175, 372–386 (2018).

Hamilton, T. G., Klinghoffer, R. A., Corrin, P. D. & Soriano, P. Evolutionary divergence of platelet-derived growth factor alpha receptor signaling mechanisms. Mol. Cell. Biol. 23, 4013–4025 (2003).

Molotkov, A., Mazot, P., Brewer, J. R., Cinalli, R. M. & Soriano, P. Distinct requirements for FGFR1 and FGFR2 in primitive endoderm development and exit from pluripotency. Dev. Cell. 41, 511–526 (2017).

Smyth, E. M., Grosser, T., Wang, M., Yu, Y. & FitzGerald, G. A. Prostanoids in health and disease. J. Lipid Res. 50 (Suppl), S423–S428 (2009).

Wang, D. & DuBois, R. N. The role of anti-inflammatory drugs in colorectal cancer. Annu. Rev. Med. 64, 131–144 (2013).

Barker, N. et al. Crypt stem cells as the cells-of-origin of intestinal cancer. Nature 457, 608–611 (2009).

Chulada, P. C. et al. Genetic disruption of Ptgs-1, as well as Ptgs-2, reduces intestinal tumorigenesis in Min mice. Cancer Res. 60, 4705–4708 (2000).

Cherukuri, D. P. et al. Targeted Cox2 gene deletion in intestinal epithelial cells decreases tumorigenesis in female, but not male, Apc Min/+ mice. Mol. Oncol. 8, 169–177 (2014).

Xia, D., Wang, D., Kim, S. H., Katoh, H. & DuBois, R. N. Prostaglandin E2 promotes intestinal tumor growth via DNA methylation. Nat. Med. 18, 224–226 (2012).

Wang, D., Fu, L., Sun, H., Guo, L. & DuBois, R. N. Prostaglandin E2 promotes colorectal cancer stem cell expansion and metastasis in mice. Gastroenterology 149, 1884–1895 (2015).

Bygdeman, M. Pharmacokinetics of prostaglandins. Best Pract. Res. Clin. Obstet. Gynaecol. 17, 707–716 (2003).

Mustata, R. C. et al. Identification of Lgr5-independent spheroid-generating progenitors of the mouse fetal intestinal epithelium. Cell Rep. 5, 421–432 (2013).

Haber, A. L. et al. A single-cell survey of the small intestinal epithelium. Nature 551, 333–339 (2017).

Ayyaz, A. et al. Single-cell transcriptomes of the regenerating intestine reveal a revival stem cell. Nature 569, 121–125 (2019).

Miyoshi, H. et al. Prostaglandin E2 promotes intestinal repair through an adaptive cellular response of the epithelium. EMBO J. 36, 5–24 (2017).

Gregorieff, A., Liu, Y., Inanlou, M. R., Khomchuk, Y. & Wrana, J. L. Yap-dependent reprogramming of Lgr5+ stem cells drives intestinal regeneration and cancer. Nature 526, 715–718 (2015).

Hong, A. W., Meng, Z. & Guan, K. L. The Hippo pathway in intestinal regeneration and disease. Nat. Rev. Gastroenterol. Hepatol. 13, 324–337 (2016).

Cai, J., Maitra, A., Anders, R. A., Taketo, M. M. & Pan, D. β-Catenin destruction complex-independent regulation of Hippo–YAP signaling by APC in intestinal tumorigenesis. Genes Dev. 29, 1493–1506 (2015).

Kim, H. B. et al. Prostaglandin E2 activates YAP and a positive-signaling loop to promote colon regeneration after colitis but also carcinogenesis in mice. Gastroenterology 152, 616–630 (2017).

Yu, F. X. et al. Regulation of the Hippo–YAP pathway by G-protein-coupled receptor signaling. Cell 150, 780–791 (2012).

Liu-Chittenden, Y. et al. Genetic and pharmacological disruption of the TEAD–YAP complex suppresses the oncogenic activity of YAP. Genes Dev. 26, 1300–1305 (2012).

Mills, J. C. & Sansom, O. J. Reserve stem cells: differentiated cells reprogram to fuel repair, metaplasia, and neoplasia in the adult gastrointestinal tract. Sci. Signal. 8, re8 (2015).

Nusse, Y. M. et al. Parasitic helminths induce fetal-like reversion in the intestinal stem cell niche. Nature 559, 109–113 (2018).

Huyghe, J. R. et al. Discovery of common and rare genetic risk variants for colorectal cancer. Nat. Genet. 51, 76–87 (2019).

Ishikawa, T. O. & Herschman, H. R. Conditional knockout mouse for tissue-specific disruption of the cyclooxygenase-2 (Cox-2) gene. Genesis 44, 143–149 (2006).

Armaka, M. et al. Mesenchymal cell targeting by TNF as a common pathogenic principle in chronic inflammatory joint and intestinal diseases. J. Exp. Med. 205, 331–337 (2008).

Muzumdar, M. D., Tasic, B., Miyamichi, K., Li, L. & Luo, L. A global double-fluorescent Cre reporter mouse. Genesis 45, 593–605 (2007).

Moser, A. R., Pitot, H. C. & Dove, W. F. A dominant mutation that predisposes to multiple intestinal neoplasia in the mouse. Science 247, 322–324 (1990).

Schneider, A. et al. Generation of a conditional allele of the mouse prostaglandin EP4 receptor. Genesis 40, 7–14 (2004).

Zhang, N. et al. The Merlin/NF2 tumor suppressor functions through the YAP oncoprotein to regulate tissue homeostasis in mammals. Dev. Cell 19, 27–38 (2010).

Madison, B. B. et al. Cis elements of the villin gene control expression in restricted domains of the vertical (crypt) and horizontal (duodenum, cecum) axes of the intestine. J. Biol. Chem. 277, 33275–33283 (2002).

Barker, N. et al. Identification of stem cells in small intestine and colon by marker gene Lgr5. Nature 449, 1003–1007 (2007).

Madisen, L. et al. A robust and high-throughput Cre reporting and characterization system for the whole mouse brain. Nat. Neurosci. 13, 133–140 (2010).

Roulis, M. et al. Intestinal myofibroblast-specific Tpl2–Cox-2–PGE2 pathway links innate sensing to epithelial homeostasis. Proc. Natl Acad. Sci. USA 111, E4658–E4667 (2014).

Masoodi, M. & Nicolaou, A. Lipidomic analysis of twenty-seven prostanoids and isoprostanes by liquid chromatography/electrospray tandem mass spectrometry. Rapid Commun. Mass Spectrom. 20, 3023–3029 (2006).

Macosko, E. Z. et al. Highly parallel genome-wide expression profiling of individual cells using nanoliter droplets. Cell 161, 1202–1214 (2015).

Shekhar, K. et al. Comprehensive classification of retinal bipolar neurons by single-cell transcriptomics. Cell 166, 1308–1323 (2016).

Linderman, G. C., Zhao, J. & Kluger, Y. Zero-preserving imputation of scRNA-seq data using low-rank approximation. Preprint at https://www.bioRxiv.org/content/10.1101/397588v1 (2018).

van der Maaten, L. & Hinton, G. Viualizing data using t-SNE. J. Mach. Learn. Res. 9, 2579–2605 (2008).

Ester, M., Kriegel, H.-P., Sander, J. & Xu, X. A density-based algorithm for discovering clusters in large spatial databases with noise. KDD 96, 226–231 (1996).

Hänzelmann, S., Castelo, R. & Guinney, J. GSVA: gene set variation analysis for microarray and RNA-seq data. BMC Bioinformatics 14, 7 (2013).
Acknowledgements
We thank C. Lieber, J. Alderman and E. Hughes-Picard for administrative assistance; the Yale Pathology Tissue Service–Tissue Procurement and Distribution Facility for providing human tissue samples; D. Gonzalez for assistance in two-photon imaging; M. Graham for assistance in electron microscopy; M. Samiotaki and T. Wu for assistance in mass spectrometry; and Flavell laboratory members R. Jackson and W. Bailis for discussions. M.R. is supported by a Crohn's and Colitis Foundation Career Development Award (510777); M.S., L.-S.F., M.S.K. and M.B. were supported by an Austrian Marshall Plan Foundation Master's Fellowship. This work was supported in part by ERC project MCs-inTEST (340217) (G.K.), the National Natural Science Foundation of China (31930035, 91942311) (B.S.), the Blavatnik Family Foundation and the Howard Hughes Medical Institute (R.A.F.).
Ethics declarations
Competing interests
R.A.F. is a scientific advisor to GlaxoSmithKline and a shareholder and consultant for Zai Lab. All other authors declare no competing interests.
Additional information
Peer review information Nature thanks Garret A. FitzGerald, Dominic Grün, Kun-Liang Guan, Don W. Powell, Omer Yilmaz and the other, anonymous, reviewer(s) for their contribution to the peer review of this work.
Publisher's note Springer Nature remains neutral with regard to jurisdictional claims in published maps and institutional affiliations.
Extended data figures and tables
Supplementary information
About this article
Cite this article
Roulis, M., Kaklamanos, A., Schernthanner, M. et al. Paracrine orchestration of intestinal tumorigenesis by a mesenchymal niche. Nature 580, 524–529 (2020). https://doi.org/10.1038/s41586-020-2166-3
Received:

Accepted:

Published:

Issue Date:

DOI: https://doi.org/10.1038/s41586-020-2166-3
Comments
By submitting a comment you agree to abide by our Terms and Community Guidelines. If you find something abusive or that does not comply with our terms or guidelines please flag it as inappropriate.