Abstract
Hibernating mammals actively lower their body temperature to reduce energy expenditure when facing food scarcity1. This ability to induce a hypometabolic state has evoked great interest owing to its potential medical benefits2,3. Here we show that a hypothalamic neuronal circuit in rodents induces a long-lasting hypothermic and hypometabolic state similar to hibernation. In this state, although body temperature and levels of oxygen consumption are kept very low, the ability to regulate metabolism still remains functional, as in hibernation4. There was no obvious damage to tissues and organs or abnormalities in behaviour after recovery from this state. Our findings could enable the development of a method to induce a hibernation-like state, which would have potential applications in non-hibernating mammalian species including humans.
Relevant articles
Open Access articles citing this article.
Shaowen Qian

,

Sumei Yan

…

Yi Zhou

Nature Communications Open Access 22 July 2022

Ruslan Deviatiiarov

,

Kiyomi Ishikawa

…

Genshiro A. Sunagawa

Communications Biology Open Access 15 November 2021

Jay T. Lennon

,

Frank den Hollander

…

Jochen Blath

Nature Communications Open Access 10 August 2021
Access options
Subscribe to Nature+
Get immediate online access to the entire Nature family of 50+ journals
Subscribe to Journal
Get full journal access for 1 year
$199.00
only $3.90 per issue
All prices are NET prices.
VAT will be added later in the checkout.
Tax calculation will be finalised during checkout.
Buy article
Get time limited or full article access on ReadCube.
$32.00
All prices are NET prices.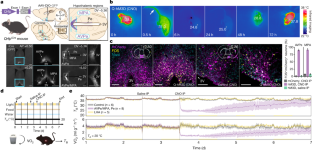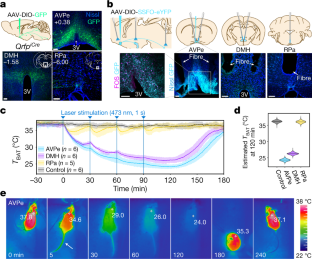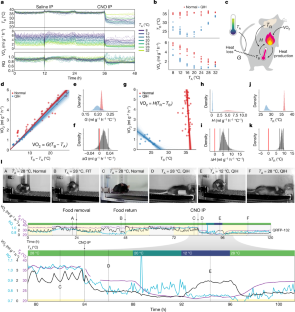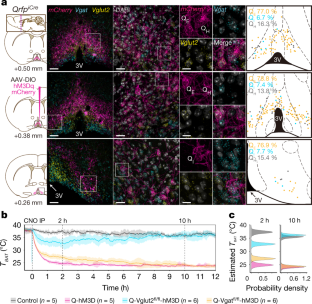 Data availability
Data used for Bayesian estimation are included with the source code. Other data are available from the corresponding authors on request.
References
Geiser, F. Hibernation. Curr. Biol. 23, R188–R193 (2013).

Melvin, R. G. & Andrews, M. T. Torpor induction in mammals: recent discoveries fueling new ideas. Trends Endocrinol. Metab. 20, 490–498 (2009).

Bouma, H. R. et al. Induction of torpor: mimicking natural metabolic suppression for biomedical applications. J. Cell. Physiol. 227, 1285–1290 (2012).

Jastroch, M. et al. Seasonal control of mammalian energy balance: recent advances in the understanding of daily torpor and hibernation. J. Neuroendocrinol. 28, 12347 (2016).

Sunagawa, G. A. & Takahashi, M. Hypometabolism during daily torpor in mice is dominated by reduction in the sensitivity of the thermoregulatory system. Sci. Rep. 6, 37011 (2016).

Vicent, M. A., Borre, E. D. & Swoap, S. J. Central activation of the A1 adenosine receptor in fed mice recapitulates only some of the attributes of daily torpor. J. Comp. Physiol. B 187, 835–845 (2017).

Hitrec, T. et al. Neural control of fasting-induced torpor in mice. Sci. Rep. 9, 15462 (2019).

Griko, Y. & Regan, M. D. Synthetic torpor: a method for safely and practically transporting experimental animals aboard spaceflight missions to deep space. Life Sci. Space Res. 16, 101–107 (2018).

Choukèr, A., Bereiter-Hahn, J., Singer, D. & Heldmaier, G. Hibernating astronauts—science or fiction? Pflugers Arch. 471, 819–828 (2019).

Fukusumi, S. et al. A new peptidic ligand and its receptor regulating adrenal function in rats. J. Biol. Chem. 278, 46387–46395 (2003).

Chartrel, N. et al. Identification of 26RFa, a hypothalamic neuropeptide of the RFamide peptide family with orexigenic activity. Proc. Natl Acad. Sci. USA 100, 15247–15252 (2003).

Takayasu, S. et al. A neuropeptide ligand of the G protein-coupled receptor GPR103 regulates feeding, behavioral arousal, and blood pressure in mice. Proc. Natl Acad. Sci. USA 103, 7438–7443 (2006).

Okamoto, K. et al. QRFP-deficient mice are hypophagic, lean, hypoactive and exhibit increased anxiety-like behavior. PLoS ONE 11, e0164716 (2016).

Roth, B. L. DREADDs for neuroscientists. Neuron 89, 683–694 (2016).

Atasoy, D., Aponte, Y., Su, H. H. & Sternson, S. M. A FLEX switch targets channelrhodopsin-2 to multiple cell types for imaging and long-range circuit mapping. J. Neurosci. 28, 7025–7030 (2008).

Nakamura, K. Central circuitries for body temperature regulation and fever. Am. J. Physiol. Regul. Integr. Comp. Physiol. 301, R1207–R1228 (2011).

Zhao, Z.-D. et al. A hypothalamic circuit that controls body temperature. Proc. Natl Acad. Sci. USA 114, 2042–2047 (2017).

Machado, N. L. S. et al. A glutamatergic hypothalamomedullary circuit mediates thermogenesis, but not heat conservation, during stress-induced hyperthermia. Curr. Biol. 28, 2291–2301 (2018).

Piñol, R. A. et al. Brs3 neurons in the mouse dorsomedial hypothalamus regulate body temperature, energy expenditure, and heart rate, but not food intake. Nat. Neurosci. 21, 1530–1540 (2018).

Yizhar, O. et al. Neocortical excitation/inhibition balance in information processing and social dysfunction. Nature 477, 171–178 (2011).

Morrison, S. F. Central control of body temperature. F1000Res. 5, 880 (2016).

Ortmann, S. & Heldmaier, G. Regulation of body temperature and energy requirements of hibernating alpine marmots (Marmota marmota). Am. J. Physiol. Regul. Integr. Comp. Physiol. 278, R698–R704 (2000).

Snapp, B. D. & Heller, H. C. Suppression of metabolism during hibernation in ground squirrels (Citellus lateralis). Physiol. Zool. 54, 297–307 (1981).

Moffitt, J. R. et al. Molecular, spatial, and functional single-cell profiling of the hypothalamic preoptic region. Science 362, eaau5324 (2018).

Chen, R., Wu, X., Jiang, L. & Zhang, Y. Single-cell RNA-seq reveals hypothalamic cell diversity. Cell Rep. 18, 3227–3241 (2017).

Walker, J. M., Glotzbach, S. F., Berger, R. J. & Heller, H. C. Sleep and hibernation in ground squirrels (Citellus spp): electrophysiological observations. Am. J. Physiol. Integr. Comp. Physiol. 233, R213–R221 (1977).

Bratincsák, A. et al. Spatial and temporal activation of brain regions in hibernation: c-fos expression during the hibernation bout in thirteen-lined ground squirrel. J. Comp. Neurol. 505, 443–458 (2007).

Dausmann, K. H., Glos, J., Ganzhorn, J. U. & Heldmaier, G. Physiology: hibernation in a tropical primate. Nature 429, 825–826 (2004).

Cerri, M. et al. The inhibition of neurons in the central nervous pathways for thermoregulatory cold defense induces a suspended animation state in the rat. J. Neurosci. 33, 2984–2993 (2013).

Heldmaier, G., Ortmann, S. & Elvert, R. Natural hypometabolism during hibernation and daily torpor in mammals. Respir. Physiol. Neurobiol. 141, 317–329 (2004).

Oomura, Y. et al. A new brain glucosensor and its physiological significance. Am. J. Clin. Nutr. 55, 278S–282S (1992).

Tan, C. L. et al. Warm-sensitive neurons that control body temperature. Cell 167, 47–59 (2016).

Mieda, M. et al. Cellular clocks in AVP neurons of the SCN are critical for interneuronal coupling regulating circadian behavior rhythm. Neuron 85, 1103–1116 (2015).

Osakada, F. & Callaway, E. M. Design and generation of recombinant rabies virus vectors. Nat. Protoc. 8, 1583–1601 (2013).

Saito, Y. C. et al. Monoamines inhibit GABAergic neurons in ventrolateral preoptic area that make direct synaptic connections to hypothalamic arousal neurons. J. Neurosci. 38, 6366–6378 (2018).

Gehrmann, J. et al. Phenotypic screening for heart rate variability in the mouse. Am. J. Physiol. Heart Circ. Physiol. 279, H733–H740 (2000).

Sunagawa, G. A. et al. Mammalian reverse genetics without crossing reveals Nr3a as a short-sleeper gene. Cell Rep. 14, 662–677 (2016).

Franklin, K. B. J. & Paxinos, G. The Mouse Brain in Stereotaxic Coordinates 3rd edn (Academic Press, 2007).

Paxinos, G. & Watson, C. The Rat Brain in Stereotaxic Coordinates 7th edn (Academic Press, 2013).

Hama, H. et al. ScaleS: an optical clearing palette for biological imaging. Nat. Neurosci. 18, 1518–1529 (2015).

Stan Development Team. RStan: the R interface to Stan. R package v.2.19.3 (2020).

R Core Team. R: A language and environment for statistical computing, v.2.18.0 (R Foundation for Statistical Computing, 2018).

McElreath, R. Statistical Rethinking: a Bayesian Course with Examples in R and Stan 1st edn (CRC Press, 2016).

Romanov, R. A. et al. Molecular interrogation of hypothalamic organization reveals distinct dopamine neuronal subtypes. Nat. Neurosci. 20, 176–188 (2017).

Wickersham, I. R. et al. Monosynaptic restriction of transsynaptic tracing from single, genetically targeted neurons. Neuron 53, 639–647 (2007).

Wang, T. A. et al. Thermoregulation via temperature-dependent PGD2 production in mouse preoptic area. Neuron 103, 309–322 (2019).

Tan, C. L. & Knight, Z. A. Regulation of body temperature by the nervous system. Neuron 98, 31–48 (2018).

Lazarus, M. et al. EP3 prostaglandin receptors in the median preoptic nucleus are critical for fever responses. Nat. Neurosci. 10, 1131–1133 (2007).
Acknowledgements
This study was supported by a JSPS KAKENHI Grant-in-Aid for Scientific Research (B) (JP 18H02595) (T.S.); a JSPS KAKENHI Grant-in-Aid for Scientific Research on Innovative Areas 'Willdynamics' (16H06401); JSPS KAKENHI grant number JP19K22465 (T.S.); JST CREST grant number JPMJCR1655 Japan (T.S.); the RIKEN Special Postdoctoral Researcher program (G.A.S.); a JSPS KAKENHI Grant-in-Aid for Scientific Research on Innovative Areas 'Thermal Biology' (18H04706) (G.A.S.); a JSPS KAKENHI Grant-in-Aid for Scientific Research (A) (19H01066) (G.A.S.); a research grant from the Astellas Foundation for Research on Metabolic Disorders (G.A.S.); and JSPS KAKENHI grant number 19J20876 (T.M.T.). We thank the animal resource centre at the University of Tsukuba and LARGE, RIKEN BDR for housing the mice; Y. Cherasse for preparing virus vectors; A. Miyasaka and Y. Niwa for discussion; and W. Gray for proofreading the manuscript. All of the brain diagrams used in figures were made based on the illustrations in Paxinos and Franklin's atlas of the mouse brain38 and Paxinos and Watson's atlas of the rat brain39.
Ethics declarations
Competing interests
The authors declare no competing interests.
Additional information
Peer review information Nature thanks Rob Henning, Shaun Morrison, Richard Palmiter and the other, anonymous, reviewer(s) for their contribution to the peer review of this work.
Publisher's note Springer Nature remains neutral with regard to jurisdictional claims in published maps and institutional affiliations.
Extended data figures and tables
Supplementary information
About this article
Cite this article
Takahashi, T.M., Sunagawa, G.A., Soya, S. et al. A discrete neuronal circuit induces a hibernation-like state in rodents. Nature 583, 109–114 (2020). https://doi.org/10.1038/s41586-020-2163-6
Received:

Accepted:

Published:

Issue Date:

DOI: https://doi.org/10.1038/s41586-020-2163-6
Comments
By submitting a comment you agree to abide by our Terms and Community Guidelines. If you find something abusive or that does not comply with our terms or guidelines please flag it as inappropriate.