Abstract
Radiologic screening of high-risk adults reduces lung-cancer-related mortality1,2; however, a small minority of eligible individuals undergo such screening in the United States3,4. The availability of blood-based tests could increase screening uptake. Here we introduce improvements to cancer personalized profiling by deep sequencing (CAPP-Seq)5, a method for the analysis of circulating tumour DNA (ctDNA), to better facilitate screening applications. We show that, although levels are very low in early-stage lung cancers, ctDNA is present prior to treatment in most patients and its presence is strongly prognostic. We also find that the majority of somatic mutations in the cell-free DNA (cfDNA) of patients with lung cancer and of risk-matched controls reflect clonal haematopoiesis and are non-recurrent. Compared with tumour-derived mutations, clonal haematopoiesis mutations occur on longer cfDNA fragments and lack mutational signatures that are associated with tobacco smoking. Integrating these findings with other molecular features, we develop and prospectively validate a machine-learning method termed 'lung cancer likelihood in plasma' (Lung-CLiP), which can robustly discriminate early-stage lung cancer patients from risk-matched controls. This approach achieves performance similar to that of tumour-informed ctDNA detection and enables tuning of assay specificity in order to facilitate distinct clinical applications. Our findings establish the potential of cfDNA for lung cancer screening and highlight the importance of risk-matching cases and controls in cfDNA-based screening studies.
Relevant articles
Open Access articles citing this article.
Jonathan C. M. Wan

,

Dennis Stephens

…

Luis A. Diaz

Nature Communications Open Access 23 August 2022

Wen Zhou

,

Junjun Ma

…

Jun Chen

BMC Cancer Open Access 26 April 2022

Samantha O. Hasenleithner

&

Michael R. Speicher

Molecular Cancer Open Access 21 March 2022
Access options
Subscribe to Nature+
Get immediate online access to the entire Nature family of 50+ journals
Subscribe to Journal
Get full journal access for 1 year
$199.00
only $3.90 per issue
All prices are NET prices.
VAT will be added later in the checkout.
Tax calculation will be finalised during checkout.
Buy article
Get time limited or full article access on ReadCube.
$32.00
All prices are NET prices.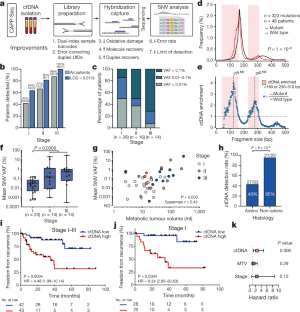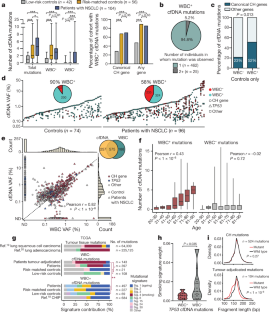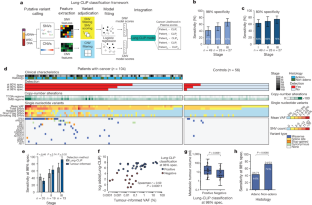 Data availability
Anonymized clinical and demographic data on the lung cancer cases and non-cancer controls considered in this study, as well as cfDNA metrics, cfDNA and WBC somatic mutation data, Lung-CLiP scores, and other relevant data are provided in the Supplementary Tables. The detailed patient-level genomic features used as input for the Lung-CLiP model (including genome-wide somatic copy number alteration data and somatic mutation genotyping data with all the associated features considered in the Lung-CLiP model), along with code for the Lung-CLiP classification model, the in silico simulation of the CAPP-Seq molecular biology workflow, and the modified dNdScv R functions38 (accounting for the fraction of a given gene covered by our sequencing panel) can be found at http://clip.stanford.edu. This website provides users with the code and data used for the training and validation of the Lung-CLiP model and the in silico simulation of the CAPP-Seq molecular biology workflow, allowing for reproduction of our results and figures. Owing to restrictions related to dissemination of germline sequence information included in the informed consent forms used to enrol study subjects, we are unable to provide access to raw sequencing data. Reasonable requests for additional data will be reviewed by the senior authors to determine whether they can be fulfilled in accordance with these privacy restrictions. Requests for additional materials related to this work should be directed to M.D.
References
The National Lung Screening Trial Research Team. Results of initial low-dose computed tomographic screening for lung cancer. N. Engl. J. Med. 368, 1980–1991 (2013).

de Koning, H. J. et al. Reduced lung-cancer mortality with volume CT screening in a randomized trial. N. Engl. J. Med. 382, 503–513(2020).

Jemal, A. & Fedewa, S. A. Lung cancer screening with low-dose computed tomography in the United States—2010 to 2015. JAMA Oncol. 3, 1278–1281 (2017).

Doria-Rose, V. P. et al. Use of lung cancer screening tests in the United States: results from the 2010 National Health Interview Survey. Cancer Epidemiol. Biomarkers Prev. 21, 1049–1059 (2012).

Newman, A. M. et al. Integrated digital error suppression for improved detection of circulating tumor DNA. Nat. Biotechnol. 34, 547–555 (2016).

Moyer, V. A. Screening for lung cancer: U.S. Preventive Services Task Force recommendation statement. Ann. Intern. Med. 160, 330–338 (2014).

Pinsky, P. F. et al. Performance of Lung-RADS in the National Lung Screening Trial. Ann. Inter. Med. 162, 485 (2015).

Chaudhuri, A. A. et al. Early detection of molecular residual disease in localized lung cancer by circulating tumor DNA profiling. Cancer Discov. 7, 1394–1403 (2017).

Abbosh, C. et al. Phylogenetic ctDNA analysis depicts early-stage lung cancer evolution. Nature 545, 446–451 (2017); corrigendum 554, 264 (2018).

Jiang, P. et al. Lengthening and shortening of plasma DNA in hepatocellular carcinoma patients. Proc. Natl Acad. Sci. USA 112, E1317–E1325 (2015).

Mouliere, F. et al. Enhanced detection of circulating tumor DNA by fragment size analysis. Sci. Transl. Med. 10, eaat4921 (2018).

Travis, W. D. et al. International Association for the Study of Lung Cancer/American Thoracic Society/European Respiratory Society international multidisciplinary classification of lung adenocarcinoma. J. Thorac. Oncol. 6, 244–285 (2011).

Moding, E. J. et al. Circulating tumor DNA dynamics predict benefit from consolidation immunotherapy in locally advanced non-small-cell lung cancer. Nat. Cancer 1, 176–183 (2020).

Steensma, D. P. et al. Clonal hematopoiesis of indeterminate potential and its distinction from myelodysplastic syndromes. Blood 126, 9–16 (2015).

Lui, Y. Y. N. et al. Predominant hematopoietic origin of cell-free DNA in plasma and serum after sex-mismatched bone marrow transplantation. Clin. Chem. 48, 421–427 (2002).

Liu, J. et al. Biological background of the genomic variations of cf-DNA in healthy individuals. Ann. Oncol. 30, 1–7 (2018).

Razavi, P. et al. High-intensity sequencing reveals the sources of plasma circulating cell-free DNA variants. Nat. Med. 25, 1928–1937 (2019).

Ptashkin, R. N. et al. Prevalence of clonal hematopoiesis mutations in tumor-only clinical genomic profiling of solid tumors. JAMA Oncol. 4, 1589–1593 (2018).

The Cancer Genome Atlas Research Network. Comprehensive genomic characterization of squamous cell lung cancers. Nature 489, 519–525 (2012).

The Cancer Genome Atlas Research Network. Comprehensive molecular profiling of lung adenocarcinoma Nature 511, 543–550 (2014).

Alexandrov, L. B. et al. Signatures of mutational processes in human cancer. Nature 500, 415–421 (2013).

Hainaut, P. & Pfeifer, G. P. Somatic TP53 mutations in the era of genome sequencing. Cold Spring Harb. Perspect. Med. 6, a026179 (2016).

Shen, S. Y. et al. Sensitive tumour detection and classification using plasma cell-free DNA methylomes. Nature 563, 579–583 (2018).

Cohen, J. D. et al. Detection and localization of surgically resectable cancers with a multi-analyte blood test. Science 359, 926–930 (2018).

Phallen, J. et al. Direct detection of early-stage cancers using circulating tumor DNA. Sci. Transl. Med. 9, eaan2415 (2017).

Cristiano, S. et al. Genome-wide cell-free DNA fragmentation in patients with cancer. Nature 570, 385–389 (2019).

Simon, R. Roadmap for developing and validating therapeutically relevant genomic classifiers. J. Clin. Oncol. 23, 7332–7341 (2005).

Ma, J., Ward, E. M., Smith, R. & Jemal, A. Annual number of lung cancer deaths potentially avertable by screening in the United States. Cancer 119, 1381–1385 (2013).

Kurtz, D. M. et al. Dynamic risk profiling using serial tumor biomarkers for personalized outcome prediction. Cell 178, 699–713.e19 (2019).

Chen, S. et al. AfterQC: automatic filtering, trimming, error removing and quality control for fastq data. BMC Bioinformatics 18, 80 (2017).

Li, H. & Durbin, R. Fast and accurate short read alignment with Burrows–Wheeler transform. Bioinformatics 25, 1754–1760 (2009).

Karczewski, K. J. et al. Variation across 141,456 human exomes and genomes reveals the spectrum of loss-of-function intolerance across human protein-coding genes. Preprint at https://www.biorxiv.org/content/10.1101/531210v2 (2019).

Koboldt, D. C. et al. VarScan 2: somatic mutation and copy number alteration discovery in cancer by exome sequencing. Genome Res. 22, 568–576 (2012).

Cibulskis, K. et al. Sensitive detection of somatic point mutations in impure and heterogeneous cancer samples. Nat. Biotechnol. 31, 213–219 (2013).

Saunders, C. T. et al. Strelka: accurate somatic small-variant calling from sequenced tumor-normal sample pairs. Bioinformatics 28, 1811–1817 (2012).

Carter, S. L. et al. Absolute quantification of somatic DNA alterations in human cancer. Nat. Biotechnol. 30, 413–421 (2012).

Bailey, M. H. et al. Comprehensive characterization of cancer driver genes and mutations. Cell 173, 371–385.e18 (2018).

Martincorena, I. et al. Universal patterns of selection in cancer and somatic tissues. Cell 171, 1029–1041.e21 (2017).

Rosenthal, R., McGranahan, N., Herrero, J., Taylor, B. S. & Swanton, C. deconstructSigs: delineating mutational processes in single tumors distinguishes DNA repair deficiencies and patterns of carcinoma evolution. Genome Biol. 17, 31 (2016).

Hindson, B. J. et al. High-throughput droplet digital PCR system for absolute quantitation of DNA copy number. Anal. Chem. 83, 8604–8610 (2011).

Mermel, C. H. et al. GISTIC2.0 facilitates sensitive and confident localization of the targets of focal somatic copy-number alteration in human cancers. Genome Biol. 12, R41 (2011).
Acknowledgements
We thank E. Kool for advice relating to ROS scavengers and E. Edell and A. Bungum from the Mayo Clinic Lung Tumor Specimen Registry for their assistance with sample collection. This work was supported by the National Cancer Institute (R01CA188298 and R01CA233975 to M.D. and A.A.A., 1-K08-CA241076-01 to D.M.K., R25CA180993 and T32-CA 121940 to M.S.E., U01 CA196405 to P.P.M., training grant T32 CA009302 to E.G.H., M.C.N. and D.A., and K12CA090628 and P30 CA015083-44S1 to A.S.M.), the US National Institutes of Health Director's New Innovator Award Program (1-DP2-CA186569 to M.D.), the US National Institutes of Health, the Virginia and D.K. Ludwig Fund for Cancer Research (M.D. and A.A.A.), the CRK Faculty Scholar Fund (M.D.), the Bakewell Foundation (M.D. and A.A.A.), the Damon Runyon Cancer Research Foundation (PST#09-16 to D.M.K.), the Tobacco-Related Disease Research Program Predoctoral Fellowship (T30DT0806 to E.G.H.), the Blavatnik Family Fellowship (E.G.H.), the American Cancer Society (134031-PF-19-164-01-TBG to B.Y.N.), the SDW/DT and Shanahan Family Foundations (A.A.A.), Stand Up To Cancer (M.D., A.A.A., D.A.H. and L.V.S.), and the NSF Graduate Research Fellowship (DGE-114747 to J.J.C., DGE-1656518 to D.A.). A.A.A. is a Scholar of The Leukemia & Lymphoma Society.
Ethics declarations
Competing interests
D.M.K. reports paid consultancy from Roche Molecular Diagnostics. A.A.C. reports speaker honoraria and travel support from Roche Sequencing Solutions, Varian Medical Systems, and Foundation Medicine, a research grant from Roche Sequencing Solutions, and has served as a paid consultant for Fenix Group International. A.S.M. reports advisory for AbbVie, Genentech, and Bristol-Myers Squibb (honoraria paid to institution) and research funding from Novartis and Verily. J.J. is now employed by Celgene. S.H.L. reports paid advisory from AstraZeneca, speaker honoraria from Varian Medical Systems and research funding from BeyondSpring Pharmaceuticals Inc., Hitachi Chemical Diagnostics, Genentech, and New River Labs. S.S.G. reports paid consultancy from AbbVie, Ceremark, CytomX Therapeutics Inc., GPV, Life Molecular Imaging, Nusano, Spectrum Dynamics, and TPG, and ownership interest in Akrotome Imaging Inc., Cellsight Technologies, CytomX Therapeutics Inc., Earli Inc., Endra Inc., MagArray Inc., Nines, Nodus Therapeutics, Nusano, RefleXion Medical Inc., SiteOne Therapeutics Inc., Spectrum Dynamics, Vave Health, and Vor Biopharma. J.W.N. reports paid consultancy from AstraZeneca, Genentech, Roche, Exelixis, Jounce Therapeutics, Takeda Pharmaceuticals, Eli Lilly and Company, and Calithera Biosciences, and research funding from Genentech, Roche, Merck, Novartis, Boehringer Ingelheim, Exelixis, Nektar Therapeutics, Takeda Pharmaceuticals, Adaptimmune and GSK. H.A.W. reports paid advisory from AstraZeneca, Xcovery, Janssen, and Mirati, unpaid advisory from Merck, Takeda, Genentech, Roche, and Cellworks, and research funding from ACEA Biosciences, Arrys Therapeutics, AstraZeneca/Medimmune, BMS, Celgene, Clovis Oncology, Exelixis, Genentech/Roche, Gilead, Lilly, Merck, Novartis, Pfizer, Pharmacyclics, and Xcovery. A.A.A. reports ownership interest in CiberMed and FortySeven Inc., patent filings related to cancer biomarkers, and paid consultancy from Genentech, Roche, Chugai, Gilead, and Celgene. M.D. reports research funding from Varian Medical Systems and Illumina, ownership interest in CiberMed, patent filings related to cancer biomarkers, and paid consultancy from Roche, AstraZeneca, RefleXion and BioNTech. The remaining authors declare no potential conflicts of interest.
Additional information
Publisher's note Springer Nature remains neutral with regard to jurisdictional claims in published maps and institutional affiliations.
Extended data figures and tables
Supplementary information
About this article
Cite this article
Chabon, J.J., Hamilton, E.G., Kurtz, D.M. et al. Integrating genomic features for non-invasive early lung cancer detection. Nature 580, 245–251 (2020). https://doi.org/10.1038/s41586-020-2140-0
Received:

Accepted:

Published:

Issue Date:

DOI: https://doi.org/10.1038/s41586-020-2140-0
Comments
By submitting a comment you agree to abide by our Terms and Community Guidelines. If you find something abusive or that does not comply with our terms or guidelines please flag it as inappropriate.