Abstract
How the brain processes information accurately despite stochastic neural activity is a longstanding question1. For instance, perception is fundamentally limited by the information that the brain can extract from the noisy dynamics of sensory neurons. Seminal experiments2,3 suggest that correlated noise in sensory cortical neural ensembles is what limits their coding accuracy4,5,6, although how correlated noise affects neural codes remains debated7,8,9,10,11. Recent theoretical work proposes that how a neural ensemble's sensory tuning properties relate statistically to its correlated noise patterns is a greater determinant of coding accuracy than is absolute noise strength12,13,14. However, without simultaneous recordings from thousands of cortical neurons with shared sensory inputs, it is unknown whether correlated noise limits coding fidelity. Here we present a 16-beam, two-photon microscope to monitor activity across the mouse primary visual cortex, along with analyses to quantify the information conveyed by large neural ensembles. We found that, in the visual cortex, correlated noise constrained signalling for ensembles with 800–1,300 neurons. Several noise components of the ensemble dynamics grew proportionally to the ensemble size and the encoded visual signals, revealing the predicted information-limiting correlations12,13,14. Notably, visual signals were perpendicular to the largest noise mode, which therefore did not limit coding fidelity. The information-limiting noise modes were approximately ten times smaller and concordant with mouse visual acuity15. Therefore, cortical design principles appear to enhance coding accuracy by restricting around 90% of noise fluctuations to modes that do not limit signalling fidelity, whereas much weaker correlated noise modes inherently bound sensory discrimination.
This is a preview of subscription content
Access options
Subscribe to Journal
Get full journal access for 1 year
$199.00
only $3.90 per issue
All prices are NET prices.
VAT will be added later in the checkout.
Tax calculation will be finalised during checkout.
Rent or Buy article
Get time limited or full article access on ReadCube.
from$8.99
All prices are NET prices.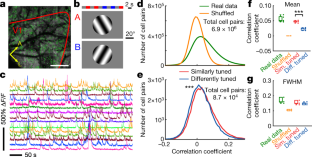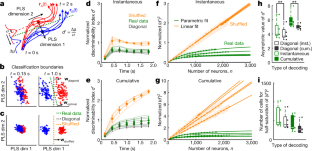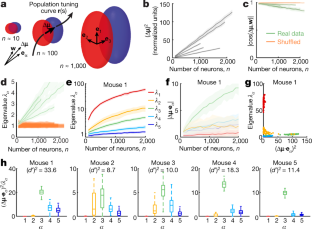 Data availability
The data that support the findings of this study are available from the corresponding authors upon reasonable request.
References
1.

von Neumann, J. The Computer and the Brain 2nd edn (Yale Univ. Press, 1958).

2.

Britten, K. H., Shadlen, M. N., Newsome, W. T. & Movshon, J. A. The analysis of visual motion: a comparison of neuronal and psychophysical performance. J. Neurosci. 12, 4745–4765 (1992).

3.

Newsome, W. T., Britten, K. H. & Movshon, J. A. Neuronal correlates of a perceptual decision. Nature 341, 52–54 (1989).

4.

Zohary, E., Shadlen, M. N. & Newsome, W. T. Correlated neuronal discharge rate and its implications for psychophysical performance. Nature 370, 140–143 (1994).

5.

Averbeck, B. B., Latham, P. E. & Pouget, A. Neural correlations, population coding and computation. Nat. Rev. Neurosci. 7, 358–366 (2006).

6.

Cohen, M. R. & Kohn, A. Measuring and interpreting neuronal correlations. Nat. Neurosci. 14, 811–819 (2011).

7.

Sompolinsky, H., Yoon, H., Kang, K. & Shamir, M. Population coding in neuronal systems with correlated noise. Phys. Rev. E 64, 051904 (2001).

8.

Abbott, L. F. & Dayan, P. The effect of correlated variability on the accuracy of a population code. Neural Comput. 11, 91–101 (1999).

9.

Shamir, M. & Sompolinsky, H. Implications of neuronal diversity on population coding. Neural Comput. 18, 1951–1986 (2006).

10.

Ecker, A. S., Berens, P., Tolias, A. S. & Bethge, M. The effect of noise correlations in populations of diversely tuned neurons. J. Neurosci. 31, 14272–14283 (2011).

11.

Oram, M. W., Földiák, P., Perrett, D. I. & Sengpiel, F. The 'Ideal Homunculus': decoding neural population signals. Trends Neurosci. 21, 259–265 (1998).

12.

Kanitscheider, I., Coen-Cagli, R. & Pouget, A. Origin of information-limiting noise correlations. Proc. Natl Acad. Sci. USA 112, E6973–E6982 (2015).

13.

Moreno-Bote, R. et al. Information-limiting correlations. Nat. Neurosci. 17, 1410–1417 (2014).

14.

Pitkow, X., Liu, S., Angelaki, D. E., DeAngelis, G. C. & Pouget, A. How can single sensory neurons predict behavior? Neuron 87, 411–423 (2015).

15.

Prusky, G. T., West, P. W. & Douglas, R. M. Behavioral assessment of visual acuity in mice and rats. Vision Res. 40, 2201–2209 (2000).

16.

Baylor, D. A., Lamb, T. D. & Yau, K. W. Responses of retinal rods to single photons. J. Physiol. (Lond.) 288, 613–634 (1979).

17.

Barlow, H. B. Retinal noise and absolute threshold. J. Opt. Soc. Am. 46, 634–639 (1956).

18.

Siebert, W. M. Some implications of the stochastic behavior of primary auditory neurons. Kybernetik 2, 206–215 (1965).

19.

Yatsenko, D. et al. Improved estimation and interpretation of correlations in neural circuits. PLoS Comput. Biol. 11, e1004083 (2015).

20.

Kanitscheider, I., Coen-Cagli, R., Kohn, A. & Pouget, A. Measuring Fisher information accurately in correlated neural populations. PLoS Comput. Biol. 11, e1004218 (2015).

21.

Ecker, A. S. et al. Decorrelated neuronal firing in cortical microcircuits. Science 327, 584–587 (2010).

22.

Reich, D. S., Mechler, F. & Victor, J. D. Independent and redundant information in nearby cortical neurons. Science 294, 2566–2568 (2001).

23.

Renart, A. et al. The asynchronous state in cortical circuits. Science 327, 587–590 (2010).

24.

Stirman, J. N., Smith, I. T., Kudenov, M. W. & Smith, S. L. Wide field-of-view, multi-region, two-photon imaging of neuronal activity in the mammalian brain. Nat. Biotechnol. 34, 857–862 (2016).

25.

Chen, J. L., Voigt, F. F., Javadzadeh, M., Krueppel, R. & Helmchen, F. Long-range population dynamics of anatomically defined neocortical networks. eLife 5, e14679 (2016).

26.

Sofroniew, N. J., Flickinger, D., King, J. & Svoboda, K. A large field of view two-photon mesoscope with subcellular resolution for in vivo imaging. eLife 5, e14472 (2016).

27.

Tsai, P. S. et al. Ultra-large field-of-view two-photon microscopy. Opt. Express 23, 13833–13847 (2015).

28.

Niell, C. M. & Stryker, M. P. Modulation of visual responses by behavioral state in mouse visual cortex. Neuron 65, 472–479 (2010).

29.

Bonin, V., Histed, M. H., Yurgenson, S. & Reid, R. C. Local diversity and fine-scale organization of receptive fields in mouse visual cortex. J. Neurosci. 31, 18506–18521 (2011).

30.

Averbeck, B. B. & Lee, D. Effects of noise correlations on information encoding and decoding. J. Neurophysiol. 95, 3633–3644 (2006).

31.

Cover, T. M. & Thomas, J. A. Elements of Information Theory 2nd edn, (John Wiley & Sons, 2006).

32.

Stringer, C., Michaelos, M. & Pachitariu, M. High precision coding mouse visual cortex. Preprint at https://www.biorxiv.org/content/10.1101/679324v1 (2019).

33.

Prusky, G. T. & Douglas, R. M. Characterization of mouse cortical spatial vision. Vision Res. 44, 3411–3418 (2004).

34.

Glickfeld, L. L., Histed, M. H. & Maunsell, J. H. Mouse primary visual cortex is used to detect both orientation and contrast changes. J. Neurosci. 33, 19416–19422 (2013).

35.

Lecoq, J. et al. Visualizing mammalian brain area interactions by dual-axis two-photon calcium imaging. Nat. Neurosci. 17, 1825–1829 (2014).

36.

Pologruto, T. A., Sabatini, B. L. & Svoboda, K. ScanImage: flexible software for operating laser scanning microscopes. Biomed. Eng. Online 2, 13 (2003).

37.

Madisen, L. et al. Transgenic mice for intersectional targeting of neural sensors and effectors with high specificity and performance. Neuron 85, 942–958 (2015).

38.

Wekselblatt, J. B., Flister, E. D., Piscopo, D. M. & Niell, C. M. Large-scale imaging of cortical dynamics during sensory perception and behavior. J. Neurophysiol. 115, 2852–2866 (2016).

39.

Chettih, S. N. & Harvey, C. D. Single-neuron perturbations reveal feature-specific competition in V1. Nature 567, 334–340 (2019).

40.

Harvey, C. D., Coen, P. & Tank, D. W. Choice-specific sequences in parietal cortex during a virtual-navigation decision task. Nature 484, 62–68 (2012).

41.

Chen, T. W. et al. Ultrasensitive fluorescent proteins for imaging neuronal activity. Nature 499, 295–300 (2013).

42.

Huber, D. et al. Multiple dynamic representations in the motor cortex during sensorimotor learning. Nature 484, 473–478 (2012).

43.

Kim, K. H. et al. Multifocal multiphoton microscopy based on multianode photomultiplier tubes. Opt. Express 15, 11658–11678 (2007).

44.

Thévenaz, P., Ruttimann, U. E. & Unser, M. A pyramid approach to subpixel registration based on intensity. IEEE Trans. Image Process. 7, 27–41 (1998).

45.

Preibisch, S., Saalfeld, S. & Tomancak, P. Globally optimal stitching of tiled 3D microscopic image acquisitions. Bioinformatics 25, 1463–1465 (2009).

46.

Brown, M. & Lowe, D. G. Automatic panoramic image stitching using invariant features. Int. J. Comput. Vis. 74, 59–73 (2007).

47.

Pnevmatikakis, E. A. & Giovannucci, A. NoRMCorre: An online algorithm for piecewise rigid motion correction of calcium imaging data. J. Neurosci. Methods 291, 83–94 (2017).

48.

Mukamel, E. A., Nimmerjahn, A. & Schnitzer, M. J. Automated analysis of cellular signals from large-scale calcium imaging data. Neuron 63, 747–760 (2009).

49.

Vogelstein, J. T. et al. Fast nonnegative deconvolution for spike train inference from population calcium imaging. J. Neurophysiol. 104, 3691–3704 (2010).

50.

Bishop, C. M. Pattern Recognition and Machine Learning Vol. 1 (Springer, 2007).

51.

Geladi, P. & Kowalski, B. R. Partial least-squares regression: a tutorial. Anal. Chim. Acta 185, 1–17 (1986).

52.

Hastie, T., Tibshirani, R. & Friedman, J. The Elements of Statistcal Learning (Springer, 2009).

53.

Podgorski, K. & Ranganathan, G. Brain heating induced by near-infrared lasers during multiphoton microscopy. J. Neurophysiol. 116, 1012–1023 (2016).

54.

Graner, M. W., Cumming, R. I. & Bigner, D. D. The heat shock response and chaperones/heat shock proteins in brain tumors: surface expression, release, and possible immune consequences. J. Neurosci. 27, 11214–11227 (2007).

55.

Kalmbach, A. S. & Waters, J. Brain surface temperature under a craniotomy. J. Neurophysiol. 108, 3138–3146 (2012).

56.

Wang, H. et al. Brain temperature and its fundamental properties: a review for clinical neuroscientists. Front. Neurosci. 8, 307 (2014).

57.

Talan, M. Body temperature of C57BL/6J mice with age. Exp. Gerontol. 19, 25–29 (1984).

58.

Greenberg, D. S., Houweling, A. R. & Kerr, J. N. D. Population imaging of ongoing neuronal activity in the visual cortex of awake rats. Nat. Neurosci. 11, 749–751 (2008).

59.

Karimipanah, Y., Ma, Z., Miller, J. K., Yuste, R. & Wessel, R. Neocortical activity is stimulus- and scale-invariant. PLoS ONE 12, e0177396 (2017).
Acknowledgements
We acknowledge a Stanford Graduate Fellowship (O.I.R.), research support from the Howard Hughes Medical Institute (M.J.S.), the Stanford CNC Program (M.J.S.), DARPA (M.J.S.), an NSF CAREER Award (S.G.), and the Burroughs-Wellcome (S.G.), McKnight (S.G.), James S. McDonnell (S.G.) and Simons (S.G.) foundations. NIH grants MH085500 and DA028298 to H.Z. funded development of the GCaMP6f-tTA-dCre and Rasgrf2-2A-dCre mice. NIH grant R24NS098519 (M.J.S.) supports our effort to make the 16-beam two-photon microscope an open resource available to other laboratories. We thank T. Moore, P. Jercog, J. C. Jung, D. Vucinic, B. F. Grewe, E. T. W. Ho, H. Kim, X. Pitkow and T. Zhang for discussions, D. Flickinger and K. Svoboda for providing design files for the water-immersion objective lens, C. Niell for providing tetO-GCaMP6 s/CaMK2a-tTA mice, and C. Irimia for animal husbandry.
Ethics declarations
Competing interests
M.J.S. is a scientific co-founder of Inscopix, which produces the Mosaic software used to identify individual neurons in the Ca2+ videos. J.A.L. is also an Inscopix stockholder.
Additional information
Peer review information Nature thanks Stefano Panzeri and the other, anonymous, reviewer(s) for their contribution to the peer review of this work.
Publisher's note Springer Nature remains neutral with regard to jurisdictional claims in published maps and institutional affiliations.
Extended data figures and tables
Supplementary information
About this article
Cite this article
Rumyantsev, O.I., Lecoq, J.A., Hernandez, O. et al. Fundamental bounds on the fidelity of sensory cortical coding. Nature 580, 100–105 (2020). https://doi.org/10.1038/s41586-020-2130-2
Received:

Accepted:

Published:

Issue Date:
Comments
By submitting a comment you agree to abide by our Terms and Community Guidelines. If you find something abusive or that does not comply with our terms or guidelines please flag it as inappropriate.