Abstract
The biological function of Z-DNA and Z-RNA, nucleic acid structures with a left-handed double helix, is poorly understood1,2,3. Z-DNA-binding protein 1 (ZBP1; also known as DAI or DLM-1) is a nucleic acid sensor that contains two Zα domains that bind Z-DNA4,5 and Z-RNA6,7,8. ZBP1 mediates host defence against some viruses6,7,9,10,11,12,13,14 by sensing viral nucleic acids6,7,10. RIPK1 deficiency, or mutation of its RIP homotypic interaction motif (RHIM), triggers ZBP1-dependent necroptosis and inflammation in mice15,16. However, the mechanisms that induce ZBP1 activation in the absence of viral infection remain unknown. Here we show that Zα-dependent sensing of endogenous ligands induces ZBP1-mediated perinatal lethality in mice expressing RIPK1 with mutated RHIM (Ripk1mR/mR), skin inflammation in mice with epidermis-specific RIPK1 deficiency (RIPK1E-KO) and colitis in mice with intestinal epithelial-specific FADD deficiency (FADDIEC-KO). Consistently, functional Zα domains were required for ZBP1-induced necroptosis in fibroblasts that were treated with caspase inhibitors or express RIPK1 with mutated RHIM. Inhibition of nuclear export triggered the Zα-dependent activation of RIPK3 in the nucleus resulting in cell death, which suggests that ZBP1 may recognize nuclear Z-form nucleic acids. We found that ZBP1 constitutively bound cellular double-stranded RNA in a Zα-dependent manner. Complementary reads derived from endogenous retroelements were detected in epidermal RNA, which suggests that double-stranded RNA derived from these retroelements may act as a Zα-domain ligand that triggers the activation of ZBP1. Collectively, our results provide evidence that the sensing of endogenous Z-form nucleic acids by ZBP1 triggers RIPK3-dependent necroptosis and inflammation, which could underlie the development of chronic inflammatory conditions—particularly in individuals with mutations in RIPK1 and CASP817,18,19,20.
Relevant articles
Open Access articles citing this article.
Chanchal Chauhan

,

Ana Martinez-Val

…

Manoj B. Menon

Cell Death Discovery Open Access 19 January 2023

Shin-Ae Lee

,

Lin-Chun Chang

…

Jae U. Jung

Nature Cell Biology Open Access 05 January 2023

Hui Liu

,

Yuxuan Liu

…

Bing Fan

Cell Communication and Signaling Open Access 20 December 2022
Access options
Subscribe to Nature+
Get immediate online access to Nature and 55 other Nature journal
Subscribe to Journal
Get full journal access for 1 year
$199.00
only $3.90 per issue
All prices are NET prices.
VAT will be added later in the checkout.
Tax calculation will be finalised during checkout.
Buy article
Get time limited or full article access on ReadCube.
$32.00
All prices are NET prices.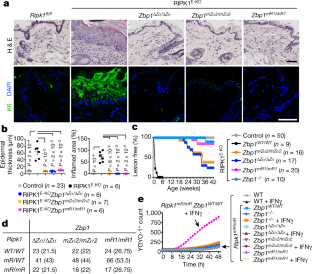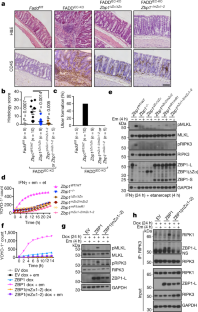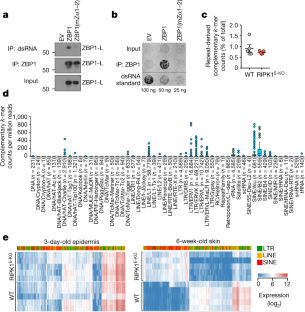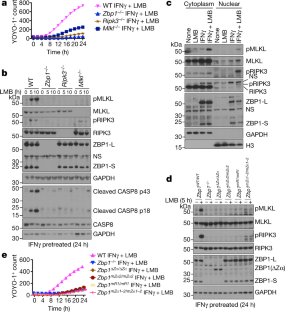 Code availability
A GTF file of repetitive region annotations for the mouse genome (GRCm38.78), with the adjacent annotations for the same element merged is included in Supplementary Data 1. Specific shell commands executed and Python code to convert k-mers into complementary k-mers are included in Supplementary Data 2.
References
Wang, A. H. et al. Molecular structure of a left-handed double helical DNA fragment at atomic resolution. Nature 282, 680–686 (1979).

Rich, A. & Zhang, S. Z-DNA: the long road to biological function. Nat. Rev. Genet. 4, 566–572 (2003).

Herbert, A. Z-DNA and Z-RNA in human disease. Commun. Biol. 2, 7 (2019).

Ha, S. C. et al. The crystal structure of the second Z-DNA binding domain of human DAI (ZBP1) in complex with Z-DNA reveals an unusual binding mode to Z-DNA. Proc. Natl Acad. Sci. USA 105, 20671–20676 (2008).

Schwartz, T., Behlke, J., Lowenhaupt, K., Heinemann, U. & Rich, A. Structure of the DLM-1–Z-DNA complex reveals a conserved family of Z-DNA-binding proteins. Nat. Struct. Biol. 8, 761–765 (2001).

Maelfait, J. et al. Sensing of viral and endogenous RNA by ZBP1/DAI induces necroptosis. EMBO J. 36, 2529–2543 (2017).

Thapa, R. J. et al. DAI senses influenza a virus genomic RNA and activates RIPK3-dependent cell death. Cell Host Microbe 20, 674–681 (2016).

Placido, D., Brown, B. A., II, Lowenhaupt, K., Rich, A. & Athanasiadis, A. A left-handed RNA double helix bound by the Zα domain of the RNA-editing enzyme ADAR1. Structure 15, 395–404 (2007).

Guo, H. et al. Species-independent contribution of ZBP1/DAI/DLM-1-triggered necroptosis in host defense against HSV1. Cell Death Dis. 9, 816 (2018).

Sridharan, H. et al. Murine cytomegalovirus IE3-dependent transcription is required for DAI/ZBP1-mediated necroptosis. EMBO Rep. 18, 1429–1441 (2017).

Koehler, H. et al. Inhibition of DAI-dependent necroptosis by the Z-DNA binding domain of the vaccinia virus innate immune evasion protein, E3. Proc. Natl Acad. Sci. USA 114, 11506–11511 (2017).

Kuriakose, T. et al. ZBP1/DAI is an innate sensor of influenza virus triggering the NLRP3 inflammasome and programmed cell death pathways. Sci. Immunol. 1, aag2045 (2016).

Upton, J. W., Kaiser, W. J. & Mocarski, E. S. DAI/ZBP1/DLM-1 complexes with RIP3 to mediate virus-induced programmed necrosis that is targeted by murine cytomegalovirus vIRA. Cell Host Microbe 11, 290–297 (2012).

Daniels, B. P. et al. The nucleotide sensor ZBP1 and kinase RIPK3 induce the enzyme IRG1 to promote an antiviral metabolic state in neurons. Immunity 50, 64–76 (2019).

Newton, K. et al. RIPK1 inhibits ZBP1-driven necroptosis during development. Nature 540, 129–133 (2016).

Lin, J. et al. RIPK1 counteracts ZBP1-mediated necroptosis to inhibit inflammation. Nature 540, 124–128 (2016).

Lehle, A. S. et al. Intestinal inflammation and dysregulated immunity in patients with inherited caspase-8 deficiency. Gastroenterology 156, 275–278 (2019).

Li, Y. et al. Human RIPK1 deficiency causes combined immunodeficiency and inflammatory bowel diseases. Proc. Natl Acad. Sci. USA 116, 970–975 (2019).

Cuchet-Lourenço, D. et al. Biallelic RIPK1 mutations in humans cause severe immunodeficiency, arthritis, and intestinal inflammation. Science 361, 810–813 (2018).

Uchiyama, Y. et al. Primary immunodeficiency with chronic enteropathy and developmental delay in a boy arising from a novel homozygous RIPK1 variant. J. Hum. Genet. 64, 955–960 (2019

Kaiser, W. J., Upton, J. W. & Mocarski, E. S. Receptor-interacting protein homotypic interaction motif-dependent control of NF-κB activation via the DNA-dependent activator of IFN regulatory factors. J. Immunol. 181, 6427–6434 (2008).

Rebsamen, M. et al. DAI/ZBP1 recruits RIP1 and RIP3 through RIP homotypic interaction motifs to activate NF-κB. EMBO Rep. 10, 916–922 (2009).

Dannappel, M. et al. RIPK1 maintains epithelial homeostasis by inhibiting apoptosis and necroptosis. Nature 513, 90–94 (2014).

Welz, P. S. et al. FADD prevents RIP3-mediated epithelial cell necrosis and chronic intestinal inflammation. Nature 477, 330–334 (2011).

Yang, D. et al. ZBP1 mediates interferon-induced necroptosis. Cell. Mol. Immunol. (2019).

Ahmad, S. et al. Breaching self-tolerance to Alu duplex RNA underlies MDA5-mediated inflammation. Cell 172, 797–810 (2018).

Mannion, N. M. et al. The RNA-editing enzyme ADAR1 controls innate immune responses to RNA. Cell Rep. 9, 1482–1494 (2014).

Bae, S. et al. Energetics of Z-DNA binding protein-mediated helicity reversals in DNA, RNA, and DNA–RNA duplexes. J. Phys. Chem. B 117, 13866–13871 (2013).

Etchin, J. et al. KPT-330 inhibitor of CRM1 (XPO1)-mediated nuclear export has selective anti-leukaemic activity in preclinical models of T-cell acute lymphoblastic leukaemia and acute myeloid leukaemia. Br. J. Haematol. 161, 117–127 (2013).

Hafner, M. et al. Keratin 14 Cre transgenic mice authenticate keratin 14 as an oocyte-expressed protein. Genesis 38, 176–181 (2004).

Tröder, S. E. et al. An optimized electroporation approach for efficient CRISPR/Cas9 genome editing in murine zygotes. PLoS ONE 13, e0196891 (2018).

Vlantis, K. et al. NEMO prevents RIP kinase 1-mediated epithelial cell death and chronic intestinal inflammation by NF-κB-dependent and -independent functions. Immunity 44, 553–567 (2016).

Adolph, T. E. et al. Paneth cells as a site of origin for intestinal inflammation. Nature. 503, 272–276 (2013).

Upton, J. W., Kaiser, W. J. & Mocarski, E. S. Virus inhibition of RIP3-dependent necrosis. Cell Host Microbe 7, 302–313 (2010).

Attig, J., Young, G. R., Stoye, J. P. & Kassiotis, G. Physiological and pathological transcriptional activation of endogenous retroelements assessed by RNA-sequencing of B lymphocytes. Front. Microbiol. 8, 2489 (2017).

Wheeler, T. J. & Eddy, S. R. nhmmer: DNA homology search with profile HMMs. Bioinformatics 29, 2487–2489 (2013).

Kim, D., Langmead, B. & Salzberg, S. L. HISAT: a fast spliced aligner with low memory requirements. Nat. Methods 12, 357–360 (2015).

Liao, Y., Smyth, G. K. & Shi, W. featureCounts: an efficient general purpose program for assigning sequence reads to genomic features. Bioinformatics 30, 923–930 (2014).

Love, M. I., Huber, W. & Anders, S. Moderated estimation of fold change and dispersion for RNA-seq data with DESeq2. Genome Biol. 15, 550 (2014).

Kokot, M., Dlugosz, M. & Deorowicz, S. KMC 3: counting and manipulating k-mer statistics. Bioinformatics 33, 2759–2761 (2017).

Hubley, R. et al. The Dfam database of repetitive DNA families. Nucleic Acids Res. 44, D81–D89 (2016).

Raudvere, U. et al. g:Profiler: a web server for functional enrichment analysis and conversions of gene lists (2019 update). Nucleic Acids Res. 47, W191–W198 (2019).
Acknowledgements
We thank E. Gareus, J. Kuth, B. Kühnel, E. Stade, C. Uthoff-Hachenberg and J. von Rhein for technical assistance; B. Zevnik and the CECAD Transgenic Core Unit for the generation of mutant ZBP1 knock-in mice; A. Schauss and the CECAD Imaging Facility for microscopy support; and A. Athanasiadis for valuable discussions. Research reported in this publication was supported by funding from the European Research Council (grant agreement no. 787826), the Deutsche Forschungsgemeinschaft (DFG, German Research Foundation; projects SFB829 (project no. 73111208), SFB1218 (project no. 269925409), SFB1399 (project no. 413326622), SFB1403 (project no. 414786233), PA 1476/8-1 (project no. 411102043) and CECAD (project no. 390661388)) and the Federal Ministry of Education and Research (BMBF, e:med project InCa, grant no. 01ZX1901A) to M.P., and by the Francis Crick Institute (FC001099) and the Wellcome Trust (102898/B/13/Z) to G.K. J.L. and R.O.E. were supported by postdoctoral fellowships from the Alexander von Humboldt Foundation.
Ethics declarations
Competing interests
M.P. received consulting and speaker fees from Genentech, GSK, Boehringer Ingelheim and Sanofi.
Additional information
Publisher's note Springer Nature remains neutral with regard to jurisdictional claims in published maps and institutional affiliations.
Extended data figures and tables
Supplementary information
About this article
Cite this article
Jiao, H., Wachsmuth, L., Kumari, S. et al. Z-nucleic-acid sensing triggers ZBP1-dependent necroptosis and inflammation. Nature 580, 391–395 (2020). https://doi.org/10.1038/s41586-020-2129-8
Received:

Accepted:

Published:

Issue Date:

DOI: https://doi.org/10.1038/s41586-020-2129-8
Comments
By submitting a comment you agree to abide by our Terms and Community Guidelines. If you find something abusive or that does not comply with our terms or guidelines please flag it as inappropriate.