Abstract
Atmospheric carbon dioxide enrichment (eCO2) can enhance plant carbon uptake and growth1,2,3,4,5, thereby providing an important negative feedback to climate change by slowing the rate of increase of the atmospheric CO2 concentration6. Although evidence gathered from young aggrading forests has generally indicated a strong CO2 fertilization effect on biomass growth3,4,5, it is unclear whether mature forests respond to eCO2 in a similar way. In mature trees and forest stands7,8,9,10, photosynthetic uptake has been found to increase under eCO2 without any apparent accompanying growth response, leaving the fate of additional carbon fixed under eCO2 unclear4,5,7,8,9,10,11. Here using data from the first ecosystem-scale Free-Air CO2 Enrichment (FACE) experiment in a mature forest, we constructed a comprehensive ecosystem carbon budget to track the fate of carbon as the forest responded to four years of eCO2 exposure. We show that, although the eCO2 treatment of +150 parts per million (+38 per cent) above ambient levels induced a 12 per cent (+247 grams of carbon per square metre per year) increase in carbon uptake through gross primary production, this additional carbon uptake did not lead to increased carbon sequestration at the ecosystem level. Instead, the majority of the extra carbon was emitted back into the atmosphere via several respiratory fluxes, with increased soil respiration alone accounting for half of the total uptake surplus. Our results call into question the predominant thinking that the capacity of forests to act as carbon sinks will be generally enhanced under eCO2, and challenge the efficacy of climate mitigation strategies that rely on ubiquitous CO2 fertilization as a driver of increased carbon sinks in global forests.
Relevant articles
Open Access articles citing this article.
Matthew J. Gidden

,

Thomas Gasser

…

Keywan Riahi

Nature Open Access 22 November 2023

Arthur P. K. Argles

,

Eddy Robertson

…

Peter M. Cox

Scientific Reports Open Access 18 August 2023

Joan P. Casas-Ruiz

,

Pascal Bodmer

…

Paul A. del Giorgio

Nature Communications Open Access 21 March 2023
Access options
Access Nature and 54 other Nature Portfolio journals
Get Nature+, our best-value online-access subscription
$29.99 / 30 days
cancel any time
Subscribe to this journal
Receive 51 print issues and online access
$199.00 per year
only $3.90 per issue
Rent or buy this article
Prices vary by article type
from$1.95
to$39.95
Prices may be subject to local taxes which are calculated during checkout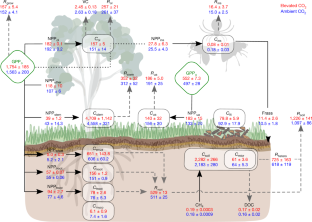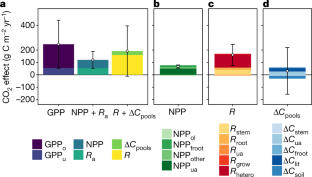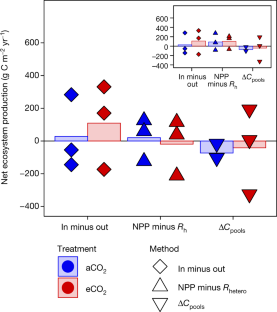 References
Le Quéré, C. L. et al. Global carbon budget 2018. Earth Syst. Sci. Data 10, 2141–2194 (2018).

Schimel, D., Stephens, B. B. & Fisher, J. B. Effect of increasing CO2 on the terrestrial carbon cycle. Proc. Natl Acad. Sci. USA 112, 436–441 (2015).

Walker, A. P. et al. Decadal biomass increment in early secondary successional woody ecosystems is increased by CO2 enrichment. Nat. Commun. 10, 454 (2019).

Norby, R. J. & Zak, D. R. Ecological lessons from Free-Air CO2 Enrichment (FACE) experiments. Annu. Rev. Ecol. Evol. Syst. 42, 181–203 (2011).

Leuzinger, S. & Hättenschwiler, S. Beyond global change: lessons from 25 years of CO2 research. Oecologia 171, 639–651 (2013).

Arora, V. K. et al. Carbon-concentration and carbon-climate feedbacks in CMIP5 Earth system models. J. Clim. 26, 5289–5314 (2013).

Ellsworth, D. S. et al. Elevated CO2 does not increase eucalypt forest productivity on a low-phosphorus soil. Nat. Clim. Chang. 7, 279–282 (2017).

Körner, C. et al. Carbon flux and growth in mature deciduous forest trees exposed to elevated CO2. Science 309, 1360–1362 (2005).

Ryan, M. G. Three decades of research at Flakaliden advancing whole-tree physiology, forest ecosystem and global change research. Tree Physiol. 33, 1123–1131 (2013).

Klein, T. et al. Growth and carbon relations of mature Picea abies trees under 5 years of free-air CO2 enrichment. J. Ecol. 104, 1720–1733 (2016).

Norby, R. J. et al. Model-data synthesis for the next generation of forest free-air CO2 enrichment (FACE) experiments. New Phytol. 209, 17–28 (2016).

Pugh, T. A. M. et al. Role of forest regrowth in global carbon sink dynamics. Proc. Natl Acad. Sci. USA 116, 4382–4387 (2019).

Grassi, G. et al. The key role of forests in meeting climate targets requires science for credible mitigation. Nat. Clim. Chang. 7, 220–226 (2017).

Peñuelas, J. et al. Shifting from a fertilization-dominated to a warming-dominated period. Nat. Ecol. Evol. 1, 1438–1445 (2017).

Luo, Y. et al. Progressive nitrogen limitation of ecosystem response to rising atmospheric carbon dioxide. Bioscience 54, 731–739 (2004).

DeLucia, E. H. et al. Net primary production of a forest ecosystem with experimental CO2 enrichment. Science 284, 1177–1179 (1999).

Crous, K., Ósvaldsson, A. & Ellsworth, D. S. Is phosphorus limiting in a mature Eucalyptus woodland? Phosphorus fertilization stimulates stem growth. Plant Soil 391, 293–305 (2015).

Medlyn, B. E. et al. Using models to guide field experiments: a priori predictions for the CO2 response of a nutrient- and water-limited native eucalypt woodland. Glob. Change Biol. 22, 2834–2851 (2016).

Medlyn, B. E. et al. Using ecosystem experiments to improve vegetation models. Nat. Clim. Chang. 5, 528–534 (2015).

Friedlingstein, P. et al. Uncertainties in CMIP5 climate projections due to carbon cycle feedbacks. J. Clim. 27, 511–526 (2014).

Yang, J. et al. Low sensitivity of gross primary production to elevated CO2 in a mature eucalypt woodland. Biogeosciences 17, 265–279 (2020).

DeLucia, E. H., Drake, J. E., Thomas, R. B. & Gonzalez-Meler, M. Forest carbon use efficiency: is respiration a constant fraction of gross primary production? Glob. Change Biol. 13, 1157–1167 (2007).

Norby, R. J. Forest canopy productivity index. Nature 381, 564 (1996).

Duursma, R. A. et al. Canopy leaf area of a mature evergreen Eucalyptus woodland does not respond to elevated atmospheric CO2 but tracks water availability. Glob. Change Biol. 22, 1666–1676 (2016).

Drake, J. E. et al. Short-term carbon cycling responses of a mature eucalypt woodland to gradual stepwise enrichment of atmospheric CO2 concentration. Glob. Change Biol. 22, 380–390 (2016).

Drake, J. E. et al. Three years of soil respiration in a mature eucalypt woodland exposed to atmospheric CO2 enrichment. Biogeochemistry 139, 85–101 (2018).

Drake, J. E. et al. Increases in the flux of carbon belowground stimulate nitrogen uptake and sustain the long-term enhancement of forest productivity under elevated CO2. Ecol. Lett. 14, 349–357 (2011).

Hasegawa, S., Macdonald, C. A. & Power, S. A. Elevated carbon dioxide increases soil nitrogen and phosphorus availability in a phosphorus-limited Eucalyptus woodland. Glob. Change Biol. 22, 1628–1643 (2016).

Ochoa-Hueso, R. et al. Rhizosphere-driven increase in nitrogen and phosphorus availability under elevated atmospheric CO2 in a mature Eucalyptus woodland. Plant Soil 416, 283–295 (2017).

Crous, K. Y., Wujeska-Klause, A., Jiang, M., Medlyn, B. E. & Ellsworth, D. S. Nitrogen and phosphorus retranslocation of leaves and stemwood in a mature Eucalyptus forest exposed to 5 years of elevated CO2. Front. Plant Sci. 10, 664 (2019).

Zaehle, S. et al. Evaluation of 11 terrestrial carbon-nitrogen cycle models against observations from two temperature Free-Air CO2 Enrichment studies. New Phytol. 202, 803–822 (2014).

Fleischer, K. et al. Amazon forest response to CO2 fertilization dependent on plant phosphorus acquisition. Nat. Geosci. 12, 736–741 (2019).

Todd-Brown, K. E. O. et al. Changes in soil organic carbon storage predicted by earth system models during the 21st century. Biogeosciences 11, 2341–2356 (2014).

Kuzyakov, Y., Horwath, W. R., Dorodnikov, M. & Blagodatskaya, E. Review and synthesis of the effects of elevated atmospheric CO2 on soil processes: no changes in pools, but increased fluxes and accelerated cycles. Soil Biol. Biochem. 128, 66–78 (2019).

Luyssaert, S. et al. Old-growth forests as global carbon sinks. Nature 455, 213–215 (2008).

Jones, C. et al. 21st century compatible CO2 emissions and airborne fraction simulated by CMIP5 Earth System models under 4 representative concentration pathways. J. Clim. 26, 4398–4413 (2013).

Australia's Agriculture, Fisheries And Forestry At A Glance 2012 https://www.agriculture.gov.au/about/publications/glance2012 (Department of Agriculture, Fisheries and Forestry, 2012).

Global Forest Resources Assessment 2000 FAO Forestry Paper 140 (Food and Agricultural Organization of the United Nations, 2001).

Gimeno, T. E., McVicar, T. R., O'Grady, A. P., Tissue, D. T. & Ellsworth, D. S. Elevated CO2 did not affect the hydrological balance of a mature native Eucalyptus woodland. Glob. Change Biol. 24, 3010–3024 (2018).

Hasegawa, S. et al. Elevated CO2 concentrations reduce C4 cover and decrease diversity of understorey plant community in a Eucalyptus woodland. J. Ecol. 106, 1483–1494 (2018).

Pathare, V. S. et al. Water availability affects seasonal CO2-induced photosynthetic enhancement in herbaceous species in a periodically dry woodland. Glob. Change Biol. 23, 5164–5178 (2017).

Paul, K. I. et al. Development and testing of allometric equations for estimating above-ground biomass of mixed-species environmental plantings. For. Ecol. Manage. 310, 483–494 (2013).

Collins, L. et al. Understorey productivity in temperate grassy woodland responds to soil water availability but not to elevated CO2. Glob. Change Biol. 24, 2366–2376 (2018).

Snowdon, P. et al. National Carbon Accounting System Technical Report no. 17 (Australian Greenhouse Office, 2000).

Wallander, H. et al. Evaluation of methods to estimate production, biomass and turnover of ectomycorrhizal mycelium in forests soils. Soil Biol. Biochem. 57, 1034–1047 (2013).

Buyer, J. S. & Sasser, M. High throughput phospholipid fatty acid analysis of soils. Appl. Soil Ecol. 61, 127–130 (2012).

Gherlenda, A. N., Esveld, J. L., Hall, A. A. G., Duursma, R. A. & Riegler, M. Boom and bust: rapid feedback responses between insect outbreak dynamics and canopy leaf area impacted by rainfall and CO2. Glob. Change Biol. 22, 3632–3641 (2016).

Facey, S. L. et al. Atmospheric change causes declines in woodland arthropods and impacts specific trophic groups. Agric. For. Entomol. 19, 101–112 (2017).

Murray, T. J., Tissue, D. T., Ellsworth, D. S. & Riegler, M. Interactive effects of pre-industrial, current and future CO2 and temperature on an insect herbivore of Eucalyptus. Oecologia 171, 1025–1035 (2013).

Trakimas, G. et al. Ecological stoichiometry: a link between developmental speed and physiological stress in an omnivorous insect. Front. Behav. Neurosci. 13, 42 (2019).

Farquhar, G. D., von Caemmerer, S. & Berry, J. A. A biochemical model of photosynthetic CO2 assimilation in leaves of C3 species. Planta 149, 78–90 (1980).

Medlyn, B. E. et al. Reconciling the optimal and empirical approaches to modelling stomatal conductance. Glob. Change Biol. 17, 2134–2144 (2011).

Gimeno, T. E. et al. Conserved stomatal behavior under elevated CO2 and varying water availability in a mature woodland. Funct. Ecol. 30, 700–709 (2016).

Yang, J. et al. Incorporating non-stomatal limitation improves the performance of leaf and canopy models at high vapor pressure deficit. Tree Physiol. 39, 1961-1974 (2019).

Martins, C. S. C. et al. Identifying environmental drivers of greenhouse gas emissions under warming and reduced rainfall in boreal-temperate forests. Funct. Ecol. 31, 2356–2368 (2017).

Zhang, X. & Wang, W. The decomposition of fine and coarse roots: their global patterns and controlling factors. Sci. Rep. 5, 9940 (2015).

Reich, P. B. et al. Plant diversity enhances ecosystem responses to elevated CO2 and nitrogen deposition. Nature 410, 809–810 (2001).

Gherlenda, A. N., Moore, B. D., Haigh, A. M., Johnson, S. N. & Riegler, M. Insect herbivory in a mature Eucalyptus woodland canopy depends on leaf phenology but not CO2 enrichment. BMC Ecol. 16, 47 (2016).

Gherlenda, A. N. et al. Precipitation, not CO2 enrichment, drives insect herbivore frass deposition and subsequent nutrient dynamics in a mature Eucalyptus woodland. Plant Soil 399, 29–39 (2016).

Drake, J. E. et al. The partitioning of gross primary production for young Eucalyptus tereticornis trees under experimental warming and altered water availability. New Phytol. 222, 1298–1312 (2019).

Salomón, R. L., Steppe, K., Crous, K. Y., Noh, N. J. & Ellsworth, D. S. Elevated CO2 does not affect stem CO2 efflux nor stem respiration in dry Eucalyptus woodland, but it shifts the vertical gradient in xylem CO2. Plant Cell Environ. 42, 2151–2164 (2019).

Raumonen, P. et al. Fast automatic precision tree models from terrestrial laser scanner data. Remote Sens. 5, 491–520 (2013).

Calders, K. et al. Nondestructive estimates of above-ground biomass using terrestrial laser scanning. Methods Ecol. Evol. 6, 198–208 (2015).

Davidson, E. A., Samanta, S., Caramori, S. S. & Savage, K. The dual Arrhenius and Michaelis–Menten kinetics model for decomposition of soil organic matter at hourly to seasonal time scales. Glob. Change Biol. 18, 371–384 (2012).

Guenther, A. B. et al. The Model of Emissions of Gases and Aerosols from Nature version 2.1 (MEGAN2.1): an extended and updated framework for modeling biogenic emissions. Geosci. Model Dev. 5, 1471–1492 (2012).

Emmerson, K. M., Palmer, P. I., Thatcher, M., Haverd, V. & Guenther, A. B. Sensitivity of isoprene emissions to drought over south-eastern Australia: integrating models and satellite observations of soil moisture. Atmos. Environ. 209, 112–124 (2019).

Kännaste, A., Copolovici, L. & Niinemets, Ü. Gas chromatography mass-spectrometry method for determination of biogenic volatile organic compounds emitted by plants. In Plant Isoprenoids: Methods And Protocols (ed. Rodríguez-Concepción, M.) 161–169 (Humana Press, 2014).

Tholl, D. et al. Practical approaches to plant volatile analysis. Plant J. 45, 540–560 (2006).

Li, T., Holst, T., Michelsen, A. & Rinnan, R. Amplification of plant volatile defense against insect herbivory in a warming Arctic tundra. Nat. Plants 5, 568–574 (2019).

Johnsen, L. G., Skou, P. B., Khakimov, B. & Bro, R. Gas chromatography—mass spectrometry data processing made easy. J. Chromatogr. A 1503, 57–64 (2017).

Keith, H. et al. Multiple measurements constrain estimates of net carbon exchange by a Eucalyptus forest. Agric. For. Meteorol. 149, 535–558 (2009).

Bates, D., Machler, M., Bolker, B. M. & Walker, S. C. Fitting linear mixed-effects models using lme4. J. Stat. Softw. 67, 1–48 (2015).

R Core Team. R: A Language And Environment For Statistical Computing https://www.R-project.org/ (R Foundation for Statistical Computing, 2018).

Ouimette, A. P. et al. Accounting for carbon flux to mycorrhizal fungi may resolve discrepancies in forest carbon budgets. Ecosystems https://doi.org/10.1007/s10021-019-00440-3 (2019).

Harris, I., Jones, P. D., Osborn, T. J. & Lister, D. H. Updated high-resolution grids of monthly climatic observations—the CRU TS3.10 dataset. Int. J. Climatol. 34, 623–642 (2014).

Olson, D. M. et al. Terrestrial ecoregions of the world: a new map of life on Earth. Bioscience 51, 933–938 (2001).

Jiang, M., Felzer, B. S., Nielsen, U. N. & Medlyn, B. E. Biome-specific climatic space defined by temperature and precipitation predictability. Glob. Ecol. Biogeogr. 26, 1270–1282 (2017).

Scarascia-Mugnozza, G. et al. Response to elevated CO2 of a short rotation, multispecies Poplar plantation: the POPFACE/EUROFACE experiment. In Managed Ecosystems and CO 2 (eds. Nösberger, J. et al.) 173–195 (Springer, 2006).

Linder, S. NPP Boreal Forest: Flakaliden, Sweden, 1986-1996, R1. Dataset at https://doi.org/10.3334/ORNLDAAC/201 (Oak Ridge National Laboratory Distributed Active Archive Center, 2013).

Anderson-Teixeira, K. J. et al. ForC: a global database of forest carbon stock and fluxes. Ecology 99, 1507 (2018).

Shangguan, W., Dai, Y., Duan, Q., Liu, B. & Yuan, H. A global soil data set for Earth system modelling. J. Adv. Model. Earth Syst. 6, 249–263 (2014).

Yang, X., Post, W.M., Thornton, P.E. and Jain, A. Global gridded soil phosphorus distribution maps at 0.5-degree resolution. Dataset at https://doi.org/10.3334/ORNLDAAC/1223 (Oak Ridge National Laboratory Distributed Active Archive Center, 2014).
Acknowledgements
EucFACE was built as an initiative of the Australian Government as part of the Nation-building Economic Stimulus Package, and is supported by the Australian Commonwealth in collaboration with Western Sydney University. We acknowledge technical support by V. Kumar, C. McNamara and S. Wohl, and the team who assisted with data collection. This work was partially supported by the following grants from the Australian Research Council (ARC): DP130102501 (to J.R.P. and I.C.A.), DP170104634 (to B.K.S. and P.B.R.), DP170102766 (to E.P. and M.G.T.), DP110105102 and DP160102452 (to D.S.E.). M.G.D.K. acknowledges funding from the ARC Centre of Excellence for Climate Extremes (CE170100023), the ARC Discovery Grant (DP190101823) and support from the NSW Research Attraction and Acceleration Program. R.L.S received funding from Research Foundation Flanders and the European Union's Horizon 2020 research and innovation programme under the Marie Skłodowska-Curie grant agreement number 665501. R.O.-H. is financially supported by a Ramón y Cajal Fellowship from MICIU (RYC-2017-22032). E.H.J.N. and B.M.d.S. received funding from the VILLUM Center for Plant Plasticity (VKR023054), the VILLUM Young Investor Program fellowship (VKR013167), and a Danish Independent Research Council Sapere Aude Research Talent Post-Doctoral Stipend (6111-00379B). Ü.N. and A.K. were supported by the European Commission through the European Regional Fund (Center of Excellence EcolChange). S.Z. was supported by the European Research Council under the European Union's Horizon 2020 research and innovation programme (grant agreement number 647204, QUINCY).
Ethics declarations
Competing interests
The authors declare no competing interests.
Additional information
Peer review information Nature thanks Kirsti Ashworth, Benjamin Bond-Lamberty, Yiqi Luo and Andrew Richardson for their contribution to the peer review of this work.
Publisher's note Springer Nature remains neutral with regard to jurisdictional claims in published maps and institutional affiliations.
Extended data figures and tables
Supplementary information
This file contains Supplementary Tables S1–S2 and Supplementary Figures S1–S20.
About this article
Cite this article
Jiang, M., Medlyn, B.E., Drake, J.E. et al. The fate of carbon in a mature forest under carbon dioxide enrichment. Nature 580, 227–231 (2020). https://doi.org/10.1038/s41586-020-2128-9
Received:

Accepted:

Published:

Issue Date:

DOI: https://doi.org/10.1038/s41586-020-2128-9
Comments
By submitting a comment you agree to abide by our Terms and Community Guidelines. If you find something abusive or that does not comply with our terms or guidelines please flag it as inappropriate.