Abstract
Paternal and maternal epigenomes undergo marked changes after fertilization1. Recent epigenomic studies have revealed the unusual chromatin landscapes that are present in oocytes, sperm and early preimplantation embryos, including atypical patterns of histone modifications2,3,4 and differences in chromosome organization and accessibility, both in gametes5,6,7,8 and after fertilization5,8,9,10. However, these studies have led to very different conclusions: the global absence of local topological-associated domains (TADs) in gametes and their appearance in the embryo8,9 versus the pre-existence of TADs and loops in the zygote5,11. The questions of whether parental structures can be inherited in the newly formed embryo and how these structures might relate to allele-specific gene regulation remain open. Here we map genomic interactions for each parental genome (including the X chromosome), using an optimized single-cell high-throughput chromosome conformation capture (HiC) protocol12,13, during preimplantation in the mouse. We integrate chromosome organization with allelic expression states and chromatin marks, and reveal that higher-order chromatin structure after fertilization coincides with an allele-specific enrichment of methylation of histone H3 at lysine 27. These early parental-specific domains correlate with gene repression and participate in parentally biased gene expression—including in recently described, transiently imprinted loci14. We also find TADs that arise in a non-parental-specific manner during a second wave of genome assembly. These de novo domains are associated with active chromatin. Finally, we obtain insights into the relationship between TADs and gene expression by investigating structural changes to the paternal X chromosome before and during X chromosome inactivation in preimplantation female embryos15. We find that TADs are lost as genes become silenced on the paternal X chromosome but linger in regions that escape X chromosome inactivation. These findings demonstrate the complex dynamics of three-dimensional genome organization and gene expression during early development.
Relevant articles
Open Access articles citing this article.
Samuel Collombet

,

Isabell Rall

…

Edith Heard

Nature Structural & Molecular Biology Open Access 08 June 2023

Ariane Lismer

&

Sarah Kimmins

Nature Communications Open Access 14 April 2023

Mengjie Chen

,

Xingyu Liu

…

Hui Li

Cellular & Molecular Biology Letters Open Access 06 March 2023
Access options
Access Nature and 54 other Nature Portfolio journals
Get Nature+, our best-value online-access subscription
$29.99 / 30 days
cancel any time
Subscribe to this journal
Receive 51 print issues and online access
$199.00 per year
only $3.90 per issue
Rent or buy this article
Prices vary by article type
from$1.95
to$39.95
Prices may be subject to local taxes which are calculated during checkout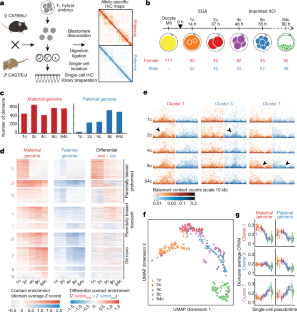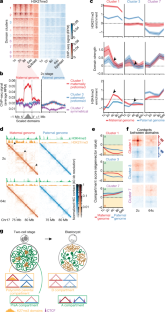 Data availability
The HiC data generated and analysed are available in the GEO repository under accession number GSE129029. Previously published data were downloaded from GEO: H3K27me3 in early embryos (GSE76687); H3K27me3 in day-5 post-natal oocytes (GSE93941); single-cell RNA sequencing in early embryos (GSE80810); and HiC in gametes and early embryos (GSE82185). Source Data for Figs. 3, 4 and Extended Data Fig. 2, 6 are provided with the paper. Any other relevant data are available from the corresponding authors upon reasonable request.
References
Burton, A. & Torres-Padilla, M.-E. Chromatin dynamics in the regulation of cell fate allocation during early embryogenesis. Nat. Rev. Mol. Cell Biol. 15, 723–735 (2014).

Wu, J. et al. The landscape of accessible chromatin in mammalian preimplantation embryos. Nature 534, 652–657 (2016).

Dahl, J. A. et al. Broad histone H3K4me3 domains in mouse oocytes modulate maternal-to-zygotic transition. Nature 537, 548–552 (2016).

Liu, X. et al. Distinct features of H3K4me3 and H3K27me3 chromatin domains in pre-implantation embryos. Nature 537, 558–562 (2016).

Flyamer, I. M. et al. Single-nucleus Hi-C reveals unique chromatin reorganization at oocyte-to-zygote transition. Nature 544, 110–114 (2017).

Battulin, N. et al. Comparison of the three-dimensional organization of sperm and fibroblast genomes using the Hi-C approach. Genome Biol. 16, 77 (2015).

Jung, Y. H. et al. Chromatin states in mouse sperm correlate with embryonic and adult regulatory landscapes. Cell Rep. 18, 1366–1382 (2017).

Ke, Y. et al. 3D chromatin structures of mature gametes and structural reprogramming during mammalian embryogenesis. Cell 170, 367–381.e20 (2017).

Du, Z. et al. Allelic reprogramming of 3D chromatin architecture during early mammalian development. Nature 547, 232–235 (2017).

Wu, J. et al. Chromatin analysis in human early development reveals epigenetic transition during ZGA. Nature 557, 256–260 (2018).

Gassler, J. et al. A mechanism of cohesin-dependent loop extrusion organizes zygotic genome architecture. EMBO J. 36, 3600–3618 (2017).

Nagano, T. et al. Single-cell Hi-C reveals cell-to-cell variability in chromosome structure. Nature 502, 59–64 (2013).

Nagano, T. et al. Cell-cycle dynamics of chromosomal organization at single-cell resolution. Nature 547, 61–67 (2017).

Inoue, A., Jiang, L., Lu, F., Suzuki, T. & Zhang, Y. Maternal H3K27me3 controls DNA methylation-independent imprinting. Nature 547, 419–424 (2017).

Okamoto, I., Otte, A. P., Allis, C. D., Reinberg, D. & Heard, E. Epigenetic dynamics of imprinted X inactivation during early mouse development. Science 303, 644–649 (2004).

Naumova, N. et al. Organization of the mitotic chromosome. Science 342, 948–953 (2013).

Zheng, H. et al. Resetting epigenetic memory by reprogramming of histone modifications in mammals. Mol. Cell 63, 1066–1079 (2016).

Zhang, B. et al. Allelic reprogramming of the histone modification H3K4me3 in early mammalian development. Nature 537, 553–557 (2016).

Nora, E. P. et al. Targeted degradation of CTCF decouples local insulation of chromosome domains from genomic compartmentalization. Cell 169, 930–944.e22 (2017).

Borensztein, M. et al. Xist-dependent imprinted X inactivation and the early developmental consequences of its failure. Nat. Struct. Mol. Biol. 24, 226–233 (2017).

Inoue, A., Jiang, L., Lu, F. & Zhang, Y. Genomic imprinting of Xist by maternal H3K27me3. Genes Dev. 31, 1927–1932 (2017).

Nora, E. P. et al. Spatial partitioning of the regulatory landscape of the X-inactivation centre. Nature 485, 381–385 (2012).

Okamoto, I. et al. Evidence for de novo imprinted X-chromosome inactivation independent of meiotic inactivation in mice. Nature 438, 369–373 (2005).

Tian, D., Sun, S. & Lee, J. T. The long noncoding RNA, Jpx, is a molecular switch for X chromosome inactivation. Cell 143, 390–403 (2010).

Soma, M., Fujihara, Y., Okabe, M., Ishino, F. & Kobayashi, S. Ftx is dispensable for imprinted X-chromosome inactivation in preimplantation mouse embryos. Sci. Rep. 4, 5181 (2014).

Giorgetti, L. et al. Structural organization of the inactive X chromosome in the mouse. Nature 535, 575–579 (2016).

Deng, X. et al. Bipartite structure of the inactive mouse X chromosome. Genome Biol. 16, 152 (2015).

Chaumeil, J., Le Baccon, P., Wutz, A. & Heard, E. A novel role for Xist RNA in the formation of a repressive nuclear compartment into which genes are recruited when silenced. Genes Dev. 20, 2223–2237 (2006).

Schwarzer, W. et al. Two independent modes of chromatin organization revealed by cohesin removal. Nature 551, 51–56 (2017).

Borsos, M. et al. Genome–lamina interactions are established de novo in the early mouse embryo. Nature 569, 729–733 (2019).

Laing, A. F., Lowell, S. & Brickman, J. M. Gro/TLE enables embryonic stem cell differentiation by repressing pluripotent gene expression. Dev. Biol. 397, 56–66 (2015).

Galupa, R. & Heard, E. X-chromosome inactivation: a crossroads between chromosome architecture and gene regulation. Annu. Rev. Genet. 52, 535–566 (2018).

Servant, N. et al. HiC-Pro: an optimized and flexible pipeline for Hi-C data processing. Genome Biol. 16, 259 (2015).

Pu, J., Zheng, B., Leader, J. K. & Gur, D. An ellipse-fitting based method for efficient registration of breast masses on two mammographic views. Med. Phys. 35, 487–494 (2008).

Kerpedjiev, P. et al. HiGlass: web-based visual exploration and analysis of genome interaction maps. Genome Biol. 19, 125 (2018).

Norton, H. K. et al. Detecting hierarchical genome folding with network modularity. Nat. Methods 15, 119–122 (2018).

Ramírez, F. et al. High-resolution TADs reveal DNA sequences underlying genome organization in flies. Nat. Commun. 9, 189 (2018).

Kumar, L. & E. Futschik, M. Mfuzz: a software package for soft clustering of microarray data. Bioinformation 2, 5–7 (2007).

Cao, J. et al. The single-cell transcriptional landscape of mammalian organogenesis. Nature 566, 496–502 (2019).

Servant, N. et al. HiTC: exploration of high-throughput 'C' experiments. Bioinformatics 28, 2843–2844 (2012).

Tan, L., Xing, D., Chang, C.-H., Li, H. & Xie, X. S. Three-dimensional genome structures of single diploid human cells. Science 361, 924–928 (2018).

Dobin, A. et al. STAR: ultrafast universal RNA-seq aligner. Bioinformatics 29, 15–21 (2013).

Ramírez, F., Dündar, F., Diehl, S., Grüning, B. A. & Manke, T. deepTools: a flexible platform for exploring deep-sequencing data. Nucleic Acids Res. 42, W187–W191 (2014).

Liao, Y., Smyth, G. K. & Shi, W. The Subread aligner: fast, accurate and scalable read mapping by seed-and-vote. Nucleic Acids Res. 41, e108 (2013).

Love, M. I., Huber, W. & Anders, S. Moderated estimation of fold change and dispersion for RNA-seq data with DESeq2. Genome Biol. 15, 550 (2014).

Chaumeil, J., Augui, S., Chow, J. C. & Heard, E. in The Nucleus (ed. Hancock, R.) 297–308 (Springer, 2008).

Wang, H. et al. One-step generation of mice carrying mutations in multiple genes by CRISPR/Cas-mediated genome engineering. Cell 153, 910–918 (2013).

Haeussler, M. et al. Evaluation of off-target and on-target scoring algorithms and integration into the guide RNA selection tool CRISPOR. Genome Biol. 17, 148 (2016).

Vandesompele, J. et al. Accurate normalization of real-time quantitative RT-PCR data by geometric averaging of multiple internal control genes. Genome Biol. 3, RESEARCH0034 (2002).
Acknowledgements
We thank the Institut Curie Animal facility for animal welfare and husbandry; the imaging facility PICTIBiSA@BDD for technical assistance; members of the E.H. laboratory for critical input; Y. Komarnitskaya for graphic design; and F. Ramirez and G. Richard for their help with bioinformatic analysis. This work was supported by FRM (FDM20140630223 and FDM40917) to N.R., ERC Advanced Grant DEVOCHROMO to P.F., by ERC Advanced Investigator Awards ERC-ADG-2014 671027 and Labellisation la Ligue, Labex DEEP: ANR-11- LBX-0044, IDEX PSL: ANR-10-IDEX-0001-02 PSL to E.H.
Ethics declarations
Competing interests
The authors declare no competing interests.
Additional information
Peer review information Nature thanks Takashi Sado and the other, anonymous, reviewer(s) for their contribution to the peer review of this work.
Publisher's note Springer Nature remains neutral with regard to jurisdictional claims in published maps and institutional affiliations.
Extended data figures and tables
Supplementary information
About this article
Cite this article
Collombet, S., Ranisavljevic, N., Nagano, T. et al. Parental-to-embryo switch of chromosome organization in early embryogenesis. Nature 580, 142–146 (2020). https://doi.org/10.1038/s41586-020-2125-z
Received:

Accepted:

Published:

Issue Date:

DOI: https://doi.org/10.1038/s41586-020-2125-z
Comments
By submitting a comment you agree to abide by our Terms and Community Guidelines. If you find something abusive or that does not comply with our terms or guidelines please flag it as inappropriate.