Abstract
Species that propagate by sexual reproduction actively guard against the fertilization of an egg by multiple sperm (polyspermy). Flowering plants rely on pollen tubes to transport their immotile sperm to fertilize the female gametophytes inside ovules. In Arabidopsis, pollen tubes are guided by cysteine-rich chemoattractants to target the female gametophyte1,2. The FERONIA receptor kinase has a dual role in ensuring sperm delivery and blocking polyspermy3. It has previously been reported that FERONIA generates a female gametophyte environment that is required for sperm release4. Here we show that FERONIA controls several functionally linked conditions to prevent the penetration of female gametophytes by multiple pollen tubes in Arabidopsis. We demonstrate that FERONIA is crucial for maintaining de-esterified pectin at the filiform apparatus, a region of the cell wall at the entrance to the female gametophyte. Pollen tube arrival at the ovule triggers the accumulation of nitric oxide at the filiform apparatus in a process that is dependent on FERONIA and mediated by de-esterified pectin. Nitric oxide nitrosates both precursor and mature forms of the chemoattractant LURE11, respectively blocking its secretion and interaction with its receptor, to suppress pollen tube attraction. Our results elucidate a mechanism controlled by FERONIA in which the arrival of the first pollen tube alters ovular conditions to disengage pollen tube attraction and prevent the approach and penetration of the female gametophyte by late-arriving pollen tubes, thus averting polyspermy.
Relevant articles
Open Access articles citing this article.
Jiabao Huang

,

Lin Yang

…

Qiaohong Duan

Nature Open Access 25 January 2023

Gaopeng Wang

,

Zhifang Zhao

…

Jiangbo Fan

Molecular Horticulture Open Access 18 November 2022

Patrick von Aderkas

,

Stefan Little

…

Tokushiro Takaso

The Botanical Review Open Access 01 January 2022
Access options
Access Nature and 54 other Nature Portfolio journals
Get Nature+, our best-value online-access subscription
$29.99 per month
cancel any time
Subscribe to this journal
Receive 51 print issues and online access
$199.00 per year
only $3.90 per issue
Rent or buy this article
Get just this article for as long as you need it
$39.95
Prices may be subject to local taxes which are calculated during checkout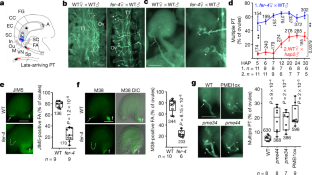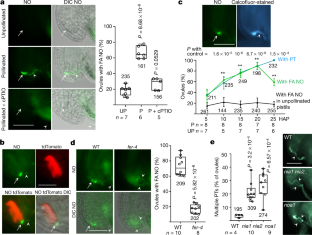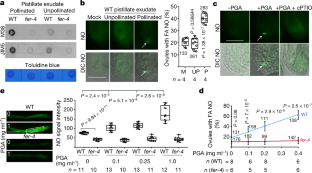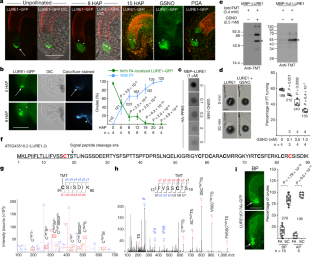 References
Takeuchi, H. & Higashiyama, T. A species-specific cluster of defensin-like genes encodes diffusible pollen tube attractants in Arabidopsis. PLoS Biol. 10, e1001449 (2012).

Zhong, S. et al. Cysteine-rich peptides promote interspecific genetic isolation in Arabidopsis. Science 364, eaau9564 (2019).

Li, C., Wu, H. M. & Cheung, A. Y. FERONIA and her pals: functions and mechanisms. Plant Physiol. 171, 2379–2392 (2016).

Duan, Q. et al. Reactive oxygen species mediate pollen tube rupture to release sperm for fertilization in Arabidopsis. Nat. Commun. 5, 3129 (2014).

Dresselhaus, T. & Franklin-Tong, N. Male–female crosstalk during pollen germination, tube growth and guidance, and double fertilization. Mol. Plant 6, 1018–1036 (2013).

Higashiyama, T. & Yang, W. C. Gametophytic pollen tube guidance: attractant peptides, gametic controls, and receptors. Plant Physiol. 173, 112–121 (2017).

Wu, H., de Graaf, B., Mariani, C. & Cheung, A. Y. Hydroxyproline-rich glycoproteins in plant reproductive tissues: structure, functions and regulation. Cell. Mol. Life Sci. 58, 1418–1429 (2001).

Cheung, A. Y., Wang, H. & Wu, H. M. A floral transmitting tissue-specific glycoprotein attracts pollen tubes and stimulates their growth. Cell 82, 383–393 (1995).

Escobar-Restrepo, J. M. et al. The FERONIA receptor-like kinase mediates male–female interactions during pollen tube reception. Science 317, 656–660 (2007).

Duan, Q., Kita, D., Li, C., Cheung, A. Y. & Wu, H.-M. FERONIA receptor-like kinase regulates RHO GTPase signaling of root hair development. Proc. Natl Acad. Sci. USA 107, 17821–17826 (2010).

Punwani, J. A., Rabiger, D. S. & Drews, G. N. MYB98 positively regulates a battery of synergid-expressed genes encoding filiform apparatus localized proteins. Plant Cell 19, 2557–2568 (2007).

Beale, K. M., Leydon, A. R. & Johnson, M. A. Gamete fusion is required to block multiple pollen tubes from entering an Arabidopsis ovule. Curr. Biol. 22, 1090–1094 (2012).

Kasahara, R. D. et al. Fertilization recovery after defective sperm cell release in Arabidopsis. Curr. Biol. 22, 1084–1089 (2012).

Maruyama, D. et al. Rapid elimination of the persistent synergid through a cell fusion mechanism. Cell 161, 907–918 (2015).

Feng, W. et al. The FERONIA receptor kinase maintains cell-wall integrity during salt stress through Ca2+ signaling. Curr. Biol. 28, 666–675.e5 (2018).

Peaucelle, A., Braybrook, S. & Höfte, H. Cell wall mechanics and growth control in plants: the role of pectins revisited. Front. Plant Sci. 3, 121 (2012).

Hou, W.-C., Chang, W.-H. & Jiang, C.-M. Qualitative distinction of carboxyl group distribution in pectins with ruthenium red. Bot. Bull. Acad. Sin. 40, 115–119 (1999).

Pattathil, S. et al. A comprehensive toolkit of plant cell wall glycan-directed monoclonal antibodies. Plant Physiol. 153, 514–525 (2010).

Peaucelle, A. et al. Arabidopsis phyllotaxis is controlled by the methyl-esterification status of cell-wall pectins. Curr. Biol. 18, 1943–1948 (2008).

Wolf, S., Mravec, J., Greiner, S., Mouille, G. & Höfte, H. Plant cell wall homeostasis is mediated by brassinosteroid feedback signaling. Curr. Biol. 22, 1732–1737 (2012).

Besson-Bard, A., Pugin, A. & Wendehenne, D. New insights into nitric oxide signaling in plants. Annu. Rev. Plant Biol. 59, 21–39 (2008).

Domingos, P., Prado, A. M., Wong, A., Gehring, C. & Feijo, J. A. Nitric oxide: a multitasked signaling gas in plants. Mol. Plant 8, 506–520 (2015).

Planchet, E. & Kaiser, W. M. Nitric oxide (NO) detection by DAF fluorescence and chemiluminescence: a comparison using abiotic and biotic NO sources. J. Exp. Bot. 57, 3043–3055 (2006).

Boavida, L. C., Borges, F., Becker, J. D. & Feijó, J. A. Whole genome analysis of gene expression reveals coordinated activation of signaling and metabolic pathways during pollen–pistil interactions in Arabidopsis. Plant Physiol. 155, 2066–2080 (2011).

Rasul, S. et al. Nitric oxide production mediates oligogalacturonide-triggered immunity and resistance to Botrytis cinerea in Arabidopsis thaliana. Plant Cell Environ. 35, 1483–1499 (2012).

Takeuchi, H. & Higashiyama, T. Tip-localized receptors control pollen tube growth and LURE sensing in Arabidopsis. Nature 531, 245–248 (2016).

Zhang, X. et al. Structural basis for receptor recognition of pollen tube attraction peptides. Nat. Commun. 8, 1331 (2017).

Clausen, M. H., Willats, W. G. & Knox, J. P. Synthetic methyl hexagalacturonate hapten inhibitors of anti-homogalacturonan monoclonal antibodies LM7, JIM5 and JIM7. Carbohydr. Res. 338, 1797–1800 (2003).

Hruz, T. et al. Genevestigator v3: a reference expression database for the meta-analysis of transcriptomes. Adv. Bioinformatics 2008, 420747 (2008).

Huang, Y. C. et al. PECTIN METHYLESTERASE34 contributes to heat tolerance through its role in promoting stomatal movement. Plant Physiol. 174, 748–763 (2017).

Terrile, M. C. et al. Nitric oxide influences auxin signaling through S-nitrosylation of the Arabidopsis TRANSPORT INHIBITOR RESPONSE 1 auxin receptor. Plant J. 70, 492–500 (2012).

Prado, A. M., Porterfield, D. M. & Feijó, J. A. Nitric oxide is involved in growth regulation and re-orientation of pollen tubes. Development 131, 2707–2714 (2004).

Wilkinson, J. Q. & Crawford, N. M. Identification and characterization of a chlorate-resistant mutant of Arabidopsis thaliana with mutations in both nitrate reductase structural genes NIA1 and NIA2. Mol. Gen. Genet. 239, 289–297 (1993).

Sanz, L. et al. Nitric oxide plays a role in stem cell niche homeostasis through its interaction with auxin. Plant Physiol. 166, 1972–1984 (2014).

Guo, F. Q., Okamoto, M. & Crawford, N. M. Identification of a plant nitric oxide synthase gene involved in hormonal signaling. Science 302, 100–103 (2003).

Moreau, M., Lee, G. I., Wang, Y., Crane, B. R. & Klessig, D. F. AtNOS/AtNOA1 is a functional Arabidopsis thaliana cGTPase and not a nitric-oxide synthase. J. Biol. Chem. 283, 32957–32967 (2008).

Okuda, S. et al. Defensin-like polypeptide LUREs are pollen tube attractants secreted from synergid cells. Nature 458, 357–361 (2009).

Qu, Z. et al. Proteomic quantification and site-mapping of S-nitrosylated proteins using isobaric iodoTMT reagents. J. Proteome Res. 13, 3200–3211 (2014).

Clough, S. J. & Bent, A. F. Floral dip: a simplified method for Agrobacterium-mediated transformation of Arabidopsis thaliana. Plant J. 16, 735–743 (1998).

Schiøtt, M. et al. A plant plasma membrane Ca2+ pump is required for normal pollen tube growth and fertilization. Proc. Natl Acad. Sci. USA 101, 9502–9507 (2004).

Sheng, X. et al. Lead stress disrupts the cytoskeleton organization and cell wall construction during Picea wilsonii pollen germination and tube growth. Biol. Trace Elem. Res. 146, 86–93 (2012).

Chebli, Y., Kaneda, M., Zerzour, R. & Geitmann, A. The cell wall of the Arabidopsis pollen tube—spatial distribution, recycling, and network formation of polysaccharides. Plant Physiol. 160, 1940–1955 (2012).

Leroux, C. et al. PECTIN METHYLESTERASE48 is involved in Arabidopsis pollen grain germination. Plant Physiol. 167, 367–380 (2015).

Ischebeck, T., Stenzel, I. & Heilmann, I. Type B phosphatidylinositol-4-phosphate 5-kinases mediate Arabidopsis and Nicotiana tabacum pollen tube growth by regulating apical pectin secretion. Plant Cell 20, 3312–3330 (2008).

Pleskot, R. et al. Turnover of phosphatidic acid through distinct signaling pathways affects multiple aspects of pollen tube growth in tobacco. Front Plant Sci. 3, 54 (2012).

Smyth, D. R., Bowman, J. L. & Meyerowitz, E. M. Early flower development in Arabidopsis. Plant Cell 2, 755–767 (1990).

Chormova, D., Messenger, D. J. & Fry, S. C. Boron bridging of rhamnogalacturonan-II, monitored by gel electrophoresis, occurs during polysaccharide synthesis and secretion but not post-secretion. Plant J. 77, 534–546 (2014).

Nilesh, R. et al. Extraction of pectin from citrus fruit peel and use as natural binder in paracetamol tablet. Pharm. Lett. 4, 558–564 (2012).
Acknowledgements
We thank G. Drews for DD2p::DD2 (AtLURE1)-GFP seeds; M. Johnson for hap2/+ seeds; B. McClure for LAT52::tdTomato transformed Arabidopsis seeds; H. Hofte for 35S:PMEI5 seeds; a large number of undergraduates who helped with plant growth and maintenance over many years, and K. McNamara and T. Lichoulas, in particular, for contributing to protein purifications; P. Huesgen and R. Tomaino for advice, and the Harvard Medical School Talpin mass spectrometry facility for service; and Y.-j. Zou for the blue-dot assay shown in Extended Data Fig. 1a. M.-C.J.L. was partially supported by the Ministry of Science and Technology Overseas Project, 2013 Graduate Student Study Abroad Program; and L.E.G.V. was partially supported by a fellowship from Estancias Posdoctorales en el Extranjero, Vinculadas a la Consolidación de Grupos de Investigación y Fortalecimiento del Posgrado Nacional 2018. This work was supported by grants from the NSF (IOS-1147165, -1146941, -1645854 and MCB-1715764 to A.Y.C. and H.-M.W.). Mass spectrometry data were partially obtained at the University of Massachusetts Mass Spectrometry Center, a facility supported by the National Institutes of Health (S10OD010645); the plant growth facility was partially supported by NIFA/USDA, the Center for Agriculture, Food and the Environment, under project number MAS00525. The content is solely the responsibility of the authors and does not necessarily represent the official views of the National Institutes of Health, USDA or NIFA. Confocal microscopy was performed in the Light Microscopy Facility and Nikon Center of Excellence at the Institute for Applied Life Sciences, University of Massachusetts with support from the Massachusetts Life Science Center.
Ethics declarations
Competing interests
The authors declare no competing interests.
Additional information
Peer review information Nature thanks John Hancock, Hermanus Hofte and the other, anonymous, reviewer(s) for their contribution to the peer review of this work.
Publisher's note Springer Nature remains neutral with regard to jurisdictional claims in published maps and institutional affiliations.
Extended data figures and tables
Supplementary information
Workflow for Iodoacetyl Tandem Mass Tag (iodoTMT) of MBP-LURE1 for LC-MS/MS analysis according to Thermo Scientific Manual with modifications.
About this article
Cite this article
Duan, Q., Liu, MC.J., Kita, D. et al. FERONIA controls pectin- and nitric oxide-mediated male–female interaction. Nature 579, 561–566 (2020). https://doi.org/10.1038/s41586-020-2106-2
Received:

Accepted:

Published:

Issue Date:

DOI: https://doi.org/10.1038/s41586-020-2106-2
Comments
By submitting a comment you agree to abide by our Terms and Community Guidelines. If you find something abusive or that does not comply with our terms or guidelines please flag it as inappropriate.