Abstract
The conserved yeast E3 ubiquitin ligase Bre1 and its partner, the E2 ubiquitin-conjugating enzyme Rad6, monoubiquitinate histone H2B across gene bodies during the transcription cycle1. Although processive ubiquitination might—in principle—arise from Bre1 and Rad6 travelling with RNA polymerase II2, the mechanism of H2B ubiquitination across genic nucleosomes remains unclear. Here we implicate liquid–liquid phase separation3 as the underlying mechanism. Biochemical reconstitution shows that Bre1 binds the scaffold protein Lge1, which possesses an intrinsically disordered region that phase-separates via multivalent interactions. The resulting condensates comprise a core of Lge1 encapsulated by an outer catalytic shell of Bre1. This layered liquid recruits Rad6 and the nucleosomal substrate, which accelerates the ubiquitination of H2B. In vivo, the condensate-forming region of Lge1 is required to ubiquitinate H2B in gene bodies beyond the +1 nucleosome. Our data suggest that layered condensates of histone-modifying enzymes generate chromatin-associated 'reaction chambers', with augmented catalytic activity along gene bodies. Equivalent processes may occur in human cells, and cause neurological disease when impaired.
Relevant articles
Open Access articles citing this article.
Ji Min Lee

,

Henrik M. Hammarén

…

Sung Hee Baek

Nature Communications Open Access 13 January 2023

Jingxian Li

,

Mengdi Zhang

…

Long Zhang

Molecular Biomedicine Open Access 11 May 2022

Shuang-zhou Peng

,

Xiao-hui Chen

…

Xiao-kun Zhang

Nature Communications Open Access 13 October 2021
Access options
Access Nature and 54 other Nature Portfolio journals
Get Nature+, our best-value online-access subscription
$29.99 per month
cancel any time
Subscribe to this journal
Receive 51 print issues and online access
$199.00 per year
only $3.90 per issue
Rent or buy this article
Get just this article for as long as you need it
$39.95
Prices may be subject to local taxes which are calculated during checkout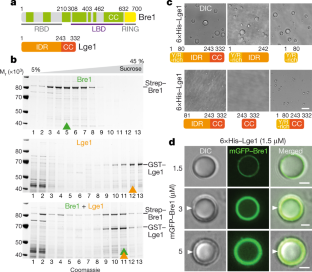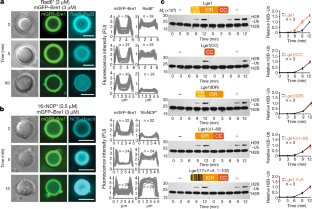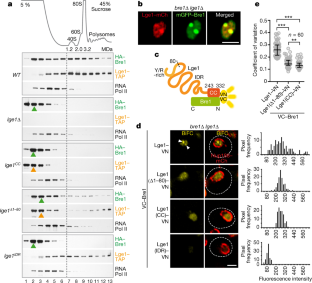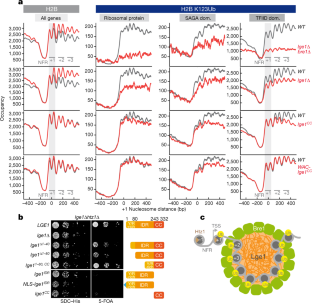 Data availability
ChIP-exo sequencing files can be accessed at NCBI Gene Expression Omnibus (https://www.ncbi.nlm.nih.gov/geo/), with the accession number GSE131639. All source data (that is, uncropped gels and western blots) associated with the paper are provided in Supplementary Figs. 1, 2.
References
Fuchs, G. & Oren, M. Writing and reading H2B monoubiquitylation. Biochim. Biophys. Acta 1839, 694–701 (2014).

Weake, V. M. & Workman, J. L. Histone ubiquitination: triggering gene activity. Mol. Cell 29, 653–663 (2008).

Banani, S. F., Lee, H. O., Hyman, A. A. & Rosen, M. K. Biomolecular condensates: organizers of cellular biochemistry. Nat. Rev. Mol. Cell Biol. 18, 285–298 (2017).

Batta, K., Zhang, Z., Yen, K., Goffman, D. B. & Pugh, B. F. Genome-wide function of H2B ubiquitylation in promoter and genic regions. Genes Dev. 25, 2254–2265 (2011).

Cucinotta, C. E., Young, A. N., Klucevsek, K. M. & Arndt, K. M. The nucleosome acidic patch regulates the H2B K123 monoubiquitylation cascade and transcription elongation in Saccharomyces cerevisiae. PLoS Genet. 11, e1005420 (2015).

Gallego, L. D. et al. Structural mechanism for the recognition and ubiquitination of a single nucleosome residue by Rad6–Bre1. Proc. Natl Acad. Sci. USA 113, 10553–10558 (2016).

Hwang, W. W. et al. A conserved RING finger protein required for histone H2B monoubiquitination and cell size control. Mol. Cell 11, 261–266 (2003).

Kim, J. et al. RAD6-mediated transcription-coupled H2B ubiquitylation directly stimulates H3K4 methylation in human cells. Cell 137, 459–471 (2009).

Wood, A. et al. Bre1, an E3 ubiquitin ligase required for recruitment and substrate selection of Rad6 at a promoter. Mol. Cell 11, 267–274 (2003).

Van Oss, S. B. et al. The histone modification domain of Paf1 complex subunit Rtf1 directly stimulates H2B ubiquitylation through an interaction with Rad6. Mol. Cell 64, 815–825 (2016).

Zhang, F. & Yu, X. WAC, a functional partner of RNF20/40, regulates histone H2B ubiquitination and gene transcription. Mol. Cell 41, 384–397 (2011).

Alberti, S. Phase separation in biology. Curr. Biol. 27, R1097–R1102 (2017).

Shin, Y. & Brangwynne, C. P. Liquid phase condensation in cell physiology and disease. Science 357, eaaf4382 (2017).

Gibson, B. A. et al. Organization of chromatin by intrinsic and regulated phase separation. Cell 179, 470–484 (2019).

Larson, A. G. et al. Liquid droplet formation by HP1α suggests a role for phase separation in heterochromatin. Nature 547, 236–240 (2017).

Boija, A. et al. Transcription factors activate genes through the phase-separation capacity of their activation domains. Cell 175, 1842–1855 (2018).

Cho, W. K. et al. Mediator and RNA polymerase II clusters associate in transcription-dependent condensates. Science 361, 412–415 (2018).

Chong, S. et al. Imaging dynamic and selective low-complexity domain interactions that control gene transcription. Science 361, eaar2555 (2018).

Sabari, B. R. et al. Coactivator condensation at super-enhancers links phase separation and gene control. Science 361, eaar3958 (2018).

Turco, E., Gallego, L. D., Schneider, M. & Köhler, A. Monoubiquitination of histone H2B is intrinsic to the Bre1 RING domain–Rad6 interaction and augmented by a second Rad6-binding site on Bre1. J. Biol. Chem. 290, 5298–5310 (2015).

Wei, M. T. et al. Phase behaviour of disordered proteins underlying low density and high permeability of liquid organelles. Nat. Chem. 9, 1118–1125 (2017).

Wang, J. et al. A molecular grammar governing the driving forces for phase separation of prion-like RNA binding proteins. Cell 174, 688–699 (2018).

Rossi, M. J., Lai, W. K. M. & Pugh, B. F. Simplified ChIP-exo assays. Nat. Commun. 9, 2842 (2018).

Huisinga, K. L. & Pugh, B. F. A genome-wide housekeeping role for TFIID and a highly regulated stress-related role for SAGA in Saccharomyces cerevisiae. Mol. Cell 13, 573–585 (2004).

Reja, R., Vinayachandran, V., Ghosh, S. & Pugh, B. F. Molecular mechanisms of ribosomal protein gene coregulation. Genes Dev. 29, 1942–1954 (2015).

Elbaum-Garfinkle, S. et al. The disordered P granule protein LAF-1 drives phase separation into droplets with tunable viscosity and dynamics. Proc. Natl Acad. Sci. USA 112, 7189–7194 (2015).

Lai, W. K. M. & Pugh, B. F. Understanding nucleosome dynamics and their links to gene expression and DNA replication. Nat. Rev. Mol. Cell Biol. 18, 548–562 (2017).

DeSanto, C. et al. WAC loss-of-function mutations cause a recognisable syndrome characterised by dysmorphic features, developmental delay and hypotonia and recapitulate 10p11.23 microdeletion syndrome. J. Med. Genet. 52, 754–761 (2015).

Vinayachandran, V. et al. Widespread and precise reprogramming of yeast protein-genome interactions in response to heat shock. Genome Res. 28, 357–366 (2018).

Li, H. Aligning sequence reads, clone sequences and assembly contigs with BWA-MEM. Preprint at https://arxiv.org/abs/1303.3997 (2013).

Bartonek, L. & Zagrovic, B. VOLPES: an interactive web-based tool for visualizing and comparing physicochemical properties of biological sequences. Nucleic Acids Res. 47, W632–W635 (2019).

Armstrong, J. K., Wenby, R. B., Meiselman, H. J. & Fisher, T. C. The hydrodynamic radii of macromolecules and their effect on red blood cell aggregation. Biophys. J. 87, 4259–4270 (2004).

Yassour, M. et al. Ab initio construction of a eukaryotic transcriptome by massively parallel mRNA sequencing. Proc. Natl Acad. Sci. USA 106, 3264–3269 (2009).
Acknowledgements
We thank B. Zagrovic and A. Polyansky for critical insights into the multivalency of Lge1 LLPS, and Lge1 and WAC sequence analyses; O. R. Abdi for technical support; and G. Warren and D. Gerlich for discussions. A.K. was funded in part by a NOMIS Pioneering Research Grant, L.D.G. by a L'Oréal-UNESCO-OeAW Austria Fellowship and A.R. by an OeAW DOC Fellowship. B.F.P. and C.M. were funded by the National Institutes of Health grant HG004160.
Ethics declarations
Competing interests
B.F.P. has a financial interest in Peconic LLC, which uses the ChIP-exo technology implemented in this study and could potentially benefit from the outcomes of this research. The remaining authors declare no competing interests.
Additional information
Peer review information Nature thanks Fred van Leeuwen, Tanja Mittag and the other, anonymous, reviewer(s) for their contribution to the peer review of this work.
Publisher's note Springer Nature remains neutral with regard to jurisdictional claims in published maps and institutional affiliations.
Extended data figures and tables
Supplementary information
About this article
Cite this article
Gallego, L.D., Schneider, M., Mittal, C. et al. Phase separation directs ubiquitination of gene-body nucleosomes. Nature 579, 592–597 (2020). https://doi.org/10.1038/s41586-020-2097-z
Received:

Accepted:

Published:

Issue Date:

DOI: https://doi.org/10.1038/s41586-020-2097-z
Comments
By submitting a comment you agree to abide by our Terms and Community Guidelines. If you find something abusive or that does not comply with our terms or guidelines please flag it as inappropriate.