Abstract
Plants are essential for life and are extremely diverse organisms with unique molecular capabilities1. Here we present a quantitative atlas of the transcriptomes, proteomes and phosphoproteomes of 30 tissues of the model plant Arabidopsis thaliana. Our analysis provides initial answers to how many genes exist as proteins (more than 18,000), where they are expressed, in which approximate quantities (a dynamic range of more than six orders of magnitude) and to what extent they are phosphorylated (over 43,000 sites). We present examples of how the data may be used, such as to discover proteins that are translated from short open-reading frames, to uncover sequence motifs that are involved in the regulation of protein production, and to identify tissue-specific protein complexes or phosphorylation-mediated signalling events. Interactive access to this resource for the plant community is provided by the ProteomicsDB and ATHENA databases, which include powerful bioinformatics tools to explore and characterize Arabidopsis proteins, their modifications and interactions.
Relevant articles
Open Access articles citing this article.
Clara J. Williams

,

Dawei Dai

…

Ben P. Williams

Genome Biology Open Access 12 October 2023

Jun Zhang

,

Mayra Ahmad

&

Hongbo Gao

Molecular Horticulture Open Access 26 September 2023

Lulu Chen

,

Liang Qin

…

Xiaodong Wang

Communications Biology Open Access 11 September 2023
Access options
Access Nature and 54 other Nature Portfolio journals
Get Nature+, our best-value online-access subscription
$29.99 / 30 days
cancel any time
Subscribe to this journal
Receive 51 print issues and online access
$199.00 per year
only $3.90 per issue
Rent or buy this article
Prices vary by article type
from$1.95
to$39.95
Prices may be subject to local taxes which are calculated during checkout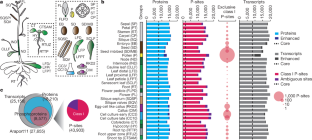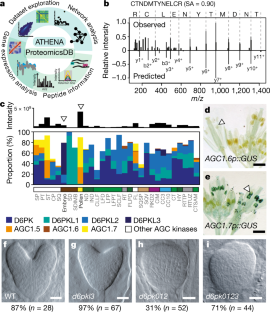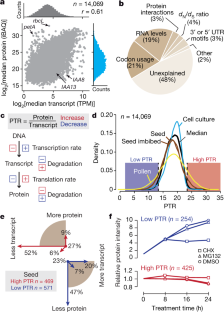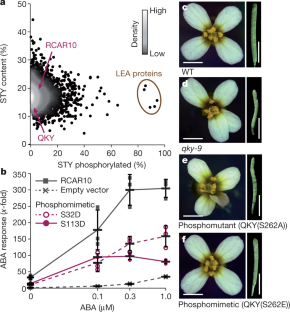 Data availability
The data supporting the findings of this study are available within the paper, the Supplementary Information and the public repositories. Source Data for Figs. 1–5 and Extended Data Figs. 1–9 are included with the paper. Transcriptome sequencing and quantification data are available at ArrayExpress (www.ebi.ac.uk/arrayexpress) under the identifier E-MTAB-7978. The raw mass spectrometric data and MaxQuant result files have been deposited to the ProteomeXchange Consortium via PRIDE122, with the dataset identifier PXD013868.
References
Krämer, U. Planting molecular functions in an ecological context with Arabidopsis thaliana. eLife 4, (2015).

Peng, J. et al. 'Green revolution' genes encode mutant gibberellin response modulators. Nature 400, 256–261 (1999).

The Arabidopsis Genome Initiative. Analysis of the genome sequence of the flowering plant Arabidopsis thaliana. Nature 408, 796–815 (2000).

Kawakatsu, T. et al. Epigenomic diversity in a global collection of Arabidopsis thaliana accessions. Cell 166, 492–505 (2016).

Cheng, C. Y. et al. Araport11: a complete reannotation of the Arabidopsis thaliana reference genome. Plant J. 89, 789–804 (2017).

The UniProt Consortium. UniProt: the universal protein knowledgebase. Nucleic Acids Res. 45 (D1), D158–D169 (2017).

Baerenfaller, K. et al. Genome-scale proteomics reveals Arabidopsis thaliana gene models and proteome dynamics. Science 320, 938–941 (2008).

van Wijk, K. J., Friso, G., Walther, D. & Schulze, W. X. Meta-analysis of Arabidopsis thaliana phospho-proteomics data reveals compartmentalization of phosphorylation motifs. Plant Cell 26, 2367–2389 (2014).

Durek, P. et al. PhosPhAt: the Arabidopsis thaliana phosphorylation site database. An update. Nucleic Acids Res. 38, D828–D834 (2010).

Sharma, K. et al. Ultradeep human phosphoproteome reveals a distinct regulatory nature of Tyr and Ser/Thr-based signaling. Cell Rep. 8, 1583–1594 (2014).

Schmidt, T. et al. ProteomicsDB. Nucleic Acids Res. 46 (D1), D1271–D1281 (2018).

Gessulat, S. et al. Prosit: proteome-wide prediction of peptide tandem mass spectra by deep learning. Nat. Methods 16, 509–518 (2019).

Bienvenut, W. V. et al. Comparative large scale characterization of plant versus mammal proteins reveals similar and idiosyncratic N-α-acetylation features. Mol. Cell. Proteomics 11, mcp.M111.015131 (2012).

Hazarika, R. R. et al. ARA-PEPs: a repository of putative sORF-encoded peptides in Arabidopsis thaliana. BMC Bioinformatics 18, 37 (2017).

Wilhelm, M. et al. Mass-spectrometry-based draft of the human proteome. Nature 509, 582–587 (2014).

Zheng, Y. et al. iTAK: a program for genome-wide prediction and classification of plant transcription factors, transcriptional regulators, and protein kinases. Mol. Plant 9, 1667–1670 (2016).

Yang, M. et al. A comprehensive analysis of protein phosphatases in rice and Arabidopsis. Plant Syst. Evol. 289, 111–126 (2010).

Litt, A. & Kramer, E. M. The ABC model and the diversification of floral organ identity. Semin. Cell Dev. Biol. 21, 129–137 (2010).

Bar-On, Y. M. & Milo, R. The global mass and average rate of rubisco. Proc. Natl Acad. Sci. USA 116, 4738–4743 (2019).

Gupta, R. et al. Time to dig deep into the plant proteome: a hunt for low-abundance proteins. Front Plant Sci 6, 22 (2015).

Galván-Ampudia, C. S. & Offringa, R. Plant evolution: AGC kinases tell the auxin tale. Trends Plant Sci. 12, 541–547 (2007).

Zhang, Y., He, J. & McCormick, S. Two Arabidopsis AGC kinases are critical for the polarized growth of pollen tubes. Plant J. 58, 474–484 (2009).

Eraslan, B. et al. Quantification and discovery of sequence determinants of protein-per-mRNA amount in 29 human tissues. Mol. Syst. Biol. 15, e8513 (2019).

Liu, Y., Beyer, A. & Aebersold, R. On the dependency of cellular protein levels on mRNA abundance. Cell 165, 535–550 (2016).

Hanson, G. & Coller, J. Codon optimality, bias and usage in translation and mRNA decay. Nat. Rev. Mol. Cell Biol. 19, 20–30 (2018).

Schwanhäusser, B. et al. Global quantification of mammalian gene expression control. Nature 473, 337–342 (2011).

Santner, A. & Estelle, M. The ubiquitin-proteasome system regulates plant hormone signaling. Plant J. 61, 1029–1040 (2010).

Luo, J., Zhou, J. J. & Zhang, J. Z. Aux/IAA gene family in plants: molecular structure, regulation, and function. Int. J. Mol. Sci. 19, E259 (2018).

Bai, B. et al. Seed stored mRNAs that are specifically associated to monosome are translationally regulated during germination. Plant Physiol. 182, 378–392 (2019).

Szklarczyk, D. et al. The STRING database in 2017: quality-controlled protein-protein association networks, made broadly accessible. Nucleic Acids Res. 45 (D1), D362–D368 (2017).

Wang, Y., Tan, X. & Paterson, A. H. Different patterns of gene structure divergence following gene duplication in Arabidopsis. BMC Genomics 14, 652 (2013).

Lloyd, J. & Meinke, D. A comprehensive dataset of genes with a loss-of-function mutant phenotype in Arabidopsis. Plant Physiol. 158, 1115–1129 (2012).

Brandão, M. M., Dantas, L. L. & Silva-Filho, M. C. AtPIN: Arabidopsis thaliana protein interaction network. BMC Bioinformatics 10, 454 (2009).

Kristensen, A. R., Gsponer, J. & Foster, L. J. A high-throughput approach for measuring temporal changes in the interactome. Nat. Methods 9, 907–909 (2012).

Schwartz, D. & Gygi, S. P. An iterative statistical approach to the identification of protein phosphorylation motifs from large-scale data sets. Nat. Biotechnol. 23, 1391–1398 (2005).

Villén, J., Beausoleil, S. A., Gerber, S. A. & Gygi, S. P. Large-scale phosphorylation analysis of mouse liver. Proc. Natl Acad. Sci. USA 104, 1488–1493 (2007).

Battaglia, M., Olvera-Carrillo, Y., Garciarrubio, A., Campos, F. & Covarrubias, A. A. The enigmatic LEA proteins and other hydrophilins. Plant Physiol. 148, 6–24 (2008).

Bah, A. et al. Folding of an intrinsically disordered protein by phosphorylation as a regulatory switch. Nature 519, 106–109 (2015).

Mitra, S. K. et al. An autophosphorylation site database for leucine-rich repeat receptor-like kinases in Arabidopsis thaliana. Plant J. 82, 1042–1060 (2015).

Landry, C. R., Levy, E. D. & Michnick, S. W. Weak functional constraints on phosphoproteomes. Trends Genet. 25, 193–197 (2009).

Hauser, F., Li, Z., Waadt, R. & Schroeder, J. I. SnapShot: abscisic acid signaling. Cell 171, 1708–1708 (2017).

Vaddepalli, P. et al. The C2-domain protein QUIRKY and the receptor-like kinase STRUBBELIG localize to plasmodesmata and mediate tissue morphogenesis in Arabidopsis thaliana. Development 141, 4139–4148 (2014).

Fulton, L. et al. DETORQUEO, QUIRKY, and ZERZAUST represent novel components involved in organ development mediated by the receptor-like kinase STRUBBELIG in Arabidopsis thaliana. PLoS Genet. 5, e1000355 (2009).

Smyth, D. R., Bowman, J. L. & Meyerowitz, E. M. Early flower development in Arabidopsis. Plant Cell 2, 755–767 (1990).

Johnson-Brousseau, S. A. & McCormick, S. A compendium of methods useful for characterizing Arabidopsis pollen mutants and gametophytically-expressed genes. Plant J. 39, 761–775 (2004).

Sprunck, S. et al. Egg cell-secreted EC1 triggers sperm cell activation during double fertilization. Science 338, 1093–1097 (2012).

Karimi, M., Inzé, D. & Depicker, A. GATEWAY vectors for Agrobacterium-mediated plant transformation. Trends Plant Sci. 7, 193–195 (2002).

Clough, S. J. & Bent, A. F. Floral dip: a simplified method for Agrobacterium-mediated transformation of Arabidopsis thaliana. Plant J. 16, 735–743 (1998).

Schmid, M. et al. A gene expression map of Arabidopsis thaliana development. Nat. Genet. 37, 501–506 (2005).

Boyes, D. C. et al. Growth stage-based phenotypic analysis of Arabidopsis: a model for high throughput functional genomics in plants. Plant Cell 13, 1499–1510 (2001).

Bowman, J. L. Arabidopsis: an Atlas of Morphology and Development (Springer-Verlag, 1994).

Bradford, M. M. A rapid and sensitive method for the quantitation of microgram quantities of protein utilizing the principle of protein-dye binding. Anal. Biochem. 72, 248–254 (1976).

Ruprecht, B. et al. Optimized enrichment of phosphoproteomes by Fe-IMAC column chromatography. Methods Mol. Biol. 1550, 47–60 (2017).

Marx, H. et al. A large synthetic peptide and phosphopeptide reference library for mass spectrometry-based proteomics. Nat. Biotechnol. 31, 557–564 (2013).

Ruprecht, B., Zecha, J., Zolg, D. P. & Kuster, B. High pH reversed-phase micro-columns for simple, sensitive, and efficient fractionation of proteome and (TMT labeled) phosphoproteome digests. Methods Mol. Biol. 1550, 83–98 (2017).

Smith, P. K. et al. Measurement of protein using bicinchoninic acid. Anal. Biochem. 150, 76–85 (1985).

Zolg, D. P. et al. PROCAL: a set of 40 peptide standards for retention time indexing, column performance monitoring, and collision energy calibration. Proteomics 17, (2017).

Hahne, H. et al. DMSO enhances electrospray response, boosting sensitivity of proteomic experiments. Nat. Methods 10, 989–991 (2013).

Bian, Y. et al. Robust, reproducible and quantitative analysis of thousands of proteomes by micro-flow LC-MS/MS. Nat. Commun. 11, 157 (2020).

Tyanova, S., Temu, T. & Cox, J. The MaxQuant computational platform for mass spectrometry-based shotgun proteomics. Nat. Protocols 11, 2301–2319 (2016).

Hanada, K. et al. sORF finder: a program package to identify small open reading frames with high coding potential. Bioinformatics 26, 399–400 (2010).

Grabherr, M. G. et al. Full-length transcriptome assembly from RNA-seq data without a reference genome. Nat. Biotechnol. 29, 644–652 (2011).

Li, W., Jaroszewski, L. & Godzik, A. Clustering of highly homologous sequences to reduce the size of large protein databases. Bioinformatics 17, 282–283 (2001).

Perkins, D. N., Pappin, D. J., Creasy, D. M. & Cottrell, J. S. Probability-based protein identification by searching sequence databases using mass spectrometry data. Electrophoresis 20, 3551–3567 (1999).

Franken, H. et al. Thermal proteome profiling for unbiased identification of direct and indirect drug targets using multiplexed quantitative mass spectrometry. Nat. Protocols 10, 1567–1593 (2015).

Toprak, U. H. et al. Conserved peptide fragmentation as a benchmarking tool for mass spectrometers and a discriminating feature for targeted proteomics. Mol. Cell. Proteomics 13, 2056–2071 (2014).

Oñate-Sánchez, L. & Vicente-Carbajosa, J. DNA-free RNA isolation protocols for Arabidopsis thaliana, including seeds and siliques. BMC Res. Notes 1, 93 (2008).

Bolger, A. M., Lohse, M. & Usadel, B. Trimmomatic: a flexible trimmer for Illumina sequence data. Bioinformatics 30, 2114–2120 (2014).

Bray, N. L., Pimentel, H., Melsted, P. & Pachter, L. Near-optimal probabilistic RNA-seq quantification. Nat. Biotechnol. 34, 525–527 (2016).

Silva, J. C., Gorenstein, M. V., Li, G. Z., Vissers, J. P. & Geromanos, S. J. Absolute quantification of proteins by LCMSE: a virtue of parallel MS acquisition. Mol. Cell. Proteomics 5, 144–156 (2006).

The Gene Ontology Consortium. Expansion of the Gene Ontology knowledgebase and resources. Nucleic Acids Res. 45 (D1), D331–D338 (2017).

Cox, J. & Mann, M. 1D and 2D annotation enrichment: a statistical method integrating quantitative proteomics with complementary high-throughput data. BMC Bioinformatics 13 (Suppl. 16), S12 (2012).

Tyanova, S. et al. The Perseus computational platform for comprehensive analysis of (prote)omics data. Nat. Methods 13, 731–740 (2016).

Olsen, J. V. et al. Global, in vivo, and site-specific phosphorylation dynamics in signaling networks. Cell 127, 635–648 (2006).

Uhlén, M. et al. Transcriptomics resources of human tissues and organs. Mol. Syst. Biol. 12, 862 (2016).

Rijpkema, A. S., Vandenbussche, M., Koes, R., Heijmans, K. & Gerats, T. Variations on a theme: changes in the floral ABCs in angiosperms. Semin. Cell Dev. Biol. 21, 100–107 (2010).

Heazlewood, J. L., Verboom, R. E., Tonti-Filippini, J., Small, I. & Millar, A. H. SUBA: the Arabidopsis Subcellular Database. Nucleic Acids Res. 35, D213–D218 (2007).

Löytynoja, A. Phylogeny-aware alignment with PRANK. Methods Mol. Biol. 1079, 155–170 (2014).

Castresana, J. Selection of conserved blocks from multiple alignments for their use in phylogenetic analysis. Mol. Biol. Evol. 17, 540–552 (2000).

Yang, Z. PAML 4: phylogenetic analysis by maximum likelihood. Mol. Biol. Evol. 24, 1586–1591 (2007).

van der Graaf, A. et al. Rate, spectrum, and evolutionary dynamics of spontaneous epimutations. Proc. Natl Acad. Sci. USA 112, 6676–6681 (2015).

Gebert, D., Jehn, J. & Rosenkranz, D. Widespread selection for extremely high and low levels of secondary structure in coding sequences across all domains of life. Open Biol. 9, 190020 (2019).

Camiolo, S., Melito, S. & Porceddu, A. New insights into the interplay between codon bias determinants in plants. DNA Res. 22, 461–470 (2015).

Drummond, D. A., Bloom, J. D., Adami, C., Wilke, C. O. & Arnold, F. H. Why highly expressed proteins evolve slowly. Proc. Natl Acad. Sci. USA 102, 14338–14343 (2005).

Das, S. & Bansal, M. Variation of gene expression in plants is influenced by gene architecture and structural properties of promoters. PLoS ONE 14, e0212678 (2019).

Celaj, A. et al. Quantitative analysis of protein interaction network dynamics in yeast. Mol. Syst. Biol. 13, 934 (2017).

Niederhuth, C. E. et al. Widespread natural variation of DNA methylation within angiosperms. Genome Biol. 17, 194 (2016).

Love, M. I., Huber, W. & Anders, S. Moderated estimation of fold change and dispersion for RNA-seq data with DESeq2. Genome Biol. 15, 550 (2014).

Zhou, X. & Stephens, M. Genome-wide efficient mixed-model analysis for association studies. Nat. Genet. 44, 821–824 (2012).

Nakazawa, N. fmsb: functions for medical statistics book with some demographic data. R package v.0.6.3; https://CRAN.R-project.org/package=fmsb (2018).

Zhang, Z. Variable selection with stepwise and best subset approaches. Ann. Transl. Med. 4, 136 (2016).

Tibshirani, R. Regression shrinkage and selection via the lasso. J. R. Stat. Soc. Ser. A Stat. Soc. 58, 267–288 (1996).

R Core Team. R: A language and environment for statistical computing. https://www.R-project.org/ (R Foundation for Statistical Computing, 2014).

Knecht, W. Pilot Willingness to Take Off Into Marginal Weather, Part II: Antecedent Overfitting With Forward Stepwise Logistic Regression. Final Report DOT/FAA/AM-05/15 (Federal Aviation Administration, 2005).

Friedman, J., Hastie, T. & Tibshirani, R. Regularization paths for generalized linear models via coordinate descent. J. Stat. Softw. 33, 1–22 (2010).

Groemping, U. Relative importance for linear regression in R: the package relaimpo. J. Stat. Softw. 17, 1–27 (2007).

Heusel, M. et al. Complex-centric proteome profiling by SEC-SWATH-MS. Mol. Syst. Biol. 15, e8438 (2019).

McBride, Z., Chen, D., Reick, C., Xie, J. & Szymanski, D. B. Global analysis of membrane-associated protein oligomerization using protein correlation profiling. Mol. Cell. Proteomics 16, 1972–1989 (2017).

Ruepp, A. et al. CORUM: the comprehensive resource of mammalian protein complexes–2009. Nucleic Acids Res. 38, D497–D501 (2010).

Zhang, B. & Horvath, S. A general framework for weighted gene co-expression network analysis. Stat. Appl. Genet. Mol. Biol. 4, Article17 (2005).

Langfelder, P., Zhang, B. & Horvath, S. Defining clusters from a hierarchical cluster tree: the Dynamic Tree Cut package for R. Bioinformatics 24, 719–720 (2008).

Kanehisa, M., Furumichi, M., Tanabe, M., Sato, Y. & Morishima, K. KEGG: new perspectives on genomes, pathways, diseases and drugs. Nucleic Acids Res. 45 (D1), D353–D361 (2017).

Fabregat, A. et al. The Reactome pathway Knowledgebase. Nucleic Acids Res. 44 (D1), D481–D487 (2016).

Hochberg, Y. B. Y. Controlling the false discovery rate: a practical and powerful approach to multiple testing. J. R. Stat. Soc. Ser. A Stat. Soc. 57, 289–300 (1995).

Subramanian, A. et al. Gene set enrichment analysis: a knowledge-based approach for interpreting genome-wide expression profiles. Proc. Natl Acad. Sci. USA 102, 15545–15550 (2005).

List, M. et al. KeyPathwayMinerWeb: online multi-omics network enrichment. Nucleic Acids Res. 44 (W1), W98–W104 (2016).

Letunic, I. & Bork, P. 20 years of the SMART protein domain annotation resource. Nucleic Acids Res. 46 (D1), D493–D496 (2018).

Wagih, O. ggseqlogo: a versatile R package for drawing sequence logos. Bioinformatics 33, 3645–3647 (2017).

Goel, R., Harsha, H. C., Pandey, A. & Prasad, T. S. Human Protein Reference Database and Human Proteinpedia as resources for phosphoproteome analysis. Mol. Biosyst. 8, 453–463 (2012).

Zourelidou, M. et al. The polarly localized D6 PROTEIN KINASE is required for efficient auxin transport in Arabidopsis thaliana. Development 136, 627–636 (2009).

Mayer, U. B. G. & Jurgens, G. Apical-basal pattern formation in the Arabidopsis embryo: studies on the role of the gnom gene. Development 177, 149–162 (1993).

Moes, D., Himmelbach, A., Korte, A., Haberer, G. & Grill, E. Nuclear localization of the mutant protein phosphatase abi1 is required for insensitivity towards ABA responses in Arabidopsis. Plant J. 54, 806–819 (2008).

Tischer, S. V. et al. Combinatorial interaction network of abscisic acid receptors and coreceptors from Arabidopsis thaliana. Proc. Natl Acad. Sci. USA 114, 10280–10285 (2017).

Waterhouse, A. et al. SWISS-MODEL: homology modelling of protein structures and complexes. Nucleic Acids Res. 46 (W1), W296–W303 (2018).

Nishimura, N. et al. Structural mechanism of abscisic acid binding and signaling by dimeric PYR1. Science 326, 1373–1379 (2009).

Berman, H. M. et al. The Protein Data Bank. Nucleic Acids Res. 28, 235–242 (2000).

Pettersen, E. F. et al. UCSF Chimera—a visualization system for exploratory research and analysis. J. Comput. Chem. 25, 1605–1612 (2004).

Box, M. S., Coustham, V., Dean, C. & Mylne, J. S. Protocol: A simple phenol-based method for 96-well extraction of high quality RNA from Arabidopsis. Plant Methods 7, 7 (2011).

Enugutti, B. et al. Regulation of planar growth by the Arabidopsis AGC protein kinase UNICORN. Proc. Natl Acad. Sci. USA 109, 15060–15065 (2012).

Koncz, C. & Schell, J. The promoter of TL-DNA gene 5 controls the tissue-specific expression of chimaeric genes carried by a novel type of Agrobacterium binary vector. Molecular and General Genetics MGG 204, 383–396 (1986).

Schindelin, J. et al. Fiji: an open-source platform for biological-image analysis. Nat. Methods 9, 676–682 (2012).

Vizcaíno, J. A. et al. 2016 update of the PRIDE database and its related tools. Nucleic Acids Res. 44 (D1), D447–D456 (2016).

Kwok, S. F. et al. Arabidopsis homologs of a c-Jun coactivator are present both in monomeric form and in the COP9 complex, and their abundance is differentially affected by the pleiotropic cop/det/fus mutations. Plant Cell 10, 1779–1790 (1998).
Acknowledgements
We thank the NGS@tum core facility for RNA sequencing, R. Tofanelli for help with imaging the ovules, R. J. Schmitz for providing data access for the feature analysis and M. Reinecke, F. Bayer and S. Galinec for mass spectrometry measurements. This work was in part funded by the German Science Foundation (DFG, SFB924), a research fellowship to H.S. by the Japan Society for the Promotion of Sciences, and a research fellowship to X.C. by the Chinese Research Council.
Ethics declarations
Competing interests
M.W. and B.K. are founders and shareholders of OmicScouts GmbH and msAId GmbH. They have no operational role in the companies. M.F. and D.P.Z. are founders and shareholders of msAId GmbH. T.M. and M.B. are employees and/or shareholders of Cellzome GmbH. The remaining authors declare no competing interests.
Additional information
Peer review information Nature thanks José Dinneny, Paul Haynes and the other, anonymous, reviewer(s) for their contribution to the peer review of this work.
Publisher's note Springer Nature remains neutral with regard to jurisdictional claims in published maps and institutional affiliations.
Extended data figures and tables
Supplementary information
About this article
Cite this article
Mergner, J., Frejno, M., List, M. et al. Mass-spectrometry-based draft of the Arabidopsis proteome. Nature 579, 409–414 (2020). https://doi.org/10.1038/s41586-020-2094-2
Received:

Accepted:

Published:

Issue Date:

DOI: https://doi.org/10.1038/s41586-020-2094-2
Comments
By submitting a comment you agree to abide by our Terms and Community Guidelines. If you find something abusive or that does not comply with our terms or guidelines please flag it as inappropriate.