Abstract
Agricultural practices constitute both the greatest cause of biodiversity loss and the greatest opportunity for conservation1,2, given the shrinking scope of protected areas in many regions. Recent studies have documented the high levels of biodiversity—across many taxa and biomes—that agricultural landscapes can support over the short term1,3,4. However, little is known about the long-term effects of alternative agricultural practices on ecological communities4,5 Here we document changes in bird communities in intensive-agriculture, diversified-agriculture and natural-forest habitats in 4 regions of Costa Rica over a period of 18 years. Long-term directional shifts in bird communities were evident in intensive- and diversified-agricultural habitats, but were strongest in intensive-agricultural habitats, where the number of endemic and International Union for Conservation of Nature (IUCN) Red List species fell over time. All major guilds, including those involved in pest control, pollination and seed dispersal, were affected. Bird communities in intensive-agricultural habitats proved more susceptible to changes in climate, with hotter and drier periods associated with greater changes in community composition in these settings. These findings demonstrate that diversified agriculture can help to alleviate the long-term loss of biodiversity outside natural protected areas1.
This is a preview of subscription content
Access options
Subscribe to Journal
Get full journal access for 1 year
$199.00
only $3.90 per issue
All prices are NET prices.
VAT will be added later in the checkout.
Tax calculation will be finalised during checkout.
Rent or Buy article
Get time limited or full article access on ReadCube.
from$8.99
All prices are NET prices.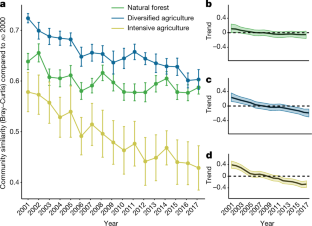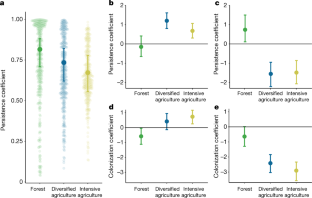 References
1.

Kremen, C. & Merenlender, A. M. Landscapes that work for biodiversity and people. Science 362, eaau6020 (2018).

2.

Kremen, C. Reframing the land-sparing/land-sharing debate for biodiversity conservation. Ann. NY Acad. Sci. 1355, 52–76 (2015).

3.

Frishkoff, L. O. et al. Loss of avian phylogenetic diversity in neotropical agricultural systems. Science 345, 1343–1346 (2014).

4.

Mendenhall, C. D., Shields-Estrada, A., Krishnaswami, A. J. & Daily, G. C. Quantifying and sustaining biodiversity in tropical agricultural landscapes. Proc. Natl Acad. Sci. USA 113, 14544–14551 (2016).

5.

Kehoe, L. et al. Biodiversity at risk under future cropland expansion and intensification. Nat. Ecol. Evol. 1, 1129–1135 (2017).

6.

Bar-On, Y. M., Phillips, R. & Milo, R. The biomass distribution on Earth. Proc. Natl Acad. Sci. USA 115, 6506–6511 (2018).

7.

Springmann, M. et al. Options for keeping the food system within environmental limits. Nature 562, 519–525 (2018).

8.

Newbold, T. et al. Global effects of land use on local terrestrial biodiversity. Nature 520, 45–50 (2015).

9.

Karp, D. S. et al. Forest bolsters bird abundance, pest control and coffee yield. Ecol. Lett. 16, 1339–1347 (2013).

10.

Karp, D. S., Ziv, G., Zook, J., Ehrlich, P. R. & Daily, G. C. Resilience and stability in bird guilds across tropical countryside. Proc. Natl Acad. Sci. USA 108, 21134–21139 (2011).

11.

Ranganathan, J., Daniels, R. J. R., Chandran, M. D. S., Ehrlich, P. R. & Daily, G. C. Sustaining biodiversity in ancient tropical countryside. Proc. Natl Acad. Sci. USA 105, 17852–17854 (2008).

12.

Fukami, T. & Wardle, D. A. Long-term ecological dynamics: reciprocal insights from natural and anthropogenic gradients. Proc. R. Soc. B 272, 2105–2115 (2005).

13.

De Palma, A. et al. Chapter four: challenges with inferring how land-use affects terrestrial biodiversity: study design, time, space and synthesis. Adv. Ecol. Res. 58, 163–199 (2018).

14.

Essl, F. et al. Delayed biodiversity change: no time to waste. Trends Ecol. Evol. 30, 375–378 (2015).

15.

Hastings, A. et al. Transient phenomena in ecology. Science 361, eaat6412 (2018).

16.

Essl, F. et al. Historical legacies accumulate to shape future biodiversity in an era of rapid global change. Divers. Distrib. 21, 534–547 (2015).

17.

Vellend, M. et al. Extinction debt of forest plants persists for more than a century following habitat fragmentation. Ecology 87, 542–548 (2006).

18.

Gibson, L. et al. Near-complete extinction of native small mammal fauna 25 years after forest fragmentation. Science 341, 1508–1510 (2013).

19.

Fukami, T. Historical contingency in community assembly: integrating niches, species pools, and priority effects. Annu. Rev. Ecol. Evol. Syst. 46, 1–23 (2015).

20.

Tilman, D., May, R. M., Lehman, C. L. & Nowak, M. A. Habitat destruction and the extinction debt. Nature 371, 65–66 (1994).

21.

Gilbert, B. & Levine, J. M. Plant invasions and extinction debts. Proc. Natl Acad. Sci. USA 110, 1744–1749 (2013).

22.

Bell, G. & Gonzalez, A. Adaptation and evolutionary rescue in metapopulations experiencing environmental deterioration. Science 332, 1327–1330 (2011).

23.

Northrup, J. M., Rivers, J. W., Yang, Z. & Betts, M. G. Synergistic effects of climate and land-use change influence broad-scale avian population declines. Glob. Change Biol. 25, 1561–1575 (2019).

24.

MacLean, S. A., Rios Dominguez, A. F., de Valpine, P. & Beissinger, S. R. A century of climate and land-use change cause species turnover without loss of beta diversity in California's Central Valley. Glob. Change Biol. 24, 5882–5894 (2018).

25.

Smith, M. D., Knapp, A. K. & Collins, S. L. A framework for assessing ecosystem dynamics in response to chronic resource alterations induced by global change. Ecology 90, 3279–3289 (2009).

26.

Pressey, R. L., Cabeza, M., Watts, M. E., Cowling, R. M. & Wilson, K. A. Conservation planning in a changing world. Trends Ecol. Evol. 22, 583–592 (2007).

27.

Tulloch, V. J. D. et al. Why do we map threats? Linking threat mapping with actions to make better conservation decisions. Front. Ecol. Environ. 13, 91–99 (2015).

28.

de Camino, R., Segura, O., Guillermo Arias, L. & Perez, I. Costa Rica Forest Strategy and the Evolution of Land Use: Evaluation Country Case Study Series (World Bank, 2000).

29.

Jackson, S. T. & Sax, D. F. Balancing biodiversity in a changing environment: extinction debt, immigration credit and species turnover. Trends Ecol. Evol. 25, 153–160 (2010).

30.

Sánchez, J. E., Naoki, K. & Zook, J. New information about Costa Rican birds. Ornitol. Neotrop. 9, 99–102 (1998).

31.

Rosero-Bixby, L., Maldonado-Ulloa, T. & Bonilla-Carrión, R. Bosque y población en la Península de Osa, Costa Rica [Forest and Population in the Osa Peninsula, Costa Rica]. Rev. Biol. Trop. 50, 585–598 (2002).

32.

Lobo, J. & Bolaños, F. Historia natural de Golfi to Costa Rica (Instituto Nacional de Biodiversidad, 2005).

33.

Sandoval, L. et al. Recent records of new and rare bird species in Costa Rica. Bull. Br. Ornithol. Club 130, 237–245 (2010).

34.

Sandoval, L. et al. Range expansion and noteworthy records of Costa Rican birds (Aves). Check List 14, 141–151 (2018).

35.

Frishkoff, L. O. et al. Climate change and habitat conversion favour the same species. Ecol. Lett. 19, 1081–1090 (2016).

36.

Green, R. E., Cornell, S. J., Scharlemann, J. P. W. & Balmford, A. Farming and the fate of wild nature. Science 307, 550–555 (2005).

37.

Rue, H., Martino, S. & Chopin, N. Approximate Bayesian inference for latent Gaussian models by using integrated nested Laplace approximations. J. R. Stat. Soc. B 71, 319–392 (2009).

38.

R Core Team. R: A Language and Environment for Statistical Computing. http://www.R-project.org/ (R Foundation for Statistical Computing, 2016).

39.

Simpson, D., Rue, H., Riebler, A., Martins, T. G. & Sørbye, S. H. Penalising model component complexity: a principled, practical approach to constructing priors. Stat. Sci. 32, 1–28 (2017).

40.

Zuur, A. F. & Ieno, E. N. A protocol for conducting and presenting results of regression-type analyses. Methods Ecol. Evol. 7, 636–645 (2016).

41.

Oksanen, J. Vegan: ecological diversity. R package version 2.4-4 https://cran.r-project.org/web/packages/vegan/ (2017).

42.

Brooks, M. E. et al. glmmTMB balances speed and flexibility among packages for zero-inflated generalized linear mixed modeling. R J. 9, 378–400 (2017).

43.

O'Hara, R. B. & Kotze, D. J. Do not log-transform count data. Methods Ecol. Evol. 1, 118–122 (2010).

44.

IUCN. The IUCN Red List of Threatened Species. version 2019-1 https://www.iucnredlist.org/ (2019).

45.

Stiles, F. G. & Skutch, A. F. A Guide to the Birds of Costa Rica (Cornell Univ. Press, 1989).

46.

Justice, C. O. et al. The Moderate Resolution Imaging Spectroradiometer (MODIS): land remote sensing for global change research. IEEE Trans. Geosci. Remote Sens. 36, 1228–1249 (1998).

47.

Wilson, A. M. & Jetz, W. Remotely sensed high-resolution global cloud dynamics for predicting ecosystem and biodiversity distributions. PLoS Biol. 14, e1002415 (2016).

48.

Anderson, C. B. Biodiversity monitoring, earth observations and the ecology of scale. Ecol. Lett. 21, 1572–1585 (2018).

49.

Gorelick, N. et al. Google Earth Engine: planetary-scale geospatial analysis for everyone. Remote Sens. Environ. 202, 18–27 (2017).

50.

Wan, Z., Hook, S. & Hulley, G. MOD11A1 v006: MODIS/Terra Land Surface Temperature/Emissivity Daily L3 Global 1km SIN Grid https://doi.org/10.5067/MODIS/MOD11A1.006 (NASA, 2015).

51.

Myneni, R. B., Knyazikhin, Y. & Park, T. MCD15A3H v006: MODIS/Terra+Aqua Leaf Area Index/FPAR 4-day L4 Global 500m SIN Grid https://doi.org/10.5067/MODIS/MCD15A3H.006 (2015).

52.

Brawn, J. D., Benson, T. J., Stager, M., Sly, N. D. & Tarwater, C. E. Impacts of changing rainfall regime on the demography of tropical birds. Nat. Clim. Change 7, 133–136 (2017).

53.

Royle, J. A. & Dorazio, R. M. Hierarchical Modeling and Inference in Ecology: The Analysis of Data from Populations, Metapopulations and Communities (Academic, 2008).
Acknowledgements
We thank the landowners, the Organization for Tropical Studies and the Los Cusingos Bird Sanctuary for making the collection of these data possible; P.-J. Ke, E. Mordecai and members of the Fukami and Daily laboratories at Stanford University for feedback; and J. Barlow and T. Tscharntke for comments. Financial support for J.N.H. was provided by the Gerhard Casper and John P. Morgridge Fellowship and the Stanford Graduate Fellowship. J.R.S. was supported by the NSF GRFP DGE-1656518 and the Ward Wilson Woods Jr Environmental Studies Fund. Funding for data collection over all years was through support to G.C.D. from the LuEsther T. Mertz Charitable Trust, the Moore Family Foundation and the Winslow Foundation.
Ethics declarations
Competing interests
The authors declare no competing interests.
Additional information
Peer review information Nature thanks Jos Barlow, Teja Tscharntke and the other, anonymous, reviewer(s) for their contribution to the peer review of this work.
Publisher's note Springer Nature remains neutral with regard to jurisdictional claims in published maps and institutional affiliations.
Extended data figures and tables
Supplementary information
About this article
Cite this article
Hendershot, J.N., Smith, J.R., Anderson, C.B. et al. Intensive farming drives long-term shifts in avian community composition. Nature 579, 393–396 (2020). https://doi.org/10.1038/s41586-020-2090-6
Received:

Accepted:

Published:

Issue Date:
Comments
By submitting a comment you agree to abide by our Terms and Community Guidelines. If you find something abusive or that does not comply with our terms or guidelines please flag it as inappropriate.