Abstract
The chromatin-remodelling complex SWI/SNF is highly conserved and has critical roles in various cellular processes, including transcription and DNA-damage repair1,2. It hydrolyses ATP to remodel chromatin structure by sliding and evicting histone octamers3,4,5,6,7,8, creating DNA regions that become accessible to other essential factors. However, our mechanistic understanding of the remodelling activity is hindered by the lack of a high-resolution structure of complexes from this family. Here we report the cryo-electron microscopy structure of Saccharomyces cerevisiae SWI/SNF bound to a nucleosome, at near-atomic resolution. In the structure, the actin-related protein (Arp) module is sandwiched between the ATPase and the rest of the complex, with the Snf2 helicase-SANT associated (HSA) domain connecting all modules. The body contains an assembly scaffold composed of conserved subunits Snf12 (also known as SMARCD or BAF60), Snf5 (also known as SMARCB1, BAF47 or INI1) and an asymmetric dimer of Swi3 (also known as SMARCC, BAF155 or BAF170). Another conserved subunit, Swi1 (also known as ARID1 or BAF250), resides in the core of SWI/SNF, acting as a molecular hub. We also observed interactions between Snf5 and the histones at the acidic patch, which could serve as an anchor during active DNA translocation. Our structure enables us to map and rationalize a subset of cancer-related mutations in the human SWI/SNF complex and to propose a model for how SWI/SNF recognizes and remodels the +1 nucleosome to generate nucleosome-depleted regions during gene activation9.
Access options
Subscribe to Journal
Get full journal access for 1 year
$199.00
only $3.90 per issue
All prices are NET prices.
VAT will be added later in the checkout.
Rent or Buy article
Get time limited or full article access on ReadCube.
from$8.99
All prices are NET prices.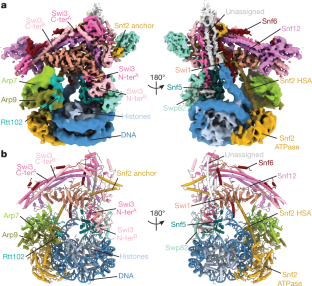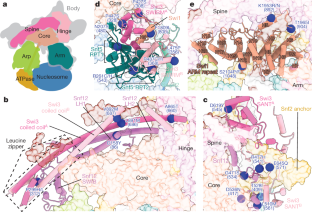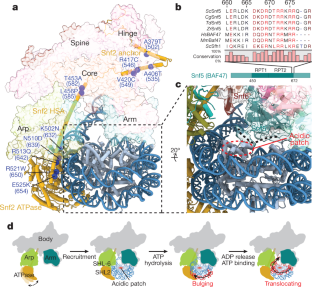 Data availability
Cryo-EM density maps have been deposited in the Electron Microscopy Data Bank under accession numbers EMD-20934 (complex with ADP-BeFx), EMD-20935 (complex with ATPγS), EMD-20933 (body). Model coordinates have been deposited in the Protein Data Bank under accession numbers 6UXW (complex with ADP-BeFx), 6UXV (body).
References
1.

Zhou, C. Y., Johnson, S. L., Gamarra, N. I. & Narlikar, G. J. Mechanisms of ATP-dependent chromatin remodeling motors. Annu. Rev. Biophys. 45, 153–181 (2016).

2.

Clapier, C. R., Iwasa, J., Cairns, B. R. & Peterson, C. L. Mechanisms of action and regulation of ATP-dependent chromatin-remodelling complexes. Nat. Rev. Mol. Cell Biol. 18, 407–422 (2017).

3.

Cairns, B. R. Chromatin remodeling machines: similar motors, ulterior motives. Trends Biochem. Sci. 23, 20–25 (1998).

4.

Kingston, R. E., Bunker, C. A. & Imbalzano, A. N. Repression and activation by multiprotein complexes that alter chromatin structure. Genes Dev. 10, 905–920 (1996).

5.

Peterson, C. L. & Tamkun, J. W. The SWI–SNF complex: a chromatin remodeling machine? Trends Biochem. Sci. 20, 143–146 (1995).

6.

Vignali, M., Hassan, A. H., Neely, K. E. & Workman, J. L. ATP-dependent chromatin-remodeling complexes. Mol. Cell. Biol. 20, 1899–1910 (2000).

7.

Narlikar, G. J., Sundaramoorthy, R. & Owen-Hughes, T. Mechanisms and functions of ATP-dependent chromatin-remodeling enzymes. Cell 154, 490–503 (2013).

8.

Bartholomew, B. Regulating the chromatin landscape: structural and mechanistic perspectives. Annu. Rev. Biochem. 83, 671–696 (2014).

9.

Rando, O. J. & Winston, F. Chromatin and transcription in yeast. Genetics 190, 351–387 (2012).

10.

Liu, X., Li, M., Xia, X., Li, X. & Chen, Z. Mechanism of chromatin remodelling revealed by the Snf2–nucleosome structure. Nature 544, 440–445 (2017).

11.

Li, M. et al. Mechanism of DNA translocation underlying chromatin remodelling by Snf2. Nature 567, 409–413 (2019).

12.

Willhoft, O. et al. Structure and dynamics of the yeast SWR1–nucleosome complex. Science 362, eaat7716 (2018).

13.

Farnung, L., Vos, S. M., Wigge, C. & Cramer, P. Nucleosome–Chd1 structure and implications for chromatin remodelling. Nature 550, 539–542 (2017).

14.

Sundaramoorthy, R. et al. Structural reorganization of the chromatin remodeling enzyme Chd1 upon engagement with nucleosomes. eLife 6, e22510 (2017).

15.

Armache, J.-P. et al. Cryo-EM structures of remodeler-nucleosome intermediates suggest allosteric control through the nucleosome. eLife 8, e46057 (2019).

16.

Eustermann, S. et al. Structural basis for ATP-dependent chromatin remodelling by the INO80 complex. Nature 556, 386–390 (2018).

17.

Ayala, R. et al. Structure and regulation of the human INO80–nucleosome complex. Nature 556, 391–395 (2018).

18.

Sen, P. et al. Loss of snf5 induces formation of an aberrant SWI/SNF complex. Cell Rep. 18, 2135–2147 (2017).

19.

Mashtalir, N. et al. Modular organization and assembly of SWI/SNF family chromatin remodeling complexes. Cell 175, 1272–1288 (2018).

20.

Treich, I., Ho, L. & Carlson, M. Direct interaction between Rsc6 and Rsc8/Swh3, two proteins that are conserved in SWI/SNF-related complexes. Nucleic Acids Res. 26, 3739–3745 (1998).

21.

Wang, W. et al. Diversity and specialization of mammalian SWI/SNF complexes. Genes Dev. 10, 2117–2130 (1996).

22.

Cairns, B. R., Levinson, R. S., Yamamoto, K. R. & Kornberg, R. D. Essential role of Swp73p in the function of yeast Swi/Snf complex. Genes Dev. 10, 2131–2144 (1996).

23.

Peifer, M., Berg, S. & Reynolds, A. B. A repeating amino acid motif shared by proteins with diverse cellular roles. Cell 76, 789–791 (1994).

24.

Sandhya, S., Maulik, A., Giri, M. & Singh, M. Domain architecture of BAF250a reveals the ARID and ARM-repeat domains with implication in function and assembly of the BAF remodeling complex. PLoS ONE 13, e0205267 (2018).

25.

Yang, X., Zaurin, R., Beato, M. & Peterson, C. L. Swi3p controls SWI/SNF assembly and ATP-dependent H2A–H2B displacement. Nat. Struct. Mol. Biol. 14, 540–547 (2007).

26.

Dutta, A. et al. Composition and function of mutant Swi/Snf complexes. Cell Rep. 18, 2124–2134 (2017).

27.

Tate, J. G. et al. COSMIC: the catalogue of somatic mutations in cancer. Nucleic Acids Res. 47 (D1), D941–D947 (2019).

28.

Dechassa, M. L. et al. Architecture of the SWI/SNF–nucleosome complex. Mol. Cell. Biol. 28, 6010–6021 (2008).

29.

Neely, K. E., Hassan, A. H., Brown, C. E., Howe, L. & Workman, J. L. Transcription activator interactions with multiple SWI/SNF subunits. Mol. Cell. Biol. 22, 1615–1625 (2002).

30.

Yen, K., Vinayachandran, V., Batta, K., Koerber, R. T. & Pugh, B. F. Genome-wide nucleosome specificity and directionality of chromatin remodelers. Cell 149, 1461–1473 (2012).

31.

Ghaemmaghami, S. et al. Global analysis of protein expression in yeast. Nature 425, 737–741 (2003).

32.

Lowary, P. T. & Widom, J. New DNA sequence rules for high affinity binding to histone octamer and sequence-directed nucleosome positioning. J. Mol. Biol. 276, 19–42 (1998).

33.

Dyer, P. N. et al. Reconstitution of nucleosome core particles from recombinant histones and DNA. Methods Enzymol. 375, 23–44 (2003).

34.

He, Y. et al. Near-atomic resolution visualization of human transcription promoter opening. Nature 533, 359–365 (2016).

35.

Han, Y. et al. Structural mechanism of ATP-independent transcription initiation by RNA polymerase I. eLife 6, e27414 (2017).

36.

Han, Y., Yan, C., Fishbain, S., Ivanov, I. & He, Y. Structural visualization of RNA polymerase III transcription machineries. Cell Discov. 4, 40 (2018).

37.

Suloway, C. et al. Automated molecular microscopy: the new Leginon system. J. Struct. Biol. 151, 41–60 (2005).

38.

Lander, G. C. et al. Appion: an integrated, database-driven pipeline to facilitate EM image processing. J. Struct. Biol. 166, 95–102 (2009).

39.

Voss, N. R., Yoshioka, C. K., Radermacher, M., Potter, C. S. & Carragher, B. DoG Picker and TiltPicker: software tools to facilitate particle selection in single particle electron microscopy. J. Struct. Biol. 166, 205–213 (2009).

40.

Rohou, A. & Grigorieff, N. CTFFIND4: Fast and accurate defocus estimation from electron micrographs. J. Struct. Biol. 192, 216–221 (2015).

41.

van Heel, M., Harauz, G., Orlova, E. V., Schmidt, R. & Schatz, M. A new generation of the IMAGIC image processing system. J. Struct. Biol. 116, 17–24 (1996).

42.

Tang, G. et al. EMAN2: an extensible image processing suite for electron microscopy. J. Struct. Biol. 157, 38–46 (2007).

43.

Punjani, A., Rubinstein, J. L., Fleet, D. J. & Brubaker, M. A. cryoSPARC: algorithms for rapid unsupervised cryo-EM structure determination. Nat. Methods 14, 290–296 (2017).

44.

Zheng, S. Q. et al. MotionCor2: anisotropic correction of beam-induced motion for improved cryo-electron microscopy. Nat. Methods 14, 331–332 (2017).

45.

Zhang, K. Gctf: Real-time CTF determination and correction. J. Struct. Biol. 193, 1–12 (2016).

46.

Kimanius, D., Forsberg, B. O., Scheres, S. H. & Lindahl, E. Accelerated cryo-EM structure determination with parallelisation using GPUs in RELION-2. eLife 5, e18722 (2016).

47.

Henderson, R. et al. Outcome of the first electron microscopy validation task force meeting Structure 20, 205–214 (2012).

48.

Bai, X.-C., Rajendra, E., Yang, G., Shi, Y. & Scheres, S. H. W. Sampling the conformational space of the catalytic subunit of human γ-secretase. eLife 4, e11182 (2015).

49.

Nakane, T., Kimanius, D., Lindahl, E. & Scheres, S. H. Characterisation of molecular motions in cryo-EM single-particle data by multi-body refinement in RELION. eLife 7, e36861 (2018).

50.

Kurowski, M. A. & Bujnicki, J. M. GeneSilico protein structure prediction meta-server. Nucleic Acids Res. 31, 3305–3307 (2003).

51.

Pettersen, E. F. et al. UCSF Chimera—a visualization system for exploratory research and analysis. J. Comput. Chem. 25, 1605–1612 (2004).

52.

Goddard, T. D., Huang, C. C. & Ferrin, T. E. Visualizing density maps with UCSF Chimera. J. Struct. Biol. 157, 281–287 (2007).

53.

Yan, L., Xie, S., Du, Y. & Qian, C. Structural insights into BAF47 and BAF155 complex formation. J. Mol. Biol. 429, 1650–1660 (2017).

54.

Webb, B. & Sali, A. Comparative protein structure modeling using MODELLER. Curr. Protoc. Bioinformatics 54, bi0506s15 (2016).

55.

Emsley, P., Lohkamp, B., Scott, W. G. & Cowtan, K. Features and development of Coot. Acta Crystallogr. D 66, 486–501 (2010).

56.

Schubert, H. L. et al. Structure of an actin-related subcomplex of the SWI/SNF chromatin remodeler. Proc. Natl Acad. Sci. USA 110, 3345–3350 (2013).

57.

Huber, A. H., Nelson, W. J. & Weis, W. I. Three-dimensional structure of the armadillo repeat region of β-catenin. Cell 90, 871–882 (1997).

58.

Jung, L. A. et al. OmoMYC blunts promoter invasion by oncogenic MYC to inhibit gene expression characteristic of MYC-dependent tumors. Oncogene 36, 1911–1924 (2017).

59.

Zhang, Z. et al. Architecture of SWI/SNF chromatin remodeling complex. Protein Cell 9, 1045–1049 (2018).

60.

Kidmose, R. T. et al. Namdinator—automatic molecular dynamics flexible fitting of structural models into cryo-EM and crystallography experimental maps. IUCrJ 6, 526–531 (2019).

61.

Goddard, T. D. et al. UCSF ChimeraX: Meeting modern challenges in visualization and analysis. Protein Sci. 27, 14–25 (2018).

62.

Merkley, E. D. et al. Distance restraints from crosslinking mass spectrometry: mining a molecular dynamics simulation database to evaluate lysine–lysine distances. Protein Sci. 23, 747–759 (2014).
Acknowledgements
We thank J. Remis for assistance with microscope operation and data collection and J. Pattie for computer support; A. Rosenzweig, I. Radhakrishnan and S. Fishbain for helpful discussion and comments on the manuscript; the staff at the Structural Biology Facility of Northwestern University for technical support. This work was supported by a Cornew Innovation Award from the Chemistry of Life Processes Institute at Northwestern University (to Y. He), a Catalyst Award by the Chicago Biomedical Consortium with support from the Searle Funds at The Chicago Community Trust (to Y. He), an Institutional Research Grant from the American Cancer Society (IRG-15-173-21 to Y. He), an H Foundation Core Facility Pilot Project Award (to Y. He). Y. He is supported by NIGMS grant R01GM135651, NCI grant P01CA092584 and a Pilot Project Award from NCI grant U54CA193419. Y. Han is a recipient of the Chicago Biomedical Consortium Postdoctoral Research Grant. A.A.R. is supported by the Molecular Biophysics Training Program from NIGMS/NIH (5T32 GM008382).
Ethics declarations
Competing interests
The authors declare no competing interests.
Additional information
Peer review information Nature thanks Blaine Bartholomew and the other, anonymous, reviewer(s) for their contribution to the peer review of this work.
Publisher's note Springer Nature remains neutral with regard to jurisdictional claims in published maps and institutional affiliations.
Extended data figures and tables
Supplementary information
This file contains Supplementary Figures 1-6 and Supplementary Tables 1-4.
Three-dimensional structure of the SWI/SNF-nucleosome structure. Composite map and molecular model fitted in transparent density are shown. Subunits are colour same as Fig. 1.
About this article
Cite this article
Han, Y., Reyes, A.A., Malik, S. et al. Cryo-EM structure of SWI/SNF complex bound to a nucleosome. Nature 579, 452–455 (2020). https://doi.org/10.1038/s41586-020-2087-1
Received:

Accepted:

Published:

Issue Date:
Comments
By submitting a comment you agree to abide by our Terms and Community Guidelines. If you find something abusive or that does not comply with our terms or guidelines please flag it as inappropriate.