Abstract
Mitochondrial fidelity is tightly linked to overall cellular homeostasis and is compromised in ageing and various pathologies1,2,3. Mitochondrial malfunction needs to be relayed to the cytosol, where an integrated stress response is triggered by the phosphorylation of eukaryotic translation initiation factor 2α (eIF2α) in mammalian cells4,5. eIF2α phosphorylation is mediated by the four eIF2α kinases GCN2, HRI, PERK and PKR, which are activated by diverse types of cellular stress6. However, the machinery that communicates mitochondrial perturbation to the cytosol to trigger the integrated stress response remains unknown1,2,7. Here we combine genome engineering and haploid genetics to unbiasedly identify genes that affect the induction of C/EBP homologous protein (CHOP), a key factor in the integrated stress response. We show that the mitochondrial protease OMA1 and the poorly characterized protein DELE1, together with HRI, constitute the missing pathway that is triggered by mitochondrial stress. Mechanistically, stress-induced activation of OMA1 causes DELE1 to be cleaved into a short form that accumulates in the cytosol, where it binds to and activates HRI via its C-terminal portion. Obstruction of this pathway can be beneficial or adverse depending on the type of mitochondrial perturbation. In addition to the core pathway components, our comparative genetic screening strategy identifies a suite of additional regulators. Together, these findings could be used to inform future strategies to modulate the cellular response to mitochondrial dysfunction in the context of human disease.
This is a preview of subscription content
Access options
Subscribe to Nature+
Get immediate online access to the entire Nature family of 50+ journals
Subscribe to Journal
Get full journal access for 1 year
$199.00
only $3.90 per issue
All prices are NET prices.
VAT will be added later in the checkout.
Tax calculation will be finalised during checkout.
Buy article
Get time limited or full article access on ReadCube.
$32.00
All prices are NET prices.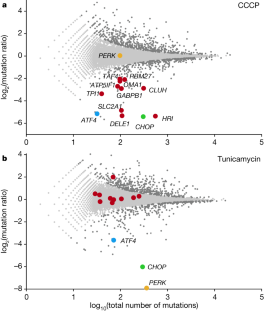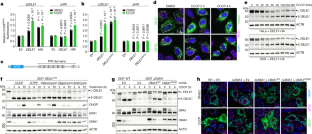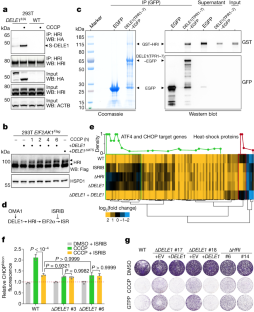 Data availability
All data including Source Data for Figs. 1–3 and Extended Data Fig. 1, 5–11 are provided with the paper and its Supplementary Information files. Deep-sequencing raw data (genome-wide genetic screens and RNA-seq) have been deposited in the NCBI Sequence Read Archive under accession number PRJNA559719. The corresponding processed data are provided in Supplementary Tables 1–3, 6–10. Materials and reagents are available from the corresponding author on request.
References
Higuchi-Sanabria, R., Frankino, P. A., Paul, J. W. III, Tronnes, S. U. & Dillin, A. A futile battle? Protein quality control and the stress of aging. Dev. Cell 44, 139–163 (2018).

Shpilka, T. & Haynes, C. M. M. The mitochondrial UPR: mechanisms, physiological functions and implications in ageing. Nat. Rev. Mol. Cell Biol. 19, 109–120 (2018).

Sun, N., Youle, R. J. & Finkel, T. The mitochondrial basis of aging. Mol. Cell 61, 654–666 (2016).

Quirós, P. M. et al. Multi-omics analysis identifies ATF4 as a key regulator of the mitochondrial stress response in mammals. J. Cell Biol. 216, 2027–2045 (2017).

Harding, H. P. et al. An integrated stress response regulates amino acid metabolism and resistance to oxidative stress. Mol. Cell 11, 619–633 (2003).

Taniuchi, S., Miyake, M., Tsugawa, K., Oyadomari, M. & Oyadomari, S. Integrated stress response of vertebrates is regulated by four eIF2α kinases. Sci. Rep. 6, 32886 (2016).

Münch, C. & Harper, J. W. Mitochondrial unfolded protein response controls matrix pre-RNA processing and translation. Nature 534, 710–713 (2016).

Palam, L. R., Baird, T. D. & Wek, R. C. Phosphorylation of eIF2 facilitates ribosomal bypass of an inhibitory upstream ORF to enhance CHOP translation. J. Biol. Chem. 286, 10939–10949 (2011).

Brockmann, M. et al. Genetic wiring maps of single-cell protein states reveal an off-switch for GPCR signalling. Nature 546, 307–311 (2017).

Azim, M. & Surani, H. Glycoprotein synthesis and inhibition of glycosylation by tunicamycin in preimplantation mouse embryos: compaction and trophoblast adhesion. Cell 18, 217–227 (1979).

Yore, M. M., Kettenbach, A. N., Sporn, M. B., Gerber, S. A. & Liby, K. T. Proteomic analysis shows synthetic oleanane triterpenoid binds to mTOR. PLoS One 6, e22862 (2011).

Harada, T., Iwai, A. & Miyazaki, T. Identification of DELE, a novel DAP3-binding protein which is crucial for death receptor-mediated apoptosis induction. Apoptosis 15, 1247–1255 (2010).

Tanaka, A. et al. Proteasome and p97 mediate mitophagy and degradation of mitofusins induced by Parkin. J. Cell Biol. 191, 1367–1380 (2010).

Baker, M. J. et al. Stress-induced OMA1 activation and autocatalytic turnover regulate OPA1-dependent mitochondrial dynamics. EMBO J. 33, 578–593 (2014).

Sekine, S. et al. Reciprocal roles of Tom7 and OMA1 during mitochondrial import and activation of PINK1. Mol. Cell 73, 1028–1043 (2019).

Scheufler, C. et al. Structure of TPR domain–peptide complexes: critical elements in the assembly of the Hsp70–Hsp90 multichaperone machine. Cell 101, 199–210 (2000).

Lu, L., Han, A. P. & Chen, J.-J. J. Translation initiation control by heme-regulated eukaryotic initiation factor 2α kinase in erythroid cells under cytoplasmic stresses. Mol. Cell. Biol. 21, 7971–7980 (2001).

Shah, D. I. et al. Mitochondrial Atpif1 regulates haem synthesis in developing erythroblasts. Nature 491, 608–612 (2012).

Sukumar, M. et al. Mitochondrial membrane potential identifies cells with enhanced stemness for cellular therapy. Cell Metab. 23, 63–76 (2016).

Baricault, L. et al. OPA1 cleavage depends on decreased mitochondrial ATP level and bivalent metals. Exp. Cell Res. 313, 3800–3808 (2007).

Sorrentino, V. et al. Enhancing mitochondrial proteostasis reduces amyloid-β proteotoxicity. Nature 552, 187–193 (2017).

Sidrauski, C. et al. Pharmacological brake-release of mRNA translation enhances cognitive memory. eLife 2, e00498 (2013).

Züchner, S. et al. Mutations in the mitochondrial GTPase mitofusin 2 cause Charcot–Marie–Tooth neuropathy type 2A. Nat. Genet. 36, 449–451 (2004).

Dickson, M. A. et al. Human keratinocytes that express hTERT and also bypass a p16INK4a-enforced mechanism that limits life span become immortal yet retain normal growth and differentiation characteristics. Mol. Cell. Biol. 20, 1436–1447 (2000).

Schmid-Burgk, J. L., Höning, K., Ebert, T. S. & Hornung, V. CRISPaint allows modular base-specific gene tagging using a ligase-4-dependent mechanism. Nat. Commun. 7, 12338 (2016).

Jae, L. T. et al. Lassa virus entry requires a trigger-induced receptor switch. Science 344, 1506–1510 (2014).

Carette, J. E. et al. Haploid genetic screens in human cells identify host factors used by pathogens. Science 326, 1231–1235 (2009).

Langmead, B., Trapnell, C., Pop, M. & Salzberg, S. L. Ultrafast and memory-efficient alignment of short DNA sequences to the human genome. Genome Biol. 10, R25 (2009).

Quinlan, A. R. & Hall, I. M. BEDTools: a flexible suite of utilities for comparing genomic features. Bioinformatics 26, 841–842 (2010).

Schindelin, J. et al. Fiji: an open-source platform for biological-image analysis. Nat. Methods 9, 676–682 (2012).

Schmitt, S. et al. A semi-automated method for isolating functionally intact mitochondria from cultured cells and tissue biopsies. Anal. Biochem. 443, 66–74 (2013).

Bradford, M. M. A rapid and sensitive method for the quantitation of microgram quantities of protein utilizing the principle of protein-dye binding. Anal. Biochem. 72, 248–254 (1976).

Zamzami, N., Métivier, D. & Kroemer, G. Quantitation of mitochondrial transmembrane potential in cells and in isolated mitochondria. Methods Enzymol. 322, 208–213 (2000).

Zischka, H. et al. Electrophoretic analysis of the mitochondrial outer membrane rupture induced by permeability transition. Anal. Chem. 80, 5051–5058 (2008).

Afgan, E. et al. The Galaxy platform for accessible, reproducible and collaborative biomedical analyses: 2018 update. Nucleic Acids Res. 46, W537–W544 (2018).

Love, M. I., Huber, W. & Anders, S. Moderated estimation of fold change and dispersion for RNA-seq data with DESeq2. Genome Biol. 15, 550 (2014).

de Hoon, M. J. L., Imoto, S., Nolan, J. & Miyano, S. Open source clustering software. Bioinformatics 20, 1453–1454 (2004).

Saldanha, A. J. Java Treeview—extensible visualization of microarray data. Bioinformatics 20, 3246–3248 (2004).

Han, H. et al. TRRUST v2: an expanded reference database of human and mouse transcriptional regulatory interactions. Nucleic Acids Res. 46, D380–D386 (2018).

Bao, X. R. et al. Mitochondrial dysfunction remodels one-carbon metabolism in human cells. eLife 5, e10575 (2016).

Ashburner, M. et al. Gene ontology: tool for the unification of biology. Nat. Genet. 25, 25–29 (2000).

The Gene Ontology Consortium. The Gene Ontology resource: 20 years and still GOing strong. Nucleic Acids Res. 47, D330–D338 (2019).

Carbon, S. et al. AmiGO: online access to ontology and annotation data. Bioinformatics 25, 288–289 (2009).

Quirós, P. M., Langer, T. & López-Otín, C. New roles for mitochondrial proteases in health, ageing and disease. Nat. Rev. Mol. Cell Biol. 16, 345–359 (2015).

Calvo, S. E., Clauser, K. R. & Mootha, V. K. MitoCarta2.0: an updated inventory of mammalian mitochondrial proteins. Nucleic Acids Res. 44, D1251–D1257 (2016).
Acknowledgements
We thank A. Graf and H. Blum for deep-sequencing infrastructure; C. Jung for assistance with confocal microscopy; N. Tafrishi for assistance with cell sorting; S. Theurich for access to Seahorse instrumentation; T. Brummelkamp and V. Hornung for valuable comments on the manuscript; and J. Stingele, R. Beckmann and all members of the Jae lab for helpful discussions. This work was supported by ERC StG 804182 (SOLID), the Center for Integrated Protein Science Munich and the German Research Foundation (Heinz-Maier-Leibnitz Prize) to L.T.J.
Ethics declarations
Competing interests
The authors declare no competing interests.
Additional information
Peer review information Nature thanks Ulrich Elling, Cole Haynes and the other, anonymous, reviewer(s) for their contribution to the peer review of this work.
Publisher's note Springer Nature remains neutral with regard to jurisdictional claims in published maps and institutional affiliations.
Extended data figures and tables
Supplementary information
About this article
Cite this article
Fessler, E., Eckl, EM., Schmitt, S. et al. A pathway coordinated by DELE1 relays mitochondrial stress to the cytosol. Nature 579, 433–437 (2020). https://doi.org/10.1038/s41586-020-2076-4
Received:

Accepted:

Published:

Issue Date:

DOI: https://doi.org/10.1038/s41586-020-2076-4
Comments
By submitting a comment you agree to abide by our Terms and Community Guidelines. If you find something abusive or that does not comply with our terms or guidelines please flag it as inappropriate.