Abstract
Cleavage of the gasdermin proteins to produce pore-forming amino-terminal fragments causes inflammatory cell death (pyroptosis)1. Gasdermin E (GSDME, also known as DFNA5)—mutated in familial ageing-related hearing loss2—can be cleaved by caspase 3, thereby converting noninflammatory apoptosis to pyroptosis in GSDME-expressing cells3,4,5. GSDME expression is suppressed in many cancers, and reduced GSDME levels are associated with decreased survival as a result of breast cancer2,6, suggesting that GSDME might be a tumour suppressor. Here we show that 20 of 22 tested cancer-associated GSDME mutations reduce GSDME function. In mice, knocking out Gsdme in GSDME-expressing tumours enhances, whereas ectopic expression in Gsdme-repressed tumours inhibits, tumour growth. This tumour suppression is mediated by killer cytotoxic lymphocytes: it is abrogated in perforin-deficient mice or mice depleted of killer lymphocytes. GSDME expression enhances the phagocytosis of tumour cells by tumour-associated macrophages, as well as the number and functions of tumour-infiltrating natural-killer and CD8+ T lymphocytes. Killer-cell granzyme B also activates caspase-independent pyroptosis in target cells by directly cleaving GSDME at the same site as caspase 3. Uncleavable or pore-defective GSDME proteins are not tumour suppressive. Thus, tumour GSDME acts as a tumour suppressor by activating pyroptosis, enhancing anti-tumour immunity.
Your institute does not have access to this article
Relevant articles
Open Access articles citing this article.
Sainan Duan

,

Jianying Gao

…

Yuanbin Zhong

BMC Medical Genomics Open Access 28 July 2022

Meini Chen

,

Rong Rong

&

Xiaobo Xia

Journal of Neuroinflammation Open Access 14 July 2022

Jinxiang Wu

,

Lei Wang

&

Jianwei Xu

Biomarker Research Open Access 23 June 2022
Access options
Subscribe to Nature+
Get immediate online access to the entire Nature family of 50+ journals
Subscribe to Journal
Get full journal access for 1 year
$199.00
only $3.90 per issue
All prices are NET prices.
VAT will be added later in the checkout.
Tax calculation will be finalised during checkout.
Buy article
Get time limited or full article access on ReadCube.
$32.00
All prices are NET prices.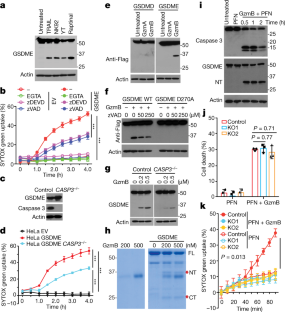 Data availability
All relevant data are available in the Source Data (for Figs. 1–4 and Extended Data Figs. 1–11) or Supplementary Information associated with this paper.
References
Liu, X. & Lieberman, J. A mechanistic understanding of pyroptosis: the fiery death triggered by invasive infection. Adv. Immunol. 135, 81–117 (2017).

de Beeck, K. O., Van Laer, L. & Van Camp, G. DFNA5, a gene involved in hearing loss and cancer: a review. Ann. Otol. Rhinol. Laryngol. 121, 197–207 (2012).

Rogers, C. et al. Cleavage of DFNA5 by caspase-3 during apoptosis mediates progression to secondary necrotic/pyroptotic cell death. Nat. Commun. 8, 14128 (2017).

Wang, Y. et al. Chemotherapy drugs induce pyroptosis through caspase-3 cleavage of a gasdermin. Nature547, 99–103 (2017).

Rogers, C. et al. Gasdermin pores permeabilize mitochondria to augment caspase-3 activation during apoptosis and inflammasome activation. Nat. Commun. 10, 1689 (2019).

Xia, X. et al. The role of pyroptosis in cancer: pro-cancer or pro-"host"? Cell Death Dis. 10, 650 (2019).

Palchaudhuri, R. et al. A small molecule that induces intrinsic pathway apoptosis with unparalleled speed. Cell Reports13, 2027–2036 (2015).

Ruan, J., Xia, S., Liu, X., Lieberman, J. & Wu, H. Cryo-EM structure of the gasdermin A3 membrane pore. Nature557, 62–67 (2018).

Galluzzi, L., Buqué, A., Kepp, O., Zitvogel, L. & Kroemer, G. Immunogenic cell death in cancer and infectious disease. Nat. Rev. Immunol. 17, 97–111 (2017).

Teng, X. et al. Structure-activity relationship study of novel necroptosis inhibitors. Bioorg. Med. Chem. Lett. 15, 5039–5044 (2005).

Wenzel, S. E. et al. PEBP1 wardens ferroptosis by enabling lipoxygenase generation of lipid death signals. Cell171, 628–641 (2017).

Chowdhury, D. & Lieberman, J. Death by a thousand cuts: granzyme pathways of programmed cell death. Annu. Rev. Immunol. 26, 389–420 (2008).

Nagata, S. Apoptosis and clearance of apoptotic cells. Annu. Rev. Immunol. 36, 489–517 (2018).

Werfel, T. A. & Cook, R. S. Efferocytosis in the tumor microenvironment. Semin. Immunopathol. 40, 545–554 (2018).

Aaes, T. L. et al. Vaccination with necroptotic cancer cells induces efficient anti-tumor immunity. Cell Reports15, 274–287 (2016).

Sollberger, G. et al. Gasdermin D plays a vital role in the generation of neutrophil extracellular traps. Sci. Immunol. 3, eaar6689 (2018).

Kambara, H. et al. Gasdermin D exerts anti-inflammatory effects by promoting neutrophil death. Cell Reports22, 2924–2936 (2018).

Petrocca, F. et al. A genome-wide siRNA screen identifies proteasome addiction as a vulnerability of basal-like triple-negative breast cancer cells. Cancer Cell24, 182–196 (2013).

Shalem, O. et al. Genome-scale CRISPR-Cas9 knockout screening in human cells. Science343, 84–87 (2014).

Sanjana, N. E., Shalem, O. & Zhang, F. Improved vectors and genome-wide libraries for CRISPR screening. Nat. Methods11, 783–784 (2014).

Goldman, M. et al. The UCSC Xena platform for public and private cancer genomics data visualization and interpretation. Preprint at https://www.biorxiv.org/content/10.1101/326470v6 (2019).

Gambotto, A. et al. Immunogenicity of enhanced green fluorescent protein (EGFP) in BALB/c mice: identification of an H2-Kd-restricted CTL epitope. Gene Ther. 7, 2036–2040 (2000).

Dotiwala, F. et al. A high yield and cost-efficient expression system of human granzymes in mammalian cells. J. Vis. Exp. 100, e52911 (2015).

Thiery, J., Walch, M., Jensen, D. K., Martinvalet, D. & Lieberman, J. Isolation of cytotoxic T cell and NK granules and purification of their effector proteins. Curr. Prot. Cell Biol. 40, 3.37.1–3.37.40 (2010).
Acknowledgements
We thank the US National Institutes of Health (NIH) Tetramer Core Facility for providing the eGFP tetramer. This work was supported by NIH grant R01 AI139914 (to H.W. and J.L.), a Charles A. King Trust Fellowship (to Z.Z.) and a Department of Defense Breast Cancer Breakthrough Fellowship Award (to Y.Z.). The mutations in GSDME primary tumours and primary human breast cancer and colorectal cancer expression analyses in this study are based upon data generated by The Cancer Genome Atlas (TCGA) Research Network (https://www.cancer.gov/tcga).
Ethics declarations
Competing interests
The authors declare no competing interests.
Additional information
Peer review informationNature thanks Ed Mocarski, Dmitri V. Krysko and the other, anonymous, reviewer(s) for their contribution to the peer review of this work.
Publisher's note Springer Nature remains neutral with regard to jurisdictional claims in published maps and institutional affiliations.
Extended data figures and tables
Supplementary information
About this article
Cite this article
Zhang, Z., Zhang, Y., Xia, S. et al. Gasdermin E suppresses tumour growth by activating anti-tumour immunity. Nature 579, 415–420 (2020). https://doi.org/10.1038/s41586-020-2071-9
Received:

Accepted:

Published:

Issue Date:

DOI: https://doi.org/10.1038/s41586-020-2071-9
Comments
By submitting a comment you agree to abide by our Terms and Community Guidelines. If you find something abusive or that does not comply with our terms or guidelines please flag it as inappropriate.