Abstract
Spin-based logic architectures provide nonvolatile data retention, near-zero leakage, and scalability, extending the technology roadmap beyond complementary metal–oxide–semiconductor logic1,2,3,4,5,6,7,8,9,10,11,12,13. Architectures based on magnetic domain walls take advantage of the fast motion, high density, non-volatility and flexible design of domain walls to process and store information1,3,14,15,16. Such schemes, however, rely on domain-wall manipulation and clocking using an external magnetic field, which limits their implementation in dense, large-scale chips. Here we demonstrate a method for performing all-electric logic operations and cascading using domain-wall racetracks. We exploit the chiral coupling between neighbouring magnetic domains induced by the interfacial Dzyaloshinskii–Moriya interaction17,18,19,20, which promotes non-collinear spin alignment, to realize a domain-wall inverter, the essential basic building block in all implementations of Boolean logic. We then fabricate reconfigurable NAND and NOR logic gates, and perform operations with current-induced domain-wall motion. Finally, we cascade several NAND gates to build XOR and full adder gates, demonstrating electrical control of magnetic data and device interconnection in logic circuits. Our work provides a viable platform for scalable all-electric magnetic logic, paving the way for memory-in-logic applications.
Access options
Access Nature and 54 other Nature Portfolio journals
Get Nature+, our best-value online-access subscription
$29.99 / 30 days
cancel any time
Subscribe to this journal
Receive 51 print issues and online access
$199.00 per year
only $3.90 per issue
Rent or buy this article
Prices vary by article type
from$1.95
to$39.95
Prices may be subject to local taxes which are calculated during checkout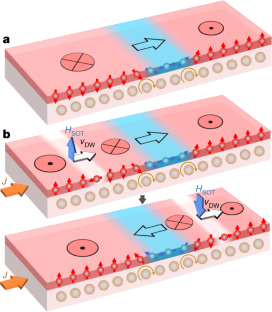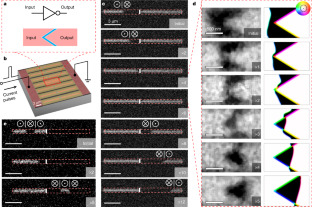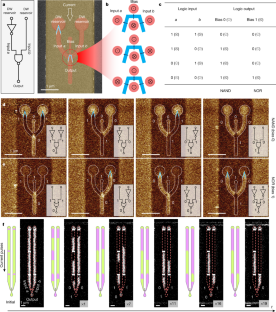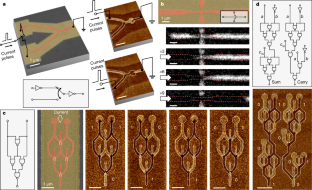 Similar content being viewed by others
References
Allwood, D. A. et al. Submicrometer ferromagnetic NOT gate and shift register. Science 296, 2003–2006 (2002).

Ney, A., Pampuch, C., Koch, R. & Ploog, K. H. Programmable computing with a single magnetoresistive element. Nature 425, 485–487 (2003).

Allwood, D. A. et al. Magnetic domain-wall logic. Science 309, 1688–1692 (2005).

Imre, A. et al. Majority logic gate for magnetic quantum-dot cellular automata. Science 311, 205–208 (2006).

Dery, H., Dalal, P., Cywiński, Ł. & Sham, L. J. Spin-based logic in semiconductors for reconfigurable large-scale circuits. Nature 447, 573–576 (2007).

Matsunaga, S. et al. Fabrication of a nonvolatile full adder based on logic-in-memory architecture using magnetic tunnel junctions. Appl. Phys. Express 1, 091301 (2008).

Behin-Aein, B., Datta, D., Salahuddin, S. & Datta, S. Proposal for an all-spin logic device with built-in memory. Nat. Nanotechnol. 5, 266–270 (2010).

Nikonov, D. E., Bourianoff, G. I. & Ghani, T. Proposal of a spin torque majority gate logic. IEEE Electron Device Lett. 32, 1128–1130 (2011).

Breitkreutz, S. et al. Majority gate for nanomagnetic logic with perpendicular magnetic anisotropy. IEEE Trans. Magn. 48, 4336–4339 (2012).

Joo, S. et al. Magnetic-field-controlled reconfigurable semiconductor logic. Nature 494, 72–76 (2013).

Chumak, A. V., Serga, A. A. & Hillebrands, B. Magnon transistor for all-magnon data processing. Nat. Commun. 5, 4700 (2014).

Currivan-Incorvia, J. A. et al. Logic circuit prototypes for three-terminal magnetic tunnel junctions with mobile domain walls. Nat. Commun. 7, 10275 (2016).

Manipatruni, S. et al. Scalable energy-efficient magnetoelectric spin–orbit logic. Nature 565, 35–42 (2019).

Parkin, S. S., Hayashi, M. & Thomas, L. Magnetic domain-wall racetrack memory. Science 320, 190–194 (2008).

Franken, J. H., Swagten, H. J. M. & Koopmans, B. Shift registers based on magnetic domain wall ratchets with perpendicular anisotropy. Nat. Nanotechnol. 7, 499–503 (2012).

Parkin, S. & Yang, S.-H. Memory on the racetrack. Nat. Nanotechnol. 10, 195–198 (2015).

Kubetzka, A., Bode, M., Pietzsch, O. & Wiesendanger, R. Spin-polarized scanning tunneling microscopy with antiferromagnetic probe tips. Phys. Rev. Lett. 88, 057201 (2002).

Heide, M., Bihlmayer, G. & Blügel, S. Dzyaloshinskii–Moriya interaction accounting for the orientation of magnetic domains in ultrathin films: Fe/W(110). Phys. Rev. B 78, 140403 (2008).

Franken, J. H., Herps, M., Swagten, H. J. & Koopmans, B. Tunable chiral spin texture in magnetic domain-walls. Sci. Rep. 4, 5248 (2014).

Luo, Z. et al. Chirally coupled nanomagnets. Science 363, 1435–1439 (2019).

Miron, I. M. et al. Fast current-induced domain-wall motion controlled by the Rashba effect. Nat. Mater. 10, 419–423 (2011).

Thiaville, A., Rohart, S., Jué, É., Cros, V. & Fert, A. Dynamics of Dzyaloshinskii domain walls in ultrathin magnetic films. EPL 100, 57002 (2012).

Ryu, K. S., Thomas, L., Yang, S. H. & Parkin, S. Chiral spin torque at magnetic domain walls. Nat. Nanotechnol. 8, 527–533 (2013).

Emori, S., Bauer, U., Ahn, S. M., Martinez, E. & Beach, G. S. Current-driven dynamics of chiral ferromagnetic domain walls. Nat. Mater. 12, 611–616 (2013).

Haazen, P. P. J. et al. Domain wall depinning governed by the spin Hall effect. Nat. Mater. 12, 299–303 (2013).

Baumgartner, M. et al. Spatially and time-resolved magnetization dynamics driven by spin–orbit torques. Nat. Nanotechnol. 12, 980–986 (2017).

Manchon, A. et al. Current-induced spin–orbit torques in ferromagnetic and antiferromagnetic systems. Rev. Mod. Phys. 91, 035004 (2019).

Benitez, M. J. et al. Magnetic microscopy and topological stability of homochiral Néel domain walls in a Pt/Co/AlOx trilayer. Nat. Commun. 6, 8957 (2015).

Manfrini, M. et al. Interconnected magnetic tunnel junctions for spin-logic applications. AIP Adv. 8, 055921 (2018).

Vansteenkiste, A. et al. The design and verification of MuMax3. AIP Adv. 4, 107133 (2014).
Acknowledgements
We thank A. Weber, V. Guzenko and X. Wang for technical support with sample fabrication and measurements. This work was supported by the Swiss National Science Foundation through grant number 200020-172775. S.M. acknowledges funding from the Swiss National Science Foundation under grant agreement number 200021-172517. A.H. was funded by the European Union's Horizon 2020 research and innovation programme through Marie Skłodowska-Curie grant agreement number 794207 (ASIQS). J.F. was partially supported by a fellowship from the Chinese Scholarship Council. Part of this work was performed at the PolLux (X07DA) endstation of the Swiss Light Source, Paul Scherrer Institut, Villigen, Switzerland. The PolLux endstation was financed by the German Bundesministerium für Bildung und Forschung under grant agreements 05KS4WE1/6 and 05KS7WE1. Part of this work was performed at the Scanning Probe Microscopy Laboratory, Laboratory for Micro and Nanotechnology, Paul Scherrer Institut, Villigen, Switzerland.
Ethics declarations
Competing interests
Z.L., A.H., T.P.D., P.G. and L.J.H. have filed a European patent application (EPO) covering the logic architectures based on current-driven domain-wall motion.
Additional information
Peer review information Nature thanks See-Hun Yang and the other, anonymous, reviewer(s) for their contribution to the peer review of this work.
Publisher's note Springer Nature remains neutral with regard to jurisdictional claims in published maps and institutional affiliations.
Extended data figures and tables
Supplementary information
About this article
Cite this article
Luo, Z., Hrabec, A., Dao, T.P. et al. Current-driven magnetic domain-wall logic. Nature 579, 214–218 (2020). https://doi.org/10.1038/s41586-020-2061-y
Received:

Accepted:

Published:

Issue Date:

DOI: https://doi.org/10.1038/s41586-020-2061-y
Comments
By submitting a comment you agree to abide by our Terms and Community Guidelines. If you find something abusive or that does not comply with our terms or guidelines please flag it as inappropriate.