Abstract
Despite the resounding clinical success in cancer treatment of antibodies that block the interaction of PD1 with its ligand PDL11, the mechanisms involved remain unknown. A major limitation to understanding the origin and fate of T cells in tumour immunity is the lack of quantitative information on the distribution of individual clonotypes of T cells in patients with cancer. Here, by performing deep single-cell sequencing of RNA and T cell receptors in patients with different types of cancer, we survey the profiles of various populations of T cells and T cell receptors in tumours, normal adjacent tissue, and peripheral blood. We find clear evidence of clonotypic expansion of effector-like T cells not only within the tumour but also in normal adjacent tissue. Patients with gene signatures of such clonotypic expansion respond best to anti-PDL1 therapy. Notably, expanded clonotypes found in the tumour and normal adjacent tissue can also typically be detected in peripheral blood, which suggests a convenient approach to patient identification. Analyses of our data together with several external datasets suggest that intratumoural T cells, especially in responsive patients, are replenished with fresh, non-exhausted replacement cells from sites outside the tumour, suggesting continued activity of the cancer immunity cycle in these patients, the acceleration of which may be associated with clinical response.
Relevant articles
Open Access articles citing this article.
Chaorui Wu

,

Yaopeng Qiu

…

Liying Zhao

Journal of Translational Medicine Open Access 04 September 2022

Qingzhu Jia

,

Han Chu

…

Bo Zhu

Signal Transduction and Targeted Therapy Open Access 03 May 2022

Jani Huuhtanen

,

Dipabarna Bhattacharya

…

Satu Mustjoki

Nature Communications Open Access 11 April 2022
Access options
Subscribe to Nature+
Get immediate online access to Nature and 55 other Nature journal
Subscribe to Journal
Get full journal access for 1 year
$199.00
only $3.90 per issue
All prices are NET prices.
VAT will be added later in the checkout.
Tax calculation will be finalised during checkout.
Buy article
Get time limited or full article access on ReadCube.
$32.00
All prices are NET prices.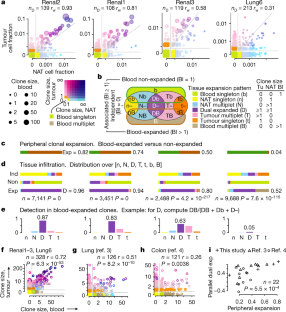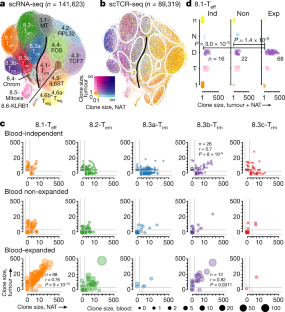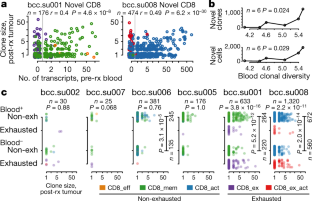 Data availability
FASTQ files containing raw reads from the scRNA-seq and scTCR-seq analyses have been deposited with the European Genome-phenome Archive (EGA) under studies EGAS00001003993 and EGAS00001003994, and datasets EGAD00001005464 and EGAD00001005465. These files are available under controlled access upon request to the Data Access Committee, with contact information provided at EGA (https://www.ebi.ac.uk/ega/home). Processed output files from Cell Ranger, integrated assay results from Seurat, and metadata with UMAP coordinates, cluster assignments, and clonotypes are available from the NCBI GEO under accession GSE139555.
Code availability
Computer code used to generate the analyses and figures in this paper are provided as a as a Supplementary File to the NCBI Gene Expression Omnibus (GEO) accession GSE139555.
References
Mellman, I., Coukos, G. & Dranoff, G. Cancer immunotherapy comes of age. Nature 480, 480–489 (2011).

Shulman, Z. et al. Transendothelial migration of lymphocytes mediated by intraendothelial vesicle stores rather than by extracellular chemokine depots. Nat. Immunol. 13, 67–76 (2012).

Guo, X. et al. Global characterization of T cells in non-small-cell lung cancer by single-cell sequencing. Nat. Med. 24, 978–985 (2018).

Zhang, L. et al. Lineage tracking reveals dynamic relationships of T cells in colorectal cancer. Nature 564, 268–272 (2018).

Yost, K. E. et al. Clonal replacement of tumor-specific T cells following PD-1 blockade. Nat. Med. 25, 1251–1259 (2019).

Schenkel, J. M. & Masopust, D. Tissue-resident memory T cells. Immunity 41, 886–897 (2014).

Mackay, L. K. et al. Hobit and Blimp1 instruct a universal transcriptional program of tissue residency in lymphocytes. Science 352, 459–463 (2016).

Kumar, B. V. et al. Human tissue-resident memory T cells are defined by core transcriptional and functional signatures in lymphoid and mucosal sites. Cell Rep. 20, 2921–2934 (2017).

Im, S. J. et al. Defining CD8+ T cells that provide the proliferative burst after PD-1 therapy. Nature 537, 417–421 (2016).

Miller, B. C. et al. Subsets of exhausted CD8+ T cells differentially mediate tumor control and respond to checkpoint blockade. Nat. Immunol. 20, 326–336 (2019).

Balin, S. J. et al. Human antimicrobial cytotoxic T lymphocytes, defined by NK receptors and antimicrobial proteins, kill intracellular bacteria. Sci. Immunol. 3, eaat7668 (2018).

Thommen, D. S. et al. A transcriptionally and functionally distinct PD-1+ CD8+ T cell pool with predictive potential in non-small-cell lung cancer treated with PD-1 blockade. Nat. Med. 24, 994–1004 (2018).

Sun, Q., Hao, Q. & Prasanth, K. V. Nuclear long noncoding RNAs: key regulators of gene expression. Trends Genet. 34, 142–157 (2018).

Delmas, V., Stokes, D. G. & Perry, R. P. A mammalian DNA-binding protein that contains a chromodomain and an SNF2/SWI2-like helicase domain. Proc. Natl Acad. Sci. USA 90, 2414–2418 (1993).

Gaide, O. et al. Common clonal origin of central and resident memory T cells following skin immunization. Nat. Med. 21, 647–653 (2015).

Simoni, Y. et al. Bystander CD8+ T cells are abundant and phenotypically distinct in human tumour infiltrates. Nature 557, 575–579 (2018).

Scheper, W. et al. Low and variable tumor reactivity of the intratumoral TCR repertoire in human cancers. Nat. Med. 25, 89–94 (2019).

Mariathasan, S. et al. TGFβ attenuates tumour response to PD-L1 blockade by contributing to exclusion of T cells. Nature 554, 544–548 (2018).

Fehrenbacher, L. et al. Atezolizumab versus docetaxel for patients with previously treated non-small-cell lung cancer (POPLAR): a multicentre, open-label, phase 2 randomised controlled trial. Lancet 387, 1837–1846 (2016).

McDermott, D. F. et al. Clinical activity and molecular correlates of response to atezolizumab alone or in combination with bevacizumab versus sunitinib in renal cell carcinoma. Nat. Med. 24, 749–757 (2018).

Tumeh, P. C. et al. PD-1 blockade induces responses by inhibiting adaptive immune resistance. Nature 515, 568–571 (2014).

Araujo, J. M. et al. Effect of CCL5 expression in the recruitment of immune cells in triple negative breast cancer. Sci. Rep. 8, 4899 (2018).

Chen, D. S. & Mellman, I. Elements of cancer immunity and the cancer-immune set point. Nature 541, 321–330 (2017).

Wherry, E. J. & Kurachi, M. Molecular and cellular insights into T cell exhaustion. Nat. Rev. Immunol. 15, 486–499 (2015).

Topalian, S. L., Drake, C. G. & Pardoll, D. M. Immune checkpoint blockade: a common denominator approach to cancer therapy. Cancer Cell 27, 450–461 (2015).

Khan, O. et al. TOX transcriptionally and epigenetically programs CD8+ T cell exhaustion. Nature 571, 211–218 (2019).

Scott, A. C. et al. TOX is a critical regulator of tumour-specific T cell differentiation. Nature 571, 270–274 (2019).

Sade-Feldman, M. et al. Defining T cell states associated with response to checkpoint immunotherapy in melanoma. Cell 175, 998–1013 (2018).

Yan, Y. et al. CX3CR1 identifies PD-1 therapy-responsive CD8+ T cells that withstand chemotherapy during cancer chemoimmunotherapy. JCI Insight 3, e97828 (2018).

Schumacher, T. N. & Scheper, W. A liquid biopsy for cancer immunotherapy. Nat. Med. 22, 340–341 (2016).

Hogan, S. A. et al. Peripheral blood TCR repertoire profiling may facilitate patient stratification for immunotherapy against melanoma. Cancer Immunol. Res. 7, 77–85 (2019).

Zheng, G. X. Y. et al. Massively parallel digital transcriptional profiling of single cells. Nat. Commun. 8, 14049 (2017).

Stuart, T. et al. Comprehensive integration of single-cell data. Cell 177, 1888–1902 (2019).

Aran, D. et al. Reference-based analysis of lung single-cell sequencing reveals a transitional profibrotic macrophage. Nat. Immunol. 20, 163–172 (2019).

Del Carratore, F. et al. RankProd 2.0: a refactored bioconductor package for detecting differentially expressed features in molecular profiling datasets. Bioinformatics 33, 2774–2775 (2017).

Ritchie, M. E. et al. limma powers differential expression analyses for RNA-sequencing and microarray studies. Nucleic Acids Res. 43, e47 (2015).

Diedenhofen, B. & Musch, J. cocor: a comprehensive solution for the statistical comparison of correlations. PLoS One 10, e0121945 (2015).

Chao, A. et al. Rarefaction and extrapolation with Hill numbers: a framework for sampling and estimation in species diversity studies. Ecol. Monogr. 84, 45–67 (2014).

Therneau, T. M. & Grambsch, P. M. Modeling Survival Data: Extending the Cox Model (Springer, 2000).

McInnes, L. & Healy, J. UMAP: uniform manifold approximation and projection for dimension reduction. Preprint at https://arXiv.org/abs/1802.03426 (2018).

Becht, E. et al. Dimensionality reduction for visualizing single-cell data using UMAP. Nat. Biotechnol. 37, 38–44 (2019).

Zeileis, A. et al. colorspace: a toolbox for manipulating and assessing colors and palettes. Preprint at https://arXiv.org/abs/1903.06490 (2019).

Barter, R. L. & Yu, B. Superheat: an R package for creating beautiful and extendable heatmaps for visualizing complex data. J. Comput. Graph. Stat. 27, 910–922 (2018).

Morgan, M. T. & Davis, S. R. GenomicDataCommons: a bioconductor interface to the NCI Genomic Data Commons. Preprint at https://www.bioRxiv.org/content/10.1101/117200v1 (2017).

Davis, S. & Meltzer, P. S. GEOquery: a bridge between the Gene Expression Omnibus (GEO) and BioConductor. Bioinformatics 23, 1846–1847 (2007).

Shimizu, Y., Meunier, L. & Hendershot, L. M. pERp1 is significantly up-regulated during plasma cell differentiation and contributes to the oxidative folding of immunoglobulin. Proc. Natl Acad. Sci. USA 106, 17013–17018 (2009).

Andreani, V. et al. Cochaperone Mzb1 is a key effector of Blimp1 in plasma cell differentiation and β1-integrin function. Proc. Natl Acad. Sci. USA 115, E9630–E9639 (2018).

Beham, A. W. et al. A TNF-regulated recombinatorial macrophage immune receptor implicated in granuloma formation in tuberculosis. PLoS Pathog. 7, e1002375 (2011).

Fuchs, T. et al. Expression of combinatorial immunoglobulins in macrophages in the tumor microenvironment. PLoS One 13, e0204108 (2018).

Thul, P. J. et al. A subcellular map of the human proteome. Science 356, 820 (2017).

Subramanian, A. et al. Gene set enrichment analysis: a knowledge-based approach for interpreting genome-wide expression profiles. Proc. Natl Acad. Sci. USA 102, 15545–15550 (2005).

Liberzon, A. et al. Molecular signatures database (MSigDB) 3.0. Bioinformatics 27, 1739–1740 (2011).

Irizarry, R. A., Wang, C., Zhou, Y. & Speed, T. P. Gene set enrichment analysis made simple. Stat. Methods Med. Res. 18, 565–575 (2009).

Shugay, M. et al. VDJdb: a curated database of T-cell receptor sequences with known antigen specificity. Nucleic Acids Res. 46, D419–D427 (2018).

Li, B. et al. Landscape of tumor-infiltrating T cell repertoire of human cancers. Nat. Genet. 48, 725–732 (2016).

Shan, G. & Gerstenberger, S. Fisher's exact approach for post hoc analysis of a chi-squared test. PLoS One 12, e0188709 (2017).
Acknowledgements
We thank the Genentech FACS Core for supporting the prompt sorting of T cells, and S. Kummerfeld for advice and assistance with initial data analyses. We also thank A. Lun for discussions regarding reference gene signatures and labelling of single cells.
Ethics declarations
Competing interests
All authors are employees of Genentech, which develops and markets drugs for profit.
Additional information
Peer review information Nature thanks Xiang Chen, Xiaole Shirley Liu and the other, anonymous, reviewer(s) for their contribution to the peer review of this work.
Publisher's note Springer Nature remains neutral with regard to jurisdictional claims in published maps and institutional affiliations.
Extended data figures and tables
Supplementary information
About this article
Cite this article
Wu, T.D., Madireddi, S., de Almeida, P.E. et al. Peripheral T cell expansion predicts tumour infiltration and clinical response. Nature 579, 274–278 (2020). https://doi.org/10.1038/s41586-020-2056-8
Received:

Accepted:

Published:

Issue Date:

DOI: https://doi.org/10.1038/s41586-020-2056-8
Comments
By submitting a comment you agree to abide by our Terms and Community Guidelines. If you find something abusive or that does not comply with our terms or guidelines please flag it as inappropriate.