Abstract
The avascular nature of cartilage makes it a unique tissue1,2,3,4, but whether and how the absence of nutrient supply regulates chondrogenesis remain unknown. Here we show that obstruction of vascular invasion during bone healing favours chondrogenic over osteogenic differentiation of skeletal progenitor cells. Unexpectedly, this process is driven by a decreased availability of extracellular lipids. When lipids are scarce, skeletal progenitors activate forkhead box O (FOXO) transcription factors, which bind to the Sox9 promoter and increase its expression. Besides initiating chondrogenesis, SOX9 acts as a regulator of cellular metabolism by suppressing oxidation of fatty acids, and thus adapts the cells to an avascular life. Our results define lipid scarcity as an important determinant of chondrogenic commitment, reveal a role for FOXO transcription factors during lipid starvation, and identify SOX9 as a critical metabolic mediator. These data highlight the importance of the nutritional microenvironment in the specification of skeletal cell fate.
Relevant articles
Open Access articles citing this article.
Ye Sun

,

Jie Zhao

…

Kerong Dai

npj Regenerative Medicine Open Access 16 September 2022

Caojie Liu

,

Qiuchan Xiong

…

Ning Kang

Nature Communications Open Access 13 April 2022

Steve Stegen

,

Shauni Loopmans

…

Geert Carmeliet

Bone Research Open Access 15 February 2022
Access options
Subscribe to Nature+
Get immediate online access to the entire Nature family of 50+ journals
Subscribe to Journal
Get full journal access for 1 year
$199.00
only $3.90 per issue
All prices are NET prices.
VAT will be added later in the checkout.
Tax calculation will be finalised during checkout.
Buy article
Get time limited or full article access on ReadCube.
$32.00
All prices are NET prices.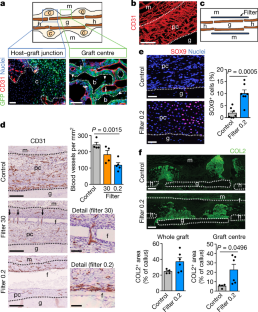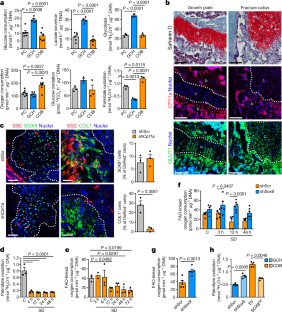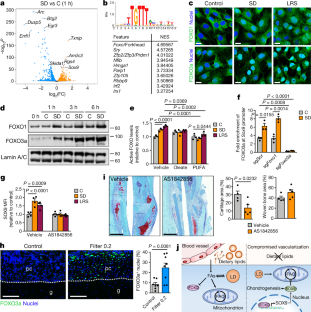 Data availability
The bulk RNA-seq data that support the findings of this study have been deposited in ArrayExpress with the accession number E-MTAB-7564. The single-cell RNA-seq data were generated previously21 and are deposited in the Gene Expression Omnibus with accession number GSE128423. A portal for exploring the entire atlas is available at https://portals.broadinstitute.org/single_cell/study/mouse-bone-marrow-stroma-in-homeostasis. Source Data for Figs. 1–4 and Extended Data Figs. 1–8 are provided with the paper. All other data supporting the findings of this study are available within the paper.
References
Kronenberg, H. M. Developmental regulation of the growth plate. Nature 423, 332–336 (2003).

Roberts, S. J., van Gastel, N., Carmeliet, G. & Luyten, F. P. Uncovering the periosteum for skeletal regeneration: the stem cell that lies beneath. Bone 70, 10–18 (2015).

Hallmann, R., Feinberg, R. N., Latker, C. H., Sasse, J. & Risau, W. Regression of blood vessels precedes cartilage differentiation during chick limb development. Differentiation 34, 98–105 (1987).

Yin, M. & Pacifici, M. Vascular regression is required for mesenchymal condensation and chondrogenesis in the developing limb. Dev. Dyn. 222, 522–533 (2001).

Maes, C. et al. Placental growth factor mediates mesenchymal cell development, cartilage turnover, and bone remodeling during fracture repair. J. Clin. Invest. 116, 1230–1242 (2006).

Taylor, D. K. et al. Thrombospondin-2 influences the proportion of cartilage and bone during fracture healing. J. Bone Miner. Res. 24, 1043–1054 (2009).

Miclau, K. R. et al. Stimulating fracture healing in ischemic environments: does oxygen direct stem cell fate during fracture healing? Front. Cell Dev. Biol. 5, 45 (2017).

Tiyapatanaputi, P. et al. A novel murine segmental femoral graft model. J. Orthop. Res. 22, 1254–1260 (2004).

Stegen, S., van Gastel, N. & Carmeliet, G. Bringing new life to damaged bone: the importance of angiogenesis in bone repair and regeneration. Bone 70, 19–27 (2015).

Carlier, A. et al. MOSAIC: a multiscale model of osteogenesis and sprouting angiogenesis with lateral inhibition of endothelial cells. PLOS Comput. Biol. 8, e1002724 (2012).

Carlier, A., Geris, L., van Gastel, N., Carmeliet, G. & Van Oosterwyck, H. Oxygen as a critical determinant of bone fracture healing-a multiscale model. J. Theor. Biol. 365, 247–264 (2015).

Zhao, L., Li, G., Chan, K. M., Wang, Y. & Tang, P. F. Comparison of multipotent differentiation potentials of murine primary bone marrow stromal cells and mesenchymal stem cell line C3H10T1/2. Calcif. Tissue Int. 84, 56–64 (2009).

van Gastel, N. et al. Engineering vascularized bone: osteogenic and proangiogenic potential of murine periosteal cells. Stem Cells 30, 2460–2471 (2012).

Debnath, S. et al. Discovery of a periosteal stem cell mediating intramembranous bone formation. Nature 562, 133–139 (2018).

Duchamp de Lageneste, O. et al. Periosteum contains skeletal stem cells with high bone regenerative potential controlled by Periostin. Nat. Commun. 9, 773 (2018).

Chan, C. K. et al. Identification and specification of the mouse skeletal stem cell. Cell 160, 285–298 (2015).

Amarilio, R. et al. HIF1α regulation of Sox9 is necessary to maintain differentiation of hypoxic prechondrogenic cells during early skeletogenesis. Development 134, 3917–3928 (2007).

Robins, J. C. et al. Hypoxia induces chondrocyte-specific gene expression in mesenchymal cells in association with transcriptional activation of Sox9. Bone 37, 313–322 (2005).

Shapiro, I. M. & Srinivas, V. Metabolic consideration of epiphyseal growth: survival responses in a taxing environment. Bone 40, 561–567 (2007).

Stegen, S. et al. HIF-1α metabolically controls collagen synthesis and modification in chondrocytes. Nature 565, 511–515 (2019).

Baryawno, N. et al. A cellular taxonomy of the bone marrow stroma in homeostasis and leukemia. Cell 177, 1915–1932.e16 (2019).

Kim, C. et al. Studying arrhythmogenic right ventricular dysplasia with patient-specific iPSCs. Nature 494, 105–110 (2013).

Singh, R. et al. Autophagy regulates lipid metabolism. Nature 458, 1131–1135 (2009).

Rambold, A. S., Cohen, S. & Lippincott-Schwartz, J. Fatty acid trafficking in starved cells: regulation by lipid droplet lipolysis, autophagy, and mitochondrial fusion dynamics. Dev. Cell 32, 678–692 (2015).

Tsukamoto, S. et al. Autophagy is essential for preimplantation development of mouse embryos. Science 321, 117–120 (2008).

Imrichová, H., Hulselmans, G., Atak, Z. K., Potier, D. & Aerts, S. i-cisTarget 2015 update: generalized cis-regulatory enrichment analysis in human, mouse and fly. Nucleic Acids Res. 43 (W1), W57–W64 (2015).

Shang, J., Liu, H., Li, J. & Zhou, Y. Roles of hypoxia during the chondrogenic differentiation of mesenchymal stem cells. Curr. Stem Cell Res. Ther. 9, 141–147 (2014).

Frey, J. L. et al. Wnt–Lrp5 signaling regulates fatty acid metabolism in the osteoblast. Mol. Cell. Biol. 35, 1979–1991 (2015).

Kim, S. P. et al. Fatty acid oxidation by the osteoblast is required for normal bone acquisition in a sex- and diet-dependent manner. JCI Insight 2, 92704 (2017).

Eijkelenboom, A. & Burgering, B. M. FOXOs: signalling integrators for homeostasis maintenance. Nat. Rev. Mol. Cell Biol. 14, 83–97 (2013).

Ashraf, S. & Walsh, D. A. Angiogenesis in osteoarthritis. Curr. Opin. Rheumatol. 20, 573–580 (2008).

Ratneswaran, A. et al. Peroxisome proliferator-activated receptor δ promotes the progression of posttraumatic osteoarthritis in a mouse model. Arthritis Rheumatol. 67, 454–464 (2015).

Zhong, L., Huang, X., Karperien, M. & Post, J. N. Correlation between gene expression and osteoarthritis progression in human. Int. J. Mol. Sci. 17, E1126 (2016).

Akasaki, Y. et al. Dysregulated FOXO transcription factors in articular cartilage in aging and osteoarthritis. Osteoarthritis Cartilage 22, 162–170 (2014).

Hadjantonakis, A. K., Gertsenstein, M., Ikawa, M., Okabe, M. & Nagy, A. Generating green fluorescent mice by germline transmission of green fluorescent ES cells. Mech. Dev. 76, 79–90 (1998).

Ouyang, Z. et al. Prx1 and 3.2kb Col1a1 promoters target distinct bone cell populations in transgenic mice. Bone 58, 136–145 (2014).

Nuyts, J. et al. Iterative reconstruction for helical CT: a simulation study. Phys. Med. Biol. 43, 729–737 (1998).

Depypere, M. et al. An iterative dual energy CT reconstruction method for a K-edge contrast material. Proc. SPIE 7961, 79610M (2011).

Vandersmissen, I. et al. Endothelial Msx1 transduces hemodynamic changes into an arteriogenic remodeling response. J. Cell Biol. 210, 1239–1256 (2015).

Maes, C. et al. Soluble VEGF isoforms are essential for establishing epiphyseal vascularization and regulating chondrocyte development and survival. J. Clin. Invest. 113, 188–199 (2004).

Stiers, P. J., van Gastel, N., Moermans, K., Stockmans, I. & Carmeliet, G. An ectopic imaging window for intravital imaging of engineered bone tissue. JBMR Plus 2, 92–102 (2018).

Stegen, S. et al. Osteocytic oxygen sensing controls bone mass through epigenetic regulation of sclerostin. Nat. Commun. 9, 2557 (2018).

Stiers, P. J. et al. Inhibition of the oxygen sensor PHD2 enhances tissue-engineered endochondral bone formation. J. Bone Miner. Res. 34, 333–348 (2019).

McQuin, C. et al. CellProfiler 3.0: Next-generation image processing for biology. PLoS Biol. 16, e2005970 (2018).

Daniëls, V. W. et al. Cancer cells differentially activate and thrive on de novo lipid synthesis pathways in a low-lipid environment. PLoS One 9, e106913 (2014).

Eyckmans, J., Lin, G. L. & Chen, C. S. Adhesive and mechanical regulation of mesenchymal stem cell differentiation in human bone marrow and periosteum-derived progenitor cells. Biol. Open 1, 1058–1068 (2012).

Ranall, M. V., Gabrielli, B. G. & Gonda, T. J. High-content imaging of neutral lipid droplets with 1,6-diphenylhexatriene. Biotechniques 51, 35–42 (2011).

Kimura, S., Noda, T. & Yoshimori, T. Dissection of the autophagosome maturation process by a novel reporter protein, tandem fluorescent-tagged LC3. Autophagy 3, 452–460 (2007).

Schoors, S. et al. Fatty acid carbon is essential for dNTP synthesis in endothelial cells. Nature 520, 192–197 (2015).

Lambrechts, D. et al. A causal relation between bioluminescence and oxygen to quantify the cell niche. PLoS ONE 9, e97572 (2014).

Guo, W. et al. Slug and Sox9 cooperatively determine the mammary stem cell state. Cell 148, 1015–1028 (2012).

Ran, F. A. et al. Genome engineering using the CRISPR–Cas9 system. Nat. Protoc. 8, 2281–2308 (2013).

Aubrey, B. J. et al. An inducible lentiviral guide RNA platform enables the identification of tumor-essential genes and tumor-promoting mutations in vivo. Cell Rep. 10, 1422–1432 (2015).

Trapnell, C., Pachter, L. & Salzberg, S. L. TopHat: discovering splice junctions with RNA-seq. Bioinformatics 25, 1105–1111 (2009).

Robinson, M. D., McCarthy, D. J. & Smyth, G. K. edgeR: a Bioconductor package for differential expression analysis of digital gene expression data. Bioinformatics 26, 139–140 (2010).

Stegen, S. et al. HIF-1α promotes glutamine-mediated redox homeostasis and glycogen-dependent bioenergetics to support postimplantation bone cell survival. Cell Metab. 23, 265–279 (2016).
Acknowledgements
We thank K. Moermans, I. Stockmans, C. MacGillivray and H. Soled for technical assistance, A. Nagy for the CAG-eGFP mice, S. Murakami for the Col1a1-cre/ERT2 and DsRed mice, T. Yoshimori for the RFP-GFP-LC3 plasmid, R. A. Weinberg for the pLKO.1-sh-mSOX9-5 lentiviral plasmid, M. Mazzone for hypoxic glove box use, the histology core of the Harvard Department of Stem Cell and Regenerative Biology for histology services, the FACS cores of the KU Leuven and the Harvard Department of Stem Cell and Regenerative Biology for access to the flow cytometers, and the Cell Imaging Core and the Molecular Imaging and Photonics division of the KU Leuven and the Harvard Center for Biological Imaging for access to the confocal microscopes. This work was supported by grants from the Research Fund Flanders (FWO; G096414, G0A4216N and G0B3418N to G.C.), KUL grant C24/17/07 (G.C.), grants from the European Research Council (ERC 308223 to H.V.O., ERC 279100 to L.G. and ERC 269073 to P.C.), and long-term structural Methusalem funding by the Flemish Government (P.C.). N.v.G. is funded by BOF-KU Leuven GOA project 3M120209. P.J.S. is a fellow from the Agency for Innovation by Science and Technology in Flanders (IWT). S. Stegen, A.C. and Dennis L. are postdoctoral fellows of the FWO. V.W.D. is a fellow of the FWO and the Flemish League against Cancer (VLK). This work is part of Prometheus, the KU Leuven R&D Division of Skeletal Tissue Engineering.
Ethics declarations
Competing interests
The authors declare no competing interests.
Additional information
Peer review information Nature thanks Thomas Clemens, Michael T. Longaker and the other, anonymous, reviewer(s) for their contribution to the peer review of this work.
Publisher's note Springer Nature remains neutral with regard to jurisdictional claims in published maps and institutional affiliations.
Extended data figures and tables
Supplementary information
Uncropped gel images for results obtained by gel-based electrophoretic separation.
About this article
Cite this article
van Gastel, N., Stegen, S., Eelen, G. et al. Lipid availability determines fate of skeletal progenitor cells via SOX9. Nature 579, 111–117 (2020). https://doi.org/10.1038/s41586-020-2050-1
Received:

Accepted:

Published:

Issue Date:

DOI: https://doi.org/10.1038/s41586-020-2050-1
Comments
By submitting a comment you agree to abide by our Terms and Community Guidelines. If you find something abusive or that does not comply with our terms or guidelines please flag it as inappropriate.