Abstract
The DNA-dependent protein kinase (DNA-PK), which comprises the KU heterodimer and a catalytic subunit (DNA-PKcs), is a classical non-homologous end-joining (cNHEJ) factor1. KU binds to DNA ends, initiates cNHEJ, and recruits and activates DNA-PKcs. KU also binds to RNA, but the relevance of this interaction in mammals is unclear. Here we use mouse models to show that DNA-PK has an unexpected role in the biogenesis of ribosomal RNA (rRNA) and in haematopoiesis. The expression of kinase-dead DNA-PKcs abrogates cNHEJ2. However, most mice that both expressed kinase-dead DNA-PKcs and lacked the tumour suppressor TP53 developed myeloid disease, whereas all other previously characterized mice deficient in both cNHEJ and TP53 expression succumbed to pro-B cell lymphoma3. DNA-PK autophosphorylates DNA-PKcs, which is its best characterized substrate. Blocking the phosphorylation of DNA-PKcs at the T2609 cluster, but not the S2056 cluster, led to KU-dependent defects in 18S rRNA processing, compromised global protein synthesis in haematopoietic cells and caused bone marrow failure in mice. KU drives the assembly of DNA-PKcs on a wide range of cellular RNAs, including the U3 small nucleolar RNA, which is essential for processing of 18S rRNA4. U3 activates purified DNA-PK and triggers phosphorylation of DNA-PKcs at T2609. DNA-PK, but not other cNHEJ factors, resides in nucleoli in an rRNA-dependent manner and is co-purified with the small subunit processome. Together our data show that DNA-PK has RNA-dependent, cNHEJ-independent functions during ribosome biogenesis that require the kinase activity of DNA-PKcs and its phosphorylation at the T2609 cluster.
Relevant articles
Open Access articles citing this article.
Rachel D. Kelly

,

Gursimran Parmar

…

Caroline Schild-Poulter

Scientific Reports Open Access 27 July 2023

Metztli Cisneros-Aguirre

,

Felicia Wednesday Lopezcolorado

…

Jeremy M. Stark

Nature Communications Open Access 27 June 2022

Sofie Bergstrand

,

Eleanor M. O'Brien

…

Marianne Farnebo

Nature Communications Open Access 23 February 2022
Access options
Access Nature and 54 other Nature Portfolio journals
Get Nature+, our best-value online-access subscription
$29.99 / 30 days
cancel any time
Subscribe to this journal
Receive 51 print issues and online access
$199.00 per year
only $3.90 per issue
Rent or buy this article
Prices vary by article type
from$1.95
to$39.95
Prices may be subject to local taxes which are calculated during checkout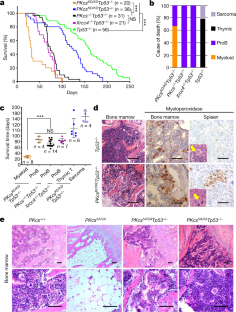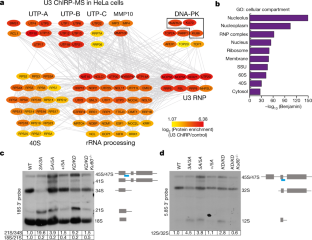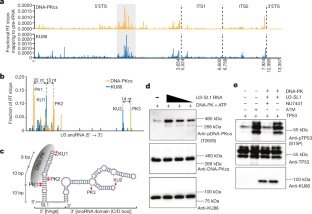 Data availability
irCLIP data are available via the Gene Expression Omnibus (GEO) under the accession number GSE109026. All uncropped blots are provided in Supplementary Fig. 1. Data underlying the graphical representations used in the figures, including all experiments presenting data from animal models, are provided as Source Data. Exact P values and defined sample sizes (n) are provided in Supplementary Data 1.
References
Lieber, M. R. The mechanism of double-strand DNA break repair by the nonhomologous DNA end-joining pathway. Annu. Rev. Biochem. 79, 181–211 (2010).

Jiang, W. et al. Differential phosphorylation of DNA-PKcs regulates the interplay between end-processing and end-ligation during nonhomologous end-joining. Mol. Cell 58, 172–185 (2015).

Zhu, C. et al. Unrepaired DNA breaks in p53-deficient cells lead to oncogenic gene amplification subsequent to translocations. Cell 109, 811–821 (2002).

Dragon, F. et al. A large nucleolar U3 ribonucleoprotein required for 18S ribosomal RNA biogenesis. Nature 417, 967–970 (2002).

Alt, F. W., Zhang, Y., Meng, F. L., Guo, C. & Schwer, B. Mechanisms of programmed DNA lesions and genomic instability in the immune system. Cell 152, 417–429 (2013).

Gao, Y. et al. A targeted DNA-PKcs-null mutation reveals DNA-PK-independent functions for KU in V(D)J recombination. Immunity 9, 367–376 (1998).

Kirchgessner, C. U. et al. DNA-dependent kinase (p350) as a candidate gene for the murine SCID defect. Science 267, 1178–1183 (1995).

Taccioli, G. E. et al. Targeted disruption of the catalytic subunit of the DNA-PK gene in mice confers severe combined immunodeficiency and radiosensitivity. Immunity 9, 355–366 (1998).

Frank, K. M. et al. DNA ligase IV deficiency in mice leads to defective neurogenesis and embryonic lethality via the p53 pathway. Mol. Cell 5, 993–1002 (2000).

Gao, Y. et al. Interplay of p53 and DNA-repair protein XRCC4 in tumorigenesis, genomic stability and development. Nature 404, 897–900 (2000).

Nacht, M. et al. Mutations in the p53 and SCID genes cooperate in tumorigenesis. Genes Dev. 10, 2055–2066 (1996).

Crowe, J. L. et al. Kinase-dependent structural role of DNA-PKcs during immunoglobulin class switch recombination. Proc. Natl Acad. Sci. USA 115, 8615–8620 (2018).

Jacks, T. et al. Tumor spectrum analysis in p53-mutant mice. Curr. Biol. 4, 1–7 (1994).

Meek, K., Dang, V. & Lees-Miller, S. P. DNA-PK: the means to justify the ends? Adv. Immunol. 99, 33–58 (2008).

Davis, A. J., Chen, B. P. & Chen, D. J. DNA-PK: a dynamic enzyme in a versatile DSB repair pathway. DNA Repair (Amst.) 17, 21–29 (2014).

Jiang, W. et al. Phosphorylation at S2053 in murine (S2056 in human) DNA-PKcs is dispensable for lymphocyte development and class switch recombination. J. Immunol. 203, 178–187 (2019).

Zhang, S. et al. Congenital bone marrow failure in DNA-PKcs mutant mice associated with deficiencies in DNA repair. J. Cell Biol. 193, 295–305 (2011).

Lee, B. S. et al. Functional intersection of ATM and DNA-PKcs in coding end joining during V(D)J recombination. Mol. Cell Biol. 33, 3568–3579 (2013).

Houghtaling, S. et al. Epithelial cancer in Fanconi anemia complementation group D2 (Fancd2) knockout mice. Genes Dev. 17, 2021–2035 (2003).

Williams, E. S. et al. Telomere dysfunction and DNA-PKcs deficiency: characterization and consequence. Cancer Res. 69, 2100–2107 (2009).

Zhang, S. et al. Spontaneous tumor development in bone marrow-rescued DNA-PKcs(3A/3A) mice due to dysfunction of telomere leading strand deprotection. Oncogene 35, 3909–3918 (2016).

Yoo, S. & Dynan, W. S. Characterization of the RNA binding properties of Ku protein. Biochemistry 37, 1336–1343 (1998).

Chen, H. et al. Structural insights into yeast telomerase recruitment to telomeres. Cell 172, 331–343.e313 (2018).

Pfingsten, J. S. et al. Mutually exclusive binding of telomerase RNA and DNA by Ku alters telomerase recruitment model. Cell 148, 922–932 (2012).

Britton, S., Coates, J. & Jackson, S. P. A new method for high-resolution imaging of Ku foci to decipher mechanisms of DNA double-strand break repair. J. Cell Biol. 202, 579–595 (2013).

Narla, A. & Ebert, B. L. Ribosomopathies: human disorders of ribosome dysfunction. Blood 115, 3196–3205 (2010).

Signer, R. A., Magee, J. A., Salic, A. & Morrison, S. J. Haematopoietic stem cells require a highly regulated protein synthesis rate. Nature 509, 49–54 (2014).

Khajuria, R. K. et al. Ribosome levels selectively regulate translation and lineage commitment in human hematopoiesis. Cell 173, 90–103.e119 (2018).

Unnikrishnan, I., Radfar, A., Jenab-Wolcott, J. & Rosenberg, N. p53 mediates apoptotic crisis in primary Abelson virus-transformed pre-B cells. Mol. Cell. Biol. 19, 4825–4831 (1999).

Strauss, M. E. & Brandt, J. Attempt at preclinical identification of Huntington's disease using the WAIS. J. Clin. Exp. Neuropsychol. 8, 210–218 (1986).

Chu, C. et al. Systematic discovery of Xist RNA binding proteins. Cell 161, 404–416 (2015).

Barandun, J., Hunziker, M. & Klinge, S. Assembly and structure of the SSU processome—a nucleolar precursor of the small ribosomal subunit. Curr. Opin. Struct. Biol. 49, 85–93 (2018).

Zhou, F. et al. Online nanoflow RP-RP-MS reveals dynamics of multicomponent Ku complex in response to DNA damage. J. Proteome Res. 9, 6242–6255 (2010).

Flygare, J. et al. Human RPS19, the gene mutated in Diamond-Blackfan anemia, encodes a ribosomal protein required for the maturation of 40S ribosomal subunits. Blood 109, 980–986 (2007).

Zarnegar, B. J. et al. irCLIP platform for efficient characterization of protein-RNA interactions. Nat. Methods 13, 489–492 (2016).

Morchikh, M. et al. HEXIM1 and NEAT1 long non-coding RNA form a multi-subunit complex that regulates DNA-mediated innate immune response. Mol. Cell 67, 387–399.e385 (2017).

Calo, E. et al. RNA helicase DDX21 coordinates transcription and ribosomal RNA processing. Nature 518, 249–253 (2015).

Parker, K. A. & Steitz, J. A. Structural analysis of the human U3 ribonucleoprotein particle reveal a conserved sequence available for base pairing with pre-rRNA. Mol. Cell. Biol. 7, 2899–2913 (1987).

Weterings, E., Verkaik, N. S., Brüggenwirth, H. T., Hoeijmakers, J. H. & van Gent, D. C. The role of DNA dependent protein kinase in synapsis of DNA ends. Nucleic Acids Res. 31, 7238–7246 (2003).

van Sluis, M. & McStay, B. A localized nucleolar DNA damage response facilitates recruitment of the homology-directed repair machinery independent of cell cycle stage. Genes Dev. 29, 1151–1163 (2015).

Gao, Y. et al. A critical role for DNA end-joining proteins in both lymphogenesis and neurogenesis. Cell 95, 891–902 (1998).

Gu, Y., Jin, S., Gao, Y., Weaver, D. T. & Alt, F. W. Ku70-deficient embryonic stem cells have increased ionizing radiosensitivity, defective DNA end-binding activity, and inability to support V(D)J recombination. Proc. Natl Acad. Sci. USA 94, 8076–8081 (1997).

Symonds, H. et al. p53-dependent apoptosis suppresses tumor growth and progression in vivo. Cell 78, 703–711 (1994).

Avagyan, S. et al. Hematopoietic stem cell dysfunction underlies the progressive lymphocytopenia in XLF/Cernunnos deficiency. Blood 124, 1622–1625 (2014).

Liu, X., Shao, Z., Jiang, W., Lee, B. J. & Zha, S. PAXX promotes KU accumulation at DNA breaks and is essential for end-joining in XLF-deficient mice. Nat. Commun. 8, 13816 (2017).

Li, G. et al. Lymphocyte-specific compensation for XLF/cernunnos end-joining functions in V(D)J recombination. Mol. Cell 31, 631–640 (2008).

Bredemeyer, A. L. et al. ATM stabilizes DNA double-strand-break complexes during V(D)J recombination. Nature 442, 466–470 (2006).

Wang, M., Parshin, A. V., Shcherbik, N. & Pestov, D. G. Reduced expression of the mouse ribosomal protein Rpl17 alters the diversity of mature ribosomes by enhancing production of shortened 5.8S rRNA. RNA 21, 1240–1248 (2015).

Wang, M. & Pestov, D. G. 5′-end surveillance by Xrn2 acts as a shared mechanism for mammalian pre-rRNA maturation and decay. Nucleic Acids Res. 39, 1811–1822 (2011).

Huang, W., Sherman, B. T. & Lempicki, R. A. Systematic and integrative analysis of large gene lists using DAVID bioinformatics resources. Nat. Protocols 4, 44–57 (2009).

Shannon, P. et al. Cytoscape: a software environment for integrated models of biomolecular interaction networks. Genome Res. 13, 2498–2504 (2003).

Zuker, M. Mfold web server for nucleic acid folding and hybridization prediction. Nucleic Acids Res. 31, 3406–3415 (2003).

Darty, K., Denise, A. & Ponty, Y. VARNA: interactive drawing and editing of the RNA secondary structure. Bioinformatics 25, 1974–1975 (2009).
Acknowledgements
We thank B. Sleckman and A. Smogorzewska for providing the control cell lines; W. Gu and T. Li for helping with Tp53 analyses in DNA-PKcs mouse models; R. Baer for commenting on the manuscript; L. Ding for discussion on hematopoietic stem cell analyses; T. Xiang and L. Berchowitz for assistance with the ribosomal and nucleoli analyses; C. S. Lin for germline injection and ES cell derivation; E. Zhang and S. Kaplan for help with telomere analyses; L. Zhang and the Elias laboratory for assistance running samples for MS analysis; J. Coller, D. Wagh, and the Stanford Functional Genomics Facility for assistance running samples for deep sequencing; and the Swanson Biotechnology Center at the Koch Institute for Integrative Cancer Research, especially the MIT BioMicro Center. Owing to space constraints, we often cited reviews rather than original publications. We apologize to the colleagues whose original works were not cited here. R.A.F is supported by the Damon Runyon Cancer Research Foundation. C.R.B is supported by the Howard Hughes Medical Institute. E.C. is supported by the Pew Charitable Trusts, Charles H. Hood and March of Dime Foundations, Charles E. Reed Faculty Initiative and Irwin and Helen Sizer Career Development Professorship. The project is in part supported by R01CA184187, R01CA158073 and CA215067 to S.Z. S.Z. was a Leukemia Lymphomas Society Scholar. J.L.C. was supported by 1F31CA183504. This research was funded in part through the NIH/NCI Cancer Center Support Grant P30CA013696 to Herbert Irving Comprehensive Cancer Center (HICCC) of Columbia University.
Ethics declarations
Competing interests
The authors declare no competing interests.
Additional information
Peer review information Nature thanks Alan Warren and the other, anonymous, reviewer(s) for their contribution to the peer review of this work.
Publisher's note Springer Nature remains neutral with regard to jurisdictional claims in published maps and institutional affiliations.
Extended data figures and tables
Supplementary information
About this article
Cite this article
Shao, Z., Flynn, R.A., Crowe, J.L. et al. DNA-PKcs has KU-dependent function in rRNA processing and haematopoiesis. Nature 579, 291–296 (2020). https://doi.org/10.1038/s41586-020-2041-2
Received:

Accepted:

Published:

Issue Date:

DOI: https://doi.org/10.1038/s41586-020-2041-2
Comments
By submitting a comment you agree to abide by our Terms and Community Guidelines. If you find something abusive or that does not comply with our terms or guidelines please flag it as inappropriate.