Abstract
Adipose tissue is an energy store and a dynamic endocrine organ1,2. In particular, visceral adipose tissue (VAT) is critical for the regulation of systemic metabolism3,4. Impaired VAT function—for example, in obesity—is associated with insulin resistance and type 2 diabetes5,6. Regulatory T (Treg) cells that express the transcription factor FOXP3 are critical for limiting immune responses and suppressing tissue inflammation, including in the VAT7,8,9. Here we uncover pronounced sexual dimorphism in Treg cells in the VAT. Male VAT was enriched for Treg cells compared with female VAT, and Treg cells from male VAT were markedly different from their female counterparts in phenotype, transcriptional landscape and chromatin accessibility. Heightened inflammation in the male VAT facilitated the recruitment of Treg cells via the CCL2–CCR2 axis. Androgen regulated the differentiation of a unique IL-33-producing stromal cell population specific to the male VAT, which paralleled the local expansion of Treg cells. Sex hormones also regulated VAT inflammation, which shaped the transcriptional landscape of VAT-resident Treg cells in a BLIMP1 transcription factor-dependent manner. Overall, we find that sex-specific differences in Treg cells from VAT are determined by the tissue niche in a sex-hormone-dependent manner to limit adipose tissue inflammation.
Your institute does not have access to this article
Relevant articles
Open Access articles citing this article.
Jianhui Wu

,

Bowen Ren

…

Hui Lin

Cell Death & Disease Open Access 05 August 2022

Chunyan Wu

,

Shu Fang

…

Meiping Guan

Molecular Medicine Open Access 21 January 2022

Kevin Man

,

Axel Kallies

&

Ajithkumar Vasanthakumar

Cellular & Molecular Immunology Open Access 26 November 2021
Access options
Subscribe to Nature+
Get immediate online access to the entire Nature family of 50+ journals
Subscribe to Journal
Get full journal access for 1 year
$199.00
only $3.90 per issue
All prices are NET prices.
VAT will be added later in the checkout.
Tax calculation will be finalised during checkout.
Buy article
Get time limited or full article access on ReadCube.
$32.00
All prices are NET prices.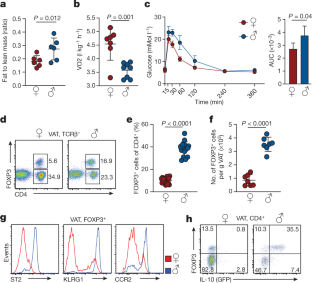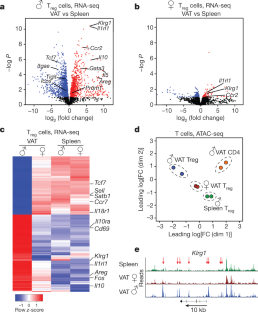 References
Meseguer, A., Puche, C. & Cabero, A. Sex steroid biosynthesis in white adipose tissue. Horm. Metab. Res. 34, 731–736 (2002).

Kamat, A., Hinshelwood, M. M., Murry, B. A. & Mendelson, C. R. Mechanisms in tissue-specific regulation of estrogen biosynthesis in humans. Trends Endocrinol. Metab. 13, 122–128 (2002).

Luo, L. & Liu, M. Adipose tissue in control of metabolism. J. Endocrinol. 231, R77–R99 (2016).

Rosen, E. D. & Spiegelman, B. M. Adipocytes as regulators of energy balance and glucose homeostasis. Nature 444, 847–853 (2006).

Mraz, M. & Haluzik, M. The role of adipose tissue immune cells in obesity and low-grade inflammation. J. Endocrinol. 222, R113–R127 (2014).

Cildir, G., Akıncılar, S. C. & Tergaonkar, V. Chronic adipose tissue inflammation: all immune cells on the stage. Trends Mol. Med. 19, 487–500 (2013).

Josefowicz, S. Z., Lu, L. F. & Rudensky, A. Y. Regulatory T cells: mechanisms of differentiation and function. Annu. Rev. Immunol. 30, 531–564 (2012).

Ohkura, N., Kitagawa, Y. & Sakaguchi, S. Development and maintenance of regulatory T cells. Immunity 38, 414–423 (2013).

Panduro, M., Benoist, C. & Mathis, D. Tissue Tregs. Annu. Rev. Immunol. 34, 609–633 (2016).

White, U. A. & Tchoukalova, Y. D. Sex dimorphism and depot differences in adipose tissue function. Biochim. Biophys. Acta 1842, 377–392 (2014).

Karastergiou, K., Smith, S. R., Greenberg, A. S. & Fried, S. K. Sex differences in human adipose tissues - the biology of pear shape. Biol. Sex Differ. 3, 13 (2012).

Feuerer, M. et al. Lean, but not obese, fat is enriched for a unique population of regulatory T cells that affect metabolic parameters. Nat. Med. 15, 930–939 (2009).

Kohlgruber, A. C. et al. γδ T cells producing interleukin-17A regulate adipose regulatory T cell homeostasis and thermogenesis. Nat. Immunol. 19, 464–474 (2018).

Lee, M. W. et al. Activated type 2 innate lymphoid cells regulate beige fat biogenesis. Cell 160, 74–87 (2015).

Molofsky, A. B. et al. Interleukin-33 and interferon-γ counter-regulate group 2 innate lymphoid cell activation during immune perturbation. Immunity 43, 161–174 (2015).

Wensveen, F. M. et al. NK cells link obesity-induced adipose stress to inflammation and insulin resistance. Nat. Immunol. 16, 376–385 (2015).

Lynch, L. et al. Regulatory iNKT cells lack expression of the transcription factor PLZF and control the homeostasis of Treg cells and macrophages in adipose tissue. Nat. Immunol. 16, 85–95 (2015).

Moro, K. et al. Innate production of TH2 cytokines by adipose tissue-associated c-Kit+Sca-1+ lymphoid cells. Nature 463, 540–544 (2010).

Brestoff, J. R. et al. Group 2 innate lymphoid cells promote beiging of white adipose tissue and limit obesity. Nature 519, 242–246 (2015).

Cipolletta, D. et al. PPAR-γ is a major driver of the accumulation and phenotype of adipose tissue Treg cells. Nature 486, 549–553 (2012).

Cretney, E. et al. The transcription factors Blimp-1 and IRF4 jointly control the differentiation and function of effector regulatory T cells. Nat. Immunol. 12, 304–311 (2011).

Michalakis, K., Mintziori, G., Kaprara, A., Tarlatzis, B. C. & Goulis, D. G. The complex interaction between obesity, metabolic syndrome and reproductive axis: a narrative review. Metabolism 62, 457–478 (2013).

Kissick, H. T. et al. Androgens alter T-cell immunity by inhibiting T-helper 1 differentiation. Proc. Natl Acad. Sci. USA 111, 9887–9892 (2014).

Kovats, S. Estrogen receptors regulate innate immune cells and signaling pathways. Cell. Immunol. 294, 63–69 (2015).

Li, C. et al. TCR transgenic mice reveal stepwise, multi-site acquisition of the distinctive fat-Treg phenotype. Cell 174, 285–299 (2018).

Vasanthakumar, A. et al. The transcriptional regulators IRF4, BATF and IL-33 orchestrate development and maintenance of adipose tissue-resident regulatory T cells. Nat. Immunol. 16, 276–285 (2015).

Kolodin, D. et al. Antigen- and cytokine-driven accumulation of regulatory T cells in visceral adipose tissue of lean mice. Cell Metab. 21, 543–557 (2015).

Mahlakõiv, T. et al. Stromal cells maintain immune cell homeostasis in adipose tissue via production of interleukin-33. Sci. Immunol. 4, eaax0416 (2019).

Spallanzani, R. G. et al. Distinct immunocyte-promoting and adipocyte-generating stromal components coordinate adipose tissue immune and metabolic tenors. Sci. Immunol. 4, eaaw3658 (2019).

Koga, S. et al. Peripheral PDGFRα+gp38+ mesenchymal cells support the differentiation of fetal liver-derived ILC2. J. Exp. Med. 215, 1609–1626 (2018).

Mackay, L. K. et al. Hobit and Blimp1 instruct a universal transcriptional program of tissue residency in lymphocytes. Science 352, 459–463 (2016).

Notini, A. J., Davey, R. A., McManus, J. F., Bate, K. L. & Zajac, J. D. Genomic actions of the androgen receptor are required for normal male sexual differentiation in a mouse model. J. Mol. Endocrinol. 35, 547–555 (2005).

Rana, K., Clarke, M. V., Zajac, J. D., Davey, R. A. & MacLean, H. E. Normal phenotype in conditional androgen receptor (AR) exon 3-floxed neomycin-negative male mice. Endocr. Res. 39, 130–135 (2014).

Kallies, A., Xin, A., Belz, G. T. & Nutt, S. L. Blimp-1 transcription factor is required for the differentiation of effector CD8+ T cells and memory responses. Immunity 31, 283–295 (2009).

Kallies, A. et al. Plasma cell ontogeny defined by quantitative changes in blimp-1 expression. J. Exp. Med. 200, 967–977 (2004).

Oboki, K. et al. IL-33 is a crucial amplifier of innate rather than acquired immunity. Proc. Natl Acad. Sci. USA. 107, 18581–18586 (2010).

Horai, R. et al. Production of mice deficient in genes for interleukin (IL)-1α, IL-1β, IL-1 α/β, and IL-1 receptor antagonist shows that IL-1β is crucial in turpentine-induced fever development and glucocorticoid secretion. J. Exp. Med. 187, 1463–1475 (1998).

Lancaster, G. I. & Henstridge, D. C. Body composition and metabolic caging analysis in high fat fed mice. J. Vis. Exp. 135, 57280 (2018).

Liao, Y., Smyth, G. K. & Shi, W. The Subread aligner: fast, accurate and scalable read mapping by seed-and-vote. Nucleic Acids Res. 41, e108 (2013).

Liao, Y., Smyth, G. K. & Shi, W. featureCounts: an efficient general purpose program for assigning sequence reads to genomic features. Bioinformatics 30, 923–930 (2014).

Law, C. W., Chen, Y., Shi, W. & Smyth, G. K. voom: Precision weights unlock linear model analysis tools for RNA-seq read counts. Genome Biol. 15, R29 (2014).

Ritchie, M. E. et al. limma powers differential expression analyses for RNA-sequencing and microarray studies. Nucleic Acids Res. 43, e47 (2015).

McCarthy, D. J. & Smyth, G. K. Testing significance relative to a fold-change threshold is a TREAT. Bioinformatics 25, 765–771 (2009).

Buenrostro, J. D., Giresi, P. G., Zaba, L. C., Chang, H. Y. & Greenleaf, W. J. Transposition of native chromatin for fast and sensitive epigenomic profiling of open chromatin, DNA-binding proteins and nucleosome position. Nat. Methods 10, 1213–1218 (2013).
Acknowledgements
This work was funded by the National Health and Medical Research Council (NHMRC, project grants 1106378 and 1149062 and fellowship 1139607 to A.K.), the Sylvia and Charles Viertel Foundation (fellowship to A.K.), the Diabetes Australia (grant Y18G-VASA to A.V.) and grants from the US NIH (R01DK092541) and JPB Foundation (to D.M.). W.S. is funded by a Walter and Eliza Hall Institute Centenary Fellowship funded by a donation from CSL. M.A.F. is a senior Principal Research Fellow of the NHMRC. P.A.B. was funded by an NBCF Career Development Fellowship. R.G.S. is an American Diabetes Association Postdoctoral fellow (1-17-PMF-005). J.D.Z. and R.A.D. are supported by funding from The Sir Edward Dunlop Medical Research Foundation, The Austin Health Research Foundation and a Les and Eva Erdi Research Grant. R.A.D. was funded by a fellowship from the Australian and New Zealand Bone and Mineral Society. We thank T. Korn for help with experiments, and G. Risbridger, K. S. Korach, M. Ernst, J. Silke and W. C. Boon for mice.
Ethics declarations
Competing interests
The authors declare no competing interests.
Additional information
Peer review information Nature thanks Alexander Chervonsky, Shigeo Koyasu and the other, anonymous, reviewer(s) for their contribution to the peer review of this work.
Publisher's note Springer Nature remains neutral with regard to jurisdictional claims in published maps and institutional affiliations.
Extended data figures and tables
Supplementary information
About this article
Cite this article
Vasanthakumar, A., Chisanga, D., Blume, J. et al. Sex-specific adipose tissue imprinting of regulatory T cells. Nature 579, 581–585 (2020). https://doi.org/10.1038/s41586-020-2040-3
Received:

Accepted:

Published:

Issue Date:

DOI: https://doi.org/10.1038/s41586-020-2040-3
Comments
By submitting a comment you agree to abide by our Terms and Community Guidelines. If you find something abusive or that does not comply with our terms or guidelines please flag it as inappropriate.