Abstract
It has long been assumed that lifespan and healthspan correlate strongly, yet the two can be clearly dissociated1,2,3,4,5,6. Although there has been a global increase in human life expectancy, increasing longevity is rarely accompanied by an extended healthspan4,7. Thus, understanding the origin of healthy behaviours in old people remains an important and challenging task. Here we report a conserved epigenetic mechanism underlying healthy ageing. Through genome-wide RNA-interference-based screening of genes that regulate behavioural deterioration in ageing Caenorhabditis elegans, we identify 59 genes as potential modulators of the rate of age-related behavioural deterioration. Among these modulators, we found that a neuronal epigenetic reader, BAZ-2, and a neuronal histone 3 lysine 9 methyltransferase, SET-6, accelerate behavioural deterioration in C. elegans by reducing mitochondrial function, repressing the expression of nuclear-encoded mitochondrial proteins. This mechanism is conserved in cultured mouse neurons and human cells. Examination of human databases8,9 shows that expression of the human orthologues of these C. elegans regulators, BAZ2B and EHMT1, in the frontal cortex increases with age and correlates positively with the progression of Alzheimer's disease. Furthermore, ablation of Baz2b, the mouse orthologue of BAZ-2, attenuates age-dependent body-weight gain and prevents cognitive decline in ageing mice. Thus our genome-wide RNA-interference screen in C. elegans has unravelled conserved epigenetic negative regulators of ageing, suggesting possible ways to achieve healthy ageing.
Access options
Subscribe to Journal
Get full journal access for 1 year
$199.00
only $3.83 per issue
All prices are NET prices.
VAT will be added later in the checkout.
Rent or Buy article
Get time limited or full article access on ReadCube.
from$8.99
All prices are NET prices.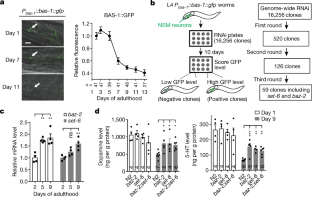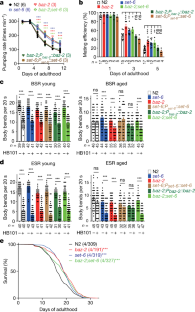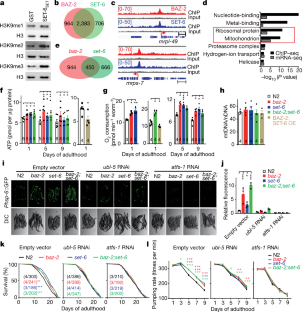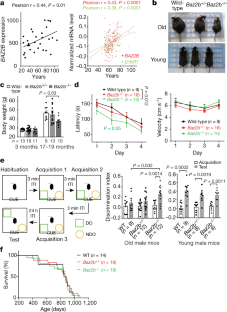 Data availability
The raw sequence data generated here have been deposited in the National Center for Biotechnology Information (NCBI) Sequence Read Archive (https://www.ncbi.nlm.nih.gov/sra) under accession number PRJNA554977. Source Data for Figs. 1–4 and Extended Data Figs. 1–10 are provided with the paper.
References
1.

Guarente, L. Aging research—where do we stand and where are we going? Cell 159, 15–19 (2014).

2.

Yin, J. A., Liu, X. J., Yuan, J., Jiang, J. & Cai, S. Q. Longevity manipulations differentially affect serotonin/dopamine level and behavioral deterioration in aging Caenorhabditis elegans. J. Neurosci. 34, 3947–3958 (2014).

3.

Bansal, A., Zhu, L. J., Yen, K. & Tissenbaum, H. A. Uncoupling lifespan and healthspan in Caenorhabditis elegans longevity mutants. Proc. Natl Acad. Sci. USA 112, E277–E286 (2015).

4.

Beard, J. R. et al. The world report on ageing and health: a policy framework for healthy ageing. Lancet 387, 2145–2154 (2016).

5.

Hansen, M. & Kennedy, B. K. Does longer lifespan mean longer healthspan? Trends Cell Biol. 26, 565–568 (2016).

6.

Yin, J. A. et al. Genetic variation in glia-neuron signalling modulates ageing rate. Nature 551, 198–203 (2017).

7.

Crimmins, E. M. & Beltrán-Sánchez, H. Mortality and morbidity trends: is there compression of morbidity? J. Gerontol. B 66, 75–86 (2011).

8.

Lu, T. et al. Gene regulation and DNA damage in the ageing human brain. Nature 429, 883–891 (2004).

9.

Zhang, B. et al. Integrated systems approach identifies genetic nodes and networks in late-onset Alzheimer's disease. Cell 153, 707–720 (2013).

10.

Hedden, T. & Gabrieli, J. D. Insights into the ageing mind: a view from cognitive neuroscience. Nat. Rev. Neurosci. 5, 87–96 (2004).

11.

Bäckman, L., Nyberg, L., Lindenberger, U., Li, S. C. & Farde, L. The correlative triad among aging, dopamine, and cognition: current status and future prospects. Neurosci. Biobehav. Rev. 30, 791–807 (2006).

12.

Chowdhury, R. et al. Dopamine restores reward prediction errors in old age. Nat. Neurosci. 16, 648–653 (2013).

13.

Calixto, A., Chelur, D., Topalidou, I., Chen, X. & Chalfie, M. Enhanced neuronal RNAi in C. elegans using SID-1. Nat. Methods 7, 554–559 (2010).

14.

Mostafavi, S., Ray, D., Warde-Farley, D., Grouios, C. & Morris, Q. GeneMANIA: a real-time multiple association network integration algorithm for predicting gene function. Genome Biol. 9 (Suppl 1), S4 (2008).

15.

Benayoun, B. A., Pollina, E. A. & Brunet, A. Epigenetic regulation of ageing: linking environmental inputs to genomic stability. Nat. Rev. Mol. Cell Biol. 16, 593–610 (2015).

16.

Sen, P., Shah, P. P., Nativio, R. & Berger, S. L. Epigenetic mechanisms of longevity and aging. Cell 166, 822–839 (2016).

17.

Lin, K., Dorman, J. B., Rodan, A. & Kenyon, C. daf-16: an HNF-3/forkhead family member that can function to double the life-span of Caenorhabditis elegans. Science 278, 1319–1322 (1997).

18.

McKay, J. P., Raizen, D. M., Gottschalk, A., Schafer, W. R. & Avery, L. eat-2 and eat-18 are required for nicotinic neurotransmission in the Caenorhabditis elegans pharynx. Genetics 166, 161–169 (2004).

19.

Ewbank, J. J. et al. Structural and functional conservation of the Caenorhabditis elegans timing gene clk-1. Science 275, 980–983 (1997).

20.

Santoro, R., Li, J. & Grummt, I. The nucleolar remodeling complex NoRC mediates heterochromatin formation and silencing of ribosomal gene transcription. Nat. Genet. 32, 393–396 (2002).

21.

Houtkooper, R. H. et al. Mitonuclear protein imbalance as a conserved longevity mechanism. Nature 497, 451–457 (2013).

22.

Mouchiroud, L. et al. The NAD(+)/sirtuin pathway modulates longevity through activation of mitochondrial UPR and FOXO signaling. Cell 154, 430–441 (2013).

23.

Durieux, J., Wolff, S. & Dillin, A. The cell-non-autonomous nature of electron transport chain-mediated longevity. Cell 144, 79–91 (2011).

24.

Merkwirth, C. et al. Two conserved histone demethylases regulate mitochondrial stress-induced longevity. Cell 165, 1209–1223 (2016).

25.

Tian, Y. et al. Mitochondrial stress induces chromatin reorganization to promote longevity and UPR(mt). Cell 165, 1197–1208 (2016).

26.

Yoneda, T. et al. Compartment-specific perturbation of protein handling activates genes encoding mitochondrial chaperones. J. Cell Sci. 117, 4055–4066 (2004).

27.

Benedetti, C., Haynes, C. M., Yang, Y., Harding, H. P. & Ron, D. Ubiquitin-like protein 5 positively regulates chaperone gene expression in the mitochondrial unfolded protein response. Genetics 174, 229–239 (2006).

28.

Haynes, C. M., Yang, Y., Blais, S. P., Neubert, T. A. & Ron, D. The matrix peptide exporter HAF-1 signals a mitochondrial UPR by activating the transcription factor ZC376.7 in C. elegans. Mol. Cell 37, 529–540 (2010).

29.

Lin, M. T. & Beal, M. F. Mitochondrial dysfunction and oxidative stress in neurodegenerative diseases. Nature 443, 787–795 (2006).

30.

Sarov, M. et al. A genome-scale resource for in vivo tag-based protein function exploration in C. elegans. Cell 150, 855–866 (2012).

31.

Ohno, H., Shinoda, K., Ohyama, K., Sharp, L.Z. & Kajimura, S. EHMT1 controls brown adipose cell fate and thermogenesis through the PRDM16 complex. Nature 504, 163–167 (2013).

32.

Hope, I.A. (ed.) C. Elegans: A Practical Approach (Oxford Univ. Press, 1999).

33.

Sawin, E. R., Ranganathan, R. & Horvitz, H. R. C. elegans locomotory rate is modulated by the environment through a dopaminergic pathway and by experience through a serotonergic pathway. Neuron 26, 619–631 (2000).

34.

Mukhopadhyay, A., Deplancke, B., Walhout, A. J. & Tissenbaum, H. A. Chromatin immunoprecipitation (ChIP) coupled to detection by quantitative real-time PCR to study transcription factor binding to DNA in Caenorhabditis elegans. Nat. Protocols 3, 698–709 (2008).

35.

Martin, M. Cutadapt removes adapter sequences from high-throughput sequencing reads. EMBnet J. 17.1, 10–12 (2011).

36.

Langmead, B. & Salzberg, S. L. Fast gapped-read alignment with Bowtie 2. Nat. Methods 9, 357–359 (2012).

37.

Zhang, Y. et al. Model-based analysis of ChIP-Seq (MACS). Genome Biol. 9, R137 (2008).

38.

Heinz, S. et al. Simple combinations of lineage-determining transcription factors prime cis-regulatory elements required for macrophage and B cell identities. Mol. Cell 38, 576–589 (2010).

39.

Li, H. et al. The sequence alignment/map format and SAMtools. Bioinformatics 25, 2078–2079 (2009).

40.

Ramírez, F., Dündar, F., Diehl, S., Grüning, B. A. & Manke, T. deepTools: a flexible platform for exploring deep-sequencing data. Nucleic Acids Res. 42, W187–W191 (2014).

41.

Quinlan, A. R. & Hall, I. M. BEDTools: a flexible suite of utilities for comparing genomic features. Bioinformatics 26, 841–842 (2010).

42.

Huang, da W., Sherman, B. T. & Lempicki, R. A. Systematic and integrative analysis of large gene lists using DAVID bioinformatics resources. Nat. Protocols 4, 44–57 (2009).

43.

Dale, R. K., Matzat, L. H. & Lei, E. P. metaseq: a Python package for integrative genome-wide analysis reveals relationships between chromatin insulators and associated nuclear mRNA. Nucleic Acids Res. 42, 9158–9170 (2014).

44.

Frezza, C., Cipolat, S. & Scorrano, L. Organelle isolation: functional mitochondria from mouse liver, muscle and cultured fibroblasts. Nat. Protocols 2, 287–295 (2007).

45.

Viesselmann, C., Ballweg, J., Lumbard, D. & Dent, E. W. Nucleofection and primary culture of embryonic mouse hippocampal and cortical neurons. J. Vis. Exp. 47, 2373 (2011).

46.

Lee, H. Y., Greene, L. A., Mason, C. A. & Manzini, M. C. Isolation and culture of post-natal mouse cerebellar granule neuron progenitor cells and neurons. J. Vis. Exp. 23, 990 (2009).

47.

Patel, J. C., Rossignol, E., Rice, M. E. & Machold, R. P. Opposing regulation of dopaminergic activity and exploratory motor behavior by forebrain and brainstem cholinergic circuits. Nat. Commun. 3, 1172 (2012).

48.

Patil, S. S., Sunyer, B., Höger, H. & Lubec, G. Evaluation of spatial memory of C57BL/6J and CD1 mice in the Barnes maze, the multiple T-maze and in the Morris water maze. Behav. Brain Res. 198, 58–68 (2009).

49.

Wimmer, M. E., Hernandez, P. J., Blackwell, J. & Abel, T. Aging impairs hippocampus-dependent long-term memory for object location in mice. Neurobiol. Aging 33, 2220–2224 (2012).

50.

Xu, X. et al. Modular genetic control of sexually dimorphic behaviors. Cell 148, 596–607 (2012).
Acknowledgements
We thank M-m. Poo and X. Shi for critical reading of the manuscript; Q. Sun, Y.-J. Cai and Y.-Z. Li for generating Baz2b-knockout mice; the C. elegans Genetics Center (funded by the National Institutes of Health (NIH) Office of Research Infrastructure Programs P40 OD010440) for providing strains; members of C.-y. Li's laboratory for helping with mouse behavioural assays; M. Sun for helping to prepare the H3K9 ChIP–seq DNA libraries; and the Institute of Neuroscience Molecular and Cellular Biology Core Facility, the Optical Imaging Facility, and the Animal Facility (Chinese Academy of Sciences) for technical support. This work was supported by grants to S.-Q.C. (from the National Natural Science Foundation of China, grants 31925022, 91949206 and 81527901; and from the National Key R&D Program of China, grant 2018YFC2000400); the Strategic Priority Research Program of the Chinese Academy of Science (grant XDB32020100); the Shanghai Municipal Science and Technology Major Project (grant 2018SHZDZX05); and grants to L.J. (from the National Key R&D Program of China, grant 2018YFA0507300; and the National Natural Science Foundation of China, grant 31771455).
Ethics declarations
Competing interests
The authors declare no competing interests.
Additional information
Peer review information Nature thanks Cole Haynes and the other, anonymous, reviewer(s) for their contribution to the peer review of this work.
Publisher's note Springer Nature remains neutral with regard to jurisdictional claims in published maps and institutional affiliations.
Extended data figures and tables
Supplementary information
About this article
Cite this article
Yuan, J., Chang, S., Yin, S. et al. Two conserved epigenetic regulators prevent healthy ageing. Nature 579, 118–122 (2020). https://doi.org/10.1038/s41586-020-2037-y
Received:

Accepted:

Published:

Issue Date:
Further reading
Nature Reviews Genetics (2020)
Comments
By submitting a comment you agree to abide by our Terms and Community Guidelines. If you find something abusive or that does not comply with our terms or guidelines please flag it as inappropriate.