Abstract
Hydrogen peroxide (H2O2) is a major reactive oxygen species in unicellular and multicellular organisms, and is produced extracellularly in response to external stresses and internal cues1,2,3,4. H2O2 enters cells through aquaporin membrane proteins and covalently modifies cytoplasmic proteins to regulate signalling and cellular processes. However, whether sensors for H2O2 also exist on the cell surface remains unknown. In plant cells, H2O2 triggers an influx of Ca2+ ions, which is thought to be involved in H2O2 sensing and signalling. Here, by using forward genetic screens based on Ca2+ imaging, we isolated hydrogen-peroxide-induced Ca2+ increases (hpca) mutants in Arabidopsis, and identified HPCA1 as a leucine-rich-repeat receptor kinase belonging to a previously uncharacterized subfamily that features two extra pairs of cysteine residues in the extracellular domain. HPCA1 is localized to the plasma membrane and is activated by H2O2 via covalent modification of extracellular cysteine residues, which leads to autophosphorylation of HPCA1. HPCA1 mediates H2O2-induced activation of Ca2+ channels in guard cells and is required for stomatal closure. Our findings help to identify how the perception of extracellular H2O2 is integrated with responses to various external stresses and internal cues in plants, and have implications for the design of crops with enhanced fitness.
Relevant articles
Open Access articles citing this article.
Bruno Pok Man Ngou

,

Robert Heal

…

Jonathan D. G. Jones

Nature Plants Open Access 14 October 2022

Maya Giridhar

,

Bastian Meier

…

Fatima Chigri

BMC Plant Biology Open Access 17 September 2022

Lucille Gorgues

,

Xuelian Li

…

Philippe Nacry

Stress Biology Open Access 05 September 2022
Access options
Subscribe to Nature+
Get immediate online access to Nature and 55 other Nature journal
Subscribe to Journal
Get full journal access for 1 year
$199.00
only $3.90 per issue
All prices are NET prices.
VAT will be added later in the checkout.
Tax calculation will be finalised during checkout.
Buy article
Get time limited or full article access on ReadCube.
$32.00
All prices are NET prices.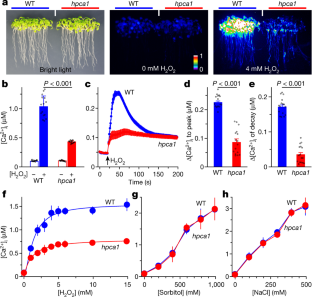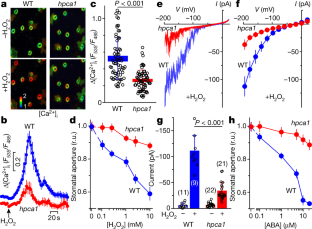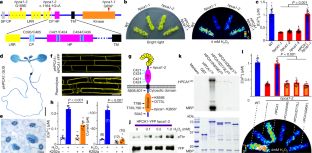 Data availability
All datasets generated and/or analysed during the current study are available in the Article, the Source Data files that accompany Figs. 1–4 and Extended Data Figs. 1–3, 8, 9, or the Supplementary Information. Additional data, such a raw image files, that support the findings of this study, are available from the corresponding author upon request.
References
Mittler, R. ROS are good. Trends Plant Sci. 22, 11–19 (2017).

Sies, H., Berndt, C. & Jones, D. P. Oxidative stress. Annu. Rev. Biochem. 86, 715–748 (2017).

Imlay, J. A. Transcription factors that defend bacteria against reactive oxygen species. Annu. Rev. Microbiol. 69, 93–108 (2015).

Waszczak, C., Carmody, M. & Kangasjärvi, J. Reactive oxygen species in plant signaling. Annu. Rev. Plant Biol. 69, 209–236 (2018).

Kadota, Y., Shirasu, K. & Zipfel, C. Regulation of the NADPH oxidase RBOHD during plant immunity. Plant Cell Physiol. 56, 1472–1480 (2015).

Zipfel, C. & Oldroyd, G. E. D. Plant signalling in symbiosis and immunity. Nature 543, 328–336 (2017).

Oldroyd, G. E. D. Speak, friend, and enter: signalling systems that promote beneficial symbiotic associations in plants. Nat. Rev. Microbiol. 11, 252–263 (2013).

Kelliher, T. & Walbot, V. Hypoxia triggers meiotic fate acquisition in maize. Science 337, 345–348 (2012).

Boisson-Dernier, A. et al. ANXUR receptor-like kinases coordinate cell wall integrity with growth at the pollen tube tip via NADPH oxidases. PLoS Biol. 11, e1001719 (2013).

Foreman, J. et al. Reactive oxygen species produced by NADPH oxidase regulate plant cell growth. Nature 422, 442–446 (2003).

Takeda, S. et al. Local positive feedback regulation determines cell shape in root hair cells. Science 319, 1241–1244 (2008).

Tsukagoshi, H., Busch, W. & Benfey, P. N. Transcriptional regulation of ROS controls transition from proliferation to differentiation in the root. Cell 143, 606–616 (2010).

Lee, Y. et al. A lignin molecular brace controls precision processing of cell walls critical for surface integrity in Arabidopsis. Cell 173, 1468–1480.e9 (2018).

Pei, Z.-M. et al. Calcium channels activated by hydrogen peroxide mediate abscisic acid signalling in guard cells. Nature 406, 731–734 (2000).

Yi, M. C. & Khosla, C. Thiol-disulfide exchange reactions in the mammalian extracellular environment. Annu. Rev. Chem. Biomol. Eng. 7, 197–222 (2016).

Price, A. H. A possible role for calcium in oxidative plant stress. Free Radic. Res. Commun. 10, 345–349 (1990).

Price, A. H. et al. Oxidative signals in tobacco increase cytosolic calcium. Plant Cell 6, 1301–1310 (1994).

McAinsh, M. R., Clayton, H., Mansfield, T. A. & Hetherington, A. M. Changes in stomatal behavior and guard cell cytosolic free calcium in response to oxidative stress. Plant Physiol. 111, 1031–1042 (1996).

Demidchik, V. & Shabala, S. Mechanisms of cytosolic calcium elevation in plants: the role of ion channels, calcium extrusion systems and NADPH oxidase-mediated 'ROS-Ca2+ Hub'. Funct. Plant Biol. 45, 9–27 (2018).

Kudla, J. et al. Advances and current challenges in calcium signaling. New Phytol. 218, 414–431 (2018).

Choi, W. G., Hilleary, R., Swanson, S. J., Kim, S. H. & Gilroy, S. Rapid, long-distance electrical and calcium signaling in plants. Annu. Rev. Plant Biol. 67, 287–307 (2016).

Hedrich, R. Ion channels in plants. Physiol. Rev. 92, 1777–1811 (2012).

Edel, K. H., Marchadier, E., Brownlee, C., Kudla, J. & Hetherington, A. M. The evolution of calcium-based signalling in plants. Curr. Biol. 27, R667–R679 (2017).

Yuan, F. et al. OSCA1 mediates osmotic-stress-evoked Ca2+ increases vital for osmosensing in Arabidopsis. Nature 514, 367–371 (2014).

Jiang, Z. et al. Plant cell-surface GIPC sphingolipids sense salt to trigger Ca2+ influx. Nature 572, 341–346 (2019).

Boller, T. & Felix, G. A renaissance of elicitors: perception of microbe-associated molecular patterns and danger signals by pattern-recognition receptors. Annu. Rev. Plant Biol. 60, 379–406 (2009).

Ranf, S. Sensing of molecular patterns through cell surface immune receptors. Curr. Opin. Plant Biol. 38, 68–77 (2017).

Hua, D. et al. A plasma membrane receptor kinase, GHR1, mediates abscisic acid- and hydrogen peroxide-regulated stomatal movement in Arabidopsis. Plant Cell 24, 2546–2561 (2012).

Sierla, M. et al. The receptor-like pseudokinase GHR1 is required for stomatal closure. Plant Cell 30, 2813–2837 (2018).

Macpherson, L. J. et al. Noxious compounds activate TRPA1 ion channels through covalent modification of cysteines. Nature 445, 541–545 (2007).

Bourdais, G. et al. Large-scale phenomics identifies primary and fine-tuning roles for CRKs in responses related to oxidative stress. PLoS Genet. 11, e1005373 (2015).

Ortiz-Ramírez, C. et al. GLUTAMATE RECEPTOR-LIKE channels are essential for chemotaxis and reproduction in mosses. Nature 549, 91–95 (2017).

Choi, J. et al. Identification of a plant receptor for extracellular ATP. Science 343, 290–294 (2014).

Kutschera, A. et al. Bacterial medium-chain 3-hydroxy fatty acid metabolites trigger immunity in Arabidopsis plants. Science 364, 178–181 (2019).

Knight, M. R., Campbell, A. K., Smith, S. M. & Trewavas, A. J. Transgenic plant aequorin reports the effects of touch and cold-shock and elicitors on cytoplasmic calcium. Nature 352, 524–526 (1991).

Knight, H., Trewavas, A. J. & Knight, M. R. Calcium signalling in Arabidopsis thaliana responding to drought and salinity. Plant J. 12, 1067–1078 (1997).

Monshausen, G. B., Messerli, M. A. & Gilroy, S. Imaging of the Yellow Cameleon 3.6 indicator reveals that elevations in cytosolic Ca2+ follow oscillating increases in growth in root hairs of Arabidopsis. Plant Physiol. 147, 1690–1698 (2008).

Ma, Y., Zhao, Y., Walker, R. K. & Berkowitz, G. A. Molecular steps in the immune signaling pathway evoked by plant elicitor peptides: Ca2+-dependent protein kinases, nitric oxide, and reactive oxygen species are downstream from the early Ca2+ signal. Plant Physiol. 163, 1459–1471 (2013).

Caterina, M. J. et al. The capsaicin receptor: a heat-activated ion channel in the pain pathway. Nature 389, 816–824 (1997).

Schroeder, B. C., Cheng, T., Jan, Y. N. & Jan, L. Y. Expression cloning of TMEM16A as a calcium-activated chloride channel subunit. Cell 134, 1019–1029 (2008).

Chalfie, M. Neurosensory mechanotransduction. Nat. Rev. Mol. Cell Biol. 10, 44–52 (2009).

Ranf, S. et al. A lectin S-domain receptor kinase mediates lipopolysaccharide sensing in Arabidopsis thaliana. Nat. Immunol. 16, 426–433 (2015).

Knight, H., Trewavas, A. J. & Knight, M. R. Cold calcium signaling in Arabidopsis involves two cellular pools and a change in calcium signature after acclimation. Plant Cell 8, 489–503 (1996).

Murata, Y., Pei, Z.-M., Mori, I. C. & Schroeder, J. Abscisic acid activation of plasma membrane Ca2+ channels in guard cells requires cytosolic NAD(P)H and is differentially disrupted upstream and downstream of reactive oxygen species production in abi1-1 and abi2-1 protein phosphatase 2C mutants. Plant Cell 13, 2513–2523 (2001).

Kwak, J. M. et al. NADPH oxidase AtrbohD and AtrbohF genes function in ROS-dependent ABA signaling in Arabidopsis. EMBO J. 22, 2623–2633 (2003).

Pei, Z.-M., Kuchitsu, K., Ward, J. M., Schwarz, M. & Schroeder, J. I. Differential abscisic acid regulation of guard cell slow anion channels in Arabidopsis wild-type and abi1 and abi2 mutants. Plant Cell 9, 409–423 (1997).

Kim, T. H., Böhmer, M., Hu, H., Nishimura, N. & Schroeder, J. I. Guard cell signal transduction network: advances in understanding abscisic acid, CO2, and Ca2+ signaling. Annu. Rev. Plant Biol. 61, 561–591 (2010).

Yoshida, T. et al. Nitric oxide activates TRP channels by cysteine S-nitrosylation. Nat. Chem. Biol. 2, 596–607 (2006).

Abe, A. et al. Genome sequencing reveals agronomically important loci in rice using MutMap. Nat. Biotechnol. 30, 174–178 (2012).

Katoh, K. & Standley, D. M. MAFFT multiple sequence alignment software version 7: improvements in performance and usability. Mol. Biol. Evol. 30, 772–780 (2013).

Tamura, K., Stecher, G., Peterson, D., Filipski, A. & Kumar, S. MEGA6: molecular evolutionary genetics analysis version 6.0. Mol. Biol. Evol. 30, 2725–2729 (2013).

Waterhouse, A. M., Procter, J. B., Martin, D. M., Clamp, M. & Barton, G. J. Jalview Version 2—a multiple sequence alignment editor and analysis workbench. Bioinformatics 25, 1189–1191 (2009).

Smakowska-Luzan, E. et al. An extracellular network of Arabidopsis leucine-rich repeat receptor kinases. Nature 553, 342–346 (2018).

Goodstein, D. M. et al. Phytozome: a comparative platform for green plant genomics. Nucleic Acids Res. 40, D1178–D1186 (2012).

Karimi, M., Inzé, D. & Depicker, A. GATEWAY vectors for Agrobacterium-mediated plant transformation. Trends Plant Sci. 7, 193–195 (2002).

Clough, S. J. & Bent, A. F. Floral dip: a simplified method for Agrobacterium-mediated transformation of Arabidopsis thaliana. Plant J. 16, 735–743 (1998).

Jefferson, R. A., Kavanagh, T. A. & Bevan, M. W. GUS fusions: β-glucuronidase as a sensitive and versatile gene fusion marker in higher plants. EMBO J. 6, 3901–3907 (1987).

Zentella, R. et al. The Arabidopsis O-fucosyltransferase SPINDLY activates nuclear growth repressor DELLA. Nat. Chem. Biol. 13, 479–485 (2017).

Li, J. et al. BAK1, an Arabidopsis LRR receptor-like protein kinase, interacts with BRI1 and modulates brassinosteroid signaling. Cell 110, 213–222 (2002).

Asai, T. et al. MAP kinase signalling cascade in Arabidopsis innate immunity. Nature 415, 977–983 (2002).

Kovtun, Y., Chiu, W. L., Tena, G. & Sheen, J. Functional analysis of oxidative stress-activated mitogen-activated protein kinase cascade in plants. Proc. Natl Acad. Sci. USA 97, 2940–2945 (2000).

Kadota, Y., Macho, A. P. & Zipfel, C. Immunoprecipitation of Plasma Membrane Receptor-Like Kinases for identification of phosphorylation sites and associated proteins. Methods Mol. Biol. 1363, 133–144 (2016).

Ankney, J. A., Muneer, A. & Chen, X. Relative and absolute quantitation in mass spectrometry-based proteomics. Annu. Rev. Anal. Chem. (Palo Alto, Calif.) 11, 49–77 (2018).

Wang, L. et al. Novel RNA-Affinity proteogenomics dissects tumor heterogeneity for revealing personalized markers in precision prognosis of cancer. Cell Chem. Biol. 25, 619–633.e5 (2018).

Brewer, T. F., Garcia, F. J., Onak, C. S., Carroll, K. S. & Chang, C. J. Chemical approaches to discovery and study of sources and targets of hydrogen peroxide redox signaling through NADPH oxidase proteins. Annu. Rev. Biochem. 84, 765–790 (2015).

Paulsen, C. E. & Carroll, K. S. Cysteine-mediated redox signaling: chemistry, biology, and tools for discovery. Chem. Rev. 113, 4633–4679 (2013).

Bogeski, I. et al. Differential redox regulation of ORAI ion channels: a mechanism to tune cellular calcium signaling. Sci. Signal. 3, ra24 (2010).

Ogawa, N., Kurokawa, T. & Mori, Y. Sensing of redox status by TRP channels. Cell Calcium 60, 115–122 (2016).

McConnell, E. W. et al. Proteome-wide analysis of cysteine reactivity during effector-triggered immunity. Plant Physiol. 179, 1248–1264 (2019).

Ogawa, N. et al. Functional and structural divergence in human TRPV1 channel subunits by oxidative cysteine modification. J. Biol. Chem. 291, 4197–4210 (2016).

Guo, Z., Kozlov, S., Lavin, M. F., Person, M. D. & Paull, T. T. ATM activation by oxidative stress. Science 330, 517–521 (2010).

Weerapana, E. et al. Quantitative reactivity profiling predicts functional cysteines in proteomes. Nature 468, 790–795 (2010).

Backus, K. M. et al. Proteome-wide covalent ligand discovery in native biological systems. Nature 534, 570–574 (2016).

Hyslop, P. A. et al. Intracellular calcium homeostasis during hydrogen peroxide injury to cultured P388D1 cells. J. Cell. Physiol. 129, 356–366 (1986).

Grynkiewicz, G., Poenie, M. & Tsien, R. Y. A new generation of Ca2+ indicators with greatly improved fluorescence properties. J. Biol. Chem. 260, 3440–3450 (1985).

Ranf, S., Eschen-Lippold, L., Pecher, P., Lee, J. & Scheel, D. Interplay between calcium signalling and early signalling elements during defence responses to microbe- or damage-associated molecular patterns. Plant J. 68, 100–113 (2011).

Macho, A. P. et al. A bacterial tyrosine phosphatase inhibits plant pattern recognition receptor activation. Science 343, 1509–1512 (2014).

Wang, X. et al. Identification and functional analysis of in vivo phosphorylation sites of the Arabidopsis BRASSINOSTEROID-INSENSITIVE1 receptor kinase. Plant Cell 17, 1685–1703 (2005).

Wang, X. et al. Sequential transphosphorylation of the BRI1/BAK1 receptor kinase complex impacts early events in brassinosteroid signaling. Dev. Cell 15, 220–235 (2008).

Yun, H. S. et al. Analysis of phosphorylation of the BRI1/BAK1 complex in arabidopsis reveals amino acid residues critical for receptor formation and activation of BR signaling. Mol. Cells 27, 183–190 (2009).

Hohmann, U., Lau, K. & Hothorn, M. The structural basis of ligand perception and signal activation by receptor kinases. Annu. Rev. Plant Biol. 68, 109–137 (2017).

Perraki, A. et al. Phosphocode-dependent functional dichotomy of a common co-receptor in plant signalling. Nature 561, 248–252 (2018).
Acknowledgements
We thank M. R. Knight for aequorin-expressing Arabidopsis seeds; S. Gilroy for YC3.6-expressing Arabidopsis lines; G. A. Berkowitz for bak1 and fls2 aequorin expression Arabidopsis mutants; R. Zentella, J. Hu and T. Wang for advice on protein analysis; and T. Sun, D. R. McClay and P. N. Benfey for discussions and critical reading of the manuscript. F.W., Z.J. and Z.H. were supported in part by Shenzhen Peacock Innovative Research Team Program; F.W., Z.J., Y.X., F.Y., J.N., Y.Z. and X.W. were supported by Pandeng Project of Hangzhou Normal University and Zhejiang NSF (Z16C020004); and F.W., W.W., S.Z. and Z.J. were supported by fellowships from China Scholarship Council. This work was supported by grants from the NSF (IOS-1457257, IOS-0848263), USDA (CSREES-2006-35100-17304) and DOE (DE-SC0014077) to Z.-M.P., NIH (1U19AI109965) to X. Chen, and Chinese NSF (31571461) to F.Y.
Ethics declarations
Competing interests
The authors declare no competing interests.
Additional information
Peer review information Nature thanks Christine Foyer and the other, anonymous, reviewer(s) for their contribution to the peer review of this work.
Publisher's note Springer Nature remains neutral with regard to jurisdictional claims in published maps and institutional affiliations.
Extended data figures and tables
Supplementary information
This file contains Supplementary Text (Unbiased screening approaches used to dissect eH2O2 signaling in Arabidopsis) and associated references, and Supplementary Figure 1 (raw gel images).
About this article
Cite this article
Wu, F., Chi, Y., Jiang, Z. et al. Hydrogen peroxide sensor HPCA1 is an LRR receptor kinase in Arabidopsis. Nature 578, 577–581 (2020). https://doi.org/10.1038/s41586-020-2032-3
Received:

Accepted:

Published:

Issue Date:

DOI: https://doi.org/10.1038/s41586-020-2032-3
Comments
By submitting a comment you agree to abide by our Terms and Community Guidelines. If you find something abusive or that does not comply with our terms or guidelines please flag it as inappropriate.