Abstract
Gastruloids are three-dimensional aggregates of embryonic stem cells that display key features of mammalian development after implantation, including germ-layer specification and axial organization1,2,3. To date, the expression pattern of only a small number of genes in gastruloids has been explored with microscopy, and the extent to which genome-wide expression patterns in gastruloids mimic those in embryos is unclear. Here we compare mouse gastruloids with mouse embryos using single-cell RNA sequencing and spatial transcriptomics. We identify various embryonic cell types that were not previously known to be present in gastruloids, and show that key regulators of somitogenesis are expressed similarly between embryos and gastruloids. Using live imaging, we show that the somitogenesis clock is active in gastruloids and has dynamics that resemble those in vivo. Because gastruloids can be grown in large quantities, we performed a small screen that revealed how reduced FGF signalling induces a short-tail phenotype in embryos. Finally, we demonstrate that embedding in Matrigel induces gastruloids to generate somites with the correct rostral–caudal patterning, which appear sequentially in an anterior-to-posterior direction over time. This study thus shows the power of gastruloids as a model system for exploring development and somitogenesis in vitro in a high-throughput manner.
Access options
Subscribe to Journal
Get full journal access for 1 year
$199.00
only $3.90 per issue
All prices are NET prices.
VAT will be added later in the checkout.
Rent or Buy article
Get time limited or full article access on ReadCube.
from$8.99
All prices are NET prices.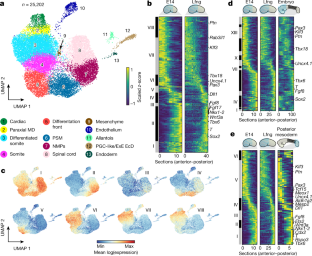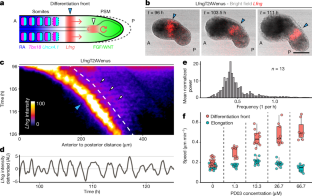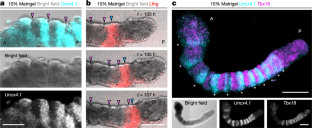 Data availability
All RNA sequencing datasets produced in this study are deposited in the Gene Expression Omnibus (GEO) under accession code GSE123187. All scRNA-seq and tomo-seq data can be explored at https://avolab.hubrecht.eu/MouseGastruloids2020. Source Data for Figs. 1, 2 and Extended Data Fig. 1–6, 8, 10 are provided with the paper. Any other relevant data are available from the corresponding authors upon reasonable request.
References
1.

van den Brink, S. C. et al. Symmetry breaking, germ layer specification and axial organisation in aggregates of mouse embryonic stem cells. Development 141, 4231–4242 (2014).

2.

Turner, D. A. et al. Anteroposterior polarity and elongation in the absence of extra-embryonic tissues and of spatially localised signalling in gastruloids: mammalian embryonic organoids. Development 144, 3894–3906 (2017).

3.

Beccari, L. et al. Multi-axial self-organization properties of mouse embryonic stem cells into gastruloids. Nature 562, 272–276 (2018).

4.

Pijuan-Sala, B. et al. A single-cell molecular map of mouse gastrulation and early organogenesis. Nature 566, 490–495 (2019).

5.

Nowotschin, S. et al. The emergent landscape of the mouse gut endoderm at single-cell resolution. Nature 569, 361–367 (2019).

6.

Kwon, G. S., Viotti, M. & Hadjantonakis, A. K. The endoderm of the mouse embryo arises by dynamic widespread intercalation of embryonic and extraembryonic lineages. Dev. Cell 15, 509–520 (2008).

7.

Scotti, M. & Kmita, M. Recruitment of 5′ Hoxa genes in the allantois is essential for proper extra-embryonic function in placental mammals. Development 139, 731–739 (2012).

8.

Koch, F. et al. Antagonistic activities of Sox2 and Brachyury control the fate choice of neuro-mesodermal progenitors. Dev. Cell 42, 514–526 (2017).

9.

Chal, J. & Pourquié, O. Making muscle: skeletal myogenesis in vivo and in vitro. Development 144, 2104–2122 (2017).

10.

Laurent, F. et al. HAND2 target gene regulatory networks control atrioventricular canal and cardiac valve development. Cell Rep. 19, 1602–1613 (2017).

11.

Junker, J. P. et al. Genome-wide RNA tomography in the zebrafish embryo. Cell 159, 662–675 (2014).

12.

Chal, J. et al. Differentiation of pluripotent stem cells to muscle fiber to model Duchenne muscular dystrophy. Nat. Biotechnol. 33, 962–969 (2015).

13.

Dequéant, M. L. et al. A complex oscillating network of signaling genes underlies the mouse segmentation clock. Science 314, 1595–1598 (2006).

14.

Oates, A. C., Morelli, L. G. & Ares, S. Patterning embryos with oscillations: structure, function and dynamics of the vertebrate segmentation clock. Development 139, 625–639 (2012).

15.

Sonnen, K. F. et al. Modulation of phase shift between Wnt and Notch signaling oscillations controls mesoderm segmentation. Cell 172, 1079–1090.e12 (2018).

16.

Hubaud, A., Regev, I., Mahadevan, L. & Pourquié, O. Excitable dynamics and Yap-dependent mechanical cues drive the segmentation clock. Cell 171, 668–682.e11 (2017).

17.

Naiche, L. A., Holder, N. & Lewandoski, M. FGF4 and FGF8 comprise the wavefront activity that controls somitogenesis. Proc. Natl Acad. Sci. USA 108, 4018–4023 (2011).

18.

Dubrulle, J., McGrew, M. J. & Pourquié, O. FGF signaling controls somite boundary position and regulates segmentation clock control of spatiotemporal Hox gene activation. Cell 106, 219–232 (2001).

19.

Sawada, A. et al. Fgf/MAPK signalling is a crucial positional cue in somite boundary formation. Development 128, 4873–4880 (2001).

20.

Baillie-Johnson, P., van den Brink, S. C., Balayo, T., Turner, D. A. & Martinez Arias, A. Generation of aggregates of mouse embryonic stem cells that show symmetry breaking, polarization and emergent collective behaviour in vitro. J. Vis. Exp. 105, e53252 (2015).

21.

Choi, H. M. T. et al. Third-generation in situ hybridization chain reaction: multiplexed, quantitative, sensitive, versatile, robust. Development 145, dev165753 (2018).

22.

Lauschke, V. M., Tsiairis, C. D., François, P. & Aulehla, A. Scaling of embryonic patterning based on phase-gradient encoding. Nature 493, 101–105 (2013).

23.

Matsumiya, M., Tomita, T., Yoshioka-Kobayashi, K., Isomura, A. & Kageyama, R. ES cell-derived presomitic mesoderm-like tissues for analysis of synchronized oscillations in the segmentation clock. Development 145, dev156836 (2018).

24.

Fehling, H. J. et al. Tracking mesoderm induction and its specification to the hemangioblast during embryonic stem cell differentiation. Development 130, 4217–4227 (2003).

25.

Faunes, F. et al. A membrane-associated β-catenin/Oct4 complex correlates with ground-state pluripotency in mouse embryonic stem cells. Development 140, 1171–1183 (2013).

26.

Ferrer-Vaquer, A. et al. A sensitive and bright single-cell resolution live imaging reporter of Wnt/ß-catenin signaling in the mouse. BMC Dev. Biol. 10, 121 (2010).

27.

Papanayotou, C. et al. A novel Nodal enhancer dependent on pluripotency factors and Smad2/3 signaling conditions a regulatory switch during epiblast maturation. PLoS Biol. 12, e1001890 (2014).

28.

Kalmar, T. et al. Regulated fluctuations in Nanog expression mediate cell fate decisions in embryonic stem cells. PLoS Biol. 7, e1000149 (2009).

29.

Turner, D. A. et al. Wnt/β-catenin and FGF signalling direct the specification and maintenance of a neuromesodermal axial progenitor in ensembles of mouse embryonic stem cells. Development 141, 4243–4253 (2014).

30.

Turner, D. A., Rué, P., Mackenzie, J. P., Davies, E. & Martinez Arias, A. Brachyury cooperates with Wnt/β-catenin signalling to elicit primitive-streak-like behaviour in differentiating mouse embryonic stem cells. BMC Biol. 12, 63 (2014).

31.

Turner, D. A., Trott, J., Hayward, P., Rué, P. & Martinez Arias, A. An interplay between extracellular signalling and the dynamics of the exit from pluripotency drives cell fate decisions in mouse ES cells. Biol. Open 3, 614–626 (2014).

32.

van Batenburg, V. et al. Generating gastruloids with somite-like structures from mouse embryonic stem cells. Protoc. Exch. https://doi.org/10.21203/rs.2.18203/v1 (2020).

33.

Muraro, M. J. et al. A single-cell transcriptome atlas of the human pancreas. Cell Syst. 3, 385–394.e3 (2016).

34.

Grün, D. et al. Single-cell messenger RNA sequencing reveals rare intestinal cell types. Nature 525, 251–255 (2015).

35.

Wolf, F. A., Angerer, P. & Theis, F. J. SCANPY: large-scale single-cell gene expression data analysis. Genome Biol. 19, 15 (2018).

36.

Johnson, W. E., Li, C. & Rabinovic, A. Adjusting batch effects in microarray expression data using empirical Bayes methods. Biostatistics 8, 118–127 (2007).

37.

Chakraborty, S., Datta, S. & Datta, S. Surrogate variable analysis using partial least squares (SVA-PLS) in gene expression studies. Bioinformatics 28, 799–806 (2012).

38.

Traag, V. A., Waltman, L. & van Eck, N. J. From Louvain to Leiden: guaranteeing well-connected communities. Sci. Rep. 9, 5233 (2019).

39.

Schindelin, J. et al. Fiji: an open-source platform for biological-image analysis. Nat. Methods 9, 676–682 (2012).

40.

Glynn, E. F., Chen, J. & Mushegian, A. R. Detecting periodic patterns in unevenly spaced gene expression time series using Lomb–Scargle periodograms. Bioinformatics 22, 310–316 (2006).

41.

Richardson, L. et al. EMAGE mouse embryo spatial gene expression database: 2014 update. Nucleic Acids Res. 42, D835–D844 (2014).

42.

van den Brink, S. C. et al. Single-cell sequencing reveals dissociation-induced gene expression in tissue subpopulations. Nat. Methods 14, 935–936 (2017).
Acknowledgements
This work was supported by an European Research Council Advanced grant (ERC-AdG 742225-IntScOmics), a Nederlandse Organisatie voor Wetenschappelijk Onderzoek (NWO) TOP award (NWO-CW 714.016.001) and the Foundation for Fundamental Research on Matter, financially supported by NWO (FOM-14NOISE01) to S.C.v.d.B., A.A., V.v.B., M.B., J.V. and A.v.O., a Biotechnology and Biological Sciences Research Council (no. BB/P003184/1), Newton Trust (INT16.24b) and Medical Research Council (MR/R017190/1) grant to A.M.A., a Newnham College Cambridge Junior Research Fellowship to N.M. and a studentship from the Engineering and Physical Sciences Research Council to P.B.-J. The Cambridge Stem Cell Institute is supported by core funding from the Wellcome Trust and Medical Research Council; J.N. was funded by the University of Cambridge and K.F.S. by core funding from the Hubrecht Institute. This work is part of the Oncode Institute, which is partly financed by the Dutch Cancer Society. We thank A. Ebbing and M. Betist for the robotized tomo-seq protocol; G. Keller for the Brachyury-GFP cell line; J. Collignon for the Nodal-YFP line; K. Hadjantonakis for the TCF/LEF-mCherry line; S. van den Brink and E. R. Maandag for the E14-IB10 cells; J. Kress and A. Aulehla for the LfngT2AVenus mouse ES cell line; I. Misteli Guerreiro, J. Peterson-Maduro and J. Hoeksma for suggestions for in situ hybridization experiments; W. Thomas, Y. el Azhar, J. Juksar and J. Beumer for reagents and inhibitors; A. de Graaff and A. Stokkermans for help with multiphoton microscopy and analysis of the microscopy data; D. A. Turner for microscopy panels that were used for tomo-seq validation; J. Korving for help with the somite-size measurements in embryos; the Hubrecht FACS facility and R. van der Linden for FACS experiments; Single Cell Discoveries for 10x Genomics scRNA-seq; the Utrecht Sequencing facility for sequencing; and P. Zeller, H. Viñas Gaza, M. Vaninsberghe, V. Bhardwaj and all members of the van Oudenaarden, Sonnen and Martinez Arias laboratories for discussions.
Ethics declarations
Competing interests
The authors declare no competing interests.
Additional information
Peer review information Nature thanks Jianping Fu and the other, anonymous, reviewer(s) for their contribution to the peer review of this work.
Publisher's note Springer Nature remains neutral with regard to jurisdictional claims in published maps and institutional affiliations.
Extended data figures and tables
Supplementary information
About this article
Cite this article
van den Brink, S.C., Alemany, A., van Batenburg, V. et al. Single-cell and spatial transcriptomics reveal somitogenesis in gastruloids. Nature (2020). https://doi.org/10.1038/s41586-020-2024-3
Received:

Accepted:

Published:
Further reading
Kristina Haase

&

Benjamin S. Freedman

Development (2020)

Edwin A. Rosado-Olivieri

&

Ali H. Brivanlou

Cell Stem Cell (2020)

Alexandra Schauer

,

Diana Pinheiro

,

Robert Hauschild

&

Carl-Philipp Heisenberg

eLife (2020)
Comments
By submitting a comment you agree to abide by our Terms and Community Guidelines. If you find something abusive or that does not comply with our terms or guidelines please flag it as inappropriate.