Abstract
CRISPR–Cas immunity protects prokaryotes against invading genetic elements1. It uses the highly conserved Cas1–Cas2 complex to establish inheritable memory (spacers)2,3,4,5. How Cas1–Cas2 acquires spacers from foreign DNA fragments (prespacers) and integrates them into the CRISPR locus in the correct orientation is unclear6,7. Here, using the high spatiotemporal resolution of single-molecule fluorescence, we show that Cas1–Cas2 selects precursors of prespacers from DNA in various forms—including single-stranded DNA and partial duplexes—in a manner that depends on both the length of the DNA strand and the presence of a protospacer adjacent motif (PAM) sequence. We also identify DnaQ exonucleases as enzymes that process the Cas1–Cas2-loaded prespacer precursors into mature prespacers of a suitable size for integration. Cas1–Cas2 protects the PAM sequence from maturation, which results in the production of asymmetrically trimmed prespacers and the subsequent integration of spacers in the correct orientation. Our results demonstrate the kinetic coordination of prespacer precursor selection and PAM trimming, providing insight into the mechanisms that underlie the integration of functional spacers in the CRISPR loci.
Relevant articles
Open Access articles citing this article.
Joy Y. Wang

,

Owen T. Tuck

…

Jennifer A. Doudna

Nature Open Access 14 June 2023

Cécile Philippe

,

Carlee Morency

…

Sylvain Moineau

Nature Communications Open Access 19 May 2022

Noemí M. Guzmán

,

Belén Esquerra-Ruvira

&

Francisco J. M. Mojica

International Microbiology Open Access 06 September 2021
Access options
Access Nature and 54 other Nature Portfolio journals
Get Nature+, our best-value online-access subscription
$29.99 / 30 days
cancel any time
Subscribe to this journal
Receive 51 print issues and online access
$199.00 per year
only $3.90 per issue
Rent or buy this article
Prices vary by article type
from$1.95
to$39.95
Prices may be subject to local taxes which are calculated during checkout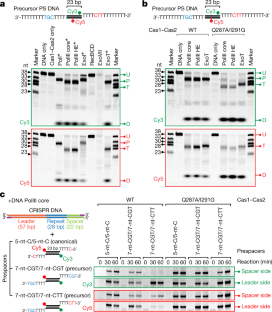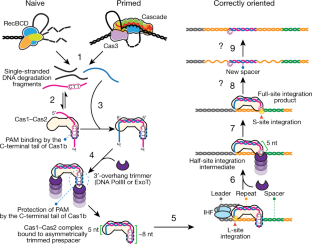 References
Hille, F. et al. The biology of CRISPR–Cas: backward and forward. Cell 172, 1239–1259 (2018).

Nuñez, J. K., Harrington, L. B., Kranzusch, P. J., Engelman, A. N. & Doudna, J. A. Foreign DNA capture during CRISPR–Cas adaptive immunity. Nature 527, 535–538 (2015).

Nuñez, J. K. et al. Cas1–Cas2 complex formation mediates spacer acquisition during CRISPR–Cas adaptive immunity. Nat. Struct. Mol. Biol. 21, 528–534 (2014).

Nuñez, J. K., Lee, A. S., Engelman, A. & Doudna, J. A. Integrase-mediated spacer acquisition during CRISPR–Cas adaptive immunity. Nature 519, 193–198 (2015).

Wang, J. et al. Structural and mechanistic basis of PAM-dependent spacer acquisition in CRISPR–Cas Systems. Cell 163, 840–853 (2015).

Jackson, S. A. et al. CRISPR–Cas: adapting to change. Science 356, eaal5056 (2017).

McGinn, J. & Marraffini, L. A. Molecular mechanisms of CRISPR–Cas spacer acquisition. Nat. Rev. Microbiol. 17, 7–12 (2019).

Brouns, S. J. et al. Small CRISPR RNAs guide antiviral defense in prokaryotes. Science 321, 960–964 (2008).

Marraffini, L. A. & Sontheimer, E. J. CRISPR interference limits horizontal gene transfer in staphylococci by targeting DNA. Science 322, 1843–1845 (2008).

Deveau, H. et al. Phage response to CRISPR-encoded resistance in Streptococcus thermophilus. J. Bacteriol. 190, 1390–1400 (2008).

Mojica, F. J., Díez-Villaseñor, C., García-Martínez, J. & Almendros, C. Short motif sequences determine the targets of the prokaryotic CRISPR defence system. Microbiology 155, 733–740 (2009).

Levy, A. et al. CRISPR adaptation biases explain preference for acquisition of foreign DNA. Nature 520, 505–510 (2015).

Künne, T. et al. Cas3-derived target DNA degradation fragments fuel primed CRISPR adaptation. Mol. Cell 63, 852–864 (2016).

Musharova, O. et al. Spacer-length DNA intermediates are associated with Cas1 in cells undergoing primed CRISPR adaptation. Nucleic Acids Res. 45, 3297–3307 (2017).

Semenova, E. et al. Highly efficient primed spacer acquisition from targets destroyed by the Escherichia coli type I-E CRISPR–Cas interfering complex. Proc. Natl Acad. Sci. USA 113, 7626–7631 (2016).

Yeeles, J. T., Gwynn, E. J., Webb, M. R. & Dillingham, M. S. The AddAB helicase-nuclease catalyses rapid and processive DNA unwinding using a single superfamily 1A motor domain. Nucleic Acids Res. 39, 2271–2285 (2011).

Yeeles, J. T., van Aelst, K., Dillingham, M. S. & Moreno-Herrero, F. Recombination hotspots and single-stranded DNA binding proteins couple DNA translocation to DNA unwinding by the AddAB helicase-nuclease. Mol. Cell 42, 806–816 (2011).

Mulepati, S. & Bailey, S. In vitro reconstitution of an Escherichia coli RNA-guided immune system reveals unidirectional, ATP-dependent degradation of DNA target. J. Biol. Chem. 288, 22184–22192 (2013).

Nuñez, J. K., Bai, L., Harrington, L. B., Hinder, T. L. & Doudna, J. A. CRISPR immunological memory requires a host factor for specificity. Mol. Cell 62, 824–833 (2016).

Xiao, Y., Ng, S., Nam, K. H. & Ke, A. How type II CRISPR–Cas establish immunity through Cas1–Cas2-mediated spacer integration. Nature 550, 137–141 (2017).

Lopez-Sanchez, M. J. et al. The highly dynamic CRISPR1 system of Streptococcus agalactiae controls the diversity of its mobilome. Mol. Microbiol. 85, 1057–1071 (2012).

Shmakov, S. et al. Pervasive generation of oppositely oriented spacers during CRISPR adaptation. Nucleic Acids Res. 42, 5907–5916 (2014).

Shiimori, M., Garrett, S. C., Graveley, B. R. & Terns, M. P. Cas4 nucleases define the PAM, length, and orientation of DNA fragments integrated at CRISPR loci. Mol. Cell 70, 814–824 (2018).

Rollie, C., Graham, S., Rouillon, C. & White, M. F. Prespacer processing and specific integration in a type I-A CRISPR system. Nucleic Acids Res. 46, 1007–1020 (2018).

Lee, H., Zhou, Y., Taylor, D. W. & Sashital, D. G. Cas4-dependent prespacer processing ensures high-fidelity programming of CRISPR arrays. Mol. Cell 70, 48–59 (2018).

Kieper, S. N. et al. Cas4 facilitates PAM-compatible spacer selection during CRISPR adaptation. Cell Rep. 22, 3377–3384 (2018).

Hou, Z. & Zhang, Y. Insights into a mysterious CRISPR adaptation factor, Cas4. Mol. Cell 70, 757–758 (2018).

Moch, C., Fromant, M., Blanquet, S. & Plateau, P. DNA binding specificities of Escherichia coli Cas1–Cas2 integrase drive its recruitment at the CRISPR locus. Nucleic Acids Res. 45, 2714–2723 (2017).

Savitskaya, E., Semenova, E., Dedkov, V., Metlitskaya, A. & Severinov, K. High-throughput analysis of type I-E CRISPR/Cas spacer acquisition in E. coli. RNA Biol. 10, 716–725 (2013).

Shiriaeva, A. A. et al. Detection of spacer precursors formed in vivo during primed CRISPR adaptation. Nat. Commun. 10, 4603 (2019).

Drabavicius, G. et al. DnaQ exonuclease-like domain of Cas2 promotes spacer integration in a type I-E CRISPR–Cas system. EMBO Rep. 19, e45543 (2018).

Lovett, S. T. The DNA exonucleases of Escherichia coli. Ecosal Plus 4, https://doi.org/10.1128/ecosalplus.4.4.7 (2011).

Dillard, K. E. et al. Assembly and translocation of a CRISPR–Cas primed acquisition complex. Cell 175, 934–946 (2018).

Redding, S. et al. Surveillance and processing of foreign DNA by the Escherichia coli CRISPR–Cas system. Cell 163, 854–865 (2015).

Loeff, L., Brouns, S. J. J. & Joo, C. Repetitive DNA reeling by the Cascade–Cas3 complex in nucleotide unwinding steps. Mol. Cell 70, 385–394 (2018).

Wu, Y. H., Franden, M. A., Hawker, J. R. Jr & McHenry, C. S. Monoclonal antibodies specific for the alpha subunit of the Escherichia coli DNA polymerase III holoenzyme. J. Biol. Chem. 259, 12117–12122 (1984).

Sheth, R. U. & Wang, H. H. DNA-based memory devices for recording cellular events. Nat. Rev. Genet. 19, 718–732 (2018).

Kim, S. et al. Temporal landscape of microRNA-mediated host–virus crosstalk during productive human cytomegalovirus infection. Cell Host Microbe 17, 838–851 (2015).

Thieme, F., Engler, C., Kandzia, R. & Marillonnet, S. Quick and clean cloning: a ligation-independent cloning strategy for selective cloning of specific PCR products from non-specific mixes. PLoS One 6, e20556 (2011).

Aslanidis, C. & de Jong, P. J. Ligation-independent cloning of PCR products (LIC-PCR). Nucleic Acids Res. 18, 6069–6074 (1990).

Jergic, S. et al. A direct proofreader-clamp interaction stabilizes the Pol III replicase in the polymerization mode. EMBO J. 32, 1322–1333 (2013).

Hamdan, S. et al. Hydrolysis of the 5′-p-nitrophenyl ester of TMP by the proofreading exonuclease (ε) subunit of Escherichia coli DNA polymerase III. Biochemistry 41, 5266–5275 (2002).

Lewis, J. S. et al. Single-molecule visualization of fast polymerase turnover in the bacterial replisome. eLife 6, e23932 (2017).

Carrico, I. S., Carlson, B. L. & Bertozzi, C. R. Introducing genetically encoded aldehydes into proteins. Nat. Chem. Biol. 3, 321–322 (2007).

Chandradoss, S. D. et al. Surface passivation for single-molecule protein studies. J. Vis. Exp. 86, e50549 (2014).

Pan, H., Xia, Y., Qin, M., Cao, Y. & Wang, W. A simple procedure to improve the surface passivation for single molecule fluorescence studies. Phys. Biol. 12, 045006 (2015).

Dekking, M. A Modern Introduction to Probability and Statistics: Understanding Why and How (Springer, 2005).
Acknowledgements
We thank A. C. Haagsma and T. Künne for providing Cas1–Cas2 vectors and proteins; S. Leachman, N. Dekker and the members of the C.J. and S.J.J.B. laboratories for discussions; and T. J. Cui for discussions on kinetic models. S.J. thanks N. Dixon for guidance. S.K. was partly funded by a Marie Skłodowska-Curie grant (753528); C.J. and S.J.J.B. were funded by the Foundation for Fundamental Research on Matter (15PR3188); and S.J. was funded by a collaborative grant from King Abdullah University of Science and Technology, Saudi Arabia (OSR-2015-CRG4-2644).
Ethics declarations
Competing interests
The authors declare no competing interests.
Additional information
Publisher's note Springer Nature remains neutral with regard to jurisdictional claims in published maps and institutional affiliations.
Extended data figures and tables
Supplementary information
Raw images of gels scanned by Typhoon imager. Fluorescence scans of Cy3 (green) and Cy5 (red) are indicated. Related to Figure 3a, 3b, 3c, and Extended Data Fig. 1r, 3g, 4, 5a–d, 7c–d, 8b.
List of synthetic oligonucleotides used in this study. Related to Figure 1–3, Extended Data Fig. 1–8, and Methods.
About this article
Cite this article
Kim, S., Loeff, L., Colombo, S. et al. Selective loading and processing of prespacers for precise CRISPR adaptation. Nature 579, 141–145 (2020). https://doi.org/10.1038/s41586-020-2018-1
Received:

Accepted:

Published:

Issue Date:

DOI: https://doi.org/10.1038/s41586-020-2018-1
Comments
By submitting a comment you agree to abide by our Terms and Community Guidelines. If you find something abusive or that does not comply with our terms or guidelines please flag it as inappropriate.