Abstract
Ultrathin two-dimensional (2D) semiconducting layered materials offer great potential for extending Moore's law of the number of transistors in an integrated circuit1. One key challenge with 2D semiconductors is to avoid the formation of charge scattering and trap sites from adjacent dielectrics. An insulating van der Waals layer of hexagonal boron nitride (hBN) provides an excellent interface dielectric, efficiently reducing charge scattering2,3. Recent studies have shown the growth of single-crystal hBN films on molten gold surfaces4 or bulk copper foils5. However, the use of molten gold is not favoured by industry, owing to its high cost, cross-contamination and potential issues of process control and scalability. Copper foils might be suitable for roll-to-roll processes, but are unlikely to be compatible with advanced microelectronic fabrication on wafers. Thus, a reliable way of growing single-crystal hBN films directly on wafers would contribute to the broad adoption of 2D layered materials in industry. Previous attempts to grow hBN monolayers on Cu (111) metals have failed to achieve mono-orientation, resulting in unwanted grain boundaries when the layers merge into films6,7. Growing single-crystal hBN on such high-symmetry surface planes as Cu (111)5,8 is widely believed to be impossible, even in theory. Nonetheless, here we report the successful epitaxial growth of single-crystal hBN monolayers on a Cu (111) thin film across a two-inch c-plane sapphire wafer. This surprising result is corroborated by our first-principles calculations, suggesting that the epitaxial growth is enhanced by lateral docking of hBN to Cu (111) steps, ensuring the mono-orientation of hBN monolayers. The obtained single-crystal hBN, incorporated as an interface layer between molybdenum disulfide and hafnium dioxide in a bottom-gate configuration, enhanced the electrical performance of transistors. This reliable approach to producing wafer-scale single-crystal hBN paves the way to future 2D electronics.
Your institute does not have access to this article
Relevant articles
Open Access articles citing this article.
Light: Science & Applications Open Access 01 July 2022

Pengfei Yang

,

Dashuai Wang

…

Yanfeng Zhang

Nature Communications Open Access 10 June 2022

Jichen Dong

,

Yunqi Liu

&

Feng Ding

npj Computational Materials Open Access 12 May 2022
Access options
Subscribe to Nature+
Get immediate online access to the entire Nature family of 50+ journals
Subscribe to Journal
Get full journal access for 1 year
$199.00
only $3.90 per issue
All prices are NET prices.
VAT will be added later in the checkout.
Tax calculation will be finalised during checkout.
Buy article
Get time limited or full article access on ReadCube.
$32.00
All prices are NET prices.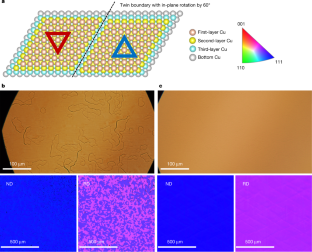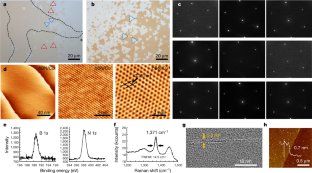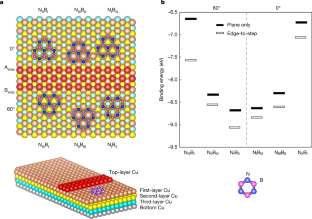 Data availability
All data needed to evaluate our conclusions are found in the main text and the Extended Data. Further data related to the paper are available from the corresponding authors on reasonable request.
References
Li, M.-Y., Su, S.-K., Wong, H.-S. P. & Li, L.-J. How 2D semiconductors could extend Moore's law. Nature 567, 169–170 (2019).

Novoselov, K. S., Mishchenko, A., Carvalho, A. & Neto, A. H. C. 2D materials and van der Waals heterostructures. Science 353, aac9439 (2016).

Dean, C. R. et al. Boron nitride substrates for high-quality graphene electronics. Nat. Nanotechnol. 5, 722–726 (2010).

Lee, J. S. et al. Wafer-scale single-crystal hexagonal boron nitride film via self-collimated grain formation. Science 362, 817–821 (2018).

Wang, L. et al. Epitaxial growth of a 100-square-centimetre single-crystal hexagonal boron nitride monolayer on copper. Nature 570, 91–95 (2019).

Uchida, Y., Iwaizako, T., Mizuno, S., Tsuji, M. & Ago, H. Epitaxial chemical vapour deposition growth of monolayer hexagonal boron nitride on a Cu (111)/sapphire substrate. Phys. Chem. Chem. Phys. 19, 8230–8235 (2017).

Song, X. et al. Chemical vapor deposition growth of large-scale hexagonal boron nitride with controllable orientation. Nano Res. 8, 3164–3176 (2015).

Li, J. et al. Growth of polar hexagonal boron nitride monolayer on nonpolar copper with unique orientation. Small 12, 3645–3650 (2016).

Jin, S. et al. Colossal grain growth yields single-crystal metal foils by contact-free annealing. Science 362, 1021–1025 (2018).

Verguts, K. et al. Epitaxial Al2O3 (0001)/Cu (111) template development for CVD graphene growth. J. Phys. Chem. C 120, 297–304 (2016).

Deng, B. et al. Wrinkle-free single-crystal graphene wafer grown on strain-engineered substrates. ACS Nano 11, 12337–12345 (2017).

Liu, Y., Bhowmick, S. & Yakobson, B. I. BN white graphene with "colorful" edges: the energies and morphology. Nano Lett. 11, 3113–3116 (2011).

Zhao, R., Zhao, X., Liu, Z., Ding, F. & Liu, Z. Controlling the orientations of hBN during growth on transition metals by chemical vapor deposition. Nanoscale 9, 3561–3567 (2017).

Bets, K. V., Gupta, N. & Yakobson, B. I. How the complementarity at vicinal steps enables growth of 2D monocrystals. Nano Lett. 19, 2027–2031 (2019).

Gao, L. et al. Repeated growth and bubbling transfer of graphene with millimetre-size single-crystal grains using platinum. Nat. Commun. 3, 699 (2012).

Kim, G. et al. Growth of high-crystalline, single-layer hexagonal boron nitride on recyclable platinum foil. Nano Lett. 13, 1834–1839 (2013).

Hsu, W.-F. et al. Monolayer MoS2 enabled single-crystalline growth of AlN on Si(100) using low-temperature helicon sputtering. ACS Appl. Nano Mater. 2, 1964–1969 (2019).

Jin, L., Fu, Q., Mu, R., Tan, D. & Bao, X. Pb intercalation underneath a graphene layer on Ru(0001) and its effect on graphene oxidation. Phys. Chem. Chem. Phys. 13, 16655–16660 (2011).

Kresse, G. & Furthmüller, J. Efficiency of ab-initio total energy calculations for metals and semiconductors using a plane-wave basis set. Comput. Mater. Sci. 6, 15–50 (1996).

MedeA (Materials Design Inc, 2016).

Perdew, J. P., Burke, K. & Ernzerhof, M. Generalized gradient approximation made simple. Phys. Rev. Lett. 77, 3865–3868 (1996).

Klimeš, J., Bowler, D. R. & Michaelides, A. Van der Waals density functionals applied to solids. Phys. Rev. B 83, 195131 (2011).

Yankowitz, M. et al. Emergence of superlattice Dirac points in graphene on hexagonal boron nitride. Nat. Phys. 8, 382–386 (2012).

Joshi, S. et al. Boron nitride on Cu (111): an electronically corrugated monolayer. Nano Lett. 12, 5821–5828 (2012).
Acknowledgements
Tse-An Chen, C.-P.C., H.-S.P.W. and L.-J.L. acknowledge support from the Taiwan Semiconductor Manufacturing Company (TSMC). W.-H.C. acknowledges support from the Ministry of Science and Technology of Taiwan (grants MOST-108-2119-M-009-011-MY3 and MOST-107-2112-M-009-024-MY3) and from the CEFMS of the National Chiao Tung University, supported by the Ministry of Education of Taiwan. Y.Z. acknowledges financial support from the National Natural Science Foundation of China (grant 51861135201). Q.F. thanks the National Natural Science Foundation of China (grants 21688102 and 21825203) and the Strategic Priority Research Program of the Chinese Academy of Sciences (grant XDB17020000) for financial support. B.I.Y. acknowledges support from the US Department of Energy (grant DE-SC0012547) and a stimulating discussion with T. Ivanov (US Army Research Laboratory). Tse-An Chen and L.-J.L. acknowledge useful discussions with S. Brems at Imec.
Ethics declarations
Competing interests
The authors declare no competing interests.
Additional information
Publisher's note Springer Nature remains neutral with regard to jurisdictional claims in published maps and institutional affiliations.
Extended data figures and tables
About this article
Cite this article
Chen, TA., Chuu, CP., Tseng, CC. et al. Wafer-scale single-crystal hexagonal boron nitride monolayers on Cu (111). Nature 579, 219–223 (2020). https://doi.org/10.1038/s41586-020-2009-2
Received:

Accepted:

Published:

Issue Date:

DOI: https://doi.org/10.1038/s41586-020-2009-2
Comments
By submitting a comment you agree to abide by our Terms and Community Guidelines. If you find something abusive or that does not comply with our terms or guidelines please flag it as inappropriate.