Abstract
Perovskite solar cells, as an emerging high-efficiency and low-cost photovoltaic technology1,2,3,4,5,6, face obstacles on their way towards commercialization. Substantial improvements have been made to device stability7,8,9,10, but potential issues with lead toxicity and leaching from devices remain relatively unexplored11,12,13,14,15,16. The potential for lead leakage could be perceived as an environmental and public health risk when using perovskite solar cells in building-integrated photovoltaics17,18,19,20,21,22,23. Here we present a chemical approach for on-device sequestration of more than 96 per cent of lead leakage caused by severe device damage. A coating of lead-absorbing material is applied to the front and back sides of the device stack. On the glass side of the front transparent conducting electrode, we use a transparent lead-absorbing molecular film containing phosphonic acid groups that bind strongly to lead. On the back (metal) electrode side, we place a polymer film blended with lead-chelating agents between the metal electrode and a standard photovoltaic packing film. The lead-absorbing films on both sides swell to absorb the lead, rather than dissolve, when subjected to water soaking, thus retaining structural integrity for easy collection of lead after damage.
Relevant articles
Open Access articles citing this article.
Transactions of Tianjin University Open Access 13 May 2022

Hong Zhang

,

Kasra Darabi

…

Michael Grätzel

Nature Communications Open Access 10 January 2022

Bo Chen

,

Chengbin Fei

…

Jinsong Huang

Nature Communications Open Access 06 October 2021
Access options
Subscribe to Nature+
Get immediate online access to the entire Nature family of 50+ journals
Subscribe to Journal
Get full journal access for 1 year
$199.00
only $3.90 per issue
All prices are NET prices.
VAT will be added later in the checkout.
Tax calculation will be finalised during checkout.
Buy article
Get time limited or full article access on ReadCube.
$32.00
All prices are NET prices.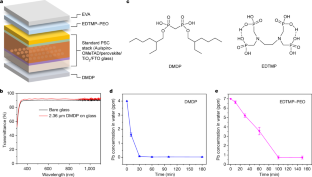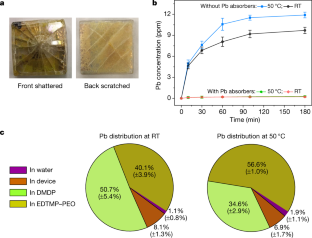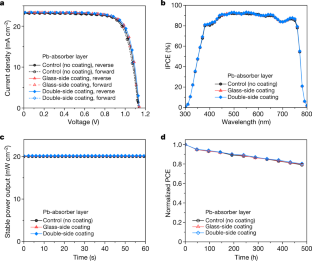 Data availability
The data that support the findings of this study are available from the corresponding authors upon reasonable request.
References
Best Research-Cell Efficiency Chart (National Renewable Energy Laboratory, 2019); https://www.nrel.gov/pv/cell-efficiency.html

Rong, Y. et al. Challenges for commercializing perovskite solar cells. Science 361, eaat8235 (2018).

Park, N.-G., Grätzel, M., Miyasaka, T., Zhu, K. & Emery, K. Towards stable and commercially available perovskite solar cells. Nat. Energy 1, 16152 (2016).

Jena, A. K., Kulkarni, A. & Miyasaka, T. Halide perovskite photovoltaics: background, status, and future prospects. Chem. Rev. 119, 3036–3103 (2019).

Green, M. A., Ho-Baillie, A. & Snaith, H. J. The emergence of perovskite solar cells. Nat. Photon. 8, 506–514 (2014).

Burschka, J. et al. Sequential deposition as a route to high-performance perovskite-sensitized solar cells. Nature 499, 316–319 (2013).

Christians, J. A., Habisreutinger, S. N., Berry, J. J. & Luther, J. M. Stability in perovskite photovoltaics: a paradigm for newfangled technologies. ACS Energy Lett. 3, 2136–2143 (2018).

Saparov, B. & Mitzi, D. B. Organic–inorganic perovskites: structural versatility for functional materials design. Chem. Rev. 116, 4558–4596 (2016).

Correa-Baena, J.-P. et al. Promises and challenges of perovskite solar cells. Science 358, 739–744 (2017).

Wang, R. et al. A review of perovskites solar cell stability. Adv. Funct. Mater. 29, 1808843 (2019).

Bae, S.-Y. et al. Hazard potential of perovskite solar cell technology for potential implementation of "safe-by-design" approach. Sci. Rep. 9, 4242 (2019).

Lyu, M., Yun, J.-H., Chen, P., Hao, M. & Wang, L. Addressing toxicity of lead: progress and applications of low-toxic metal halide perovskites and their derivatives. Adv. Energy Mater. 7, 1602512 (2017).

Hailegnaw, B., Kirmayer, S., Edri, E., Hodes, G. & Cahen, D. Rain on methylammonium lead iodide based perovskites: possible environmental effects of perovskite solar cells. J. Phys. Chem. Lett. 6, 1543–1547 (2015).

Fabini, D. Quantifying the potential for lead pollution from halide perovskite photovoltaics. J. Phys. Chem. Lett. 6, 3546–3548 (2015).

Babayigit, A., Ethirajan, A., Muller, M. & Conings, B. Toxicity of organometal halide perovskite solar cells. Nat. Mater. 15, 247–251 (2016).

Babayigit, A., Boyen, H.-G. & Conings, B. Environment versus sustainable energy: the case of lead halide perovskite-based solar cells. MRS Energy Sustain. 5, E1 (2018).

Wei, M. et al. Ultrafast narrowband exciton routing within layered perovskite nanoplatelets enables low-loss luminescent solar concentrators. Nat. Energy 4, 197–205 (2019).

Cannavale, A. et al. Perovskite photovoltachromic cells for building integration. Energy Environ. Sci. 8, 1578–1584 (2015).

Wheeler, L. M. et al. Switchable photovoltaic windows enabled by reversible photothermal complex dissociation from methylammonium lead iodide. Nat. Commun. 8, 1722 (2017).

Lin, J. et al. Thermochromic halide perovskite solar cells. Nat. Mater. 17, 261–267 (2018).

Polman, A., Knight, M., Garnett, E. C., Ehrler, B. & Sinke, W. C. Photovoltaic materials: present efficiencies and future challenges. Science 352, aad4424 (2016).

Ramírez Quiroz, C. O. et al. Pushing efficiency limits for semitransparent perovskite solar cells. J. Mater. Chem. A 3, 24071–24081 (2015).

Meinardi, F., Bruni, F. & Brovelli, S. Luminescent solar concentrators for building-integrated photovoltaics. Nat. Rev. Mater. 2, 17072 (2017).

Stoumpos, C. C., Malliakas, C. D. & Kanatzidis, M. G. Semiconducting tin and lead iodide perovskites with organic cations: phase transitions, high mobilities, and near-infrared photoluminescent properties. Inorg. Chem. 52, 9019–9038 (2013).

van der Voet, E. et al. Environmental Challenges of Anthropogenic Metals Flows and Cycles (United Nations Environment Programme, 2013).

Lead Laws and Regulations https://www.epa.gov/lead/lead-laws-and-regulations (Environmental Protection Agency, 2019).

Jiang, Y. et al. Reduction of lead leakage from damaged lead halide perovskite solar modules using self-healing polymer-based encapsulation. Nat. Energy 4, 585–593 (2019).

Conings, B., Babayigit, A. & Boyen, H.-G. Fire safety of lead halide perovskite photovoltaics. ACS Energy Lett. 4, 873–878 (2019).

Current results weather and science facts: average annual precipitation by state. Current Results https://www.currentresults.com/Weather/US/average-annual-state-precipitation.php (2019).

Bormann, B. T., Tarrant, R. F., McClellan, M. H. & Savage, T. Chemistry of rainwater and cloud water at remote sites in Alaska and Oregon. J. Environ. Qual. 18, 149–152 (1989).

Zhang, F. et al. Self-seeding growth for perovskite solar cells with enhanced stability. Joule 3, 1452–1463 (2019).

Lee, C., Yang, W. & Parr, R. G. Development of the Colle-Salvetti correlation-energy formula into a functional of the electron density. Phys. Rev. B 37, 785–789 (1988).

Becke, A. D. Density-functional thermochemistry. III. The role of exact exchange. J. Chem. Phys. 98, 5648–5652 (1993).

Frisch, M. J. et al. Gaussian09 revision D.01 (Gaussian, 2009).

Grimme, S. Semiempirical GGA-type density functional constructed with a long-range dispersion correction. J. Comput. Chem. 27, 1787–1799 (2006).

Tomasi, J., Mennucci, B. & Cammi, R. Quantum mechanical continuum solvation models. Chem. Rev. 105, 2999–3094 (2005).

Sato, H., Yui, M. & Yoshikawa, H. Ionic diffusion coefficients of Cs+, Pb2+, Sm3+, Ni2+, SeO4 2− and TcO4 − in free water determined from conductivity measurements. J. Nucl. Sci. Technol. 33, 950–955 (1996).

Leyden, M. R. et al. Methylammonium lead bromide perovskite light-emitting diodes by chemical vapor deposition. J. Phys. Chem. Lett. 8, 3193–3198 (2017).
Acknowledgements
T.X. acknowledges the support from the National Science Foundation (DMR 1806152). The work at the National Renewable Energy Laboratory was supported by the US Department of Energy under contract number DE-AC36-08GO28308 with Alliance for Sustainable Energy, Limited Liability Company (LLC), the Manager and Operator of the National Renewable Energy Laboratory. K.Z., F.Z. and J.J.B. acknowledge the support on perovskite synthesis and device fabrication and characterization from the De-risking Halide Perovskite Solar Cells programme of the National Center for Photovoltaics, funded by the US Department of Energy, Office of Energy Efficiency and Renewable Energy, Solar Energy Technologies Office. The views expressed in the article do not necessarily represent the views of the DOE or the US Government. The US Government retains and the publisher, by accepting the article for publication, acknowledges that the US Government retains a nonexclusive, paid-up, irrevocable, worldwide license to publish or reproduce the published form of this work, or allow others to do so, for US Government purposes.
Ethics declarations
Competing interests
An application has been made for a provisional patent (US patent application number 62/853,951) related to the subject matter of this manuscript.
Additional information
Peer review information Nature thanks Bert Conings, Peng Gao and Antonio Urbina for their contribution to the peer review of this work.
Publisher's note Springer Nature remains neutral with regard to jurisdictional claims in published maps and institutional affiliations.
Extended data figures and tables
About this article
Cite this article
Li, X., Zhang, F., He, H. et al. On-device lead sequestration for perovskite solar cells. Nature 578, 555–558 (2020). https://doi.org/10.1038/s41586-020-2001-x
Received:

Accepted:

Published:

Issue Date:

DOI: https://doi.org/10.1038/s41586-020-2001-x
Comments
By submitting a comment you agree to abide by our Terms and Community Guidelines. If you find something abusive or that does not comply with our terms or guidelines please flag it as inappropriate.