Abstract
The solid tumour microenvironment includes nerve fibres that arise from the peripheral nervous system1,2. Recent work indicates that newly formed adrenergic nerve fibres promote tumour growth, but the origin of these nerves and the mechanism of their inception are unknown1,3. Here, by comparing the transcriptomes of cancer-associated trigeminal sensory neurons with those of endogenous neurons in mouse models of oral cancer, we identified an adrenergic differentiation signature. We show that loss of TP53 leads to adrenergic transdifferentiation of tumour-associated sensory nerves through loss of the microRNA miR-34a. Tumour growth was inhibited by sensory denervation or pharmacological blockade of adrenergic receptors, but not by chemical sympathectomy of pre-existing adrenergic nerves. A retrospective analysis of samples from oral cancer revealed that p53 status was associated with nerve density, which was in turn associated with poor clinical outcomes. This crosstalk between cancer cells and neurons represents mechanism by which tumour-associated neurons are reprogrammed towards an adrenergic phenotype that can stimulate tumour progression, and is a potential target for anticancer therapy.
Access options
Subscribe to Journal
Get full journal access for 1 year
$199.00
only $3.90 per issue
All prices are NET prices.
VAT will be added later in the checkout.
Tax calculation will be finalised during checkout.
Rent or Buy article
Get time limited or full article access on ReadCube.
from$8.99
All prices are NET prices.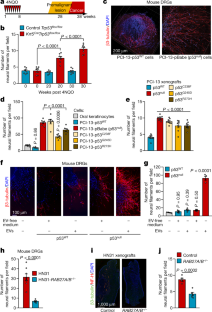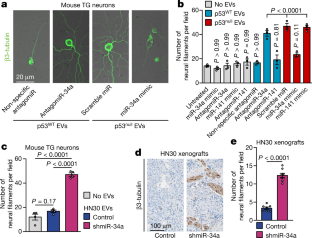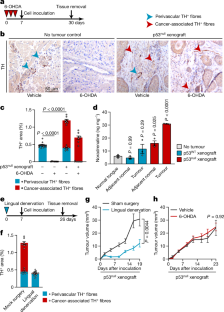 Data availability
Neuron RNA sequencing data from in vivo and in vitro experiments are available from the Gene Expression Omnibus (GEO) under accession number GSE134220. mRNA array data are available on GEO under accession number GSE140189, and miRNA array data are available on GEO under accession number GSE140324. All other data are available in the article and source data, or from the corresponding author upon reasonable request.
References
1.

Magnon, C. et al. Autonomic nerve development contributes to prostate cancer progression. Science 341, 1236361 (2013).

2.

Ayala, G. E. et al. Cancer-related axonogenesis and neurogenesis in prostate cancer. Clin. Cancer Res. 14, 7593–7603 (2008).

3.

Zahalka, A. H. et al. Adrenergic nerves activate an angio-metabolic switch in prostate cancer. Science 358, 321–326 (2017).

4.

Ravi, R. et al. Regulation of tumor angiogenesis by p53-induced degradation of hypoxia-inducible factor 1α. Genes Dev. 14, 34–44 (2000).

5.

Schmid, J. O. et al. Cancer cells cue the p53 response of cancer-associated fibroblasts to cisplatin. Cancer Res. 72, 5824–5832 (2012).

6.

Antoniades, H. N., Galanopoulos, T., Neville-Golden, J., Kiritsy, C. P. & Lynch, S. E. p53 expression during normal tissue regeneration in response to acute cutaneous injury in swine. J. Clin. Invest. 93, 2206–2214 (1994).

7.

Yun, M. H., Gates, P. B. & Brockes, J. P. Regulation of p53 is critical for vertebrate limb regeneration. Proc. Natl Acad. Sci. USA 110, 17392–17397 (2013).

8.

Li, Z. et al. Cdkn2a suppresses metastasis in squamous cell carcinomas induced by the gain-of-function mutant p53(R172H). J. Pathol. 240, 224–234 (2016).

9.

Joerger, A. C. & Fersht, A. R. Structural biology of the tumor suppressor p53. Annu. Rev. Biochem. 77, 557–582 (2008).

10.

Ostrowski, M. et al. Rab27a and Rab27b control different steps of the exosome secretion pathway. Nat. Cell Biol. 12, 19–30 (2010).

11.

Posner, R. et al. Neuronal small RNAs control behavior transgenerationally. Cell 177, 1814–1826.e1815 (2019).

12.

Chen, W. & Qin, C. General hallmarks of microRNAs in brain evolution and development. RNA Biol. 12, 701–708 (2015).

13.

Pang, R. T. et al. MicroRNA-34a suppresses invasion through downregulation of Notch1 and Jagged1 in cervical carcinoma and choriocarcinoma cells. Carcinogenesis 31, 1037–1044 (2010).

14.

Prueitt, R. L. et al. Expression of microRNAs and protein-coding genes associated with perineural invasion in prostate cancer. Prostate 68, 1152–1164 (2008).

15.

Lubov, J. et al. Meta-analysis of microRNAs expression in head and neck cancer: uncovering association with outcome and mechanisms. Oncotarget 8, 55511–55524 (2017).

16.

Ramdas, L. et al. miRNA expression profiles in head and neck squamous cell carcinoma and adjacent normal tissue. Head Neck 31, 642–654 (2009).

17.

Sousa, L. O. et al. Lymph node or perineural invasion is associated with low miR-15a, miR-34c and miR-199b levels in head and neck squamous cell carcinoma. BBA Clin. 6, 159–164 (2016).

18.

North, R. Y. et al. Electrophysiological and transcriptomic correlates of neuropathic pain in human dorsal root ganglion neurons. Brain 142, 1215–1226 (2019).

19.

Choi, Y. J. et al. miR-34 miRNAs provide a barrier for somatic cell reprogramming. Nat. Cell Biol. 13, 1353–1360 (2011).

20.

Choi, Y. J. et al. Deficiency of microRNA miR-34a expands cell fate potential in pluripotent stem cells. Science 355, eaag1927 (2017).

21.

Agostini, M. et al. Neuronal differentiation by TAp73 is mediated by microRNA-34a regulation of synaptic protein targets. Proc. Natl Acad. Sci. USA 108, 21093–21098 (2011).

22.

Jauhari, A., Singh, T., Singh, P., Parmar, D. & Yadav, S. Regulation of miR-34 family in neuronal development. Mol. Neurobiol. 55, 936–945 (2018).

23.

Dennis, G. Jr et al. DAVID: database for annotation, visualization, and integrated discovery. Genome Biol. 4, 3 (2003).

24.

Tsunemoto, R. et al. Diverse reprogramming codes for neuronal identity. Nature 557, 375–380 (2018).

25.

Vierbuchen, T. et al. Direct conversion of fibroblasts to functional neurons by defined factors. Nature 463, 1035–1041 (2010).

26.

Hsu, S. D. et al. miRTarBase update 2014: an information resource for experimentally validated miRNA-target interactions. Nucleic Acids Res. 42, D78–D85 (2014).

27.

Miranda, K. C. et al. A pattern-based method for the identification of microRNA binding sites and their corresponding heteroduplexes. Cell 126, 1203–1217 (2006).

28.

Lewis, B. P., Shih, I. H., Jones-Rhoades, M. W., Bartel, D. P. & Burge, C. B. Prediction of mammalian microRNA targets. Cell 115, 787–798 (2003).

29.

Kim, J. et al. Direct reprogramming of mouse fibroblasts to neural progenitors. Proc. Natl Acad. Sci. USA 108, 7838–7843 (2011).

30.

Yao, H. et al. Transdifferentiation-induced neural stem cells promote recovery of middle cerebral artery stroke rats. PLoS One 10, e0137211 (2015).

31.

Wapinski, O. L. et al. Hierarchical mechanisms for direct reprogramming of fibroblasts to neurons. Cell 155, 621–635 (2013).

32.

Axelson, H. The Notch signaling cascade in neuroblastoma: role of the basic helix-loop-helix proteins HASH-1 and HES-1. Cancer Lett. 204, 171–178 (2004).

33.

Mauffrey, P. et al. Progenitors from the central nervous system drive neurogenesis in cancer. Nature 569, 672–678 (2019).

34.

Zhao, C. M. et al. Denervation suppresses gastric tumorigenesis. Sci. Transl. Med. 6, 250ra115 (2014).

35.

Melhem-Bertrandt, A. et al. Beta-blocker use is associated with improved relapse-free survival in patients with triple-negative breast cancer. J. Clin. Oncol. 29, 2645–2652 (2011).

36.

Faulkner, S., Jobling, P., March, B., Jiang, C. C. & Hondermarck, H. Tumor neurobiology and the war of nerves in cancer. Cancer Discov. 9, 702–710 (2019).

37.

Lin, C. S., Lin, W. S., Lin, C. L. & Kao, C. H. Carvedilol use is associated with reduced cancer risk: a nationwide population-based cohort study. Int. J. Cardiol. 184, 9–13 (2015).

38.

Caulin, C. et al. An inducible mouse model for skin cancer reveals distinct roles for gain- and loss-of-function p53 mutations. J. Clin. Invest. 117, 1893–1901 (2007).

39.

Myers, J. N., Holsinger, F. C., Jasser, S. A., Bekele, B. N. & Fiddler, I. J. An orthotopic nude mouse model of oral tongue squamous cell carcinoma. Clin. Cancer. Res. 8, 293–298 (2002).

40.

Foy, J. P. et al. The dynamics of gene expression changes in a mouse model of oral tumorigenesis may help refine prevention and treatment strategies in patients with oral cancer. Oncotarget 7, 35932–35945 (2016).

41.

Tang, X. H., Knudsen, B., Bemis, D., Tickoo, S. & Gudas, L. J. Oral cavity and esophageal carcinogenesis modeled in carcinogen-treated mice. Clin. Cancer Res. 10, 301–313 (2004).

42.

Guagliardo, N. A. & Hill, D. L. Fungiform taste bud degeneration in C57BL/6J mice following chorda-lingual nerve transection. J. Comp. Neurol. 504, 206–216 (2007).

43.

Ricklefs, F. et al. Extracellular vesicles from high-grade glioma exchange diverse pro-oncogenic signals that maintain intratumoral heterogeneity. Cancer Res. 76, 2876–2881 (2016).

44.

Haderk, F. et al. Extracellular vesicles in chronic lymphocytic leukemia. Leuk. Lymphoma 54, 1826–1830 (2013).

45.

FASTQC: a quality control tool for high throughput sequence data (Babraham Bioinformatics, 2011).

46.

Kim, D. et al. TopHat2: accurate alignment of transcriptomes in the presence of insertions, deletions and gene fusions. Genome Biol. 14, R36 (2013).

47.

Li, H. et al. The sequence alignment/map format and SAMtools. Bioinformatics 25, 2078–2079 (2009).

48.

Anders, S., Pyl, P. T. & Huber, W. HTSeq—a Python framework to work with high-throughput sequencing data. Bioinformatics 31, 166–169 (2015).

49.

Robinson, M. D. & Oshlack, A. A scaling normalization method for differential expression analysis of RNA-seq data. Genome Biol. 11, R25 (2010).

50.

Robinson, M. D., McCarthy, D. J. & Smyth, G. K. edgeR: a Bioconductor package for differential expression analysis of digital gene expression data. Bioinformatics 26, 139–140 (2010).

51.

Martin, M. Cutadapt removes adapter sequences from high-throughput sequencing reads. EMBnet.journal 17, 10–12 (2011).

52.

Li, H. & Durbin, R. Fast and accurate long-read alignment with Burrows-Wheeler transform. Bioinformatics 26, 589–595 (2010).

53.

Liao, Y., Smyth, G. K. & Shi, W. featureCounts: an efficient general purpose program for assigning sequence reads to genomic features. Bioinformatics 30, 923–930 (2014).

54.

Bandyopadhyay, S. & Mitra, R. TargetMiner: microRNA target prediction with systematic identification of tissue-specific negative examples. Bioinformatics 25, 2625–2631 (2009).

55.

Agarwal, V., Bell, G. W., Nam, J. W. & Bartel, D. P. Predicting effective microRNA target sites in mammalian mRNAs. eLife 4, (2015).

56.

Wong, N. & Wang, X. miRDB: an online resource for microRNA target prediction and functional annotations. Nucleic Acids Res. 43, D146–D152 (2015).

57.

Wang, X. Improving microRNA target prediction by modeling with unambiguously identified microRNA-target pairs from CLIP-ligation studies. Bioinformatics 32, 1316–1322 (2016).

58.

Kozomara, A. & Griffiths-Jones, S. miRBase: annotating high confidence microRNAs using deep sequencing data. Nucleic Acids Res. 42, D68–D73 (2014).

59.

Chou, C. H. et al. miRTarBase update 2018: a resource for experimentally validated microRNA-target interactions. Nucleic Acids Res. 46, D296–D302 (2018).
Acknowledgements
G.A.C. is the Felix L. Haas Endowed Professor in Basic Science. Work in the Calin laboratory is supported by National Institutes of Health (NIH/NCATS) grant UH3TR00943-01 through the NIH Common Fund, Office of Strategic Coordination (OSC), NCI grants 1R01CA182905-01 and 1R01CA222007-01A1, National Institute of General Medical Sciences (NIGMS) grant 1R01GM122775-01, U54 grant CA096297/CA096300 – UPR/MDACC Partnership for Excellence in Cancer Research 2016 Pilot Project, US Department of Defense grant CA160445P1, a Chronic Lymphocytic Leukemia Moonshot Flagship Project, a Sister Institution Network Fund (SINF) 2017 grant, and the Estate of C. G. Johnson Jr. Work in the Dougherty laboratory is supported by NIH grant CA200263, Thompson Family Foundation Initiative; P.M.D. is the H.E.B. Endowed Professor in Basic Science. The NIH Cancer Center Support Grant P30CA016672 supports the High Resolution Electron Microscopy Facility (K. Dunner Jr) and the Advanced Technology Genomics Core (core grant CA016672) at The University of Texas MD Anderson Cancer Center. We thank M. Sushnitha for assistance with miRNA encapsulation; A. Patel for technical assistance; J. K. Burks for discussions and technical assistance with image analysis; C. M. Johnston; H. Kimhi; S. J. Bronson; E. Kimhi and D. M. Aten for artistic work; and our patients and their families. This work was supported by National Institute of Dental and Craniofacial Research grant 5R01 DE014613 12 (J.N.M.) and by S.I.A. funds (G.A.C.). Y.C. and R.W. were funded by the National Natural Science Foundation of China (NSFC, 81741082). D.A.S. is supported by NCI fellowship NIH/NCI F30CA228258.
Ethics declarations
Competing interests
The authors declare no competing interests.
Additional information
Peer review information Nature thanks Elsa Flores, Hector Peinado and Hongjun Song for their contribution to the peer review of this work.
Publisher's note Springer Nature remains neutral with regard to jurisdictional claims in published maps and institutional affiliations.
Extended data figures and tables
Supplementary information
This file contains Supplementary Figure 1: Uncropped western blot scans; Supplementary Table 1: Cardiovascular hemodynamics in mice treated with carvedilol; Supplementary Table 2: Patient characteristics; Supplementary Table 3. Multivariate analysis of survival; Materials and Methods; and additional references.
About this article
Cite this article
Amit, M., Takahashi, H., Dragomir, M.P. et al. Loss of p53 drives neuron reprogramming in head and neck cancer. Nature 578, 449–454 (2020). https://doi.org/10.1038/s41586-020-1996-3
Received:

Accepted:

Published:

Issue Date:
Comments
By submitting a comment you agree to abide by our Terms and Community Guidelines. If you find something abusive or that does not comply with our terms or guidelines please flag it as inappropriate.