Abstract
The proteasome is a major proteolytic machine that regulates cellular proteostasis through selective degradation of ubiquitylated proteins1,2. A number of ubiquitin-related molecules have recently been found to be involved in the regulation of biomolecular condensates or membraneless organelles, which arise by liquid–liquid phase separation of specific biomolecules, including stress granules, nuclear speckles and autophagosomes3,4,5,6,7,8, but it remains unclear whether the proteasome also participates in such regulation. Here we reveal that proteasome-containing nuclear foci form under acute hyperosmotic stress. These foci are transient structures that contain ubiquitylated proteins, p97 (also known as valosin-containing protein (VCP)) and multiple proteasome-interacting proteins, which collectively constitute a proteolytic centre. The major substrates for degradation by these foci were ribosomal proteins that failed to properly assemble. Notably, the proteasome foci exhibited properties of liquid droplets. RAD23B, a substrate-shuttling factor for the proteasome, and ubiquitylated proteins were necessary for formation of proteasome foci. In mechanistic terms, a liquid–liquid phase separation was triggered by multivalent interactions of two ubiquitin-associated domains of RAD23B and ubiquitin chains consisting of four or more ubiquitin molecules. Collectively, our results suggest that ubiquitin-chain-dependent phase separation induces the formation of a nuclear proteolytic compartment that promotes proteasomal degradation.
Relevant articles
Open Access articles citing this article.
Uchu Matsuura

,

Shinya Tahara

…

Takakazu Nakabayashi

Scientific Reports Open Access 19 April 2023

Xiaocen Jin

,

Hikari Tanaka

…

Hitoshi Okazawa

Nature Communications Open Access 04 January 2023

Jiwon Lee

,

Hana Cho

&

Ilmin Kwon

Experimental & Molecular Medicine Open Access 29 September 2022
Access options
Access Nature and 54 other Nature Portfolio journals
Get Nature+, our best-value online-access subscription
$29.99 / 30 days
cancel any time
Subscribe to this journal
Receive 51 print issues and online access
$199.00 per year
only $3.90 per issue
Rent or buy this article
Prices vary by article type
from$1.95
to$39.95
Prices may be subject to local taxes which are calculated during checkout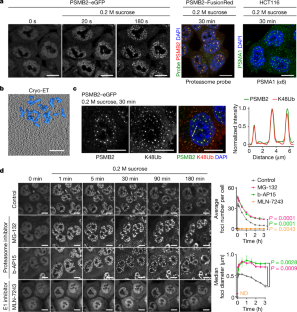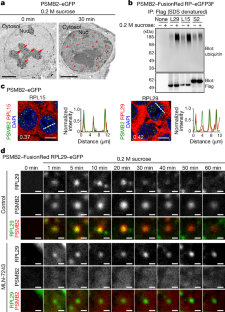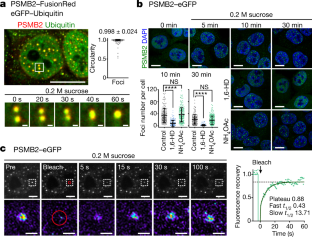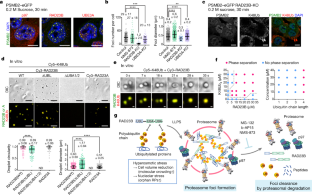 Data availability
Raw cryo-ET data have been deposited to the Electron Microscopy Data Bank under accession code EMD-10494. The mass spectrometry proteomics data have been deposited to the ProteomeXchange Consortium via the PRIDE partner repository with the data set identifier PXD01637 and PXD016369. The uncropped blots and gels are provided in Supplementary Fig. 1. Source Data for Figs. 1–4 and Extended Data Figs. 1, 3–9 are provided with the paper.
References
Finley, D. Recognition and processing of ubiquitin-protein conjugates by the proteasome. Annu. Rev. Biochem. 78, 477–513 (2009).

Livneh, I., Cohen-Kaplan, V., Cohen-Rosenzweig, C., Avni, N. & Ciechanover, A. The life cycle of the 26S proteasome: from birth, through regulation and function, and onto its death. Cell Res. 26, 869–885 (2016).

Shin, Y. & Brangwynne, C. P. Liquid phase condensation in cell physiology and disease. Science 357, eaaf4382 (2017).

Banani, S. F., Lee, H. O., Hyman, A. A. & Rosen, M. K. Biomolecular condensates: organizers of cellular biochemistry. Nat. Rev. Mol. Cell Biol. 18, 285–298 (2017).

Bouchard, J.J. et al. Cancer mutations of the tumor suppressor SPOP disrupt the formation of active, phase-separated compartments. Mol. Cell 72, 19–36 (2018).

Turakhiya, A. et al. ZFAND1 recruits p97 and the 26S proteasome to promote the clearance of arsenite-induced stress granules. Mol. Cell 70, 906–919 (2018).

Dao, T.P. et al. Ubiquitin modulates liquid-liquid phase separation of UBQLN2 via disruption of multivalent interactions. Mol. Cell 69, 965–978 (2018).

Sun, D., Wu, R., Zheng, J., Li, P. & Yu, L. Polyubiquitin chain-induced p62 phase separation drives autophagic cargo segregation. Cell Res. 28, 405–415 (2018).

Wójcik, C. & DeMartino, G. N. Intracellular localization of proteasomes. Int. J. Biochem. Cell Biol. 35, 579–589 (2003).

Enenkel, C. Proteasome dynamics. Biochim. Biophys. Acta 1843, 39–46 (2014).

Umpierrez, G. & Korytkowski, M. Diabetic emergencies—ketoacidosis, hyperglycaemic hyperosmolar state and hypoglycaemia. Nat. Rev. Endocrinol. 12, 222–232 (2016).

Janer, A. et al. PML clastosomes prevent nuclear accumulation of mutant ataxin-7 and other polyglutamine proteins. J. Cell Biol. 174, 65–76 (2006).

Cioce, M., Boulon, S., Matera, A. G. & Lamond, A. I. UV-induced fragmentation of Cajal bodies. J. Cell Biol. 175, 401–413 (2006).

Levy-Barda, A. et al. Involvement of the nuclear proteasome activator PA28γ in the cellular response to DNA double-strand breaks. Cell Cycle 10, 4300–4310 (2011).

Bohnsack, K. E. & Bohnsack, M. T. Uncovering the assembly pathway of human ribosomes and its emerging links to disease. EMBO J. 38, e100278 (2019).

Lam, Y. W., Lamond, A. I., Mann, M. & Andersen, J. S. Analysis of nucleolar protein dynamics reveals the nuclear degradation of ribosomal proteins. Curr. Biol. 17, 749–760 (2007).

Sung, M. K. et al. A conserved quality-control pathway that mediates degradation of unassembled ribosomal proteins. eLife 5, e19105 (2016).

Nguyen, A. T. et al. UBE2O remodels the proteome during terminal erythroid differentiation. Science 357, eaan0218 (2017).

Yanagitani, K., Juszkiewicz, S. & Hegde, R. S. UBE2O is a quality control factor for orphans of multiprotein complexes. Science 357, 472–475 (2017).

Kroschwald, S. et al. Promiscuous interactions and protein disaggregases determine the material state of stress-inducible RNP granules. eLife 4, e06807 (2015).

Jain, A. & Vale, R. D. RNA phase transitions in repeat expansion disorders. Nature 546, 243–247 (2017).

Jacobson, A. D., MacFadden, A., Wu, Z., Peng, J. & Liu, C. W. Autoregulation of the 26S proteasome by in situ ubiquitination. Mol. Biol. Cell 25, 1824–1835 (2014).

Yokoi, M. & Hanaoka, F. Two mammalian homologs of yeast Rad23, HR23A and HR23B, as multifunctional proteins. Gene 597, 1–9 (2017).

Walters, K. J., Lech, P. J., Goh, A. M., Wang, Q. & Howley, P. M. DNA-repair protein hHR23a alters its protein structure upon binding proteasomal subunit S5a. Proc. Natl Acad. Sci. USA 100, 12694–12699 (2003).

Nathan, J. A., Kim, H. T., Ting, L., Gygi, S. P. & Goldberg, A. L. Why do cellular proteins linked to K63-polyubiquitin chains not associate with proteasomes? EMBO J. 32, 552–565 (2013).

Kulak, N. A., Pichler, G., Paron, I., Nagaraj, N. & Mann, M. Minimal, encapsulated proteomic-sample processing applied to copy-number estimation in eukaryotic cells. Nat. Methods 11, 319–324 (2014).

Kristariyanto, Y. A. et al. K29-selective ubiquitin binding domain reveals structural basis of specificity and heterotypic nature of K29 polyubiquitin. Mol. Cell 58, 83–94 (2015).

Liu, Y., Deisenroth, C. & Zhang, Y. RP–MDM2–p53 pathway: linking ribosomal biogenesis and tumor surveillance. Trends Cancer 2, 191–204 (2016).

Dikic, I. Proteasomal and autophagic degradation systems. Annu. Rev. Biochem. 86, 193–224 (2017).

Klaips, C. L., Jayaraj, G. G. & Hartl, F. U. Pathways of cellular proteostasis in aging and disease. J. Cell Biol. 217, 51–63 (2018).

Berkers, C. R. et al. Profiling proteasome activity in tissue with fluorescent probes. Mol. Pharm. 4, 739–748 (2007).

Kroschwald, S., Maharana, S. & Simon, A. Hexanediol: a chemical probe to investigate the material properties of membrane-less compartments. Matters https://doi.org/10.19185/matters.201702000010 (2017).

D'Arcy, P. et al. Inhibition of proteasome deubiquitinating activity as a new cancer therapy. Nat. Med. 17, 1636–1640 (2011).

Hyer, M. L. et al. A small-molecule inhibitor of the ubiquitin activating enzyme for cancer treatment. Nat. Med. 24, 186–193 (2018).

Magnaghi, P. et al. Covalent and allosteric inhibitors of the ATPase VCP/p97 induce cancer cell death. Nat. Chem. Biol. 9, 548–556 (2013).

Sakuma, T. et al. Repeating pattern of non-RVD variations in DNA-binding modules enhances TALEN activity. Sci. Rep. 3, 3379 (2013).

Sanjana, N. E. et al. A transcription activator-like effector toolbox for genome engineering. Nat. Protoc. 7, 171–192 (2012).

Ran, F. A. et al. Genome engineering using the CRISPR–Cas9 system. Nat. Protoc. 8, 2281–2308 (2013).

Kumatori, A. et al. Abnormally high expression of proteasomes in human leukemic cells. Proc. Natl Acad. Sci. USA 87, 7071–7075 (1990).

Paul-Gilloteaux, P. et al. eC-CLEM: flexible multidimensional registration software for correlative microscopies. Nat. Methods 14, 102–103 (2017).

Tsuchiya, H. et al. In vivo ubiquitin linkage-type analysis reveals that the Cdc48-Rad23/Dsk2 axis contributes to K48-linked chain specificity of the proteasome. Mol. Cell 66, 488–502 (2017).

Fujioka, A. et al. Dynamics of the Ras/ERK MAPK cascade as monitored by fluorescent probes. J. Biol. Chem. 281, 8917–8926 (2006).

Udeshi, N. D., Mertins, P., Svinkina, T. & Carr, S. A. Large-scale identification of ubiquitination sites by mass spectrometry. Nat. Protoc. 8, 1950–1960 (2013).

Yoshida, Y. et al. A comprehensive method for detecting ubiquitinated substrates using TR-TUBE. Proc. Natl Acad. Sci. USA 112, 4630–4635 (2015).

Guo, Q. et al. In situ structure of neuronal C9orf72 Poly-GA aggregates reveals proteasome recruitment. Cell 172, 696–705 (2018).

Rigort, A. et al. Focused ion beam micromachining of eukaryotic cells for cryoelectron tomography. Proc. Natl Acad. Sci. USA 109, 4449–4454 (2012).

Mastronarde, D. N. Automated electron microscope tomography using robust prediction of specimen movements. J. Struct. Biol. 152, 36–51 (2005).

Nickell, S. et al. TOM software toolbox: acquisition and analysis for electron tomography. J. Struct. Biol. 149, 227–234 (2005).

Li, X. et al. Electron counting and beam-induced motion correction enable near-atomic-resolution single-particle cryo-EM. Nat. Methods 10, 584–590 (2013).

Kremer, J. R., Mastronarde, D. N. & McIntosh, J. R. Computer visualization of three-dimensional image data using IMOD. J. Struct. Biol. 116, 71–76 (1996).

Hrabe, T. et al. PyTom: a python-based toolbox for localization of macromolecules in cryo-electron tomograms and subtomogram analysis. J. Struct. Biol. 178, 177–188 (2012).

Bharat, T. A. & Scheres, S. H. Resolving macromolecular structures from electron cryo-tomography data using subtomogram averaging in RELION. Nat. Protoc. 11, 2054–2065 (2016).
Acknowledgements
We thank C.-G. Pack and M.-K. Jung for initial electron microscopy analysis; S. Fukai, K. Iwai, T. Yamamoto and F. Zhang for reagents; N. Noda for helpful discussion; and J. Horiuchi for critical reading of the manuscript. This research was supported by AMED under grant numbers JP18gm1110003 (S.M. and Y.S.) and JP19gm1110010 (T.I.); MEXT/JSPS KAKENHI grant numbers JP18K19352 (S.Y.), JP18K14913 (H.T.), JP26293018 (Y.S.), JP18H03993 (Y.S.), JP18H05498 (F.O. and Y.S.), JP18H03977 (T.I.), JP 19H05281 (T.I.) and JP21000012 (K.T.); the Takeda Science Foundation (Y.S., K.T. and T.I.); the Uehara Memorial Foundation (Y.S.); the European Commission, FP7 GA ERC-2012-SyG_318987-ToPAG (Q.G., W.B. and R.F.-B.); and the DFG, EXC 2067/1- 390729940 (R.F.-B.).
Ethics declarations
Competing interests
The authors declare no competing interests.
Additional information
Publisher's note Springer Nature remains neutral with regard to jurisdictional claims in published maps and institutional affiliations.
Extended data figures and tables
Supplementary information
About this article
Cite this article
Yasuda, S., Tsuchiya, H., Kaiho, A. et al. Stress- and ubiquitylation-dependent phase separation of the proteasome. Nature 578, 296–300 (2020). https://doi.org/10.1038/s41586-020-1982-9
Received:

Accepted:

Published:

Issue Date:

DOI: https://doi.org/10.1038/s41586-020-1982-9
Comments
By submitting a comment you agree to abide by our Terms and Community Guidelines. If you find something abusive or that does not comply with our terms or guidelines please flag it as inappropriate.