Abstract
Many biomolecules undergo liquid–liquid phase separation to form liquid-like condensates that mediate diverse cellular functions1,2. Autophagy is able to degrade such condensates using autophagosomes—double-membrane structures that are synthesized de novo at the pre-autophagosomal structure (PAS) in yeast3,4,5. Whereas Atg proteins that associate with the PAS have been characterized, the physicochemical and functional properties of the PAS remain unclear owing to its small size and fragility. Here we show that the PAS is in fact a liquid-like condensate of Atg proteins. The autophagy-initiating Atg1 complex undergoes phase separation to form liquid droplets in vitro, and point mutations or phosphorylation that inhibit phase separation impair PAS formation in vivo. In vitro experiments show that Atg1-complex droplets can be tethered to membranes via specific protein–protein interactions, explaining the vacuolar membrane localization of the PAS in vivo. We propose that phase separation has a critical, active role in autophagy, whereby it organizes the autophagy machinery at the PAS.
Relevant articles
Open Access articles citing this article.
Yun-Long Wang

,

Wan-Wen Zhao

…

Xin-Juan Fan

Cell Death & Disease Open Access 15 November 2023

Qingqing Xie

,

Jiejuan Cheng

…

Changchun Zeng

Journal of Translational Medicine Open Access 01 April 2023

Fanghua Li

,

Yiwei Li

…

Xingcai Zhang

Nano-Micro Letters Open Access 11 January 2023
Access options
Access Nature and 54 other Nature Portfolio journals
Get Nature+, our best-value online-access subscription
$29.99 / 30 days
cancel any time
Subscribe to this journal
Receive 51 print issues and online access
$199.00 per year
only $3.90 per issue
Rent or buy this article
Prices vary by article type
from$1.95
to$39.95
Prices may be subject to local taxes which are calculated during checkout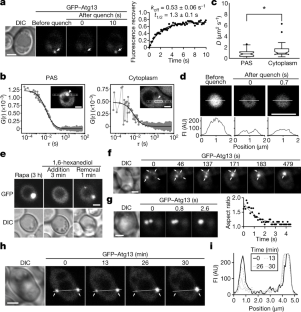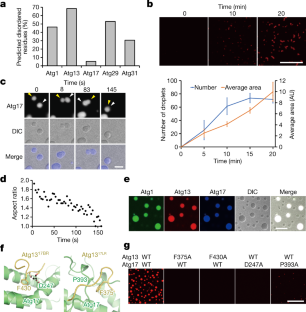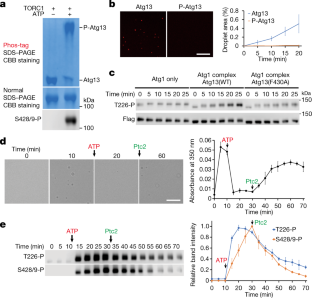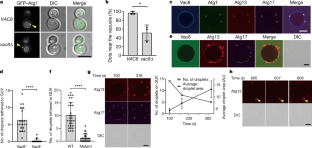 Data availability
All relevant data are available from the authors. Source data for gels and blots are provided as Supplementary Information. Source Data for graphs are provided with the paper.
References
Banani, S. F., Lee, H. O., Hyman, A. A. & Rosen, M. K. Biomolecular condensates: organizers of cellular biochemistry. Nat. Rev. Mol. Cell Biol. 18, 285–298 (2017).

Shin, Y. & Brangwynne, C. P. Liquid phase condensation in cell physiology and disease. Science 357, eaaf4382 (2017).

Suzuki, K. et al. The pre-autophagosomal structure organized by concerted functions of APG genes is essential for autophagosome formation. EMBO J. 20, 5971–5981 (2001).

Kim, J., Huang, W. P., Stromhaug, P. E. & Klionsky, D. J. Convergence of multiple autophagy and cytoplasm to vacuole targeting components to a perivacuolar membrane compartment prior to de novo vesicle formation. J. Biol. Chem. 277, 763–773 (2002).

Wang, Z. & Zhang, H. Phase separation, transition, and autophagic degradation of proteins in development and pathogenesis. Trends Cell Biol. 29, 417–427 (2019).

Yamamoto, H. et al. The intrinsically disordered protein Atg13 mediates supramolecular assembly of autophagy initiation complexes. Dev. Cell 38, 86–99 (2016).

Suzuki, K., Kubota, Y., Sekito, T. & Ohsumi, Y. Hierarchy of Atg proteins in pre-autophagosomal structure organization. Genes Cells 12, 209–218 (2007).

Yamamoto, H. et al. Atg9 vesicles are an important membrane source during early steps of autophagosome formation. J. Cell Biol. 198, 219–233 (2012).

Kawamata, T., Kamada, Y., Kabeya, Y., Sekito, T. & Ohsumi, Y. Organization of the pre-autophagosomal structure responsible for autophagosome formation. Mol. Biol. Cell 19, 2039–2050 (2008).

Cheong, H., Nair, U., Geng, J. & Klionsky, D. J. The Atg1 kinase complex is involved in the regulation of protein recruitment to initiate sequestering vesicle formation for nonspecific autophagy in Saccharomyces cerevisiae. Mol. Biol. Cell 19, 668–681 (2008).

Courchaine, E. M., Lu, A. & Neugebauer, K. M. Droplet organelles? EMBO J. 35, 1603–1612 (2016).

Wei, M. T. et al. Phase behaviour of disordered proteins underlying low density and high permeability of liquid organelles. Nat. Chem. 9, 1118–1125 (2017).

Mahen, R., Jeyasekharan, A. D., Barry, N. P. & Venkitaraman, A. R. Continuous polo-like kinase 1 activity regulates diffusion to maintain centrosome self-organization during mitosis. Proc. Natl Acad. Sci. USA 108, 9310–9315 (2011).

Kroschwald, S., Maharana, S. & Simon, A. Hexanediol: a chemical probe to investigate the material properties of membrane-less compartments. Matters 1–7, https://doi.org/10.19185/matters.201702000010 (2017).

Rabouille, C. & Alberti, S. Cell adaptation upon stress: the emerging role of membrane-less compartments. Curr. Opin. Cell Biol. 47, 34–42 (2017).

Fujioka, Y. et al. Structural basis of starvation-induced assembly of the autophagy initiation complex. Nat. Struct. Mol. Biol. 21, 513–521 (2014).

Kamada, Y. et al. Tor-mediated induction of autophagy via an Apg1 protein kinase complex. J. Cell Biol. 150, 1507–1513 (2000).

Yeh, Y. Y., Wrasman, K. & Herman, P. K. Autophosphorylation within the Atg1 activation loop is required for both kinase activity and the induction of autophagy in Saccharomyces cerevisiae. Genetics 185, 871–882 (2010).

Kamber, R. A., Shoemaker, C. J. & Denic, V. Receptor-bound targets of selective autophagy use a scaffold protein to activate the Atg1 kinase. Mol. Cell 59, 372–381 (2015).

Torggler, R. et al. Two independent pathways within selective autophagy converge to activate Atg1 kinase at the vacuole. Mol. Cell 64, 221–235 (2016).

Patel, A. et al. ATP as a biological hydrotrope. Science 356, 753–756 (2017).

Memisoglu, G., Eapen, V. V., Yang, Y., Klionsky, D. J. & Haber, J. E. PP2C phosphatases promote autophagy by dephosphorylation of the Atg1 complex. Proc. Natl Acad. Sci. USA 116, 1613–1620 (2019).

Ragusa, M. J., Stanley, R. E. & Hurley, J. H. Architecture of the Atg17 complex as a scaffold for autophagosome biogenesis. Cell 151, 1501–1512 (2012).

Woodruff, J. B., Hyman, A. A. & Boke, E. Organization and function of non-dynamic biomolecular condensates. Trends Biochem. Sci. 43, 81–94 (2018).

Scott, S. V. et al. Apg13p and Vac8p are part of a complex of phosphoproteins that are required for cytoplasm to vacuole targeting. J. Biol. Chem. 275, 25840–25849 (2000).

Jeong, H. et al. Mechanistic insight into the nucleus-vacuole junction based on the Vac8p–Nvj1p crystal structure. Proc. Natl Acad. Sci. USA 114, E4539–E4548 (2017).

Milovanovic, D., Wu, Y., Bian, X. & De Camilli, P. A liquid phase of synapsin and lipid vesicles. Science 361, 604–607 (2018).

Spitzer, M., Wildenhain, J., Rappsilber, J. & Tyers, M. BoxPlotR: a web tool for generation of box plots. Nat. Methods 11, 121–122 (2014).

Ward, J. J., Sodhi, J. S., McGuffin, L. J., Buxton, B. F. & Jones, D. T. Prediction and functional analysis of native disorder in proteins from the three kingdoms of life. J. Mol. Biol. 337, 635–645 (2004).

Adams, A., Gottschling, D. E., Kaiser, C. A. & Stearns, T. Methods in Yeast Genetics (Cold Spring Harbor Laboratory Press, 1998).

Schindelin, J. et al. Fiji: an open-source platform for biological-image analysis. Nat. Methods 9, 676–682 (2012).

Ries, J. & Schwille, P. Studying slow membrane dynamics with continuous wave scanning fluorescence correlation spectroscopy. Biophys. J. 91, 1915–1924 (2006).

Ries, J., Chiantia, S. & Schwille, P. Accurate determination of membrane dynamics with line-scan FCS. Biophys. J. 96, 1999–2008 (2009).

Kolaczyk, E. D. & Dixon, D. D. Non-parametric estimation of intensity maps using Haar wavelets and Poisson noise characteristics. Astrophys. J. 534, 490–505 (2000).

Kolaczyk, E. D. Non-parametric estimation of gamma-ray burst intensities using Haar wavelets. Astrophys. J. 483, 340–349 (1997).

Rossum, G. V. Python tutorial. Technical Report CS-R9526 (Centrum voor Wiskunde en Informatica, 1995).

Magatti, D. & Ferri, F. Fast multi-tau real-time software correlator for dynamic light scattering. Appl. Opt. 40, 4011–4021 (2001).

Fukuda, S. et al. High-speed atomic force microscope combined with single-molecule fluorescence microscope. Rev. Sci. Instrum. 84, 073706 (2013).

Imamura, M. et al. Probing structural dynamics of an artificial protein cage using high-speed atomic force microscopy. Nano Lett. 15, 1331–1335 (2015).

Alam, J. M., Kobayashi, T. & Yamazaki, M. The single-giant unilamellar vesicle method reveals lysenin-induced pore formation in lipid membranes containing sphingomyelin. Biochemistry 51, 5160–5172 (2012).

Alam, J. M. & Yamazaki, M. Spontaneous insertion of lipopolysaccharide into lipid membranes from aqueous solution. Chem. Phys. Lipids 164, 166–174 (2011).

Karal, M. A., Alam, J. M., Takahashi, T., Levadny, V. & Yamazaki, M. Stretch-activated pore of the antimicrobial peptide, magainin 2. Langmuir 31, 3391–3401 (2015).

Yamazaki, M. The single GUV method to reveal elementary processes of leakage of internal contents from liposomes induced by antimicrobial substances. Adv. Planar Lipid Bilayers Liposomes 7, 121–142 (2008).

Noda, T., Matsuura, A., Wada, Y. & Ohsumi, Y. Novel system for monitoring autophagy in the yeast Saccharomyces cerevisiae. Biochem. Biophys. Res. Commun. 210, 126–132 (1995).
Acknowledgements
We thank H. Yamamoto, T. Kawamata, Y. Kamada and D. S. Goldfarb for providing plasmids and strains for yeast experiments, Y. Ishii for assistance with protein preparation and H. Tochio for critical advice. This work was supported in part by JSPS KAKENHI grant number 25111004, 18H03989, 19H05707 (to N.N.N.), 15H01651, 17H05894, 17K07319 (to Y.F.), 19K16344 (to D.N.), 16H06375 (to Y. Ohsumi), 26119003, 17H06121 (to T.A.), 16H06280, 18H04853 (to K.S.), 19H05795, 19H03394, 16H06280 (to Y. Okada), 18H04751, 19H22520 (to K.M.), JST CREST grant number JPMJCR13M7 (to N.N.N.), JPMJCR15G2 (to Y. Okada) and grants from RIKEN (pioneering project 'Dynamic Structural Biology' to Y. Okada), from the Takeda Science Foundation (to N.N.N. and Y.F.), from Mochida Memorial Foundation for Medical and Pharmaceutical Research (to N.N.N.), from Tokyo Biochemical Research Foundation (to N.N.N. and J.M.A.), and from the Naito Foundation (to N.N.N. and Y.F.).
Ethics declarations
Competing interests
The authors declare no competing interests.
Additional information
Peer review information Nature thanks Peter Hinterdorfer, Fulvio Reggiori, Jeffrey Woodruff and Li Yu for their contribution to the peer review of this work.
Publisher's note Springer Nature remains neutral with regard to jurisdictional claims in published maps and institutional affiliations.
Extended data figures and tables
Supplementary information
About this article
Cite this article
Fujioka, Y., Alam, J.M., Noshiro, D. et al. Phase separation organizes the site of autophagosome formation. Nature 578, 301–305 (2020). https://doi.org/10.1038/s41586-020-1977-6
Received:

Accepted:

Published:

Issue Date:

DOI: https://doi.org/10.1038/s41586-020-1977-6
Comments
By submitting a comment you agree to abide by our Terms and Community Guidelines. If you find something abusive or that does not comply with our terms or guidelines please flag it as inappropriate.