Abstract
LGR5 marks resident adult epithelial stem cells at the gland base in the mouse pyloric stomach1, but the identity of the equivalent human stem cell population remains unknown owing to a lack of surface markers that facilitate its prospective isolation and validation. In mouse models of intestinal cancer, LGR5+ intestinal stem cells are major sources of cancer following hyperactivation of the WNT pathway2. However, the contribution of pyloric LGR5+ stem cells to gastric cancer following dysregulation of the WNT pathway—a frequent event in gastric cancer in humans3—is unknown. Here we use comparative profiling of LGR5+ stem cell populations along the mouse gastrointestinal tract to identify, and then functionally validate, the membrane protein AQP5 as a marker that enriches for mouse and human adult pyloric stem cells. We show that stem cells within the AQP5+ compartment are a source of WNT-driven, invasive gastric cancer in vivo, using newly generated Aqp5-creERT2 mouse models. Additionally, tumour-resident AQP5+ cells can selectively initiate organoid growth in vitro, which indicates that this population contains potential cancer stem cells. In humans, AQP5 is frequently expressed in primary intestinal and diffuse subtypes of gastric cancer (and in metastases of these subtypes), and often displays altered cellular localization compared with healthy tissue. These newly identified markers and mouse models will be an invaluable resource for deciphering the early formation of gastric cancer, and for isolating and characterizing human-stomach stem cells as a prerequisite for harnessing the regenerative-medicine potential of these cells in the clinic.
Relevant articles
Open Access articles citing this article.
Rou Zhao

,

Baoyu He

…

Bin Zhang

Journal of Experimental & Clinical Cancer Research Open Access 14 November 2022

Qinying Wang

,

Fanying Guo

…

Yanlei Ma

Signal Transduction and Targeted Therapy Open Access 27 September 2022

Kathryn M. Polkoff

,

Nithin K. Gupta

…

Jorge A. Piedrahita

Scientific Reports Open Access 01 June 2022
Access options
Subscribe to Nature+
Get immediate online access to Nature and 55 other Nature journal
Subscribe to Journal
Get full journal access for 1 year
$199.00
only $3.90 per issue
All prices are NET prices.
VAT will be added later in the checkout.
Tax calculation will be finalised during checkout.
Buy article
Get time limited or full article access on ReadCube.
$32.00
All prices are NET prices.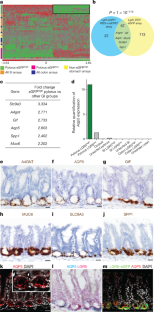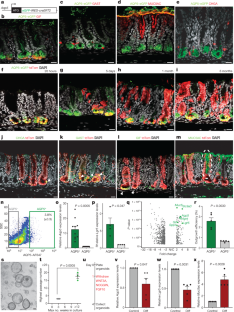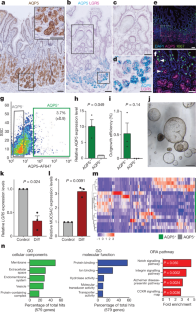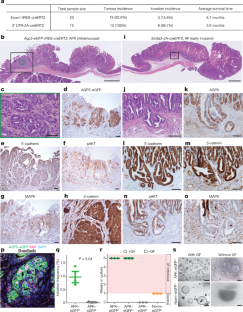 Data availability
Microarray data that support the findings of this study have been deposited in the Gene Expression Omnibus (GEO) under accession code GSE121803. RNA-seq data of AQP5+ and AQP5− human samples have also been deposited in the GEO, under accession code GSE133036. Source Data for Figs. 1–4 and Extended Data Figs. 1, 2, 4–6, 9 are provided with the paper. Any other relevant data supporting the findings of this study are available from the corresponding author on reasonable request.
References
Barker, N. et al. Lgr5+ve stem cells drive self-renewal in the stomach and build long-lived gastric units in vitro. Cell Stem Cell 6, 25–36 (2010).

Barker, N. et al. Crypt stem cells as the cells-of-origin of intestinal cancer. Nature 457, 608–611 (2009).

The Cancer Genome Atlas Research Network. Comprehensive molecular characterization of gastric adenocarcinoma. Nature 513, 202–209 (2014).

Barker, N. et al. Identification of stem cells in small intestine and colon by marker gene Lgr5. Nature 449, 1003–1007 (2007).

Tian, H. et al. A reserve stem cell population in small intestine renders Lgr5-positive cells dispensable. Nature 478, 255–259 (2011).

Direito, I., Madeira, A., Brito, M. A. & Soveral, G. Aquaporin-5: from structure to function and dysfunction in cancer. Cell. Mol. Life Sci. 73, 1623–1640 (2016).

Grün, D. et al. Single-cell messenger RNA sequencing reveals rare intestinal cell types. Nature 525, 251–255 (2015).

Funaki, H. et al. Localization and expression of AQP5 in cornea, serous salivary glands, and pulmonary epithelial cells. Am. J. Physiol. 275, C1151–C1157 (1998).

Matsuzaki, T. et al. Expression and immunolocalization of water-channel aquaporins in the rat and mouse mammary gland. Histochem. Cell Biol. 123, 501–512 (2005).

Choi, E. et al. Lrig1+ gastric isthmal progenitor cells restore normal gastric lineage cells during damage recovery in adult mouse stomach. Gut 67, 1595–1605 (2018).

Matsuo, J. et al. Identification of stem cells in the epithelium of the stomach corpus and antrum of mice. Gastroenterology 152, 218–231 (2017).

Sigal, M. et al. Stromal R-spondin orchestrates gastric epithelial stem cells and gland homeostasis. Nature 548, 451–455 (2017).

Hayakawa, Y. et al. CCK2R identifies and regulates gastric antral stem cell states and carcinogenesis. Gut 64, 544–553 (2015).

Arnold, K. et al. Sox2+ adult stem and progenitor cells are important for tissue regeneration and survival of mice. Cell Stem Cell 9, 317–329 (2011).

Muñoz, J. et al. The Lgr5 intestinal stem cell signature: robust expression of proposed quiescent '+4' cell markers. EMBO J. 31, 3079–3091 (2012).

Muratani, M. et al. Nanoscale chromatin profiling of gastric adenocarcinoma reveals cancer-associated cryptic promoters and somatically acquired regulatory elements. Nat. Commun. 5, 4361 (2014).

Zhang, Y. et al. A pan-cancer proteogenomic atlas of PI3K/AKT/mTOR pathway alterations. Cancer Cell 31, 820–832 (2017).

Pek, M. et al. Oncogenic KRAS-associated gene signature defines co-targeting of CDK4/6 and MEK as a viable therapeutic strategy in colorectal cancer. Oncogene 36, 4975–4986 (2017).

Van der Flier, L. G. et al. The intestinal Wnt/TCF signature. Gastroenterology 132, 628–632 (2007).

Lambertz, N. et al. Expression of aquaporin 5 and the AQP5 polymorphism A(-1364)C in association with peritumoral brain edema in meningioma patients. J. Neurooncol. 112, 297–305 (2013).

Shimizu, H. et al. The expression and role of aquaporin 5 in esophageal squamous cell carcinoma. J. Gastroenterol. 49, 655–666 (2014).

Zhu, Z. et al. Expression of AQP3 and AQP5 as a prognostic marker in triple-negative breast cancer. Oncol. Lett. 16, 2661–2667 (2018).

Kinoshita, H., Hayakawa, Y. & Koike, K. Metaplasia in the stomach—precursor of gastric cancer? Int. J. Mol. Sci. 18, 2063 (2017).

Jencks, D. S. et al. Overview of current concepts in gastric intestinal metaplasia and gastric cancer. Gastroenterol. Hepatol. 14, 92–101 (2018).

Rawlins, E. L., Clark, C. P., Xue, Y. & Hogan, B. L. M. The Id2+ distal tip lung epithelium contains individual multipotent embryonic progenitor cells. Development 136, 3741–3745 (2009).

Barkauskas, C. E. et al. Type 2 alveolar cells are stem cells in adult lung. J. Clin. Invest. 123, 3025–3036 (2013).

Desai, T. J., Brownfield, D. G. & Krasnow, M. A. Alveolar progenitor and stem cells in lung development, renewal and cancer. Nature 507, 190–194 (2014).

Wang, B., Zhao, L., Fish, M., Logan, C. Y. & Nusse, R. Self-renewing diploid Axin2+ cells fuel homeostatic renewal of the liver. Nature 524, 180–185 (2015).

Post, Y. & Clevers, H. Defining adult stem cell function at its simplest: the ability to replace lost cells through mitosis. Cell Stem Cell 25, 174–183 (2019).

Kang, S. K. et al. Aquaporin 5 (AQP5) is a novel signaling molecule triggering Ras/ERK/retinoblastoma (Rb) signaling pathway in colon cancer cell lines. Mol. Cancer Ther. 6, B115 (2007).

Woo, J. et al. The effect of aquaporin 5 overexpression on the Ras signaling pathway. Biochem. Biophys. Res. Commun. 367, 291–298 (2008).

Woo, J. et al. Overexpression of AQP5, a putative oncogene, promotes cell growth and transformation. Cancer Lett. 264, 54–62 (2008).

Chae, Y. K. et al. Expression of aquaporin 5 (AQP5) promotes tumor invasion in human non small cell lung cancer. PLoS ONE 3, e2162 (2008).

Huang, Y.-H. et al. Aquaporin 5 promotes the proliferation and migration of human gastric carcinoma cells. Tumour Biol. 34, 1743–1751 (2013).

Shimasaki, M., Kanazawa, Y., Sato, K., Tsuchiya, H. & Ueda, Y. Aquaporin-1 and -5 are involved in the invasion and proliferation of soft tissue sarcomas. Pathol. Res. Pract. 214, 80–88 (2018).

Wang, W. et al. Expression of AQP5 and AQP8 in human colorectal carcinoma and their clinical significance. World J. Surg. Oncol. 10, 242 (2012).

Shen, L. et al. Expression profile of multiple aquaporins in human gastric carcinoma and its clinical significance. Biomed. Pharmacother. 64, 313–318 (2010).

Madisen, L. et al. A robust and high-throughput Cre reporting and characterization system for the whole mouse brain. Nat. Neurosci. 13, 133–140 (2010).

Jackson, E. L. et al. Analysis of lung tumor initiation and progression using conditional expression of oncogenic K-ras. Genes Dev. 15, 3243–3248 (2001).

Shibata, H. et al. Rapid colorectal adenoma formation initiated by conditional targeting of the Apc gene. Science 278, 120–123 (1997).

Suzuki, A. et al. T cell-specific loss of Pten leads to defects in central and peripheral tolerance. Immunity 14, 523–534 (2001).

Leushacke, M. et al. Lgr5-expressing chief cells drive epithelial regeneration and cancer in the oxyntic stomach. Nat. Cell Biol. 19, 774–786 (2017).

Subramanian, A. et al. Gene set enrichment analysis: a knowledge-based approach for interpreting genome-wide expression profiles. Proc. Natl Acad. Sci. USA 102, 15545–15550 (2005).

Mootha, V. K. et al. PGC-1α-responsive genes involved in oxidative phosphorylation are coordinately downregulated in human diabetes. Nat. Genet. 34, 267–273 (2003).

Monaco, G. et al. RNA-seq signatures normalized by mRNA abundance allow absolute deconvolution of human immune cell types. Cell Rep. 26, 1627–1640.e7 (2019).

Mi, H., Muruganujan, A., Casagrande, J. T. & Thomas, P. D. Large-scale gene function analysis with the PANTHER classification system. Nat. Protocols 8, 1551–1566 (2013).

Wang, F. et al. RNAscope: a novel in situ RNA analysis platform for formalin-fixed, paraffin-embedded tissues. J. Mol. Diagn. 14, 22–29 (2012).
Acknowledgements
The authors thank staff at the IMB-IMU and the SBIC-Nikon Imaging Centre for imaging assistance; the research coordination team and Department of Pathology at NUH for assistance with human samples; S. Sagiraju for assistance with animal experiments; A. Lin and A. Ng for empirical candidate validation; K. Saito for assistance with RNA-seq preparation; M. Taniguchi and K. Kita for assistance with FACS; D. H. Alpers for providing the GIF antibody; A. van Oudenaarden and A. Lyubimova for assistance with CEL-seq and RaceID; and F. de Sauvage for providing the Lgr5-DTR-eGFP mice. N.B. is supported by the Agency for Science, Technology and Research (A*Star), Singapore Gastric Cancer Consortium (SGCC) and Japan Society for the Promotion of Science (JSPS) KAKENHI Grant Number 17H01399. This research is supported by Singapore Ministry of Health's National Medical Research Council under its Open Fund-Young Individual Research Grant (NMRC/OFYIRG/0007/2016) and the National Research Foundation Singapore (Investigatorship Program award no. NRF-NRF12017-03).
Ethics declarations
Competing interests
N.B. and S.H.T. are co-inventors on the provisional patent application 10201911742W titled 'A method for functional classification and diagnosis of cancers'. This patent covers the analysis of human cancers using their signalling pathway statuses. All the other authors declare no competing interests.
Additional information
Publisher's note Springer Nature remains neutral with regard to jurisdictional claims in published maps and institutional affiliations.
Extended data figures and tables
Supplementary information
This file contains Supplementary Tables 1-6.
About this article
Cite this article
Tan, S.H., Swathi, Y., Tan, S. et al. AQP5 enriches for stem cells and cancer origins in the distal stomach. Nature 578, 437–443 (2020). https://doi.org/10.1038/s41586-020-1973-x
Received:

Accepted:

Published:

Issue Date:

DOI: https://doi.org/10.1038/s41586-020-1973-x
Comments
By submitting a comment you agree to abide by our Terms and Community Guidelines. If you find something abusive or that does not comply with our terms or guidelines please flag it as inappropriate.