Abstract
The ability to reverse protein aggregation is vital to cells1,2. Hsp100 disaggregases such as ClpB and Hsp104 are proposed to catalyse this reaction by translocating polypeptide loops through their central pore3,4. This model of disaggregation is appealing, as it could explain how polypeptides entangled within aggregates can be extracted and subsequently refolded with the assistance of Hsp704,5. However, the model is also controversial, as the necessary motor activity has not been identified6,7,8 and recent findings indicate non-processive mechanisms such as entropic pulling or Brownian ratcheting9,10. How loop formation would be accomplished is also obscure. Indeed, cryo-electron microscopy studies consistently show single polypeptide strands in the Hsp100 pore11,12. Here, by following individual ClpB–substrate complexes in real time, we unambiguously demonstrate processive translocation of looped polypeptides. We integrate optical tweezers with fluorescent-particle tracking to show that ClpB translocates both arms of the loop simultaneously and switches to single-arm translocation when encountering obstacles. ClpB is notably powerful and rapid; it exerts forces of more than 50 pN at speeds of more than 500 residues per second in bursts of up to 28 residues. Remarkably, substrates refold while exiting the pore, analogous to co-translational folding. Our findings have implications for protein-processing phenomena including ubiquitin-mediated remodelling by Cdc48 (or its mammalian orthologue p97)13 and degradation by the 26S proteasome14.
Your institute does not have access to this article
Relevant articles
Open Access articles citing this article.
Yin-Wei Kuo

,

Mohammed Mahamdeh

…

Jonathon Howard

Nature Communications Open Access 25 June 2022

Soham Chakraborty

,

Deep Chaudhuri

…

Shubhasis Haldar

Communications Biology Open Access 04 April 2022

BIOspektrum Open Access 12 February 2021
Access options
Subscribe to Nature+
Get immediate online access to the entire Nature family of 50+ journals
Subscribe to Journal
Get full journal access for 1 year
$199.00
only $3.90 per issue
All prices are NET prices.
VAT will be added later in the checkout.
Tax calculation will be finalised during checkout.
Buy article
Get time limited or full article access on ReadCube.
$32.00
All prices are NET prices.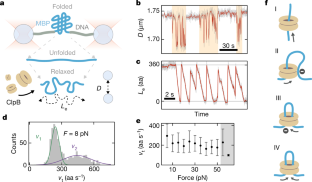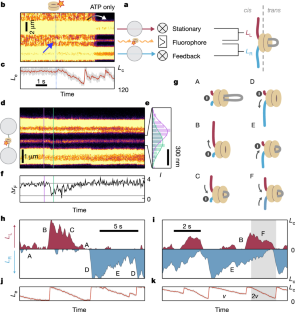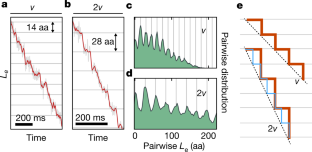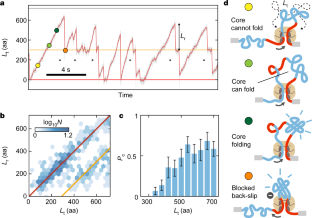 Data availability
The data that support the findings of this study are available from the corresponding authors on reasonable request.
Code availability
All data were analysed using a custom Python package that is available online and can be downloaded upon request to the corresponding author.
References
Soto, C. & Pritzkow, S. Protein misfolding, aggregation, and conformational strains in neurodegenerative diseases. Nat. Neurosci. 21, 1332–1340 (2018).

Chiti, F. & Dobson, C. M. Protein misfolding, amyloid formation, and human disease: a summary of progress over the last decade. Annu. Rev. Biochem. 86, 27–68 (2017).

Weibezahn, J. et al. Thermotolerance requires refolding of aggregated proteins by substrate translocation through the central pore of ClpB. Cell 119, 653–665 (2004).

Mogk, A., Bukau, B. & Kampinga, H. H. Cellular handling of protein aggregates by disaggregation machines. Mol. Cell 69, 214–226 (2018).

Kummer, E. et al. Bacterial and yeast AAA+ disaggregases ClpB and Hsp104 operate through conserved mechanism involving cooperation with Hsp70. J. Mol. Biol. 428, 4378–4391 (2016).

Shorter, J. & Southworth, D. R. Spiraling in control: structures and mechanisms of the Hsp104 disaggregase. Cold Spring Harb. Perspect. Biol. 11, 034033 (2019).

Sousa, R. Structural mechanisms of chaperone mediated protein disaggregation. Front. Mol. Biosci. 1, 12 (2014).

Liberek, K., Lewandowska, A. & Ziętkiewicz, S. Chaperones in control of protein disaggregation. EMBO J. 27, 328–335 (2008).

Li, T. et al. Escherichia coli ClpB is a non-processive polypeptide translocase. Biochem. J. 470, 39–52 (2015).

Durie, C. L. et al. Hsp104 and potentiated variants can operate as distinct nonprocessive translocases. Biophys. J. 116, 1856–1872 (2019).

Gates, S. N. et al. Ratchet-like polypeptide translocation mechanism of the AAA+ disaggregase Hsp104. Science 357, 273–279 (2017).

Deville, C., Franke, K., Mogk, A., Bukau, B. & Saibil, H. R. Two-step activation mechanism of the ClpB disaggregase for sequential substrate threading by the main ATPase motor. Cell Rep. 27, 3433–3446 (2019).

Bodnar, N. O. et al. Structure of the Cdc48 ATPase with its ubiquitin-binding cofactor Ufd1–Npl4. Nat. Struct. Mol. Biol. 25, 616–622 (2018).

Dong, Y. et al. Cryo-EM structures and dynamics of substrate-engaged human 26S proteasome. Nature 565, 49–55 (2019).

Oguchi, Y. et al. A tightly regulated molecular toggle controls AAA+ disaggregase. Nat. Struct. Mol. Biol. 19, 1338–1346 (2012).

Fernández-Higuero, J. A., Aguado, A., Perales-Calvo, J., Moro, F. & Muga, A. Activation of the DnaK–ClpB complex is regulated by the properties of the bound substrate. Sci. Rep. 8, 5796 (2018).

Maillard, R. A. et al. ClpX(P) generates mechanical force to unfold and translocate its protein substrates. Cell 145, 459–469 (2011).

Aubin-Tam, M.-E., Olivares, A. O., Sauer, R. T., Baker, T. A. & Lang, M. J. Single-molecule protein unfolding and translocation by an ATP-fueled proteolytic machine. Cell 145, 257–267 (2011).

Olivares, A. O., Nager, A. R., Iosefson, O., Sauer, R. T. & Baker, T. A. Mechanochemical basis of protein degradation by a double-ring AAA+ machine. Nat. Struct. Mol. Biol. 21, 871–875 (2014).

Werbeck, N. D., Schlee, S. & Reinstein, J. Coupling and dynamics of subunits in the hexameric AAA+ chaperone ClpB. J. Mol. Biol. 378, 178–190 (2008).

Uchihashi, T. et al. Dynamic structural states of ClpB involved in its disaggregation function. Nat. Commun. 9, 2147 (2018).

Ganji, M. et al. Real-time imaging of DNA loop extrusion by condensin. Science 360, 102–105 (2018).

Yu, H. et al. ATP hydrolysis-coupled peptide translocation mechanism of Mycobacterium tuberculosis ClpB. Proc. Natl Acad. Sci. USA 115, E9560–E9569 (2018).

Lyubimov, A. Y., Strycharska, M. & Berger, J. M. The nuts and bolts of ring-translocase structure and mechanism. Curr. Opin. Struct. Biol. 21, 240–248 (2011).

Moffitt, J. R. et al. Intersubunit coordination in a homomeric ring ATPase. Nature 457, 446–450 (2009).

Bechtluft, P. et al. Direct observation of chaperone-induced changes in a protein folding pathway. Science 318, 1458–1461 (2007).

Chakraborty, K. et al. Chaperonin-catalyzed rescue of kinetically trapped states in protein folding. Cell 142, 112–122 (2010).

Berg-Sørensen, K. & Flyvbjerg, H. Power spectrum analysis for optical tweezers. Rev. Sci. Instrum. 75, 594–612 (2004).

Swoboda, M. et al. Enzymatic oxygen scavenging for photostability without pH drop in single-molecule experiments. ACS Nano 6, 6364–6369 (2012).

Petrosyan, R. Improved approximations for some polymer extension models. Rheol. Acta 56, 21–26 (2017).

Odijk, T. Stiff chains and filaments under tension. Macromolecules 28, 7016–7018 (1995).

Savitzky, A. & Golay, M. J. Smoothing and differentiation of data by simplified least squares procedures. Anal. Chem. 36, 1627–1639 (1964).

Forns, N. et al. Improving signal/noise resolution in single-molecule experiments using molecular constructs with short handles. Biophys. J. 100, 1765–1774 (2011).

Welch, P. The use of fast Fourier transform for the estimation of power spectra: a method based on time averaging over short, modified periodograms. IEEE Trans. Audio Electroacoust. 15, 70–73 (1967).
Acknowledgements
We thank E. Koers for help with the substrate constructs and M. E. Aubin-Tam, K. Ganzinger, S. Werner and F. Wruck for comments and critical reading of the manuscript. This study was supported by the Netherlands Organization for Scientific Research (NWO) and by grants of the Deutsche Forschungsgemeinschaft (BB617/17-2, MO970/4-2 and MO 970/4-3) to B.B. and A.M., and the AmPro program of the Helmholtz Society to B.B.
Ethics declarations
Competing interests
The authors declare no competing interests.
Additional information
Peer review information Nature thanks Toshio Ando, Eilika Weber-Ban, Gijs Wuite and the other, anonymous, reviewer(s) for their contribution to the peer review of this work.
Publisher's note Springer Nature remains neutral with regard to jurisdictional claims in published maps and institutional affiliations.
Extended data figures and tables
Supplementary information
About this article
Cite this article
Avellaneda, M.J., Franke, K.B., Sunderlikova, V. et al. Processive extrusion of polypeptide loops by a Hsp100 disaggregase. Nature 578, 317–320 (2020). https://doi.org/10.1038/s41586-020-1964-y
Received:

Accepted:

Published:

Issue Date:

DOI: https://doi.org/10.1038/s41586-020-1964-y
Comments
By submitting a comment you agree to abide by our Terms and Community Guidelines. If you find something abusive or that does not comply with our terms or guidelines please flag it as inappropriate.