Abstract
Tobacco smoking causes lung cancer1,2,3, a process that is driven by more than 60 carcinogens in cigarette smoke that directly damage and mutate DNA4,5. The profound effects of tobacco on the genome of lung cancer cells are well-documented6,7,8,9,10, but equivalent data for normal bronchial cells are lacking. Here we sequenced whole genomes of 632 colonies derived from single bronchial epithelial cells across 16 subjects. Tobacco smoking was the major influence on mutational burden, typically adding from 1,000 to 10,000 mutations per cell; massively increasing the variance both within and between subjects; and generating several distinct mutational signatures of substitutions and of insertions and deletions. A population of cells in individuals with a history of smoking had mutational burdens that were equivalent to those expected for people who had never smoked: these cells had less damage from tobacco-specific mutational processes, were fourfold more frequent in ex-smokers than current smokers and had considerably longer telomeres than their more-mutated counterparts. Driver mutations increased in frequency with age, affecting 4–14% of cells in middle-aged subjects who had never smoked. In current smokers, at least 25% of cells carried driver mutations and 0–6% of cells had two or even three drivers. Thus, tobacco smoking increases mutational burden, cell-to-cell heterogeneity and driver mutations, but quitting promotes replenishment of the bronchial epithelium from mitotically quiescent cells that have avoided tobacco mutagenesis.
Relevant articles
Open Access articles citing this article.
Weixin Zhao

,

Ailing Song

…

Xinmin Zhao

BMC Medicine Open Access 24 February 2023

Yichen Wang

,

Philip S. Robinson

…

Michael R. Stratton

Nature Genetics Open Access 26 January 2023

Qiqing Huang

,

Yuanyuan Wang

…

Jianqing Wu

Respiratory Research Open Access 20 December 2022
Access options
Access Nature and 54 other Nature Portfolio journals
Get Nature+, our best-value online-access subscription
$29.99 per month
cancel any time
Subscribe to this journal
Receive 51 print issues and online access
$199.00 per year
only $3.90 per issue
Rent or buy this article
Get just this article for as long as you need it
$39.95
Prices may be subject to local taxes which are calculated during checkout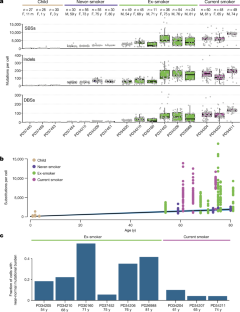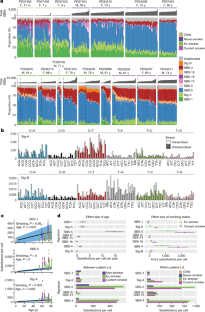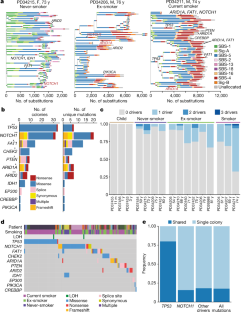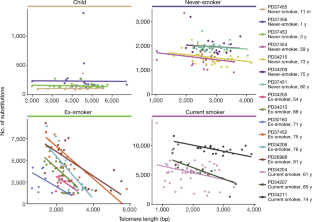 Data availability
Sequencing data have been deposited at the European Genome-phenome Archive (http://www.ebi.ac.uk/ega/) under the accession number EGAD00001005193. Somatic-mutation calls, including single-base substitutions, indels and structural variants, from all 632 samples have been deposited on Mendeley Data with the identifier: https://doi.org/10.17632/b53h2kwpyy.2.
References
Alberg, A. J., Brock, M. V., Ford, J. G., Samet, J. M. & Spivack, S. D. Epidemiology of lung cancer. Diagnosis and management of lung cancer, 3rd ed: American College of Chest Physicians evidence-based clinical practice guidelines. Chest 143, e1S–e29S (2013).

Peto, R. et al. Smoking, smoking cessation, and lung cancer in the UK since 1950: combination of national statistics with two case-control studies. Br. Med. J. 321, 323–329 (2000).

International Agency for Research on Cancer. Tobacco Smoke and Involuntary Smoking. IARC Monographs on the Evaluation of Carcinogenic Risks to Humans Vol. 83 (IARC and World Health Organization, 2004).

Hecht, S. S. Progress and challenges in selected areas of tobacco carcinogenesis. Chem. Res. Toxicol. 21, 160–171 (2008).

Pfeifer, G. P. et al. Tobacco smoke carcinogens, DNA damage and p53 mutations in smoking-associated cancers. Oncogene 21, 7435–7451 (2002).

Pleasance, E. D. et al. A small-cell lung cancer genome with complex signatures of tobacco exposure. Nature 463, 184–190 (2010).

Imielinski, M. et al. Mapping the hallmarks of lung adenocarcinoma with massively parallel sequencing. Cell 150, 1107–1120 (2012).

Alexandrov, L. B. et al. Mutational signatures associated with tobacco smoking in human cancer. Science 354, 618–622 (2016).

George, J. et al. Comprehensive genomic profiles of small cell lung cancer. Nature 524, 47–53 (2015).

Jamal-Hanjani, M. et al. Tracking the evolution of non-small-cell lung cancer. N. Engl. J. Med. 376, 2109–2121 (2017).

Tomasetti, C., Marchionni, L., Nowak, M. A., Parmigiani, G. & Vogelstein, B. Only three driver gene mutations are required for the development of lung and colorectal cancers. Proc. Natl Acad. Sci. USA 112, 118–123 (2015).

Martincorena, I. et al. Universal patterns of selection in cancer and somatic tissues. Cell 171, 1029–1041.e21 (2017).

Campbell, J. D. et al. Distinct patterns of somatic genome alterations in lung adenocarcinomas and squamous cell carcinomas. Nat. Genet. 48, 607–616 (2016).

Garfinkel, L. & Stellman, S. D. Smoking and lung cancer in women: findings in a prospective study. Cancer Res. 48, 6951–6955 (1988).

Armitage, P. Response to Richard Doll: the age distribution of cancer. J. Roy. Stat. Soc. A 134, 155–156 (1971).

Doll, R. & Peto, R. Cigarette smoking and bronchial carcinoma: dose and time relationships among regular smokers and lifelong non-smokers. J. Epidemiol. Community Health 32, 303–313 (1978).

Lee, J. J.-K. et al. Tracing oncogene rearrangements in the mutational history of lung adenocarcinoma. Cell 177, 1842–1857 (2019).

Cancer Genome Atlas Research Network. Comprehensive genomic characterization of squamous cell lung cancers. Nature 489, 519–525 (2012).

Kucab, J. E. et al. A compendium of mutational signatures of environmental agents. Cell 177, 821–836 (2019).

Blokzijl, F., Janssen, R., van Boxtel, R. & Cuppen, E. MutationalPatterns: comprehensive genome-wide analysis of mutational processes. Genome Med. 10, 33 (2018).

Petljak, M. et al. Characterizing mutational signatures in human cancer cell lines reveals episodic APOBEC mutagenesis. Cell 176, 1282–1294 (2019).

Haradhvala, N. J. et al. Mutational strand asymmetries in cancer genomes reveal mechanisms of DNA damage and repair. Cell 164, 538–549 (2016).

Letouzé, E. et al. Mutational signatures reveal the dynamic interplay of risk factors and cellular processes during liver tumorigenesis. Nat. Commun. 8, 1315 (2017).

Alexandrov, L. et al. The repertoire of mutational signatures in human cancer. Nature https://doi.org/10.1038/s41586-020-1943-3 (2020).

Cancer Genome Atlas Research Network. Comprehensive molecular profiling of lung adenocarcinoma. Nature 511, 543–550 (2014).

Lawrence, M. S. et al. Discovery and saturation analysis of cancer genes across 21 tumour types. Nature 505, 495–501 (2014).

Martincorena, I. et al. High burden and pervasive positive selection of somatic mutations in normal human skin. Science 348, 880–886 (2015).

Martincorena, I. et al. Somatic mutant clones colonize the human esophagus with age. Science 362, 911–917 (2018).

Yokoyama, A. et al. Age-related remodelling of oesophageal epithelia by mutated cancer drivers. Nature 565, 312–317 (2019).

Yizhak, K. et al. RNA sequence analysis reveals macroscopic somatic clonal expansion across normal tissues. Science 364, eaaw0726 (2019).

Brunner, S. F. et al. Somatic mutations and clonal dynamics in healthy and cirrhotic human liver. Nature 574, 538–542 (2019).

Teixeira, V. H. et al. Stochastic homeostasis in human airway epithelium is achieved by neutral competition of basal cell progenitors. eLife 2, e00966 (2013).

Hegab, A. E. et al. Novel stem/progenitor cell population from murine tracheal submucosal gland ducts with multipotent regenerative potential. Stem Cells 29, 1283–1293 (2011).

Tata, A. et al. Myoepithelial cells of submucosal glands can function as reserve stem cells to regenerate airways after injury. Cell Stem Cell 22, 668–683 (2018).

Lynch, T. J. et al. Submucosal gland myoepithelial cells are reserve stem cells that can regenerate mouse tracheal epithelium. Cell Stem Cell 22, 653–667 (2018).

Gowers, K. H. C. et al. Optimized isolation and expansion of human airway epithelial basal cells from endobronchial biopsy samples. J. Tissue Eng. Regen. Med. 12, e313–e317 (2018).

Butler, C. R. et al. Rapid expansion of human epithelial stem cells suitable for airway tissue engineering. Am. J. Respir. Crit. Care Med. 194, 156–168 (2016).

Teixeira, V. H. et al. Deciphering the genomic, epigenomic, and transcriptomic landscapes of pre-invasive lung cancer lesions. Nat. Med. 25, 517–525 (2019).

Conway, T. et al. Xenome—a tool for classifying reads from xenograft samples. Bioinformatics 28, 172–178 (2012).

Jones, D. et al. cgpCaVEManWrapper: simple execution of CaVEMan in order to detect somatic single nucleotide variants in NGS data. Curr. Protoc. Bioinformatics 56, 15.10.1–15.10.18 (2016).

Gerstung, M., Papaemmanuil, E. & Campbell, P. J. Subclonal variant calling with multiple samples and prior knowledge. Bioinformatics 30, 1198–1204 (2014).

Yang, H. & Wang, K. Genomic variant annotation and prioritization with ANNOVAR and wANNOVAR. Nat. Protoc. 10, 1556–1566 (2015).

Raine, K. M. et al. cgpPindel: identifying somatically acquired insertion and deletion events from paired end sequencing. Curr. Protoc. Bioinformatics 52, 15.7.1–15.7.12 (2015).

Campbell, P. J. et al. Identification of somatically acquired rearrangements in cancer using genome-wide massively parallel paired-end sequencing. Nat. Genet. 40, 722–729 (2008).

Raine, K. M. et al. ascatNgs: identifying somatically acquired copy-number alterations from whole-genome sequencing data. Curr. Protoc. Bioinformatics 56, 15.9.1–15.9.17 (2016).

Van Loo, P. et al. Allele-specific copy number analysis of tumors. Proc. Natl Acad. Sci. USA 107, 16910–16915 (2010).

Buels, R. et al. JBrowse: a dynamic web platform for genome visualization and analysis. Genome Biol. 17, 66 (2016).

Baca, S. C. et al. Punctuated evolution of prostate cancer genomes. Cell 153, 666–677 (2013).

Stephens, P. J. et al. Massive genomic rearrangement acquired in a single catastrophic event during cancer development. Cell 144, 27–40 (2011).

Li, Y. et al. Patterns of somatic structural variation in human cancer genomes. Nature https://doi.org/10.1038/s41586-019-1913-9 (2020).

Farmery, J. H. R. et al. Telomerecat: a ploidy-agnostic method for estimating telomere length from whole genome sequencing data. Sci. Rep. 8, 1300 (2018).
Acknowledgements
This work was supported by a Cancer Research UK Grand Challenge Award (C98/A24032) and the Wellcome Trust. P.J.C. and S.M.J. are Wellcome Trust Senior Clinical Fellows (WT088340MA); S.M.J. receives funding as a member of the UK Regenerative Medicine Platform (UKRMP2) Engineered Cell Environment Hub (MRC; MR/R015635/1) and the Longfonds BREATH lung regeneration consortium, and is further supported by The Rosetrees Trust, the Stoneygate Trust, the British Lung Foundation and the UCLH Charitable Foundation; K.Y. is supported by a Japan Society for the Promotion of Science (JSPS) Overseas Research Fellowship and The Mochida Memorial Foundation for Medical and Pharmaceutical Research; S.M.J. and R.E.H. are supported by the Roy Castle Lung Cancer Foundation; R.E.H. is a Wellcome Trust Sir Henry Wellcome Fellow (WT209199/Z/17/Z); and I.M. is funded by Cancer Research UK (C57387/A21777). The authors thank S. Broad and F. Watt for providing 3T3-J2 fibroblasts, and B. Carroll for help with sample collection.
Ethics declarations
Competing interests
The authors declare no competing interests.
Additional information
Peer review information Nature thanks Gerd P. Pfeifer, Roman Thomas and the other, anonymous, reviewer(s) for their contribution to the peer review of this work.
Publisher's note Springer Nature remains neutral with regard to jurisdictional claims in published maps and institutional affiliations.
Extended data figures and tables
Supplementary information
This file contains Supplementary Tables 1-5.
This zip file contains Supplementary Code which shows code in HTML format and relevant source data. Statistical_analyses_bronchial_epithelium.html: HTML file containing embedded code, description and output and Lung_organoids_telomeres_with_contamination_20190408.txt: Tab-delimited text file containing source data for the Supplementary Code.
About this article
Cite this article
Yoshida, K., Gowers, K.H.C., Lee-Six, H. et al. Tobacco smoking and somatic mutations in human bronchial epithelium. Nature 578, 266–272 (2020). https://doi.org/10.1038/s41586-020-1961-1
Received:

Accepted:

Published:

Issue Date:

DOI: https://doi.org/10.1038/s41586-020-1961-1
Comments
By submitting a comment you agree to abide by our Terms and Community Guidelines. If you find something abusive or that does not comply with our terms or guidelines please flag it as inappropriate.